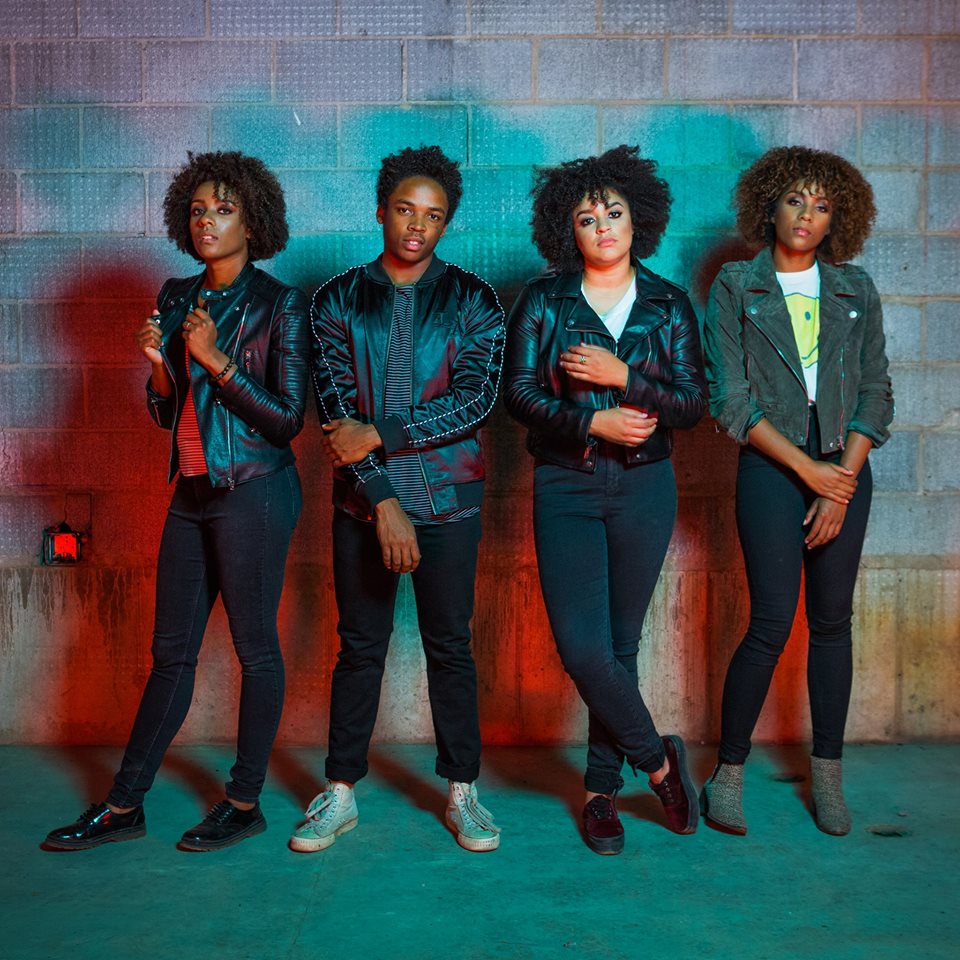 While I know it's only July, in just a few months time, the year will be over and then I would've needed to at least have a list at the ready, to have 1- whatever of songs, EP's and albums that were my standouts throughout the year. So I started to think, and compose a list. In this special post, I will unveil my favourite 15 EP's 2016 has to offer. But this list is special- the EP's are only from January – June 2017. While the year isn't certainly over (5 months to go), I will certainly post another best-of list in December, collating EP's from July – December and posting that at the end of the year as well. Anyway, enough preamble. Here's my top 15 EPs that have made a great impact on myself both spiritually as well as enjoyableness.
Here Comes Trouble (The New Respects)
Essentially a quartet of family members (twin sisters Alexis and Zandy Fitzgerald, their brother Darius and cousin Jasmine Mullen- daughter of CCM powerhouse vocalist Nicole C. Mullen), The New Respects are definitely a band I would take note of this coming year and beyond. Ever since I heard their song "Hey!" which debuted last year (and sadly, that song is not present on their debut EP!), I knew the band would be something special, and one listen from their new EP Here Comes Trouble and you would agree with me too. Signed to Credential Recordings and Capital CMG, and hailing from Nashville, Tennessee; there's no describing their genre accurately, as the three siblings and cousin stretch musical boundaries in hip-hop, soul, gospel, funk, reggae, blues, rock, and mesh them together to form a sound that is uniquely theirs, reminding me also of throwbacks to the 70's and 80's. 
Say (Alive City)
Alive City have presented to us 8 songs in Say that are sure to be anthems in and of their own right. While the band may take some time in becoming as popular as many other worship movements (maybe the band will be signed, if that is what they feel God is moving them towards…), what I will say is this- this group from Detroit have much heart and fervent honesty, that it ought to be criminal not to be caught up in their infectious joy that is presented in these tracks. "Say", "In Love" and "Trust" form my favourite tracks of the release, and hopefully from listening to these songs, listeners will find out more about Jesus and more about themselves. Are we doing everything in love or not? If not, why not? 
Love is Alive (Lexi Elisha)
While Lexi has quietly been releasing EPs ever since her first release in 2012 (Let Go), her passion and heart is undeniable, regardless that she is still relatively unknown, even within the CCM industry, 5 years after her debut EP release. Regardless of the unknown factor of Lexi throughout these last few years, her EP's that have released at a steady pace have been nothing but poignant, heartfelt and encouraging. I Choose Love released in 2013 placed her on the map with a pop-country atmosphere, while Rope traded it all for acoustic/bluegrass and a whole lot of ballads. Her most recent EP that released in 2015, Drowning in Love, focused predominately on the worshipful vertical 'genre' if you will, as well as adding some EDM and pop just for good measure. While I hope that Lexi gets signed by a major CCM label in the future, just so that the industry knows how great she is vocally; I often think that her, and many of the other indie artists shouldn't be signed at all- as I know, just like anyone else, that once anyone is signed to a label, restrictions are placed on the music you make. Still, many of my favourite bands/artists are signed, so I guess there are both benefits and drawbacks of a signed contract with a major label. With Lexi, her music, more so today within the CCM/worship scene compared to the pop/acoustic atmosphere she created back a few years ago, is nothing short of powerful and encouraging, and a must have for anyone who loves artists like Sarah Reeves, Moriah Peters and CCM/mainstream crossover artist Britt Nicole.
Wildfire (Brooke & Boggs)
Wildfire EP is a great album, and probably the best debut album in my opinion since Love And The Outcome's self-titled debut album in 2013, and Tenth Avenue North's Over And Underneath way back in 2008. Both Michael Boggs and Brooke Voland, as Brooke + Boggs, have given us potent, emotive, comforting, relaxing, upbeat and moving songs, and their ease at 'switching genres and styles' is very commendable. Sure to create controversy as well as getting us to look deep down into ourselves, examining our relationships with each other and with God; Brooke + Boggs's debut EP is a reminder that southern/gospel music, with a hint of worship, can be fun and can indeed have a positive impact and contain messages transcending the possible and material. 
Chapter 1 EP (Verses)
Comprised of vocalists Jess and Joel and programmer Luke, Aussie band Verses are probably one of the world's best kept secrets…until now I reckon! The band quietly unveiled their debut EP yesterday, yet I think it won't be quiet for long! With a vibe, atmosphere and vocals reminiscent to Charmaine, Hillsong Y&F and Planetshakers, Verses are a band with a bright future ahead of them, as they look to make Jesus' name known and famous! With Jess leading 3 tracks and Joel 2 on Chapter 1 EP, expect the guys to be signed in the near future…
Re-Covered EP (Jordan Feliz, Grayson Reed, Carrollton)
Never before has there been a project like this. Sure, there's been albums by individual artists within the Christian industry where one or two songs on such album are covers of famous mainstream tracks. But to release a full length album of sorts (8 tracks) where every track, except for 'Holy Spirit', is in fact a 'mainstream' track is a feat in and of itself. There seems to be a stigma surrounding the notion and perception of Christians who sing and perform music that was originally focused towards the mainstream industry. There's the people that downright oppose that there are some Christians who sing mainstream music, and claim that Satan has come to twist and reshape, that what these artists are doing is in fact immoral. Then there's others, like myself, who are of a different viewpoint- that whatever music we sing and we hear, God can use anything to bring people closer to Himself, and if someone is impacted by a mainstream song such as any from the track list to this compilation, then so be it. Still, regardless of what view you all hold of mainstream music in general, we cannot deny the fact that these renditions of some of today's most popular songs are in fact, near-flawless, often at times catchier and musically more balanced and refined than the original. With some songs here on this EP much more famous and popular than others (I reckon more people know a song like "Drag Me Down" compared to a song like "I Lived"), Grayson Reed, Carrollton and Jordan Feliz (the three artists represented, all of them on Centricity Music) have all done a great job quality-wise, making this EP one of the most different and musically invigorating that I've heard in all of 2017 thus far!
Heaven EP (Jimi Cravity)
Jimi's first EP (of hopefully many) is indeed a revelation. Sad to say, Chris Tomlin, but Jimi's music is something more of a reinvention of the worship music genre, compared to Chris's latest effort Never Lose Sight. Sure we had artists like All Sons and Daugthers, Crowder, UNITED, Paul Baloche and Tim Hughes, even Meredith Andrews and Phil Wickham that earnestly and fervently worked to change the culture that comes with creating music for worship and the church, yet with Heaven EP, we see the whole genre of worship music turned on its head, shaken and rearranged. This is not the music our parents listened to growing up, and maybe some may say that this type of music is too alternative, yet this, I reckon, is what is needed for more young people to hear what God is trying to stir up in their soul. Jimi's new EP is one that is a must have if you do enjoy worship music or just music in general. Even if you only hear the EP to just hear "Beacon", Jimi's music ought not to be glossed over. Set aside some time to listen, and hear the unique and powerful songs borne from moments of hope and suffering, of joy and celebration, as each of these genres expressed in these seven tracks are indeed just a fraction of what we will hear when we get to heaven one day. 
Paradise (The Supanova Project)
People often focus too much of their attention on the U.S. and all the talent and music that comes out of the U S of A that they forget that music is made outside the 50 States…and great music at that. Artists like UNITED, Hillsong Worship, Y&F, the Newsboys, Paul Colman, Nathan Tasker, for KING AND COUNTRY, Rebecca St. James, Alabaster Box, Planetshakers, Charmaine and Peter Furler have all been privileged to have their careers originate and start within the land down under before opportunites and fame decided to take these people elsewhere, but nevertheless, the humble beginnings for these aforementioned artists is what makes a fair chunk of the CCM industry, unique, different, quirky and interesting. Enter in another indie-Aussie pop-worship-electronic group, The Supanova Project. Comprised of husband-wife duo Janelle and Branimir Mikulic, this Perth based EDM group dropped their 6 song EP in late January of 2017, reminding us all that Australian music is nevertheless still alive and well within a music industry firmly planted in either America or the U.K. With their first single "Take It Over" featured on the Hot 25 (a weekly program highlighting the songs that have charted on Christian radio throughout the week) as #1 for a few weeks in a row, Janelle and Branimir have presented an EP certain to be enjoyed if you are a fan of Alabaster Box, Press Play or even Hillsong Y&F.
Citylovemusic EP (Citylovemusic)
With Jonathan and Kristina's parents migrating from Trinidad and Tobago a while ago to pastor a church of their own, the siblings grew up in the U.S. with a worshipful heart for Jesus, with shows immensely throughout these 4 (5) tracks. Rising stars in the making, citylovemusic is sure to be a household name and the duo everyone will soon be talking about in the months and years to come. With citylovemusic being one of my personal favourite EP's in 2015; there's nothing more that I can say about this album that hasn't been said already. So let me just say this- go listen to some tracks. I guarantee you'll like these honest, emotional, personal and transparent songs!
Rewind EP (Jeremy Rosado)
From song 1 to song 5, Jeremy Rosado has created a near-flawless second effort worth many, many listens. It's clear that Jeremy's burning passion for Jesus and relatable lyrics show us that God is with us and faithful, and that no matter what we can always make a change in our life if we want to, as God helps us 'rewind' and sets our lives brand new. With that underlying theme interweaving throughout the album, it's no wonder that all five songs are so encouraging. So, should you make the plunge in listening to Jeremy's new project? Of course- you may find your new favourite song or the healing that you need- songs like "Jesus Is" and the title track are especially moving and inspiring. Fans of artists like Royal Tailor, Jonathan Thulin and Jimmy Needham will definitely love this album. 
Walk EP (Grayson Reed)
Grayson Reed's new EP is a long time coming. Not to say that their previous projects in Mikeschair and City Harbor have been less than stellar, in fact, listening to Grayson Reed's Walk has made me lament for Mikeschair and City Harbor all the more. Yet in the same breath, Mike and Molly have complemented each other so seamlessly and poetically on the EP that I can't help by enjoy and love the duo. And while the EP is only 6 songs (the half a point taken off was indeed because the EP was too short, maybe a full length album in the future?), Mike and Molly have delivered songs that have tremendous replay value, songs that are as much needed in society as they are to be enjoyed casually on a Sunday afternoon played in the background whilst doing chores or other things. Grayson Reed is a welcomed addition to the Christian music scene, and while I may not know whether this duo will be as successful as Mikeschair or City Harbor, what I do know is this- Mike and Molly have given us an EP well worthy of even just one listen- and maybe, just maybe, songs like "Fight For You", "Walk" and "Be Revealed" will touch your life as it has mine. 
Abigail Duhon (Abigail Duhon)
While not the most necessarily refined or even CCM-esque artist currently being rotated on the radio at the moment, what Abigail has is potential, heart and emotion, something I personally, as a reviewer and a casual listener of music, haven't really heard since new artists like Love and the Outcome, I AM THEY, Zach Williams and Lauren Daigle. With a plethora of musical genres explored in this EP, from dance to subdued acoustic, Abigail is an artist sure to be influential amongst the younger generation in months and even years to come. And if the song "I'm Not Ashamed" is any indication of what Abigail's future within the CCM industry looks like, then it is very, very bright. 
Jake & Laura Vol. 1 (Jake & Laura)
While it may take a while for this duo to be fully recognised for the talent they already have, this 6 song EP is enough for me as a reviewer to say that this duo is quite possibly one of the most underrated duo/group/solo artist I've heard since indie artists Naomi Striemer and Meredith Kinleigh a few years ago. Jake and Laura have a presence about them that is compelling and heartfelt, and while I don't think they are married, their camaraderie and ability to harmonise with one another is as infectious as it is needed in an industry where many duos are either husband-wife or siblings. Rarely do we see a duo where both parties are unrelated to one another (except All Sons and Daughters)… who knows, maybe Jake and Laura will become the new ASAD in the future? 
Jonah (KJ-52)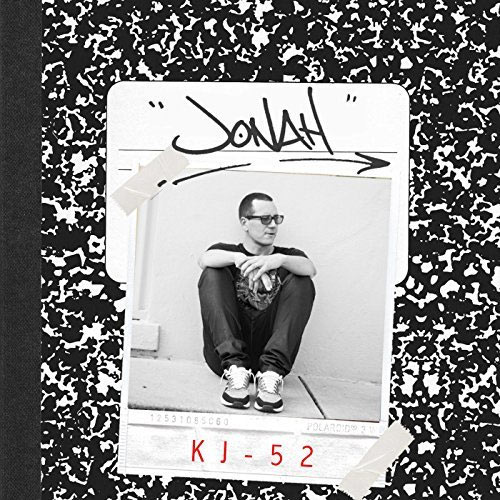 With Jonah being KJ 52's most cohesive work to date and my favourite rap album since TobyMac's This Is Not A Test; this is an album that is a must listen for 2017, no matter if you love rap or not. In fact, if you love music in general (how could anyone not!), then you will definitely find a song or two that you will love on Jonah. There's nothing really more I can say to you that could make you want to listen to the album. So I will say this- take a listen, and if you like it, that's great. If not, that's fine too. Personally, I reckon the album is great. The many guest vocalists add a different dynamic (in a good way!) and I cannot wait to see what KJ does next, considering how this Pledgemusic campaign was so successful!
Nothing Ordinary (North Point InsideOut)
At first glance it may seem like there is a batch of upbeat and hymn-like songs mixed together to create an EP, thus the flow of the EP initially may seem a little disjointed, and such an album probably did not take much thought and planning. However, Nothing Ordinary is filled with God-inspired moments throughout, led by many worshippers that will be prominent and in the spotlight in the many years to come- inclusive of Kristian Stanfill's brother, Brett. Released on a day where Bethel Music releases their next live album, and singles from Sarah Reeves and Needtobreathe release online as well; this movement of church worshippers may not necessarily be that popular upon release date this week. 
So there you have it, my favourite EP's of January – June 2017. What has been your impacting EP's of 2017 so far? Any EP's from my list made an impact in yourselves physically, spiritually and any other way? Let us know in the comments. Til next time.