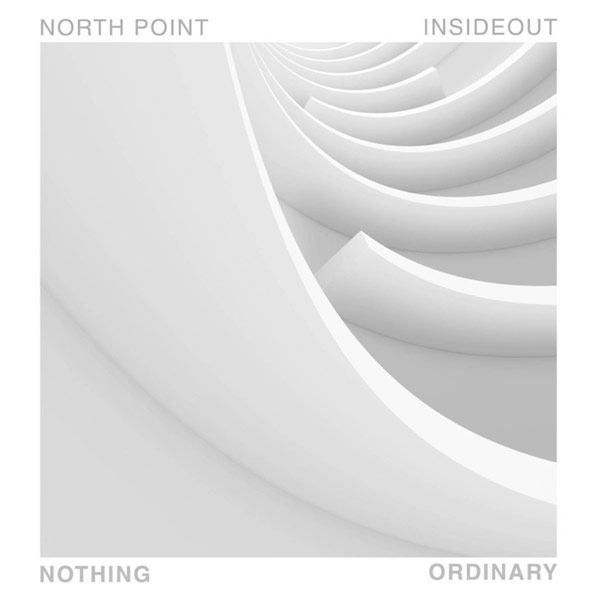 Centricity Music
Release Date: April 7th 2017
Reviewed by: Jonathan Andre
North Point InsideOut– Nothing Ordinary EP (iTunes/Amazon mp3)
Track Listing:
We are Royals (Chris Cauley)
Death Was Arrested (Seth Condrey)
Every Beat (Seth Condrey)
Enough for Me (Brett Stanfill)
Love Come Down [Remix] (Seth Condrey)
It's often very hard to keep up with all the worship movements/bands out there within the CCM industry currently. Just one glance at the list of worship movements/bands and you'd see what I mean- Jesus Culture, Passion, Hillsong Worship, Planetshakers, Y&F, UNITED, United Pursuit, WorshipMob, Soul Survivor, Worship Central, Bethel Music, Housefires, Mosaic MSC, New Hope Oahu, Fearless BND…you get the picture. So for another worship group to come into the mix with yet another EP, you begin to wonder. North Point InsideOut is a worship movement focused on student ministry (sort of a contemporary of Y&F) based from North Point Community Church in Alpharetta, Georgia; and now as they have signed to Centricity Music, home to a wide array of powerful and poignant artists (Andrew Peterson, Jonny Diaz, Carrolton, Grayson Reed, Jason Gray, Unspoken…to name a few), I've decided to sit up to take notice. Ever since their first album No One Higher in 2012, I knew that this band (or worship movement, if you can call them that) was in for great things, now especially that they are under a label that I reckon is perhaps one of the most underrated within the CCM community. So a few years later in 2017, North Point InsideOut have released to the world, their first label project- a 5 song EP that has within the track listing the very song "Death Was Arrested" (like how "Good, Good Father" and "No Longer Slaves" were to last year, I reckon "Death Was Arrested" could be to this year, that's how popular I reckon this song could become!). So how does that compare to albums previously released? Is Centricity Music a good fit for North Point InsideOut, or is it off to Integrity Music for their next label-endorsed project?
Standing at 5 tracks, the song, and I really mean, the song, from the EP that everyone should hear at least once is "Death is Arrested". Originally released as a single in December 2015, the song features a hymn-like structure, and reminds me of many other modern style hymns like "10,000 Reasons" and "In Christ Alone". Featuring Seth Condrey at the helm both times (this song release on Nothing Ordinary is a re-recording of the original 2015 release), this song is just one of these songs that you hear that you can hear again and again and not get tired…well maybe, after a year, you would get tired of any song, but all such things aside, "Death is Arrested" is a track fit for the upcoming season of Easter. Reminding us poignantly that death was indeed arrested by Jesus when He died and rose again for us all, Seth passionately declares these truths from this nearly 5 minute track. The song so popular and encouraging that prior to this North Point InsideOut recording, CCM artists Aaron Shust and Laura Story decided to cover such a track as this, we are reminded through this emotive and simple, yet equally profound message, that Jesus delivers us from sin, so that we can have new life with Him. With Seth proclaiming across anthemic guitars and keys that '…Your grace, so free washes over me, You have made me new, now life begins with You, it's Your endless love, pouring down on us, You have made us new, now life begins with You…', we are glimpsed into the love and devotion Seth has for the One who died for him personally, and died for each one of us personally as well.
Throughout the rest of the EP, we see various other worship leaders (ex-The Voice contestant Chris Cauley and Brett Stanfill- yes, the brother of renowned Passion worship leader Kristian Stanfill) deliver songs for the church in this collection of 5 songs. Co written with Seth Mosley and ex-lead singer of Sanctus Real, Matt Hammitt; Brett Stanfill lends his voice to "Enough for Me", a quasi-modern day hymn that I reckon will come to fruition and status just like "Death was Arrested". Similar in the way that it continues along with the Easter theme that we can never be reminded enough of in our lives, "Enough for Me" is certain to be another 'classic' in the making, following in the shoes of "Death Was Arrested" to be a song destined to be sung in various churches around the world, hopefully by year's end.
"Every Beat", alongside "We are Royals", are the upbeat songs on the EP, and while at times I felt that "We are Royals" was more Planetshaker-sy for my liking, the song does have merit, as its message is as timeless as it is compelling, that if we are in Christ, as are of royalty, that we are sons and daughters of the most High King, and that, and that alone ought to make us celebrate. "Every Beat" is a declaration full of drum beat kicks and a light electric guitar presence as the minds of Matt Hammitt, Seth Mosley, Steve Fee and Phil Wickham come together to create a song that could easily be on either Matt or Phil's new album in the future. Til then, we can sit back and enjoy this rendition from Seth Condrey, and a song that'll also be a highlight of mine (out of every worship song I've heard in 2017) in recent memory. The EP then is rounded out by the remix version of "Love Come Down", a song that was a standout on their 2015 previous album Hear. While the message and the intent was there, the remix version was sadly disjointed and noisy, not well thought out as electronics seem to be layered and flooded throughout this tad-over-three minute track. If you are into EDM, then this is track for you- if not, then check out the rest of the EP except this song!
At first glance it may seem like there is a batch of upbeat and hymn-like songs mixed together to create an EP, thus the flow of the EP initially may seem a little disjointed, and such an album probably did not take much thought and planning. However, Nothing Ordinary is filled with God-inspired moments throughout, led by many worshippers that will be prominent and in the spotlight in the many years to come- inclusive of Kristian Stanfill's brother, Brett. Released on a day where Bethel Music releases their next live album, and singles from Sarah Reeves and Needtobreathe release online as well; this movement of church worshippers may not necessarily be that popular upon release date this week. However, I would surmise that these worship leaders care not about sales, but rather reaching listeners with the love of Jesus, as this is definitely one of the underrated albums/EPs released a couple of days ago. Hopefully as time progresses, North Point receives the recognition that the church and its ministry deserve! Well done guys for a thoroughly enjoyable EP; and God bless your ministry in the future.
3 songs to listen to: Death Was Arrested, Every Beat, Enough For Me
Score: 4/5
RIYL: Chris Tomlin, Matt Redman, Crowder, Kristian Stanfill, Brett Younker