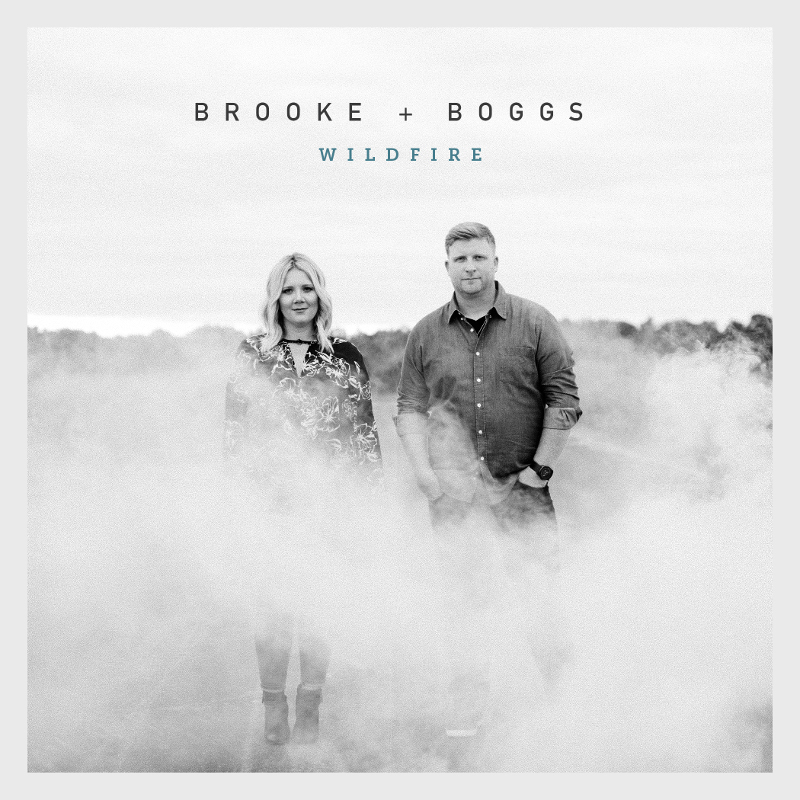 Independent
Release Date: March 31st 2017
Reviewed by: Joshua Andre
Brooke + Boggs– Wildfire EP (Amazon mp3/iTunes)
Track Listing:
Wildfire
Grace Upon Grace
As It Is In Heaven
The Cross Stands
All Eyes On You
The Light
 "…there was a time when I felt like the heaviness of my sin completely outweighed God's grace, that what I'd done couldn't be forgiven, and meant I couldn't be in ministry, or be a good mom or good wife. When Boggs showed me 'Grace Upon Grace' for the first time, I kind of just sat there in silence because Boggs wrote this song that really connected with my heart and what I wanted to say…there's nothing I can do to repay that grace; there's nothing I can do to earn it," Voland added. "It's powerful for people like me who feel like they've completely failed just to know that it keeps getting piled on–grace upon grace…" Originally the long-time guitarist of the popular CCM band FFH in the late 90's and early 2000's; Michael Boggs has excelled in his career, previously culminating in his second solo album called More Like A Lion. Skilfully playing guitar in a band likened to Point Of Grace and Avalon in style and genre; in 2014 Michael stepped out into his own genre, which is a bit of pop mixed with country and southern gospel roots. With Michael's commanding voice and musical style reminding me of Jason Crabb, Matt Maher, Third Day and Rhett Walker Band, there was a wide range of songs on the album that drew me in, with the album providing us with unwavering biblical truths wrapped up in emotional and poignant melodies and songs for corporate worship to Jesus. Now, with a new band formed with newcomer and worship leader Brooke Voland, titled Brooke + Boggs, a brand new EP, titled Wildfire, is set to release this coming week. With Brooke and Michael beautifully singing in harmony on each of the inspiring and powerful 6 tracks, the duo give us reason to rejoice and be glad, reminding us that Jesus is with us every single day of our lives. Thus we can confidently worship our Lord and Saviour, and commune with our brothers and sisters in Christ. From the debut single, the piano led ballad "Grace Upon Grace" to the acoustic guitar led gospel infused celebratory and raucous "The Light"; Wildfire EP is definitely for you if enjoy worship with a country/worship style that's still firmly rooted in the scriptures!
Led by stirring keys and the passionate and captivating vocals of Brooke, first single "Grace Upon Grace" anchors the album lyrically and thematically as we are reminded of Jesus' immense love for and devotion to us, that God's grace for us is endless and boundless, and we can ask God to, '…like an ocean wave crashing over me, come and draw my shame in your mercies deep…'. Simple in concept, the delivery and execution here is near flawless, as both vocalists belt it out of the park here- the ardent and inspiring melody is perfect for the first single, as we grasp more and more of God's love for us, which is essentially beyond human understanding and comprehension if we stop and dwell upon it. We do not deserve grace, yet it is piled on immensely, because we are His children. Well done Brooke and Michael for this exuberant and inspiring single sure to impact lives in the present and in the future.
The rest of the album is just as poignant and moving as the first single, and before you know it, 5 more songs have passed, and the EP is finished all too quickly. But not before we hear some quality worship anthems and standout tracks of 2017 thus far! EP opener "Wildfire" fervently reiterates '…let Your love burn brighter, brighter, light us up like wildfire, let your love burn brighter in us, like a wildfire…', asking God to stir up revival in us and a longing to actively ensure that His kingdom comes on earth as it is in Heaven, with Michael leading the track against pulsating drum beats, celebratory banjo strums and vibrant electric guitar riffs; while second single "As It Is In Heaven", standing tall at almost 6 minutes in length, is a modern reinterpretation of The Lord's Prayer, with Brooke and Michael both powerfully declaring that Jesus' will be done on earth as it is in heaven. Earnest and honest, emotional and poignant, "As It Is In Heaven" is one of my favourite renditions of The Lord's Prayer ever, kudos to the duo for breathing new life into this timeless bible verse with plenty of relevance for our lives currently.
"The Cross Stands" and "All Eyes On You" are not songs from Tim Hughes or from OBB (which I originally thought!) but are in fact originals. Sung as a modern hymn, "The Cross Stands" is a piano led ballad, where Michael and Brooke both ardently and powerfully declare that '…over guilt, over shame, over hell and the grave, oh with great love and mercy, you stood in my place, I am free, free indeed, when the judgement falls, the cross stands above it all…', eloquently reminding us that we are free from sin because of what Jesus did on the cross, while the penultimate song on the album "All Eyes On You" is an out-and-out worship song, as Brooke lead the track with passion and immense desire for Jesus, asking God to move and '…do what you want to do…spirit fall, do the impossible…'. The EP ends with the energetic, rousing, bouncy and celebratory acoustic guitar led gospel infused track "The Light", where Michael channels his inner Danny Gokey vocally, eloquently and emotionally reiterating to us that Jesus is the salvation for our soul, that He is the only light in the world that we need. Well done guys for a stellar end to an impressive debut EP that is bound to be impacting lives both now and into the future!
"…In all reality, I don't believe God has promised Brooke and me success, in terms of the way that a lot of the industry would see success. He's asked us to be obedient. I want people to like our music. I want them to invite us to be part of their church or event so we can build relationships with people and lead them into moments, but at the end of day, the only thing the Lord has promised is, 'I'll show you the next step.'…" Wildfire EP is a great album, and probably the best debut album in my opinion since Love And The Outcome's self-titled debut album in 2013, and Tenth Avenue North's Over And Underneath way back in 2008. Both Michael Boggs and Brooke Voland, as Brooke + Boggs, have given us potent, emotive, comforting, relaxing, upbeat and moving songs, and their ease at 'switching genres and styles' is very commendable. Sure to create controversy as well as getting us to look deep down into ourselves, examining our relationships with each other and with God; Brooke + Boggs's debut EP is a reminder that southern/gospel music, with a hint of worship, can be fun and can indeed have a positive impact and contain messages transcending the possible and material. Well done Michael and Brooke for a thought-provoking album that will be on my iTunes player for a while yet, at least until the next EP or a full length album drops!
3 songs to listen to: Grace Upon Grace, As It Is In Heaven, The Cross Stands
Score: 4.5/5
RIYL: Love & The Outcome, Hillsong Worship, Kari Jobe, Matt Redman, Crowder, Leeland