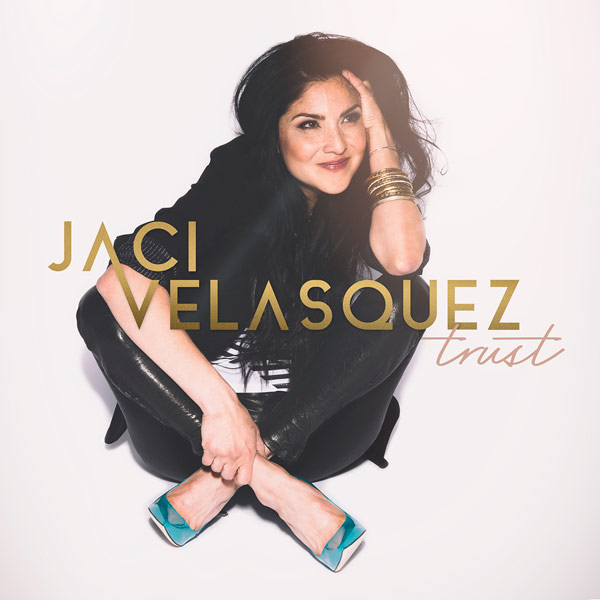 Integrity Music
Release Date: March 31st 2017
Reviewed by: Joshua Andre
Jaci Velasquez– Trust (Amazon mp3/iTunes)
Track Listing:
Trust You
I Will Call
God Who Moves The Mountains
Great Is Your Faithfulness
It's Never As Dark As It Seems To Be
Great Are You Lord (Feat. Nic Gonzales)
Lay It At The Cross
Rest
Praise The King
Sound Of Your Kingdom
"…We adults are worried about paying our bills, getting our car fixed, health, but being scared in bed alone is a mountain to a seven-year-old. Soren and I both were moved to worship, and our lives changed in that moment. I don't know a lot about worship as a music genre, but I know how God can use music to move people. What we experience in church, in worship, we want to have that experience every day… at home, in the car. In the middle of the day, God uses it to meet us in the middle of our chaos, to move us closer to him, to remind us of who we are and who He is…" One of CCM's most respected and popular female vocalists, industry veteran Jaci Velasquez is now back with a new album. It's a bit of a surprise though- normally in this industry it's kind of expected that an artist releases a new album every couple of years, or every 3 years max. Longer than that, and you could be forgiven for thinking the artist had quit. But after we have seen and heard new albums from Audio Adrenaline, Plumb, Rachael Lampa, Britt Nicole and Nichole Nordeman over the years, each having had spent time in 'the wilderness' so to speak, and each artist coming through and releasing a 'comeback' album; in some respects, Trust is a testament to God's faithfulness, that God isn't done with Jaci as a musical artist.
Trust releases this coming week via Integrity Music (also as Confio– a Spanish album of Trust!), 5 years after Diamond (Inpop Records)- which was also a 'comeback' since the previous album released was Love Out Loud. Having parted ways from Word with her album 'Love Out Loud', and thus joining Inpop, only to later part with them too to join Integrity Music; Jaci has, in her spare time, been very busy- acting, writing and being a radio co-host since 2010 for 'The Family Friendly Morning Show'. Considering these areas on her life that need to be juggled, from multiple listens of Trust I can truly say that Jaci's new album, which drops on Friday to all Christian retailers and online stores, celebrates and reflects on a new season in her life. I could almost treat Trust, as the 'new' Jaci, a new debut album if you like. And what a stellar debut on Integrity Music this is. Seriously, if you have not heard Jaci's discography before (how could you not?), then Trust is the perfect place to start, for those who want to be encouraged by the hope and security we have in Jesus Christ.
With the album as a whole inspired by Jaci consoling her son Soren, and comforting him one night during a time where he had a bad dream, through the singing and playing of a particular track sent from Integrity Music, it's probably fitting that the first single from Trust is that song used to soothe Soren and quell his fears. "God Who Moves The Mountains", written by Richie Fike, Dustin Smith and David Leonard of All Sons and Daughters, is brilliantly covered by Jaci, as she declares against the serene backdrop of stirring electric guitars and pulsating drums, in this worship anthem, that Jesus is the One who can and will move the mountains in our lives. All powerful, ever true and always reliable and faithful, Jesus is the One who is always in our corner, no matter what. As Jaci eloquently reminds us that when '…You say speak, we say, "move", and You say watch, what You can do, You say trust, and then You prove You're the God who moves the mountains, the God who moves the mountains…', we are comforted also, by the fact that this all powerful God, knows us and loves us intimately and like we could never imagine, thus we do not have to fear, as He is with us. Well done Jaci for a compelling first single, reminding us all that she is still one of today's most popular female vocalists in CCM!
As for the rest of the album, Jaci shows us once again (actually 9 more times!) the reason(s) she was signed to Integrity Music- because she has a heart for worshipping Jesus, evident through most of these vertical melodies giving Jesus thanks for who He is. Covering three more tracks, Jaci also reminds us that it doesn't really matter if she didn't write the song or not- if God's anointing is there, then the song will transcend vocalists and enter into the heart of the listener. That is certainly the case with "Great Are You Lord" (All Sons And Daughters), "Great Is Your Faithfulness" (Martin Smith) and "Praise The King" (CentricWorship). All of these three songs are earnest, honest, emotional and poignant in their deliveries, with Jaci staying close to the originals, yet also providing us with her signature sound as well. "Great Are You Lord", probably the most popular AS&D melody ever, utilises the guest vocalists of Salvador front man and Jaci's husband Nic Gonzales, as we are glimpsed into an unbridled moment of praise and worship, as both husband and wife glorify God's name, reminding us that '…all the earth will shout Your praise, our hearts will cry, these bones will sing, great are You Lord…', while the Martin Smith penned cover "Great Is Your Faithfulness" is beautifully recorded, in some ways better than the original, as Jaci earnestly cries out in the captivating piano led ballad that '…we will stand, we will stand upon Your promises, we are strong, we are strong because our hope is in You, we will run, we will run, we will run, we belong, we belong, we belong, to You, we belong to You…'. "Praise The King", the last cover, is yet another highlight, as this song by far is the most CCM (yes, out of the entire 10 tracks!); as Jaci brings to the fore the theme of us praising the King with all abandon, because of the reason behind it all, that '…Jesus is alive, praise the King, He is risen, praise the King, He's alive…' While at times the song can seem lyrically repetitive; the song still presents biblical truth, and that alone is enough for me to be transfixed and captivated by every song on Trust!
Though Jaci nevertheless excels at her covers, it is in the original melodies where her vocals and lyrics shine. Quasi-title track "Trust You" is a simple yet effective radio friendly guitar led melody, as Jaci reminds us all we can trust God in any situation, as '…when there are storms, You make me stronger, when I am drowning, You are my water, I know You're by my side, and I trust You, when my body's shaking, my faith won't be broken, You lift me up, my heart is wide open, I know You are my life, and I trust You…'; while equally compelling acoustic prominent ballad "I Will Call" (sure to be a single at some point in the future!) echoes the promises of Jesus, that He will answer when we call upon Him for any situation at all. "It's Never As Dark As It Seems To Be", written by Mike Grayson, Seth Mosley and Michael Farren, is as encouraging as any song I have heard all year, with Jaci eloquently reminding us of the hope we have in our Lord Jesus Christ, that every single dark point we experience in our lives does have a silver lining at the end of the ordeal. Comforting and inspiring, I believe that it is this song that will probably impact the most lives (if I had to pick one song out of the ten!), while the Easter themed and inspired "Lay It At The Cross" reminds us of the power of the cross, that '…at the cross we find healing…we find peace…we find Jesus…we find all the we ever need…'.
With "Rest" being aptly and fittingly titled, Jaci encourages us all to slow down and take a breath- to just sit in the quiet, without all of the busyness and the distractions, allowing God to speak in the silence, to speak in the things we wouldn't normally think that He would. Yet it is the bouncy, poppy, electronic dance number and album ender "Sound Of Your Kingdom" that is sure to get us moving, tapping our toes, and moving on the dance floor. As Jaci powerfully declares that '…our hearts are spilling over because of what You've done, this is the sound of Your kingdom…', we are glimpsed into the kind of party we can expect in heaven- praising God all day and all night long, because of every He's done for us. Well done Jaci for these inspiring 10 anthems that have me singing the promises of God along with you!
Jaci's 2nd return to Christian music, on a new label, after a five-year hiatus (and a four year hiatus before that!), is quite a remarkable story. Preparing to embark on a national tour to support her new album, called the "Trust Tour", along with a full band and her family, Jaci Velasquez has shown us through 42 minutes of inspiring worship to Jesus, that she is still here, and she still is a force to be reckoned with in the CCM industry. In my opinion, Jaci has excelled so much at this album- I love this album to bits, and can never hear enough of it. The songs hold a running theme that God can use whatever circumstance to His glory, and that He is to be praised, because of who He is and everything He's done, and the music is diverse, yet still originally sounding like Jaci always does, so full of energy! But don't take my word and opinion- check out Trust on March 31st, and marvel at Jaci's prowess as a singer and a worshipper! Well done Jaci, hopefully your next album isn't too long a wait!
3 songs to listen to: I Will Call, God Who Moves The Mountains, It's Never As Dark As It Seems To Be
Score: 4.5/5
RIYL: Rachael Lampa, Stacie Orrico, Rebecca St. James, Point Of Grace, Amy Grant, Natalie Grant