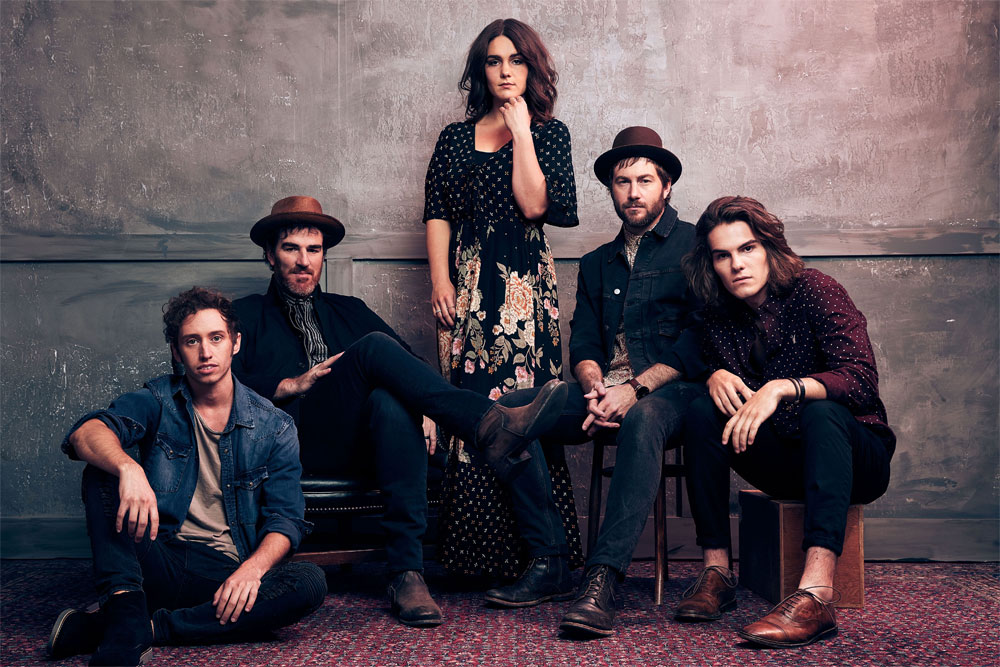 Every once and again, you make a list, for something, anything. You're so proud of this list. You take one look at it from a glance and say, 'I did a good job'. But then upon reflection, you realise something. That your list isn't as 'perfect' as you think it is. There's this thing that was missing. Then there's the other thing that you overlooked, and before long, the 'definitive' list of whatever you have, doesn't seem as definitive as you even claimed to begin with. And it is herein that I understood and understand, that in any list ever made, there's always going to be what made the list, and what didn't. Simple. There's never a perfect list of anything, and while from an objective standpoint, the 100 artists from the original Influential Artists list, and the 50 artists from the Influential Up-and-Coming Artists list, seemed to be, on the surface, well-rounded and 'perfect' in every sense of the word; the reality of the fact of the matter is this- that behind every list of 100 (and 50), there's another _____ artists that weren't picked, for whatever reason. This is why this blog post is for all the honourable mentions, that in any other multiverse or universe, could've easily made the actual blog post series, but here on this earth, it didn't. While over the years, we did delve into the impact and influence of artists like Maddie & Tae, Thomas Rhett, Jess Glynne, Lauren Daigle, NF, Mandy Harvey, Lindsay Ell and Lucy Thomas (to name a few), it just meant that as some artists were discussed, others unfortunately weren't. Olivia Rodrigo, Ben Platt, Billie Eilish, Carly Pearce, Runaway June, Chance the Rapper, Gabby Barrett and Camila Cabello (to name a few) have all been impactful over the years (and hopefully into the future as well); and have all landed here on this honourable mentions list…which isn't a bad thing, but nevertheless, a thing that has reminded me, that honourable mentions to any list, are just as impactful, influential, important, and interesting, as the names on the actual list to begin with.
And there will be honourable mentions. In any list. Always. Because lists aren't perfect. And my list of artists who are influential will be different than yours. And that's ok. And because this list is only 100 names (and covers multiple genres and multiple time periods), there's only so many artists one can cover and delve into. Alas, this blog post will indeed focus on the artists that 'didn't make it', but on the same note, is still a post celebrating impactful and influential artists, that for some luck of the draw, received an 'honourable mention' instead of being 'official'. As I sit, ponder, and write about 25 artists here in my honourable mentions post about artists impactful now and into the future (discussing about 15 at moderate length, 10 in passing), I see that the sea of artists who occupy the landscape of music currently, is very vast. While in hindsight, some of these artists within the honourable mentions section, could've slid into the official list, what this post highlights, are the artists that are influential still, and that whether something or someone is or isn't on any list, doesn't make it any less impactful or important. I didn't write about artists like Olivia Rodrigo, BTS, Ben Platt, Runaway June, Gabby Barrett, Home Free and many others up until now, and it's hard to squeeze discussing about 25 artists into one post, but this is what this blog is about. So read on below to know and understand more about artists like Luke Combs, Lorde, H.E.R. or The Chainsmokers, as we're reminded that the current landscape of pop, rock, country, CCM and everything else in between; may not be in as dire of a state, as we think it could be.
If you were to ask me to take a snapshot of what the last few years looks like in terms of music, popularity, and the 'next best thing' for whatever is coming up next, I would probably tell you, that it's somewhere between BTS, Olivia Rodrigo, Billie Eilish & Camila Cabello. Four artists that have literally taken the music industry by storm, all these four were unfortunately not present on the actual 'Influential Artists of the next 5 – 10 Years' list for various reasons, so it seemed fitting to include them here, in the honourable mentions sections. BTS has been famous for their English songs like 'Butter', 'Dynamite', 'Permission to Dance', 'Boy With Luv', and their Coldplay collaboration 'My Universe' (even now I have no idea what the real meaning behind 'My Universe' really is, and the music video makes the meaning of the track even harder to decipher), as these members from South Korea's most popular boy-band group, have come a long way since their 2014 debut. Whilst Olivia Rodrigo's 'Driver's Licence', 2021's most chart-topping song of that year, reminded us that someone who started as an actress (Olivia was starring as the lead in High School Musical: The Musical- The Series, prior to release of her debut album sour), can still make the change and pivot into something much more dynamic and interesting (to be honest, music as a whole is much more vulnerable and honest than TV ever could be). With other standout songs like 'good 4 u', 'traitor', 'brutal' and 'déjà vu', we as a site reviewed Olivia's debut album here, and while I made the decision consciously not to place Olivia in the original 50 posts (I personally think she's too new and fresh to the industry), nor have I made that decision for BTS (I myself am unfamiliar with South Korean and Japanese culture and their style of music, and therefore cannot in good faith, write about something I'm ignorant about), that doesn't mean that both BTS and Olivia's music can't change lives and impact people. It may not be me (aside from the handful of songs from both these artists that I know, both BTS and Olivia's music wasn't as impacting for myself as I thought it was going to be), and it may not be my first choice of music anyway, but it could be for someone, and it'll be impactful for someone too- sour broke all the records for a new artist in 2021, while BTS has been at it since 2014. Their music is here to stay, and even though I may not necessarily be their target audience (my era of music would more closely fall alongside the Delta Goodrem/Guy Sebastian/for KING & COUNTRY/Echosmith/Thomas Rhett style), Olivia and BTS still have a grip and handle on the industry that no one else has at the moment (aside from Ed Sheeran and Taylor Swift, who have impacted music from the early 2010s and the late 2000s respectively). Maybe, just maybe, these two artists can influence people to address their own issues in their life, and make steps to positive change, individually and communally, in the upcoming years ahead. Who knows, maybe music from BTS and Olivia could also impact me in the upcoming years ahead, too. Wouldn't that be good?
Camila Cabello was in the band Fifth Harmony for around 5 years or so, before she ventured out on her own to create 3 solo albums (Camila, Romance, Familia– which we reviewed here) to critical and commercial acclaim, and with songs like 'Havana', 'Never Be the Same', 'Senorita' and 'Bam Bam' as singles to back up these albums, Camila's presence in the industry has come a long way since her Fifth Harmony days. Camila has delivered songs (and albums) that challenge the status quo and remind listeners of positivity, strength, romance and humbleness, things that often are bypassed now in favour of whatever social media and it's temporary dopamine highs can bring; while her time away from Fifth Harmony in making these three albums, has yielded a much more holistic, calm and centred Camila, a more honest one, and a Camila not afraid to be vulnerable and playful, heartfelt and enjoyable, compelling and fun. Billie Eilish has also been a reckoning force for the industry over the last few years- her debut album when we all fall asleep, where do we go won plenty of awards at the Grammys in 2020, while happier than ever has followed closely compared to her first album, in terms of praise for it, and maybe even nominations for award shows in the future. And yet for me…I've never really felt in my spirit that Billie's music was right for me. From the very creepy video of 'bad guy' and 'when the party's over', to the very intense 'bury a friend' and the one-shot video for 'ocean eyes', Billie's songs have never resonated with me, and I don't think that'll change anytime soon. But just because I may not share with the plethora of fans out there, my enjoyability and delight for her music; doesn't mean that Billie's songs aren't influential, because they are. Like it or not, Billie's music has pull and reach, and though I wish that it didn't, I can't change the fact that Billie is going to change the world, in either one way or the other. 'Bad Guy' would have to be the most recognised Billie Eilish song ever- not because the song is catchy or meaningful in any way, but simply because of the overplayed sounds from said song, that makes me trying to get the song out of my head, impossible. Regardless of my own personal viewpoint of Billie, one thing remains- she and Camila have contributed to pop culture in a way that other people may not have, and even if I'm not across as much of their material as the average joe person, doesn't mean that their music isn't influential to someone, somewhere. Who knows, I may check out more of Billie's music in the future, or I may get an inkling to listen to Camila's music somewhere down the road. But where it stands right now is this- that as much as pop is the way people are listening to now (Billie, Camila, BTS, Olivia), that isn't necessarily the avenue that I have travelled down. As I've found time and time again through trends in the blog series, I currently gravitate toward CCM and country music, and that's ok. And maybe pop with an indie edge. Who knows?
Carly Pearce, Luke Combs, Runaway June, Tenille Arts and Gabby Barrett (and to a lesser extent Tenille Townes, Jimmie Allen, Hailey Whitters, King Callaway, and Lainey Wilson) have been making waves in country music for some time, and it pains me to introduce these artists within the honourable mentions section of this blog series. Regardless, to place any of these country artists within the actual blog list, meant that something/someone would have had to give…and with artists like Maddie & Tae, Maren Morris, Lauren Alaina, Mickey Guyton, Lindsay Ell, Hunter Hayes, Jana Kramer, Chris Stapleton, The Shires, Cassadee Pope, Thomas Rhett & Kelsea Ballerini that either myself or my brother have written, for this blog series; it was a near impossible situation for me to place any one of these above ten artists (from the honourable mentions) into the actual blog post series that currently houses 12 country artists…so these ten artists live here, in this blog post about artists that 'didn't make it', a reminder that within and around country music, there is an immense talent pool of artists, that no matter what choice anyone would make in relation to any list, there'll always be a great artist that misses out, somehow.
Carly's music recently has been a breath of fresh air for country music (and music in general), as her album 29: Written in Stone has shot up in Billboard Albums charts with standout tracks like 'Next Girl' and 'Never Wanted To Be That Girl'; while it's been newcomer Gabby Barrett that has had the most gains in country-pop crossover music, with her song 'I Hope', charting both pop and country charts, for the better part of last year. Gabby's debut album even has a gospel tinge to it, with the song 'Got Me' featuring worship duo Shane & Shane, and the album as a whole being very fresh, invigorating, and different compared to other country music that released around that time. Luke Combs's music has also been chart-topping over the last few years, and while I myself am basically removed from all things Luke at the moment (I've not heard one Luke Combs song whatsoever); I nevertheless acknowledge, in an objective sense, Luke's influence in not just country music, but music full stop. Releasing his third album this coming June, it's been his songs like 'When It Rains, It Pours', 'Hurricane', 'Beautiful Crazy', 'She Got the Best of Me' and 'Even Though I'm Leaving' (to name a few) that have made him what he is today, and the success he's had because of these songs, makes the nominations for best male vocalist (in various country music award shows) all the more special and meaningful. Runaway June, a lesser-known country act, only released one album to date, and while I know that this trio isn't going to compete with the likes of Maddie & Tae, Rascal Flatts or Lady A popularity-wise; Runaway June still have some tracks that remind me of the importance of this group, even if now isn't the time that their fame and popularity occurs- songs like 'We Were Rich' and 'Buy My Own Drinks' are the songs by this band that have really hit home for me. The former is a timely reminder that being rich is relative to the time period you grow up in, where you live, and what you have compared to everyone else, and that being rich in life experience is far better than being rich financially; while the latter speaks about independence after a breakup, and a great reminder of how 'buying your own drinks' is symbolic of picking yourself up after adversity and not letting anyone else coddle you into thinking that _____ defines the rest of your life.
Tenille Arts was also an artist that was unfortunately missing from the official '50 Influential Artists of the Next 5 – 10 Years' list, and even though I wrote two reviews about Tenille's albums in the past (Love, Heartbreak & Everything in Between, Girl to Girl), there just wasn't room for Tenille (I wrote about Cory Asbury and the controversy of 'Reckless Love' instead). Nevertheless, Tenille's music is inspiring, heartfelt, and compelling, and any other day of the week, she'd have been written about instead of…Matthew West? Demi Lovato? Selena Gomez? You see my point, right? I've just recently started listening to Hailey Whitters and just reviewed her album Raised, and based on that album alone, I would've liked to have explored the option of her being placed on the blog post list of influential artists both now and into the future (though being an honourable mention is great still), while Jimmie Allen, a fellow black country artist with vocal similarities to Steven Curtis Chapman, also sadly missed out on being discussed at length in the blog post series- he's releasing new music in June 2022, and to be frank and honest, his music isn't necessarily that recognisable, nor is it that memorable either. He's fine lyrically, and his music is solid, but to be blunt, it was a choice to discuss either Mickey Guyton at length, or Jimmie- and looking back, Mickey was definitely the right choice on the matter.
Tenille Townes though, was extremely unlucky to not even be considered to write about in this blog series, and if I had my time again, I would've written about her music instead of someone like Conrad Sewell- Tenille's big hits like 'Jersey on the Wall', 'Somebody's Daughter', 'Come as You Are' and 'When I Meet My Maker', are reasons enough, right? We wrote reviews on both The Lemonade Stand and Masquerades, so it's plain to see that her place inside the honourable mentions list, isn't indicative of her talent as an artist. King Callaway and Lainey Wilson, two literal up-and-comers (debut albums in 2019 and 2020 respectively), were dark horses for selection in the blog post series, but ultimately didn't come to pass, and while both artists were long-shots, I still feel as though I could've written something substantial about both of these two under-the-radar artists…but here's the thing. In a list of 50, it can't all be country artists, right? So, for us to write about 12 country artists to begin with, other country artists had to fall by the wayside- that's just how it was. And unlucky as it was, artists like Maddie & Tae, Maren Morris, Lauren Alaina, Mickey Guyton, Lindsay Ell, Hunter Hayes, Jana Kramer, Chris Stapleton, The Shires, Cassadee Pope, Thomas Rhett & Kelsea Ballerini; took precedence ahead of…well, everyone else.
Ben Platt is perhaps the most famous because of the Tony award winning musical Dear Evan Hansen where he plays the titular character in a story about a teenager suffering from mental health issues in a modern day school in America. The basis of the story goes as this- a teenager capitalises and exploits the suicide of a student in school, in order to gain popularity and pretend that he was their friend, just to mask his own inadequacies and to divert attention away from his own issues that were ultimately brought to the surface, by the play's end. As Ben was in the titular role during its first stage play run (as well as playing the role of Evan once again in the movie adaption of it, last year), it's known, and common knowledge, that Ben Platt is Evan Hansen- he created said role, and has indeed created a space and place for people who are indeed different and in need of help for their mental health (Ben the character was revealed to being suicidal throughout the play, and in need of connection and friendship, so much so that he fabricated a friendship after the person's death, because he needed 'something' to be real). This is what Ben Platt is famous for, if nothing else, and in hindsight, should've been discussed at length, in the blog series about artists impactful now and into the future (maybe in place of Anthem Lights?)- an added bonus, are Ben's solo albums as well: 2019's Sing to Me Instead and 2021's Reverie (which we reviewed). As a site, we reviewed the soundtrack album accompaniment to the Dear Evan Hansen movie, so I guess, to check out all things Dear Evan Hansen, then read that review?
New Zealand singer-songwriter Lorde had a massive radio hit 'Royals' way back in the early 2010s, and while she has been steadily releasing albums since that time (her debut album dropped in 2013, and subsequent albums in 2017 and 2021), her music hasn't really been that popular, nor as noticeable, for a decade, and in any other month of the year, would've at least been considered to be written about, in the list of artists impactful now and into the future (again, in place of someone like Selena Gomez or Demi Lovato); whilst remix duo The Chainsmokers, famous for the popular hits 'Something Just Like This' (with Coldplay), 'Don't Let Me Down' (with Daya), 'Paris' (with Emily Warren) and 'Closer' (with Halsey), have been quite popular over the last decade or so with their electronic music. Perhaps my conscious decision not to include this duo, has come from the fact that I'm not immersed in remix music and that music culture, in order to 'do them justice'; if I were to have written about them in this blog series. Mind you, I'm sure they would've been present in anyone else's blog post series list, of artists important and impactful currently and into the future…just not mine. Ella Henderson, Hatchie, and Sigrid are three new-ish artists I've recently started to listen to, and prior to this year, I don't think I've heard a song from any of these three artists. In fact, I didn't even know these artists existed to this year- all these three have just recently released albums this year- Everything I Didn't Say, Giving the World Away and How to Let Go, respectively (we've reviewed one album, and plan to review the other two as well); and it's been these three albums that I've heard a few songs of, here and there, that have allowed these artists to impress upon me, a sense of excitement of what these artists are undertaking now in their careers, and what they can potentially do next. While I know all these three were long shots to even be considered in such an inaugural blog post list, it could've happened in some other alternative universe- just not the universe we're living in right now.
H.E.R., Chance the Rapper and Khalid have been up and coming in the R&B/hip-hop/rap world for quite some time, and all these three were in consideration (for a long time) of being in the 50 Artists up-and-coming influential list for a while now. In fact, it was the duet between H.E.R. and Tauren Wells with the song 'Hold Us Together' last year, that showcased the immense skill of H.E.R.; and made me understand her talent and impact in an industry that is seemingly lacking, but with much consideration, I decided against, not only discussing about H.E.R., but also against discussing Chance and Khalid too. Not because all three of them aren't talented- they are. But in hindsight, it was because of my inability to speak much on mainstream R&B/rap/hip hop, that created my own hesitancy in writing about these artists. I could've ploughed on and written about H.E.R.- in fact, I was going to, and at the last minute, swapped H.E.R. out for Concrete Castles/First To Eleven. But in all honesty, I made the right decision- not being well versed in both R&B and mainstream hip-hop/rap in a general sense; I found it disingenuous to even think about writing about something I had trouble even enjoying or even deciphering. Even when I was writing blog posts in the main top 100, I wasn't comfortable writing about rap/hip-hop artists- I wrote about Christian rap artist Lecrae…and that was it.
Sure, artists like Kanye West, Eminem and Kendrick Lamar ended up in the honourable mentions category (that my brother Josh wrote, here), just like this post, with me stating that H.E.R., Chance The Rapper and Khalid are honourable mentions and not really in the original list of 50 artists (for personal reasons of me not wanting to be around such music that has so much profanity). But I've realised that just because I am uncomfortable with writing about some artists and their discographies (and subsequently not place them on any list, of any kind), doesn't make them any less objectively valid or even impactful or influential for people. H.E.R. is influential. Same as Khalid and Chance the Rapper. I may not know every intricate detail of their music. Granted, I've only heard H.E.R.'s collaboration with Tauren Wells on the song 'Hold Us Together', alongside Khalid's 'Know Your Worth', 'Talk' and 'Young, Dumb & Broke'…and nothing of Chance. But what I listen to or not listen to (with regards to these artists) doesn't matter, in determining someone's influence. Maybe if I had my time again, I would've found a way to slot in H.E.R. and write about her discography in full. Regardless, a song like 'Hold Us Together' may hopefully allow me to check out her discography in the future. Or it may not. Only time will tell, right?
Home Free and We the Kingdom both round out my honourable mentions of artists that all could've been part of the group of 50 artists impactful and influential both now and into the future. Home Free is a five-piece known for their harmonies and acapella cover melodies…and there was already one acapella artist within the 50 artists to be discussed…Peter Hollens. And maybe I could've fit Home Free in somewhere, in hindsight, but maybe, I was thinking in my subconscious, 'there is only room for one acapella artist in this list, and Peter is it'. The band, just like Peter, are primarily known for their cover music, while they've also released albums full of original material, every so often during their career. Home Free are impactful, but in all honesty, Peter Hollens (and Pentatonix, discussed in the main Top 100 Artists list) own the acapella 'game', and I don't think there was any way for Home Free to fit within the fifty artists anyway. We the Kingdom on the other hand, should've been discussed, period, and I'm mad at myself for the fact that I couldn't find a way for this folk/CCM/pop band to be discussed at length in this blog series. I dunno who I would've taken out in place of We the Kingdom, but…if you've heard 'Holy Water' as many times as I've did (and subsequently, their debut album as well), then I'm sure you'd probably agree with me. We the Kingdom, even on 'Holy Water' alone, deserves…well, something. Maybe in place of Apollo LTD. Or in place of Matthew West. Regardless, a spot in the honourable mentions section for this up-and-coming band, should be reason enough for anyone to start checking out the band right now. It's the least that they deserve.
All in all, in this blog of honourable mentions, I've spoken about 25 up and coming artists that I never wrote about at great length over the past few years. Even in this blog, I focused more on certain artists than others. Honourable mentions are a funny thing, and with this thing called hindsight, I'm sure around half of these artists mentioned here in this blog, could've be written about in greater length, in another universe and time. Which goes to show you, that lists are pretty subjective, when it comes down to it. As we've known in the past (and I'm about to reiterate now), this was a fluid list, created over the span of 3+ years. Maybe if said list, was written about a certain moment in time, the list could've looked way different. I mean, an artist like Conrad Sewell (who I'm sure was impactful and relevant in 2019, when we wrote about him), doesn't look that 'memorable' or even 'influential' 3 years later, while an artist like Hatchie or Sigrid, that we didn't write about, could be impactful and massively influential in a year's time. However which way you look at our blog post list (especially for the 50 up-and-coming artists, which is the most in-flux list), one thing's for certain. That music, especially current music, impacts people in different ways. Some artists may only be 'influential' for a moment in time and because of a time period, and other artists (like the artists discussed in the main 100 Influential Artists blog series) are more influential across time periods. And that's ok.
Because we all have our own musical preferences and tastes, and even as years go by (and even decades), our tastes could change…or stay the same. Regardless, I know that the past 3+ years of my life have changed my musical tastes. For the better. I still love CCM. But I also love pop, country, and am starting to appreciate the worlds of rock, R&B, rap and hip-hop too. If music can be used by the Lord to allow us to become awakened the myriad of musical genres that are out there, that can remind us to the different ways God can move in society as we see it, then that is a good thing. In a few weeks' time, the site will go on another musical journey. Not that the journey of the past 150 posts wasn't enough, this new journey (of 50 posts) will be on a whole entire level. Just like the series of 'Top Influential Artists of All Time' (100 artists) and 'Top Influential Artists of the Next 5 – 10 Years' (50 Artists), so too will we discuss influential artists in the upcoming series 'Top Iconic and Identity-Building Artists of All Time'. Within the confines of the next 50 artists, will be solo acts and bands that are much more universally revered and respected, as this list of artists will be much more agreed-upon by people, compared to the very debatable lists of the previous 150 artists. In this upcoming series will cover an eclectic range of genres and time periods, from artists like Willie Nelson, Slim Dusty, Rich Mullins, Keith Green, Beach Boys and Bruce Springsteen, to The Rolling Stones, Elvis Presley, The Judds, Reba McEntire, Dolly Parton, Michael Jackson, Lionel Richie, and Celine Dion; to name a few. So let us all sit back and enjoy what these next fifty artists will bring to us all. Who knows, by the time this whole process is over, maybe we'll find our next favourite artist that we never really knew 'existed' until now.