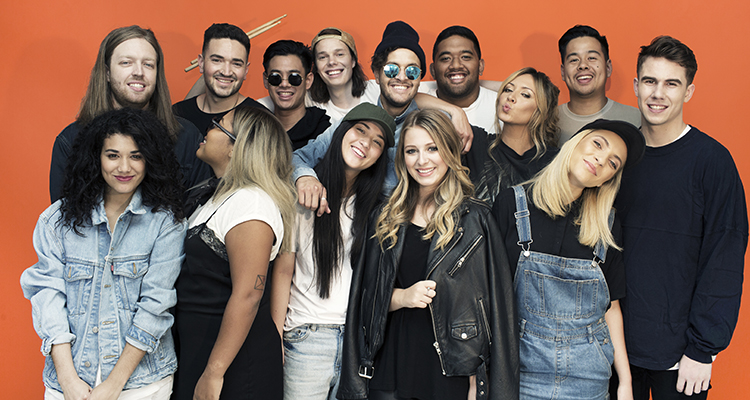 I don't know what your stance is, on this conglomerate of a megachurch called Hillsong. Everyone would have their own opinion. Including me. People may feel like Hillsong have harmed the community and society in general more so than they have wanted, more so than the good that they profess they want to do, and so, Hillsong is a word that brings up a lot of guilt, shame, hurt, anger and disappointment in some people. Others may swear by it, declare that Hillsong in all its music and sermons, are the best they've heard and seen in years, and may only listen to Hillsong Music (Worship, UNITED and Y&F) and will only listen to Brian and Bobbie Houston preach, alongside their ministry team. Again others would also think of Hillsong as a decent worship band, but in the grand scheme of things, they may think of their sermons as being too structured and 'religious', too leaning on prosperity doctrine that they may still listen to music from Hillsong, but just listen to someone else for their sermon 'fill'- besides there are many pastors and international speakers out there, from Louie Giglio, Andy Stanley, Francis Chan and Levi Lusko, to Ravi Zacharias, Brad Jones, Erwin McManus, Beth Moore, Christine Caine and Nick Vujicic, to name a few. And so herein, lies the point: that Hillsong in all its facets and nuances, in all its attempts to do right, and how at many times there's been instances and occurrences where people may think they're intentionally doing wrong; in all of that, Hillsong have continued to plough through, at least musically, to create a catalogue of musical albums across three different distinct outlets to create a worship ministry that has been delivering powerful songs and heartfelt melodies all the way from the start with songs like 'Shout to the Lord' and 'The Power of Your Love', to the most recent with 'King of Kings', 'Good Grace' and 'Another in the Fire'. We may all have opinions as to their validity in society today, and whether they are truly as important, influential and impactful as what people also say as well. And regardless where we all stand on the 'love for Hillsong' spectrum, one thing cannot be denied- their songs nevertheless, have an emotion and heartfelt poignancy about them that, for me personally, rivals only that of Chris Tomlin and Casting Crowns, as they (Hillsong Worship, Hillsong UNITED and Hillsong Young & Free (Y&F)) give to us songs that can touch and move our spirits, especially in this time and place in the world today. Say all we want about Brian and his Hillsong ministry, but much of the discographies of these three incarnations of Hillsong, are touching people's lives around the world. Just maybe, it's only going to be a matter of time before the songs touch yours as well.
By now in 2020, you would've probably known about all the fuss relating to Hillsong over the years. The good points as well as the bad points. Everywhere you look on the internet, there are a lot of articles condemning the megachurch as there are a lot of articles lifting them up. Just have a google search and I'm sure you'll see what I mean. But this blog post is not talking about Hillsong and their ministry- say what you want about it, and I'm sure people across all walks of life, people of different religious views, sexual orientations and cultural perspectives will have different thoughts about this church that has inched its way into every corner of the globe- rightly or wrongly. But this post is such about their musical arm of their ministry, and that if we have never heard about Hillsong and all the good (and bad) that they've done behind the scenes, can Hillsong's music still be influential? Or on the flipside, even with all the knowledge of the good and bad points that Hillsong has brought with it over the years, can the music still be influential, even then? These are good questions, and questions that I myself don't really have an answer for. You'd hope that behind-the-scenes fiascos won't have an impact on the validity and the intentional purpose behind the songs being given to us year, after year, after year. But for some people, they do, have a major impact. And for that, I am sorry. Hopefully people who have been hurt by Hillsong for whatever reason, can find comfort in knowing that there will be music out there, (that probably won't be and shouldn't be Hillsong) that'll give them hope, healing and restoration that they need from whatever they're feeling towards a church 'empire' that have both helped and harmed a lot of people. There, I said it- they've helped, but then I'm sure they've also harmed- maybe not intentionally, but that's what I'm sure people have thought they did. Nevertheless, because churches are made up by flawed individuals, the church building and its occupants, its behaviours and such, are only going to be as strong (or weak) as the people in them. Hillsong is not immune to this. There are very much the most loved, celebrated, but equally the most hated, Christian institution in the whole, wide world, and for many, the actions of Hillsong alone determines their own faith journey, which for me, it feels a little sad that such a thing occurs.
As much as I have said about Hillsong and all of the feelings someone may have to this one word, we can't sit by and discount the fact that their music arm is very strong, and a lot of their music have ministered to so many people throughout the years. With Hillsong Worship (back then it was just called Hillsong, and then Hillsong Live) starting off their once-a-year albums in 1992, it'd be mad to write and structure my blog as I've done previously- it'd make no sense, and I would really love Hillsong a lot, or I'd be considered mad, if I were to undertake this blog in a similar way to blogs I've written about in the past. So I won't. Instead I'd say this- Hillsong and all its music is fine. For me it is. I have enjoyed worshipping to Hillsong's music, because quite frankly, I don't have that affiliation with the band as much as other people. I didn't go to any Hillsong church when I was younger (nor do I now), and I've never really immersed myself into the Hillsong culture that much when I was younger. Sure, I heard songs here and there, but only when I went to my own local church, and they wanted to introduce a song into Sunday morning church service setlist and it was from Hillsong. Then Hillsong went onto the radio in the late 2000s, and I listened to what was on there. Because of this seemingly disconnect between me and Hillsong for my whole life, I haven't been across every single news item about Hillsong that has hit the nightly news throughout the years. Because of this, it can almost seem as though I'm an outsider- looking in, and maybe that's ok. I enjoy the music to an extent that I can see the merit in the music by Hillsong (all three facets), and understand that certain songs, even written by them, have the power to change the course of worship music and our response to such songs as these in a Sunday morning church service setting. But because I'm less emotionally involved in the band considering I didn't grow up with them in my early years (aside from a few songs here and there like 'Power of Your Love' and 'Shout to the Lord'), when I listen to the songs and sing them, I come without all the preconceived ideas that people can have about this worship movement. And what does this really mean? Well, just a different way of looking at this musical conglomerate which is Hillsong, and understanding that just because people declare this movement to be the best thing since sliced bread, doesn't mean that it really is, and just because people have been hurt by what people have said, did, haven't done or haven't said, inside the walls of the church (in this case, inside the walls of Hillsong), that doesn't mean that all people are like that. People have sadly equated what Hillsong does, with how church really is like, which is a very unfair assumption. Nevertheless, people within the general mainstream community have a perception about the word 'Hillsong', and hopefully, their music can be such a tool to change such a viewpoint, ever so slightly at least.
And now here we are, in 2020, knowing that there are in fact too many songs by these three arms of the music ministry, that I can count. For a few days ago, I undertook an exercise, and wrote down all the songs that Hillsong has ever recorded that have been impactful, heartfelt and have been standouts over the years in people's lives. No matter if the songs 'belonged' to Hillsong Worship, Hillsong UNITED, or Hillsong Y&F, I wrote them down. And then I counted. And realised that on average, across the three different musical formats that ascribe to the Hillsong umbrella, there's perhaps about 100 songs that have been impactful over the years. When you think of it, that's a lot. Not every song on a Hillsong Worship album (or UNITED or Y&F, for that matter) are considered as songs that are impactful, influential, and dare I say, lifechanging- only a handful are at the end of the day (let's say 2-3 per album). And then to make albums once every 1-2 years, often annually, across the three formats, and then for Hillsong to be doing this worship music thing since 1992…that's a lot of music. And quite right, it is. Which is why I truly believe that their music is influential and maybe even needed in such a society as this, even if everything else within the Hillsong umbrella, aside from the music, is dividing not only the Christians, but the entire world.
Its hard to keep up with music. I've known this for sure. Just looking at the music I've delved into over the last year or so in relation to my own blog, and I know I've only scratched on the surface of the songs, artists and albums that have shaped the culture and society of music in recent human history. For every artist I've discussed and shared my own thoughts about their music, there are other artists that by the end of this 100 Influential Artists (and 30 Timeless Artists) exercise that I probably won't get to, purely on the basis that 100 was an arbitrary number, and frankly, anyone who really, truly thinks that they can fit in all of the influential artists within a top 100 list, is surely naïve. Regardless, I've had a good stab of it so far, and know that there'll always be people that would poke holes at things if they could. And that's ok. But what I've realised is that just as I know I can't listen to all the music out there, because there's too much; applying this same principle especially to the work and body of Hillsong (all three facets), is also true as well- only a Hillsong music enthusiast would've heard every single Hillsong Music album- all three formats, maybe even multiple times, from 1992 till now. Which really, really, isn't me. Yes, I love Hillsong and its music arm to a point, and I can pinpoint various songs throughout their career that have become standouts and songs that I've enjoyed on a personal level, but sadly, unlike artists like Casting Crowns, for KING AND COUNTRY, Delirious? and Chris Tomlin (artists where I've delved more and more into their discography because I've thoroughly enjoyed these artists from the very beginning); I unfortunately don't have any inkling to go really any deeper and listen to every single song, from the start, across three formats, for as many years as they have been active, because…well, it's too much. And besides, I don't think that that is what this blog post should be about. The main purpose for these blogs is how I believe this artist is impactful in music, society and culture as a whole, and how songs from these artists have been instrumental in my own life too. To put it bluntly, I was probably only a listener of Hillsong on a more current basis when I was in university onward- I think on a regular basis, I only heard UNITED from Zion onward in 2013, and Hillsong Worship from Cornerstone onward in 2012. As for Y&F- just a few songs here and there, from their own start in 2013. For if I were to confess honestly, I'm not the avid fan of Hillsong that would be the perfect candidate to write this blog- I'm more of your 'casual listener'. Which is ok.
I've come to realise that with listening to big worship movement groups like Hillsong, not every song that comes out of their albums is going to be a standout, in fact, most of them won't be- not because of any disconnect to the songs per se, it's just that when albums are released on a very frequent basis, no matter how inspired and unique such an album is, the listener who is a fan of said artist is probably still listening the album prior- and then when the new album drops, they'll only pick and choose a few 'popular' songs to check out, and then leave the rest of the listening till a later date. Regardless of how people choose to listen to Hillsong though, and which way they find beneficial for them, so they don't get too overwhelmed with the vast amount of music to listen to; one thing's for certain. Hillsong's music- Worship, UNITED and Young & Free all inclusive; have been impacting people for a long time; and will continue to do so. And with songs that have circled the world and have become global phenomena- songs like 'Mighty to Save', 'Shout to the Lord', 'The Power Of Your Love', 'Hosanna', 'Oceans', 'Forever Reign', 'Worthy is The Lamb', 'Everyday', 'Desert Song', 'Cornerstone', 'What a Beautiful Name' and 'I Give You My Heart', to name a few; Hillsong's influence within the realms of Christian music, especially worship music, is definitely certain- even if you haven't heard all of Hillsong's powerful songs, you would've heard some, either sung in churches around the world, or on the radio over the years.
The first songs I heard from Hillsong, of any format, are songs 'Shout to the Lord' and 'Power of Your Love' when I was a young kid in the mid-1990s. Back then I didn't know about Hillsong the band, I certainly didn't know about the members that made up Hillsong– from Darlene Zschech and Reuben Morgan, to Geoff Bullock to Joel Houston (to name a few that were probably active as worship leaders around that time).  I just knew these two songs, and sometimes when you're a kid, you just enjoy the songs for what they are, rather than enjoy them because of this certain artist attached to it or not, as what we as adults normally do, for whatever reason. We enjoy certain versions of songs, more so than others, because of said artist…which kinda makes sense. There are cover songs all the time, and sometimes, the original is always the best, and other times, you prefer the cover. And that's totally fine too. For Hillsong, over the years, I steadily listened to the songs, not because I actually sought out and bought a Hillsong album intentionally and listened to the songs that way, but rather, the songs I did hear from Hillsong throughout most of my primary and high school years came through listening to them through Sunday morning worship church services.
Songs like 'Shout to the Lord' and 'Power of Your Love' (both aforementioned above), alongside other earlier-recorded songs by Hillsong Worship- 'My Redeemer Lives', 'Hear Our Praises', 'The Power and the Glory', 'All The Heavens', 'Stone's Been Rolled Away', 'I Give You My Heart', 'All Things Are Possible', and later on during the 1990s decade/early 2000s, songs like 'Eagles Wings', 'For All You've Done', 'Everyday', 'King of Majesty', 'Salvation is Here', 'Great Southland of the Holy Spirit' and 'Jesus, Lover of My Soul'; have all been songs I was introduced to throughout my church-going primary school days, and though throughout that time, I didn't really understand the songs I was singing, nor did I really even sing them during that time also; I have revisited a lot of these songs later on throughout my later life. Lincoln Brewster, an energetic guitar-driven worship leader out of California, USA, re-recorded some of Hillsong's hits in a few albums during the 2000s- namely songs like 'Salvation is Here' and 'King of Majesty'- both of which I heard these versions later on during my teenage years. I connected with them on the whole a lot more than their original counterparts, and even now, enjoy these cover versions a fair amount more. Nevertheless, a lot of these older songs formed a lot of my spiritual foundation at that time- I was only listening to Carman- an Italian-American gospel/story-in-song artist, throughout my formative early years; and so for a worship ministry/band like Hillsong, was a positive thing for me to listen to throughout this time. I was able to hear songs that showcased God's love for me, all the while being presented with songs that showcased what praise-and-worship music sounded like. Yes, even though now that I'm older, I may not necessarily go to Hillsong (at least their earlier songs) for my praise-and-worship music needs (I'm much more inclined to revisit artists like Chris Tomlin and Delirious? before Hillsong); I am very much grateful for Hillsong 1.0 for sowing a lot of seeds into my life, giving me spiritual food back then, even if I wasn't fully aware of it.
During my teenage years was when I started delving into Hillsong a little more. During the 2000s, Hillsong was in two different formats: Hillsong Worship (it was called Hillsong LIVE back then), and Hillsong UNITED- it's youth-orientated band. It was when my family and myself (Mum, Dad and my brother Josh) went to Malaysia for a holiday that I picked up a few Hillsong UNITED albums, and one Hillsong Worship album, from a local Christian bookstore/CD store. I think I can even remember the album titles- Look To You (UNITED), God He Reigns (Hillsong LIVE), alongside the project Jesus Is by the British arm of Hillsong, Hillsong LONDON. It was around that time where I started hearing the songs that were also pivotal in my own faith during my teenage high-school years. Songs like 'Look to You', 'Let Creation Sing', 'Emmanuel', 'Yours is the Kingdom', 'All For Love', 'There is Nothing Like', 'Tell the World', 'What the World Would Never Take', 'All I Need is You' and 'Till I See You' from both UNITED and Hillsong Worship, alongside the songs 'Greatest Gift' and 'The Only One For Me' from Hillsong London were all songs that I heard throughout the mid-2000s, and songs that really helped me throughout my own faith journey during high school. It was also around my high-school years where I branched out and listened to different types of music- and heard artists like Casting Crowns, MercyMe, Third Day and the Newsboys. It was also during that time where a branched out and listened to the artist Rebecca St. James (an Aussie artist whom I will discuss more at length later on another blog about her own influence on my life and on music in general), and in her 2005 album If I Had One Chance to Tell You Something, she covered the Hillsong UNITED song 'Take All Of Me'. Granted, to this day I still haven't heard the original version that was on the 2004 album More Than Life, but that's beside the point. The song that I heard from Rebecca's album, though a cover, was still very poignant and hard-hitting, and was quite possibly one of the Hillsong songs to really impact my faith in a positive way throughout my schooling years. To this date, 'Take All of Me' resides to be one of my favourite worship songs of the 2000s decade, and quite possibly one of my favourite UNITED songs ever! But all in all, Hillsong and all its songs throughout that particular time in my life, was a reminder that certain artists impact a certain person's life more than others, and within that certain person's life, different artists affect different parts of a person's life. And for me looking back, Hillsong was much more influential during my primary/teenage years than I initially thought they were.
It was around the mid-late 2000s where I started to listen to songs because of their lyrical content. Not that I didn't do that prior, it's just that as far as I can remember, I made a conscious decision to read more of the lyrics and see what they were discussing about in these songs I listened to. Even now in 2020, I'm much more of a lyrics person rather than a music person, that's just how it turned out for me. And as I continued along my own journey in the appreciation for Hillsong's music (all facets and incarnations), I was connecting to a lot of their songs, more and more. 'Lead Me to the Cross' came from UNITED's first studio album All of the Above that was released in 2007, and spoke about how we are humbled and awed at the cross when we realise the gravity and enormity of Jesus's sacrifice so that we can be made right with the Lord. It was the pre-chorus line of 'everything I once held dear, I count it all as loss' that really spoke to me, and still does: for it is when we realise that all the things we have once held in high regard, are only just a little blip when compared to the massive implications of Christ's sacrifice and resurrection, that we can finally rest in Him knowing that we belong. 'Hosanna', also from All of the Above, was a song that also impacted me greatly during the 2000s, and still is one of my favourite UNITED songs to this day- the song speaks of declaring God's holiness and proclaiming His worth across the whole earth…but then there's the flipside to the song. We're reminded that as a response to the Lord, it has to be more than just singing songs and declaring our praise to Him- worship is so much more than just a few jingles on a Sunday morning: it has to be us being the hands and feet of Jesus as we share the gospel to people outside of the church. For it is when we start caring more about justice and feeding the least of these, and relating with people who are totally different from us, that people can hopefully see the love of Christ bursting out of us- and this is what 'Hosanna' ought to be about, declaring God's praise, and serving the Lord through actions, however why it may look like for us. 'From the Inside Out', a song that I wasn't that familiar with during the 2000s when it did come out, was a song that I heard and connected with when rock band Seventh Day Slumber did a rock-worship cover on it from their 2009 album Take Everything– the song itself is a call to the Lord, as we long for Him to consume us, indeed from the inside out, a reminder that we as Christians, out of the love we have for the Father, ought to do nothing less than to love Christ with everything that we have, showing Him through what we say and what we do that He deserves all the glory and honour in all and every circumstance. 'The Stand', originally a song by UNITED, was first heard by myself and my family through Michael W. Smith's rendition of it on his 2006 album Stand– now in 2020, there's been a bunch of other covers of the song- namely a cover that Hillsong Young and Free also recorded in 2014, alongside other artists who also recorded covers of the song- Jaime Jamgochain, Sixteen Cities and Kristian Stanfill. The song reminds us all to stand tall with arms held high and with our whole heart given to God as an act of surrender and worship; while the super-long 'Saviour King', from All of the Above, was a staple at our church during the 2000s, for a long, long time, as we reflect upon the awesomeness of God through this 12:16 length song, understanding full well that in Christ, the weak are made strong, the poor are fed in Him, the lost are now saved and welcomed into the family of God; basically whatever we have lacking when we come to the Lord, we receive from Him. There's also other countless songs throughout the times of the late 2000s/early 2010s that were speaking into my life around the time of university, upon reflection too much to expound upon at great length: nevertheless, I'll expound a little.
Songs like 'God is Able' (a song declaring the ability of God to change the current situations we are in, and that even if He doesn't, He's still able, which is reason enough to keep praising), 'Praise Him' (a co-write with the frontman of alternative/CCM band The Royal Royal, that speaks of how in every aspect of our lives, we give thanks and praise to our Father because of what He's done and will continue to do in our lives), 'Cornerstone' (a reimagining of the hymn 'The Solid Rock' in a modern-day setting to give the anthem a modern-hymn feel) and 'Hope of the World' (a song that declares our hope in Christ because of the cross that Jesus endured all those years ago), all made 2012's Cornerstone one of the most well-rounded albums by Hillsong Worship in a while. Songs like 'None But Jesus', 'Desert Song', 'You'll Come', 'Arms Open Wide', 'Your Name High', 'Stronger' and 'This is Our God' were also standouts throughout the late 2000s/early 2010s for both Hillsong Worship and UNITED, and while these songs just aforementioned felt to me like they didn't really stand out as much on a 'memorable' scale when compared with the other aforementioned songs prior (that I did expound upon in length), the songs nevertheless are still good- especially the underrated 'Arms Open Wide', covered by Brett Younker (who now heads Passion alongside Kristian Stanfill now), and 'Desert Song', expertly sung by Brooke Fraser (now Brooke Ligertwood) and flawlessly covered by CCM songstress Natalie Grant for her underrated 2010 album Love Revolution. 'Freedom is Here' and 'Awakening', songs made popular by Esterlyn and Chris Tomlin respectively, are given the Hillsong treatment on Across the Earth: Tear Down the Walls and God is Able respectively, as both these songs are about the freedom we have in Christ and that He awakens us to the desires of His heart, once we understand that freedom truly comes when we abandon our own ambitions and seek after the Lord's heart, as we pray for God to break our hearts for what breaks His. 'You Hold Me Now', a song covered by both worship leader Robert Pierre and singer-songwriter Rebecca St. James, was also from Across the Earth: Tear Down the Walls, and though not a song that was a great standout on the album (an album that featured songs like 'Desert Song', 'Freedom is Here' and 'Arms Open Wide'), it was still a highlight for me during the late 2000s, as I was reminded of God holding us always, even during the moments where we feel like He doesn't; while both of the songs 'Greatness of Our God' and 'Forever Reign', were songs that I initially heard from One Sonic Society, a CCM duo featuring award-winning singer-songwriter Jason Ingram and drummer (and ex-Hillsong drummer) Paul Mabury; and both these songs where also songs that I enjoyed thoroughly more as OSS recordings rather than Hillsong recordings. Nevertheless, 'Forever Reign' especially has become an anthem of mine in recent years, as I remind myself through the song that God indeed is good, and that God's unending riches of His love will always be enough for me to set my foundation upon.
While Hillsong Worship continued to release album upon album of live material each year, delivering a few standout songs per album, from 'O Praise the Name', 'No Other Name' (covered expertly by CCM legends Casting Crowns), 'Man of Sorrows' (an Easter modern-hymn that is probably Hillsong's version of Chris Tomlin's 'Amazing Grace (My Chains are Gone)') and 'Broken Vessels (Amazing Grace)' (a great underrated song from their 2014 album No Other Name), to 'Calvary', 'Christ Is Enough' (from Glorious Ruins, an album that I reckon is one of the 'forgotten albums' by Hillsong Worship), 'One Thing'  and 'This I Believe (The Creed)' (the Nicene Creed put to song, Hillsong's version of Rich Mullins's 'Creed'); UNITED started to do their own thing, branch out from the Hillsong 'branding' and explore a little- for up until 2011, UNITED, aside from All of the Above, released only live albums. It would be from 2011 onward that UNITED decided to utilise their studio and create quality songs, and it was also then that the radio stations started to take notice- for from that point onward, UNITED was known not just as a band just as a side-arm to a church ministry, but actually as an actual band, ready to go on worldwide tours. The albums of Aftermath, Zion, Empires and Wonder changed the whole game for Hillsong in general, and people around the world decided to sit up and take notice. And as we glance through the songs that were recorded throughout that period, it's no wonder the world decided to take a punt and chance on this little 'ol band from Australia. 'Like An Avalanche', from 2011's Aftermath, was a song that delivered a strikingly powerful metaphor of God's love as being like an avalanche, covering us and washing away all our pride and foolishness, our shame and arrogance replaced with majesty, joy, humility and new life- though not really a highly-reaching radio single, it was a song that was sung frequently in our church, and a song that was special to me throughout that time period, and even now. 'GO', never a radio single at all (also from Aftermath), featured an electronic dance beat, and spoke of this notion of mission and sharing the love of Christ with people in the form of evangelism. The remixed (and remade) version of the song, featuring rap-hip/hop artist KJ-52, was slotted onto the rapper's 2012 album titled Dangerous, and for me, was a more enjoyable version for me- as KJ-52 incorporated rap and hip-hop verses into the chorus of the Hillsong UNITED track, and reminded us all that Hillsong music can still be cool, with a little tweaking of course! 'Bones' and 'Search My Heart' were the other two poignant standouts from Aftermath­– 'Search My Heart' even earning a spot on the coveted WOW Hits album for that particular year, while for me 'Bones' embodied everything that showcased the Lord's power in action, as the theme and message within the song all tied around the story of the valley of dry bones in Ezekiel, and how God breathes new life within us living breathing humans just as how He did back then with the lifeless bones in the Old Testament- testimonies of old that we can claim anew for today as we declare God's renew over our life in the same metaphorical way, as if He's breathing life into the dead parts of us.
'Oceans' released in 2013, on UNITED's album Zion, and I guess everything after that was history. I guess that's all I have to say, that even when I reviewed the album in February 2013 for a previous review site called IndieVisionMusic.com back in the day, I didn't really think much of 'Oceans'- instead, songs like 'Relentless', 'Love is War' and 'Scandal of Grace' grabbed my attention on the album the first time around- nothing back about these three songs now, but just looking in hindsight, standing in 2020 and looking back at 2013, I've come to realise that often the songs that don't necessarily standout to you the most (i.e.: 'Oceans') can in fact become the songs that impact you the most moving forward. And that's exactly what happened. While songs like 'Love is War', 'Relentless' and 'Scandal of Grace' all delivered message and lyric-wise- 'Love is War', according to Joel Houston himself, is about '…the fact that sometimes we spend so much time and effort fighting the wrong battles – but the fight is to surrender: we fight to cling to all these things we have control over to be successful to put all the pieces together to be happy and do what we think we are intended to do, but if we would just realize that the fight is to surrender daily and when we allow ourselves to do this, we can go about loving the way God has called us to love – and that example is in Jesus…'; while 'Scandal of Grace' recounts the story of Christ's sacrifice for us, and the grace freely poured out for all humanity, regardless of what they've done or whether they even deserve the grace given or not. The song is from the sinner's point of view, and how from this earthly viewpoint, where we see things incompletely; we can often view Christ's sacrifice as a scandal- who are we for Christ to come die (and then rise again) for us? 'Relentless' is one of the most joyous and happy songs I've heard UNITED undertake in a while, as we see the enthusiasm ooze out of the music- the fact that God's love is indeed never-ending and relentless is good news to share, and that is definitely depicted in the music I hear. And so as I come to delve into 'Oceans', upon the unravelling of the messages and themes behind the other three songs on Zion that for me were standouts; 'Oceans' reminds me to always keep my head up and focus on Jesus, even during the difficulties and the storm situations. The song itself was based upon the Biblical story of Peter, disciple of Jesus, stepping out of the fishing boat out on the raging waters and seas, and walking on water to Jesus, all the while, being very afraid of the winds and waves that are gushing against his feet. Sooner than later, he sinks a little, losing faith as he's forced to call on Jesus to save him. He does, and so we are met with this story of what happened thousands of years ago, and how even to this day, we as Christians may often feel like walking upon the water to Jesus, stepping out into the unknown, purely on our faith, as we walk towards God through the lens of worry and fear. Nevertheless, 'Oceans' reminds us to keep our head up, to focus our eyes on Jesus and not on the things around us. Once we focus on who it is we are walking towards, everything else will lose its significance in the light of who we as Christians are chasing after.
'…Empires was perhaps one of 2015's most unique, powerful, emotive and heartfelt worship albums to ever be released in that year, and while we here at 365 Days of Inspiring Media sadly didn't review the album due to other unforeseen circumstances; the fact of the matter still remains- that songs like "Touch the Sky", "Even When It Hurts", "Here Now" and "Say the Word" have impacted millions of people around the world. What began in Australia in the late 1990s as a side-arm to the Hillsong LIVE annual conferences is now a global phenomenon. The song "Oceans" proved that…in the 1990s and the 2000s, worship music has followed a somewhat safe formula- verse, chorus, verse, repetitive bridge, free worship, chorus again…you get the picture. Empires, and maybe even more so Zion seemed to change all of that- as the structure of most of these songs seemed to be more fluid- that as the Spirit led, the song would respond. This was why many of the songs on Empires were long- not tedious long, but long to be reminded that the Spirit could flow in the confines of a worship track. UNITED…continue to remind us all that worship isn't really a genre of music, but a way of creating music without the formula, so that God can move through what He wants to move through…' Empires dropped digitally in 2015, and as I reflect upon this quote above, written by myself about Empires and how I felt back then that it was a lost opportunity for me to review the album, I can still assert a similar thing even now, that Empires was the album that I regret not listening to a lot of when it did come out in 2015- and regardless of whether I reviewed it or now, I felt like this album could've really ministered to me throughout the time of 2015 when it was released. Alas, it was only when I reviewed Of Dirt and Grace in 2016- an acoustic album of Empires, alongside the acoustic versions of 'I Surrender', 'Oceans' and 'Scandal of Grace'; that I truly saw the heartfelt songs from Empires as they were- songs that poured out emotion and really carried a necessary weight to them never expressed in song till that very moment- 'Touch the Sky' was a moment of surrender as we see the dichotomy in touching the sky when our knees hit the ground, but when we think about such an imagery, we realise that often in Christ's kingdom, there's a lot of upside-down crazy things that would make no sense in a logical step-by-step manner, but through the eyes of the Lord, makes total sense. Placing our knees on the ground in an act of surrender is us as humans not wanting to go about our own way any longer- but rather, in surrendering to Jesus, we can rest assured, knowing full well that with Christ in us, we can reach for far greater things than we have ever reached- understanding that Christ in us, the hope of glory, is the One who accomplishes the things and desires of our hearts, that in Christ's strength, we can do all things!
Over the last few years, "Even When It Hurts", a song from Empires, has had a lot of significance for me- with just a piano and lead singer Taya Smith's voice as the song begins, we hear her sing with a commanding yet distinctive voice, one that emphasises the lyrics with enthusiasm and passion. About how we should always praise God, even during the moments when it hurts (especially during these moments), I can't help but sing along with Taya in the poignant moments of the chorus, and how '…even when the fight seems lost, I'll praise You, even when it hurts like hell, I'll praise You, even when it makes no sense to sing, louder then I'll sing Your praise…' The song is a slow build, yet it is in these songs where reflection is the key, where we can appreciate the effort delivered by the band in creating and crafting these heartfelt emotive melodies- of which 'Even When It Hurts' is one of them. 'Say the Word', another song that was a highlight of mine on Empires– was further presented in an acoustic setting on their 2016 acoustic album, as the poignant lyrics hit hard in how '…over words of stone You spelt out love, and when You said 'it is done', it is done…' This is by far the lyric line that has hit hard the most for me- and in this short phrase, a lot is conveyed. That when Jesus died and rose, everything was completed. Nothing was needed to be added. That when Jesus died and said those words, it was just that. We can never do or say anything for Him to accept us into His kingdom, nor can we do anything that will make Him question whether we are even deserving to be with Him in communion in the first place. That is what I love about this song, and along with "Even When It Hurts", have become anchors for me in a spiritual sense over the last few years.
In 2016, Hillsong Worship unveiled another live album titled Let There Be Light in October, and while I initially thought that this album was just going to be run-of-the-mill, as I assumed with albums previously, little did I know that this album was going to change how everyone perceived Hillsong (all formats) and reminded us all that Hillsong could still be a local church and make songs for the church the in releasing of annual albums, whilst still be a band with great songs for the global church and for the radio as well. In September 2016, a new song from Hillsong Worship was unveiled, and just like how 'Oceans' created a wave of expectation and anticipation for UNITED, so too was 'What A Beautiful Name' and the aftermath of that song, on Hillsong Worship. For me personally, 'What a Beautiful Name' fast became one of my favourite songs by Hillsong (any format) since 'Mighty to Save', a song released in 2006 that was a very big anthem around that time- artists from Michael W. Smith and Newsboys, to Laura Story, Jeremy Camp and MercyMe, all created their own versions of 'Mighty to Save', that stated in plain truth, that God is the conqueror of the mountains in our lives, that He has moved the biggest mountain, death, that separates us from Him, through the sacrifice of Christ on the cross all those years ago. Now fast-forward to 2016, when 'What a Beautiful Name' released- the effect the song had on Hillsong, the radio, people's perception of the band, and just music in general, was a similar feeling, maybe even more so, to when 'Mighty to Save' came out all those years ago. Below is an excerpt of a blog post Brooke Ligertwood, writer of 'What a Beautiful Name', wrote about the song and what she hopes people can attain through hearing it:
'…What hides in the name of Jesus? The name of Jesus encompasses more than we can hope or imagine—more beauty, more wonder, more power. Most of the song 'What A Beautiful Name' was penned in a glorified cubicle in the suburbs of Sydney over a few days in December 2015. From there we spent months crafting the lyrics to riff on our core scriptures — Hebrews 1:1-4 and Colossians 1:15-20, 26-27 — yet be simple enough to make sense on a first reading. Hebrews 1:1-4 expresses with clarity and conciseness the supremacy of Jesus Christ — the radiance of God's glory, the exact expression of His being, the creative conduit of His power. Jesus is God's Word: powerful, authoritative and utterly supreme. He is the wonder of salvation, who reconciled us to God. "In the past God spoke to our ancestors through the prophets at many times and in various ways, but in these last days he has spoken to us by his Son" (Hebrews 1:1-2, NIV) To know God and to worship Him ("to enjoy Him forever") is the most fundamental reason for our existence. As Jesus reveals the great mysteries of God, we come to know more of who God is, glimpsing new facets of His beauty, wonder and power.:
"Beauty" evokes the tenderness of His love and the sweetness of His presence.
"Wonder" speaks to our gratitude for salvation, awe at the lengths of His sacrifice.
"Power" affirms His supremacy and Sovereignty—an exhortation to remember our access to the power of God in every situation, as we call upon and declare the Name of Jesus.
Jesus has the Name above all others. Anything that we can name – from our greatest triumphs to our greatest challenges—comes under the authority of His Name. This song confesses that no greater beauty or source of wonder exists outside of Jesus, "the radiance of God's glory" (Hebrews 1:3). The song is also a statement that Jesus has no rival or equal. His power is unmatched and absolute. Perhaps some of us understand God loves us through the death and resurrection of Jesus, but haven't grasped His power, ability and will to move strongly in our present circumstances. Or perhaps, we understand God as the supreme, omnipotent Deity He is, but have never known Him close and tender, as a friend acquainted with the depths of our humanity, knowing our flaws cannot perturb His love. Our prayer for this song is that we can all enter into a deeper, more lateral, revelation of the person of Jesus Christ—the epitome of beauty…'
'What a Beautiful Name' blew up and became a popular and life-affirming radio hit for Hillsong, even releasing a radio single of the song, a gospel remix, and an orchestral version as well. The song changed lives, and really flipped the music world on its head as Hillsong reminded us all, that 'Oceans' in 2013 wasn't a one-time thing. And frankly, if I am to be honest, I enjoy 'What a Beautiful Name', on the same level, maybe even more so, than 'Oceans'. People can disagree with me, and that's fine- but one thing I do know is true. 'What a Beautiful Name', and that song alone, ought to be enough to sit up and take notice of Hillsong in a general sense. Because this worship ministry that has founded 3 music arms (Worship, UNITED, Young and Free) is certainly not going anywhere- and after 'What a Beautiful Name', the worship conglomerate was kicking it up a notch in terms of quality worship music that was hitting the radio waves and reminding us that this little ol' Aussie group can still slum it with the big-wigs on American Christian radio. Right around the Zion and Empire timing, Hillsong debuted to us another group founded within the confines of Hillsong Church. This new group of theirs, Hillsong Young and Free (Y&F), was like how UNITED was back in the day when they came into fruition in the late 1990s- a group geared towards the youth of the day and their needs of how they wanted worship to be that was a way to connect to the Lord…which brings me to my assertion, that people may not like- I can't really connect that much to Hillsong Y&F's music. Not that their music is bad. It isn't. For the average casual listener, if you love the dance aspect of worship music, then you're bound to love the new songs from Hillsong Y&F- and with songs like 'Alive', 'Wake', 'Back to Life', 'Where You Are', 'Real Love', 'Falling into You', 'Love Won't Let Me Down', 'Every Little Thing', 'Let Go' and 'P E A C E', to name a few; Y&F's music catalogue is enough for someone to dive into and listen to, even if that someone isn't really me at the moment. Not that they're not influential, I'm sure, Y&F, together with Hillsong Worship and UNITED, have changed the scope of worship music not just in Australia but throughout the entire world. But I haven't connected with a lot of their songs compared to how I've connected more on a heart-to-heart level with songs from UNITED and Hillsong Worship. Nevertheless, there are still a couple of songs by Y&F that have resonated with me over the last few years, namely the songs 'This is Living (feat. Lecrae)' and 'Sinking Deep'.
Originally recorded in live format from their debut 2013 live album We are Young and Free, 'Sinking Deep' is a song of being sunk into Jesus, His word, and being lost in His presence in everything we undertake on a daily basis. Piano prominent, we are met with a motif of us being lost in a sea of grace as we dive daily into God's mercy. In a blog post for NewReleaseToday.com a while back, lead singer of the song Aodhan King shows us his own hope for what he wants the song to be for people listening to it, as we're reminded, that '…in the song, I'm singing about what it is like to be in God's presence. You feel wide awake, you're drawn by God's grace, and you are stirred to change and do things. With all of our songs, they are about being free in Jesus. There are songs that take it back to the individual. A lot of our songs are about "hey, we are all in this together, let's celebrate." Then there are moments where it is about you and how God sees you in this huge crowd. What we want people to take away is to walk away different and have a new revelation of God. We pray through our songs that people find who they are in Christ. And have fun, too…' 'Sinking Deep' the song showed us a different side of Hillsong Y&F, compared to the dance-worship we have been given on their debut album, and while this song may not have been that received for the younger generation, who love their dance music like no tomorrow; it was received well by myself- a moment of realisation that to compare God's grace to an endless sea, is meaning that there are still parts of the grace of God that we are humans are yet to discover. We'll probably never know the fullness of God's nature in terms of Him coming for us with grace that in our minds, makes no sense; and maybe we'll never get a full explanation as to why Christ came for wretched people like us, until we're in heaven. 'Sinking Deep' makes us think about issues like these, and a welcomed addition to the quiver of Hillsong songs that have really imprinted on my heart as the years have gone by. 'This in Living' on the other hand isn't the typical 'slow-reflective-ballad-type' that I often find myself being drawn to when it comes to song by Hillsong– it is indeed a rousing declaratory song, but what really drew my attention towards it, was the inclusion of hip-hop/rapper Lecrae. 'This is Living' remind us that in order to live to the fullest, we ought to embrace here and now- the good and bad moments, the times when we feel like we can conquer anything as well as the times where we know God is teaching us through the trials and calamities we face; and for me, it was Lecrae's addition to the title track that really brought the melody up a notch, reminding us that worship and rap can collide together and make a song sound much more appealing than if the elements were on their own. Lecrae's bridge really hits home for me, as he powerfully asserts that life given to us a gift from God in the first place, and that we all ought to be living as if we have a finite amount of time left, because we do. Acknowledging our own mortality and living in light of that, brings a whole new perspective in how to live for the things that really do matter, and a song like 'This is Living' can bring about a hopeful change, to whoever listen. It is in these two songs, that I still have hope, that Hillsong Y&F will give me something else that I can connect with on more of a soul level- till such a time, I'll just enjoy the songs for what they are, and Hillsong in the form of both Worship and UNITED can deliver tracks that I can connect with more on a soul level, like I know they've done previously!
I think ever since the releasing of 'What a Beautiful Name', something shifted in Hillsong– their songwriting become much more compelling, their artistry became much more engaging, and their songs just had an overall appeal to them that maybe before that 'What A Beautiful Name' moment in 2016, the songs didn't have to the point of engaging a lot of people around the world at once. The world took notice from 2016 onwards, and it showed in the songs that were unveiled publicly from that point on. 'Heaven Knows', a song powerfully asserting that heaven knows all the troubles and failings we have, and often in our difficult circumstances, what we may need to do, for our own sakes, is to forgive, the other person who wronged us, or to say sorry to the other person for hurting them- not necessarily for the sake of them hearing it (I'm sure they've carried on with their lives), but rather, for ourselves, to rid ourselves of the hurt and bitterness that has been festering within us because of grudges and not letting go. 'Heaven Knows' the song was chosen to be in the trailer (and the movie) of The Shack (released in 2017), inspired by the best-selling book by W.M. Paul Young, and as Joel Houston, lead singer of UNITED, relays to ourselves, we see that '…it was such a crazy experience being involved with this whole project. The book has had phenomenal success around the world, and the production level and actors in the movie is pretty exciting! We had the opportunity to watch a screening of it, and it is inspiring that such a high end movie would be made. It was an honor to write a song for the soundtrack, something we have actually had little experience in. We hope, as with everything we do, that people take away a portion of the greater message about Jesus!…' The next album by UNITED, Wonder, dropped digitally mid-year 2017, and quite a lot of the album were standouts not just in my own life, but on the radio and for people around the world. 'Wonder', the title track, gives us all a sense of looking at a thing in awe as we realise the gravity of the life we have been given in light of what Jesus had to do for us to have it. A song that requires us all to look back and take stock of our own lives, not taking things for granted as we '…see the world in light…see the world in wonder…see the world in life, bursting in living colour…see the world Your way and I'm walking in the light…'; Joel Houston, leader of Hillsong UNITED, gives us a better way of looking at the song and how we perceive this notion of what wonder really means to an individual who has been changed from the inside out by this God who has entered into our lives in a life-changing and live-giving way:
The hope, the imagination to dream, to believe, the tenderness to listen and lead first with mercy, the grace to empathize, the courage to trust, the fearlessness to love without pre-tense or condition. To see beyond the facts without dismissing them. To respond beyond the fear without reciprocating it. To sing beyond the noise, without adding to it. This is the challenge, and this is what worship— if worship can be summed up as an expression of art and music and story— is ultimately designed to do. To elevate the conversation, re-awaken the soul to something other, and lift our eyes to the wonder of a superlative truth.
'Shadow Step', 'Not Today' and 'So Will I' are some of the other songs on Wonder that have really taken the world by storm; and have really impacted my own spiritual walk of late. 'Shadow Step', though not an official radio single unveiled by the band, was still nevertheless a heartfelt song, and a reminder to step out in faith into the unknown, in awe and wonder knowing that God goes with us, but also in anticipation of what He will do, because we know that God leads us on our journey, but often, in our own eyes, it's into areas that we may not be fully aware of what the outcome truly is. 'Shadow Step' is nevertheless a reminder that God is with me, and we often know it in our heads, but it rarely translates into our hearts. The song is nevertheless an encouragement that we as Christians carry the presence of the Lord wherever we go, and thus, in faith, we step out, fully aware that we may be stepping into something that people may not dare go to, but with God, what can be seen as impossible has been made so. 'Not Today', the album's 3rd official single (and a promotional song released prior to the album release of Wonder), reminds us all to never give the devil power over us, as often Christians can subconsciously undertake- as singer/writer of Hillsong Matt Crocker puts it, '…we've been thinking about it a lot: we give way too much credit to the devil for a lot of things, and as Christians, as people who believe in God and trust that He has all authority and is above all things, we have the right to say 'not today'. So if you're facing something, tell the devil 'no, not today'. It's a fun song, but there's a strong theme behind it. It's a reminder of what we actually should be living…' But the real emotive poignant melody out of the whole album Wonder, frankly the most emotive melody I've heard in all of UNITED's career since the explosion of 'Oceans' on a global scale, has been the song 'So Will I (100 Billion X)'- and for me to fully grasp the enormity of the song, was almost a year later in 2018, when I listened to the track on a Spotify Playlist. I didn't review Wonder for 365DaysofInspiringMedia, and normally with albums I don't review for the site, I hardly get into even months, years later. Wonder for me was quite different- and 'So Will I' is a reminder that Hillsong Music can still be good and biblically based, and still impact people's lives, even though the artists and writers who form Hillsong are still heavily involved into their local churches in Australia. The song itself is a journey from creation to the crucifixion and resurrection, and how everything that has been happening since the dawn of time was done so that God was glorified and given praise, that through every circumstance, everything pointed back to God Himself as we realise that even the breath we've been given by God is to be used to praise Him wholeheartedly. 'So Will I' is a participation song, that as we realise that the creation declares God's glory, and that if God really is who He says He is, if He really went to great lengths for us to be back in communion with Him, then so will I- so will I praise Him, and so will I surrender everything that I've once held dear, to follow wherever He leads me.
Unfortunately, post-Wonder, I haven't listened to much of Hillsong– I want to, but more often than not, work gets in the way. Nevertheless, Hillsong still gives to us melodies of hope and inspiration, and though I probably wanted to listen to more of albums like There Is More, Awake and People than I actually did, what I've realised is that Hillsong has actually influenced me more than I actually realised- even prior to this blog post, I underestimated the impact that Hillsong has had on my own faith and enjoyment of music over the years. Still, Hillsong, in all formats, kept releasing music after Wonder– 'Who You Say I Am', the first radio single from There Is More; carries on from where 'What a Beautiful Name' left off, and reminds us all of our own true identity in Christ, listing through the things that we know we are in the light of who God is. As worship leader Ben Fielding imparts to us a 'takeaway message' from the song in a blog on the website NewReleaseToday.com (NRT); we see that '…you are a child of God. That can never be threatened or taken from you. As a believer, the truth of this song changes the way I live out my faith. We were passionate to give the church a song that says that God is for them and He thinks the world of them. While everything around you and about you changes, this is the one thing about yourself that will stay constant. You are chosen by a God who loves you deeply. He is a God who is for you and is never against you. He is a God who has plans for you to prosper. He is a God who wants a relationship with you. He is a God who will never let you down…' Though only standing at 3:20, the power of this song is immense and heartfelt, as Hillsong Worship give us the comfort knowing that we are a child of God, and no one, and nothing can rid us from such a statement over our lives that God makes true through His sacrifice in Christ Jesus. 'King of Kings', from Hillsong Worship's latest album Awake (of which our site is going to review very soon- maybe next week), is littered with scripture and theology, and is a good song to go to if you want to be reminded of the biblical foundation of our faith, through song. For me I've felt that 'King of Kings' is a natural 'What a Beautiful Name' part two- it's packed-full of information about the Lord, that as we sing the lyrics and read what we're singing, and really understanding it; we can't help but to be riled up with praise and thanksgiving for our Saviour's gift freely given, to us. Brooke Ligertwood gave to us a story-behind-the-song on NRT, which says it all better than I could ever; and is a reminder of the firm grounding of the gospel and how the good news and its foundation is secure in the knowledge of God's reality-
I love the declaration that the Gospel is not swayed or diluted by any new philosophy that comes along. In the culture we are living in now, to remind ourselves that the Gospel does not grow tire or weary or less relevant is a cool thing to remind ourselves of. When we worship from a remembrance of what God has done in our lives, and standing on that rock, and singing out a new song, there's power in that. I would encourage anyone who leads or sings this song to remember what Jesus has done for you personally and sing from that place; and remember that He is not finished with us yet.
The Gospel is a now reality that requires a now response. It should never be treated or viewed as a relic, no matter how reverently one might err in that direction. With origins before time and echoes beyond it, it stands at the intersection of eternity and our everyday present and beckons, urges, demands us to look. Look at Christ, the Son of God, bloodied for your sin and the sin of all humanity, repent, and believe and take your place in the story of all stories, the story of the King of Kings.
'Good Grace' and 'Another In the Fire' have circled the radio and churches over the past year- both from UNITED's latest album People, and both giving us great revelations of the heart as we navigate our lives with the grace of God as our guide. 'Good Grace' is a call for unity, across every nation, colour, creed, strangers and neighbours, people young and old, all join together to declare this one thing, that Jesus is the reason to celebrate, that His good grace is given to even the people who don't believe good things will ever come to them, and that God in fact  loves us and is in love with us- a concept that can be difficult to grasp and understand, especially when the love we may have received all life long has been conditional when it should've been unconditional. Nevertheless, 'Good Grace' attempts to undo all the rote-learning we may have encountered when we were younger about Christ. 'Another in the Fire', a recent hit this year in 2020 (that was recently turned into a superb cover by CCM band Building 429), is also a great reminder of God's faithfulness and goodness to us, as the song states that God is with us in the moments where we notice Him, but also with us during the moments where we don't as well- He was with Shadrach, Meshach and Abednego in the fires, and also with Peter when he stepped out onto the waves and started walking towards Jesus. He was with Moses when he parted the Red Sea to allow Israelites to cross through and escape the Egyptians; and He was also on the cross, where He died in our place and took what we deserved. There is always another with us more than we think and believe, and this song, full of imagery and motifs, encourages us to believe in the things seemingly impossible, on the basis that He is God, and God of the impossible. It is in these two tracks, 'Another in the Fire' and 'Good Grace' that I find myself anticipating People (even though it is already out)- maybe I'll listen to it next week. Maybe, just maybe, I'll listen to more Hillsong after this blog exercise, it can't hurt, right? You never know, maybe I'll just come back here and post a comment in a month's time, to share what listening more to Hillsong has done for me and my spiritual walk in the upcoming weeks ahead.
So that, all that information above, in a nutshell, is Hillsong. Sure I've probably only scratched the surface on the amount of songs, across all three formats, that Hillsong Worship, UNITED and Young&Free have given to us- especially more towards their earlier material where I just listed songs without ever expounding on them. Nevertheless, even blind freddy can guess, with his hands tied behind his back, that Hillsong is influential to culture and society- whether it's a good influence or a bad one would depend on who you ask. But still, an influence, nonetheless. And as I reflect upon my Hillsong journey over the last few days, and it being Eastertime, I'm reflective in that I can see the influence Hillsong has had over creating songs of a worshipful nature- sure Chris Tomlin may be the most-sung artist in terms of Christian music every week, but Hillsong is the most recognised out there in the community- for reasons good and for reasons bad. Regardless, I'm sure the Lord will use Hillsong– UNITD, Worship and Y&F, for His glory in the end, and hopefully, songs like 'What a Beautiful Name', 'So Will I', 'Mighty to Save', 'Oceans' and 'Cornerstone', can pierce our hearts and make us see the world as God sees it. God loves all of creation, and if we are the hands and feet of Jesus, as we should be as Christians; then we should love without reservation as much as we can- and if a Hillsong song can have the power, through Christ, to change our hearts and our perceptions of the other person who is different from us, then these songs have served their purpose, regardless of the original intentions or motivations behind the song in the first place. Hillsong are here to stay and they'll continue to make albums, often on an annual basis (for Hillsong Worship), and once every two years (for both UNITED and Y&F), and if they manage to change a few hearts in the process, then it's a job well done for this worship group from Down Under!
Does Hillsong (in all its facets and incarnations) make the list for you all when you write your own 'Best Influential Artists of All Time' list? Is there any song (aside from 'Mighty to Save' 'Oceans' and 'So Will I') that has impacted you on your journey through life thus far? Let us know in the comments. Till next time!