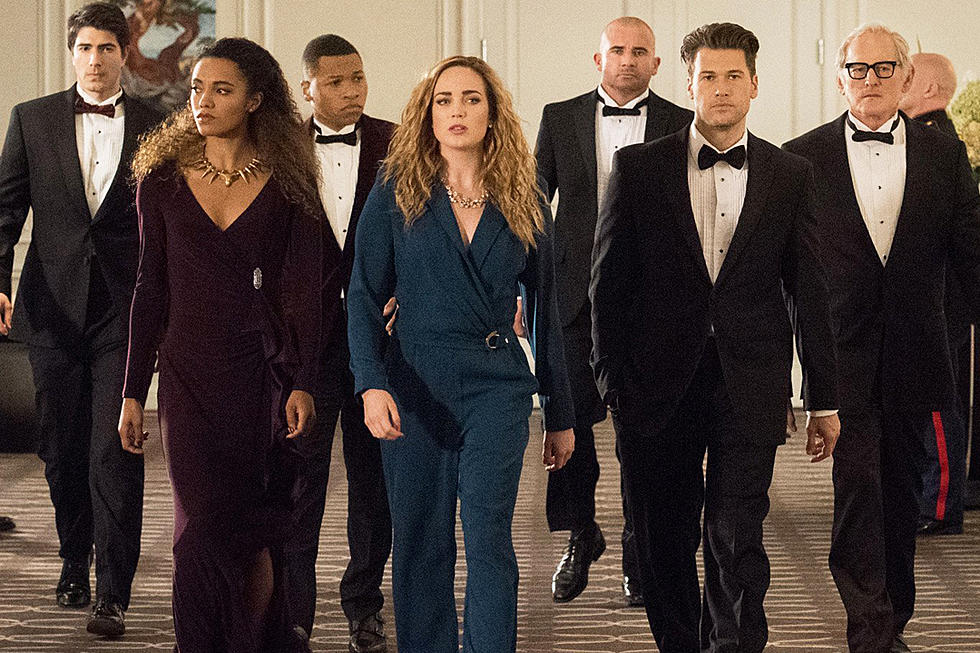 CW
Season Air Date:
Season 1: January 21st 2016 – May 19th 2016
Season 2: October 13th 2016 – April 4th 2017
Season 3: October 10th 2017 – April 9th 2018
Reviewed by: Joshua Andre
Legends Of Tomorrow (Season 1-3)
Starring: Caity Lotz, Brandon Routh, Dominic Purcell, Wentworth Miller, Nick Zano, Tala Ashe, Maisie Richardson-Sellers, Neal McDonough, John Barrowman, Victor Garber, Franz Drameh, Keiynan Lonsdale, Arthur Darvill, Amy Pemberton, Matt Ryan, Jes Macallan, Courtney Ford, Tracy Ifeachor
If you're a murderer or a liar or a cheater, or even if you are prideful, lustful, egocentric, narcissistic or even the littlest bit envious; then that is it for you…right? What you are is what you are for eternity, and there is no room for error, no margin for alteration, nothing in the world that can make you, or persuade you to change your behaviour, or change the reason for your behaviour. But is that really the case? Can a person who has made bad choices really change for the better? Can they be a hero to others and inspire, even when they still struggle with their demons and their better judgement? If I were to tell you that everything that I just mentioned above was wrapped up and presented to us in the form of a superhero show, what would you say? Would you laugh and think I was crazy? Probably. But that exactly is what has come to light, with the seemingly frivolous Legends Of Tomorrow being one of my favourite shows of late- a superhero show with tons of action, and a lot of issues being touched upon, including the notion of people changing for the better.
With the main characters being a mash-up of recurring characters from other superhero shows from the DC Arrowverse; there are a mix of heroes and villains, as they band together on a timeship, righting history and saving the world from eviller villains that one can ever imagine. I would describe the show as Doctor Who meets Guardians Of The Galaxy- and the fact that the show doesn't really take itself seriously, works in its favour. When the show began in 2016 though, I had massive reservations. I mean, think about the main characters for a second.
Sara Lance (Caity Lotz) from Arrow, who had been resurrected from the Lazarus Pit, transformed into a warrior with a bloodlust for vengeance. Ray Palmer (Brandon Routh), a brilliant scientist, also from Arrow, who has his own suit and can shrink into the size of an atom (similar to Ant Man). Mick Rory (Dominic Purcell) and Leonard Snart (Wentworth Miller), a pair of petty thieves who were also known as Heatwave and Captain Cold respectively, who had no love for being good, and were always in it for the money, the fame and the glory. Martin Stein (Victor Garber) and Jefferson Jackson (Franz Drameh), who make up a superhero Firestorm; and Kendra Saunders (Ciara Renee) and Carter Hall (Falk Hentschel) who are the reincarnated Egyptian lovers Hawkgirl and Hawkman. All of then led by time traveller Rip Hunter (Arthur Darvill), who recruited all of them because they were essential to history and the downfall of Vandal Savage. Oh, and there's the small detail of Vandal murdering Rip's entire family- so it's vengeance for Rip by trying to kill Vandal- at least that's what the shows starts out to be.
So that's the premise of the pilot, and given that all of these characters do not mesh at all, you could understand my reservations for the show. Could it last? I mean a few episodes would be fine, but entire seasons? What would happen when Vandal was defeated? How would the team stay together? But I stuck to watching the show (particularly because the chemistry between all of the actors were surprisingly good!) and I'm very glad that I did.
The entire first season delved into the concept of destroying Vandal Savage, and the idea that you can't change certain fixed points in history, therefore the team hopping around time trying to find the exact point where they can be rid of Savage and not let the timeline go boom. Along the way Rip comes to terms with his family's death and why it can't be changed; while Snart and Rory start to have a bit more of a moral compass and a team spirit, reminding us all that people who have done horrible things can turn around, and do deserve forgiveness and second chances. Maybe not forgiveness by everyone, and definitely not straight away, but the first season of the show at least highlights to us the fact that it is possible to change. With team dynamics changing at the end of the season when Savage is defeated (Hawkman and Hawkgirl leaves, and Snart sacrifices himself for the team), Nate and Amaya, a historian and a member of the Justice Society of American from 1942 respectively, join the team.
Together the altered team chase time aberrations, putting history back where it's supposed to be, while searching for a missing Rip Hunter and trying to stay two steps ahead of the Legion of Doom (Eobard Thawne from The Flash, and Malcolm Merlyn and Damien Darhk from Arrow) as they try to acquire the legendary and fabled Spear of Destiny. Season 2 is personal for Sara as Damien killed her sister Laurel (on Arrow Season 4), while Stein and Jaz have personal history with Eobard too, as he killed Barry's mother in Season 1 of the Flash- a friend of theirs. Thus, with the stakes never before being higher, season 2 packed more of an emotional and vulnerable punch than season 1- after all we care more about the characters we know than we care about Rip and his dead family, right? I meant the Rip of season 1 whom we didn't know at all… With the Legion of Doom dispatched, but not without casualties, time seems to be protected, until we find out that time is broken because of the team interacting with their past selves in the Season 2 finale. Hence, for season 3, the villain we are introduced to here is Mallus, a demon who has escaped from the spirit realm and is wreaking havoc, creating anachronisms that the legends need to fix. While Firestorm depart in this season, and Zari and Wally West are new additions, as well as the Time Bureau (founded by Rip in between season 2 and 3), what we are shown is still a comradery, a sense of family, with these guys having each other's back. They're a team of misfits who fit so well together- and because Legends Of Tomorrow is so out of this world- there's no denying that the storylines, the weird and wonderful ways certain characters can provide comic relief, as well as the chemistry and friendship all of the characters have with each other (even though some are supposed to be heroes and others villains!) makes me love the show even more. In fact, can I assert that Legends Of Tomorrow is my favourite TV show of the Arrowverse?
Did all 51 episodes of Legends Of Tomorrow leave a lasting impression on you? Did any themes in the episodes speak to you, and which was it? What elements of the show are you enjoying- Sara and Ava's blossoming relationship, the addition of the Time Bureau, the ever-revolving door of new cast members, or the zany, wacky villains we've come to love to hate? Will you be tuning in for Season 4, now that Constantine, Ava and Nora Darhk are all regulars? Let us know in the comments.
RIYL: Doctor Who, The Flash, The Tomorrow People, Constantine, Terminator: The Sarah Connor Chronicles, Firefly, Terra Nova, Continuum
Rating: 4.5/5 (based on 3 seasons aka 51 episodes)
Legends Of Tomorrow aired every Thursday at 8/7c on CW for Season 1, and at various times for Seasons 2 (Thursday 8/7c for Season 2A, Tuesday 9/8c for Season 2B) and 3 (Tuesday 9/8c for Season 3A and Monday 8/7c for Season 3B). You can now buy the DVD/Blu Ray of the whole 3 seasons at digital and physical retailers everywhere! Season 4 airs tomorrow at 9/8c on CW, so check it out!