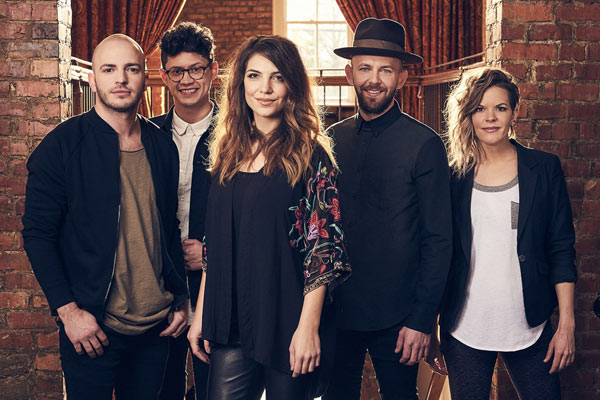 "…Our experience didn't begin with a desire to be in an industry. As fellow human beings and Christ-followers, I think success is measured by the genuine and consistent love we have for Jesus and each other and how we put that into action. Point your gaze at Jesus, remain humble and faithful to serve as He calls you to serve, and do that – no matter what or where that may be…"
3 years ago, in late January, an album of 10 songs released on Provident Label Group, of a 6 piece worship band that could have been a one album wonder. It's not that I Am They's album was a bad album- on the contrary, it was exceptional, in my opinion, one of my favourite worship albums of 2015. The band released hit singles "From The Day" and "Make A Way" as well as personal favourite songs of mine "Your Love Is Mine", "King Of Love" and the Crowder cover "Here's My Heart", amongst others. Yet right after the band's label debut and subsequent popular singles, news of a sophomore album didn't eventuate. Turns out that I Am They, in the midst of recording their new album in 2016, went through a host of member changes for various reasons, with a couple of founding members (Adam Palmer, Stephanie Kulla) leaving and new personnel (Abbie Parker, Jon McConnell) coming in.
Yet this did not halt their recording process. In early 2017, a brand new single "Crown Him" was released (I personally thought that the song was thoroughly enjoyable and inspiring); and now this year, it seems that I Am They are now ready to unveil to us their heart, in Trial & Triumph, an album that, based on the three songs I've heard already, is sure to be one of my favourites of 2018- I reckon if you ask me at the end of this year if Trial & Triumph is part of my top 20 albums, I would probably say 'yes'. While this short piece isn't really a review per se, as I do not have the pre release of this album currently, and all I'm going off is 3 already released new songs ("Crown Him", "My Feet Are On The Rock" and "Scars"); what I will say is this- I Am They's use of all three vocalists singing in perfect harmony (Abbie, Jon and Matthew), and each of the three songs being led by a different vocalist (sometimes 2 vocalists) is quite ingenious- reminding me of Avalon in that way, which is a feat in and of itself.
"…We wanted the name and message of the band ("I Am They") to be wholly in focus right out of the gate…to be the "they" Jesus spoke of in John 17. We want our words, our actions, and our character to stand out and magnify Jesus. Not just to look like a band, but to look like people in love with Jesus – like "they" – like disciples…"
Music and genre wise, each of the three melodies are stylistically different, and the band effortlessly pull off each track, as we are blessed to hear a modern day potential hymn ("Crown Him"), an upbeat pop tune ("My Feet Are On The Rock") and a sombre, reflective piano led slow ballad ("Scars"). Trial & Triumph releases in about 2 and a half weeks, but if these 3 songs are anything to go by, them I Am They's newest offering will definitely be what critics and listeners alike will be listening to and will be recommending to their friends and family. As a debut album I Am They was top notch, and I reckon that perhaps Trial & Triumph will beat that effort musically, lyrically and just overall production-wise. What do you guys think? Which song out of the three speaks to you the most?
Provident Label Group
Release Date: March 2nd 2018
Reviewed by: Joshua Andre
I Am They- Trial And Triumph
Track Listing:
My Feet Are On The Rock
To The One
How Far We've come
Scars
No Impossible
The Water (Meant For Me)
Near To Me
Crown Him
Still Here
Let Your Love Pour Out
Bonus- Songs which released after my initial writing of this 'first impressions review'!