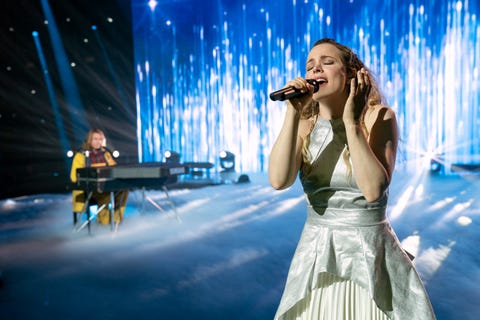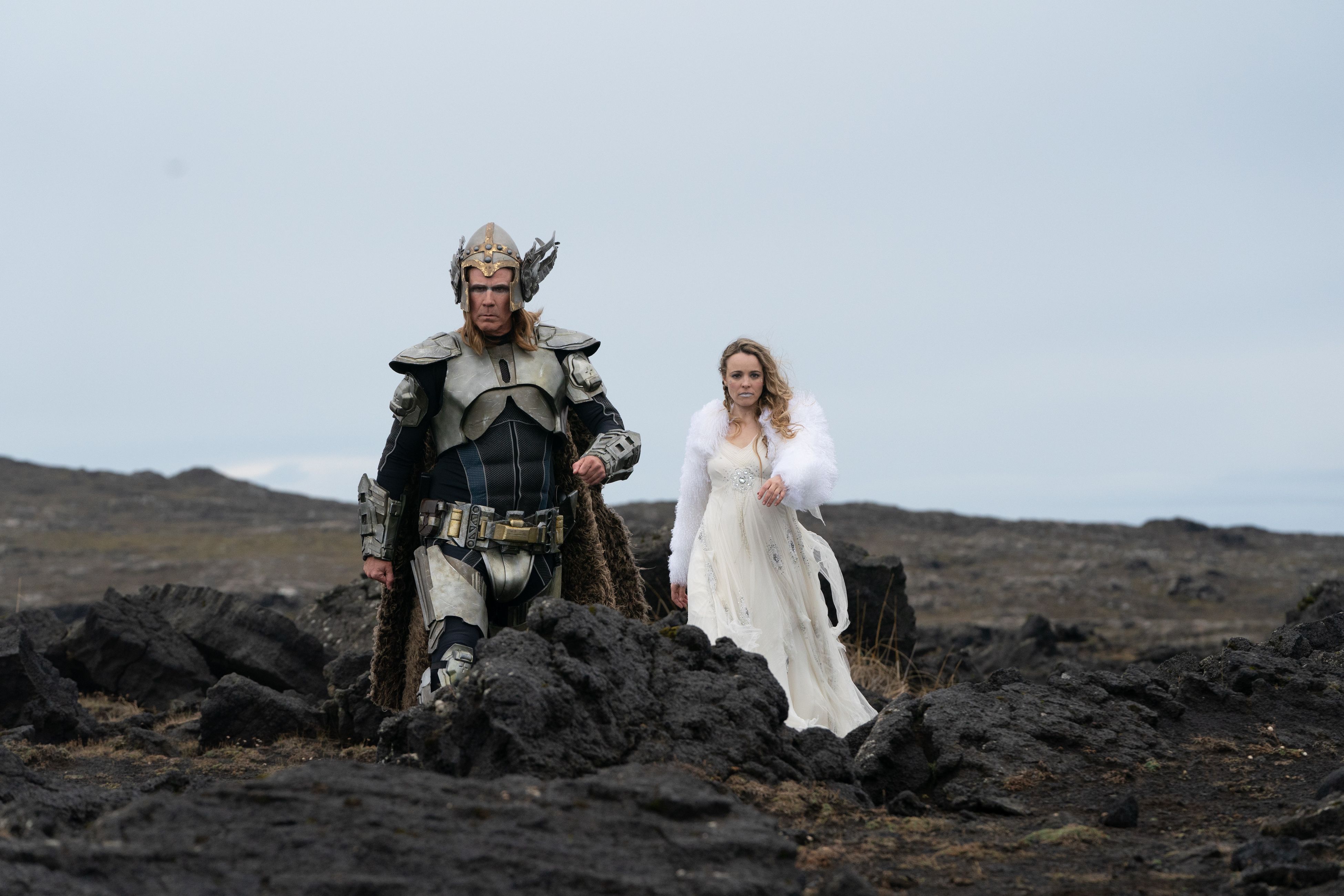 Distributed By: Netflix
Netflix Release Date: June 26th 2020
Reviewed by Joshua Andre
Eurovision Song Contest: The Story Of Fire Saga– Starring Will Ferrell, Rachel McAdams, Dan Stevens, Pierce Brosnan, Melissanthi Mahut, Demi Lovato; Directed by David Dobkin
What do you think the world will remember when the year 2020 rolls around to a close? We're around about half way through the year… so what will be the defining moment of the year that people will look back on- and say 'this was the year in one word, or one phrase or one sentence'? Would it be the raging bushfires that tore through Australia in January, dismantling houses, and homes; bringing us all to our knees as we felt what the land down under felt? The very same fires that united Australia together (and by some extent the world) with a benefit concert (10 hours in total) being held in February with superstars like Delta Goodrem, Guy Sebastian, Jessica Mauboy, Conrad Sewell, Tina Arena, Ronan Keating, Queen, Michael Buble, Olivia Newton-John, and Johnny Farnham all performing and giving us hope and confidence in the Aussie spirit? Would it be the various announcements of new movies and TV shows, ranging from Mulan, Trolls World Tour, I Still Believe, Onward and The Way Back; to Zoey's Extraordinary Playlist, Messiah, Awkwafina is Nora from Queens, Star Trek Picard, Council Of Dads, and Defending Jacob? Yep, it is indeed July, and I reckon this year is one of the most inspiring years in terms of TV and video content (online and movies/TV), don't you all reckon? Would one of the defining moments of the year be the upcoming Twenty20 Cricket World Cup, still scheduled to play in Australia and New Zealand in October and November this year? Or how about the reboots of Party Of Five, High Fidelity, The Baby Sitters Club, Lizzie McGuire, Saved By The Bell, Gossip Girl and many more already aired/slated to air in the future on TV? The news that Pirates of The Caribbean will be rebooted/retooled with Margot Robbie as the lead now instead of Johnny Depp?
How about the Black Lives Matter protests and riots that have been fuelled and exacerbated by the death of George Floyd? No, none of these things in the slightest (yep, even the Black Lives Matter protests!), none of what I said; will ever be remembered come the end of this year. At least not in the same magnitude of what I reckon will be still talked about come New Year's Eve 2020. Because also in 2020, a debilitating, cruel and harrowing virus swept the globe. Coronavirus, or COVID-19 for short, needs no explanation. It is the one thing that will be long remembered past the last day of 2020- as well as its effects on TV, movies, sport, and every other facet imaginable. We don't need to go into the nitty-gritty of this global pandemic (for that there is Wikipedia), but the long and short of it is that by February/March, almost every single country in the world was in a lockdown- each country of varying degrees. Some countries are still in lockdown (and others re-entering lockdown after restricted lifted too early, and there was a surge in new cases i.e. Victoria in Australia!), and the upcoming 2020/2021 TV season is in limbo at the moment. Reality shows have also been retooled- an example is in the current season of The Voice Australia, with international judges Boy George and Kelly Rowland participating via Zoom and other online means.
For Australia- where I live- we never fully went into lockdown. As in 'cut the country off and live in isolation for however long'! Yet back in March (which some would say was too late of a time to start making proactive decisions!), many places were closed (such as pubs, clubs, cinemas, gyms, outdoor gatherings for a large amount, restaurants and cafes limited to takeaway only), and others remained open- such as schools, supermarkets such as Woolworths, medical centres, pharmacists, and other 'essential service' roles. The result was me having a forced by thoroughly well-earned and well-deserved six week break at home from the beginning of April to the middle of May- just a couple of months ago, whereby I relaxed, helped clean out the garage, powered through with some more company work that I was behind in, as well as renewed this site for 3 more years and steadily progressed through reviews. I also binge watched a few TV shows… simply because. I also clung to music and the power of God speaking through any type of music and any genre as well. Yet during this six-week break, and now also lasting further into the year; I've rediscovered the power of the movie.
Yep, the very same popular past time that involves us all sitting down in the lounge room and investing our time into the 90 minute or 2-hour phenomenon with a beginning, middle and an end, with the potential for sequels if the box office warrants it and critics applaud the movie. Of late I've been actively investing my time and energy, particular since university ended a while back in the media format of the TV show. The Arrowverse has mainly held my interest, with shows like The Good Doctor, The Blacklist, Once Upon A Time, Switched At Birth, Person Of Interest, iZombie, Continuum, and The Fosters all resonating with me throughout the years. It's the characters who have ample time to develop, which is the main drawcard that immerses myself in a really good TV series. But with COVID-19 halting TV production for the foreseeable future, I shifted my attention back to my movie DVD collection at home, and remembered why I loved movies (and still do!) for such a long time. Movie series like Back to The Future, Star Wars, The Lord Of The Rings, Pirates Of The Caribbean, Toy Story, Jumanji, Indiana Jones Batman (Christopher Nolan directed series), Pitch Perfect and The Mighty Ducks have all captured my heart and tugged at my emotions, while stand alone films like Julie and Julia, Finding Forrester, Operation Dumbo Drop, Angels In The Outfield, Now You See Me, The Star, Hook, Red, Game Night, Death At A Funeral, The Greatest Showman, Million Dollar Arm, and Trouble With The Curve have all been some of my favourite movies of all time ever! It's because I truly believe that God can use anything (and I do mean anything!) to draw us closer to Him; thus it was throughout the past couple of months or so that my love for movies (despite all of its flaws and somewhat skewed worldly values that are present on a number of films), and all of the subtle nuances and hidden meanings that could be interpreted to be about God; excelled and exponentially grew.
It's been a while since I've reviewed a movie. I reviewed I Can Only Imagine way back in June 2018 as the last film I've reviewed (particularly because over the past few years I've started and paused by blog series Flashback Fridays, and also have contributed to Jon's blog Momentous Mondays), but way before that I wrote my thoughts on Where Hope Grows back in 2015. I could say that I was super busy during that time, and that on a night where I am exhausted, the only energy I have time for is a music review of some sort (album, EP or single!)… but the truth is this. That reviewing albums is simply what I know how to do best; and sometimes it feels like a chore or a burden even thinking about reviewing a movie- especially a high profile one with mega super star actors and a larger than life premise. Becoming overwhelmed and daunted by the responsibility, I stuck my head in the sand for a long, long time. I Can Only Imagine was an outlier, and a very good movie for me to review, as it was about the formation of MercyMe- one of my favourite bands ever; but essentially, I've been dormant for 5 years in reviewing movies. Partly that's because of other sites doing a much better job at reviewing movies than me.
Yet now in the midst of COVID-19 where no movies are being filmed at the moment; one movie has released that has prompted me to voice my thoughts- even if I'm not a pro movie reviewer like how I wanted to be way back in 2014 when this site started. Eurovision Song Contest: The Story Of Fire Saga is the story of big hearted and well-meaning Icelandic hopeful duo Fire Saga who long to represent Iceland in the annual Eurovision Song Contest. The naïve and driven Lars Erickssong is surprisingly ably played by funnyman Will Ferrell, while Lars' singing partner is Sigrid Ericksdottir, beautifully and exquisitely portrayed by Rachel McAdams– who I reckon is the true star of the movie. Pierce Brosnan is also present in the movie as Lars's father, even though Pierce himself is only 15 years older than Will, while Dan Stevens and Melissanthi Mahut deviously play a pair of cunning and crafty contestants (from Russia and Greece respectively) who's main objective in the movie seems to be separating Lars and Sigrid, and derailing their surprising Eurovision campaign. Singer Demi Lovato cameos as one of Lars and Sigrid's Icelandic competitors… and with star power like this what's not to love about Eurovision Song Contest: The Story Of Fire Saga?
I myself haven't been an avid fan of either Will's and Rachel's filmography. Maybe even ignorantly and naively, I believed Will's films to be of the same variety (comedies where he tries possibly too hard, films that I saw and others I heard about such as Anchorman, Talledega Nights, Land Of The Lost, The Other Guys, Holmes and Watson, both Daddy's Home films… even Stranger Than Fiction where he tries a dramatic role); and I also concluded that Rachel's filmography of largely romantic comedic roles (The Vow, About Time, Aloha, Morning Glory, The Time Traveller's Wife, The Notebook, Wedding Crashers, The Family Stone) meant that her role in Eurovision would be of the supporting nature- even though she does have the acting chops to go outside of her 'genre', in films such as State Of Play, Spotlight, Doctor Strange and the most recent comedic Game Night, one of my favourite stand alone comedies ever. Pierce Brosnan's stint as James Bond for a while somewhat persuaded me that he was mistakenly cast for this role, while Demi (a singer) cast in a movie, one of her rare comeback roles after her drug overdose a couple of years ago, is noble on paper, but theoretically should've fallen flat in my opinion. All of those factors might detract all of you from watching this movie (but please still press on and watch anyway!), and let me tell you that I almost didn't watch the film. But from one viewing of the trailer and the 'Volcano Man' music video; I was hooked. It didn't matter that this movie didn't work on paper. What matters is that it nonetheless works, and Eurovision Song Contest: The Story of Fire Saga is one of my favourite comedies in my recent memory, alongside the aforementioned Game Night.
Not to dissuade you all from watching the movie via me telling you all the plot (please don't go on Wikipedia, as the plot is extensive there!), the movie starts in 1974, where a young Lars dances in front of his disapproving family while watching ABBA on TV win the Eurovision Contest with the song "Waterloo". For those of you not familiar with the European contest (which started in 1956), you can view the ins and outs of the competition here… but essentially after Lars emphatically declares to his family that he'll win Eurovision one day, the film cuts to present day where we meet a grown up Lars performing in pubs and clubs with his best friend Sigrid. Wanting to compete in Eurovision, Lars and Sigrid want to sing their song "Double Trouble" in the pub to the townsfolk of their hometown Husavik. Alas, all the town want to hear is the somewhat childish "Ja Ja Ding Dong"- a catchy pop tune but a track that's also superfluous and unnecessary. With the movie being the journey of Lars and Sigrid as Fire Saga finally competing in Eurovision (through a series of unfortunate but comedic events!), there's not much more to say about the movie without spoiling anything. Thus, I won't because I for one believe that all of us should watch the movie. For us to be amazed at the spectacle that is Eurovision (because this film isn't a parody, but a real-world representation of the annual song competition), and for us to marvel at the underrated acting prowess of both Will and Rachel. But more than this, it is the themes of never giving up on your dreams and the sheer determination and ultimately the realisation that sometimes winning isn't everything; that really is the heart of the movie. Sure, maybe the 2-hour running time could've been condensed by 15 minutes or so, but with the film being essentially the inner journeys and the transformations of Lars and Sigrid from local wannabe stars to genuine artists in their own right; there's still enough story here and enough heart and warmth to keep us interested for the entire duration.
I firmly believe that both Will and Rachel have acted the best in their careers here. Others might disagree and they may have a point (The Notebook for Rachel, and Anchorman for Will), but with both actors shining in a Netflix film- that gives of cinema quality, it's evident that Will and Rachel peaking here acting-wise ultimately is a very good thing, as Will's best film in a long, long time, brings out the best in Rachel in my opinion; and vice versa- as lovable characters, big booming and anthemic original songs and eye-catching visual effects make me wonder. Because if this film hit the cinemas it would've won tons of awards. Alas COVID-19 happened. But we're still left with a movie that has emotion, raw honesty and a relevant message for each of us- striving for your dreams no matter where it takes you. Some would say that the film has a ton of flaws (read this very funny, and maybe satirical article on the BBC here!) while the dubbed singing voice of Sigrid (Rachel sings in the movie, but her singing voice is meshed together with Swedish singer Molly Sanden) is rather controversial, given that Will's voice wasn't dubbed at all. However despite everything going against this film, there's just something about the story of Lars and Sigrid that demands to be seen. Is this film the resurgence and revival that Will needs acting-wise, and is this movie a reminder that Rachel need not be pigeonholed anymore? I certainly hope in the case of Will, and a thousand times yes for Rachel!
Even if you don't like Eurovision, or know nothing about the competition, even if you don't like Will's or Rachel's filmography, even if you aren't an Icelandic (like myself!), I'd say you would still be blessed and changed by the universal message in this movie of going for your dreams despite adversity, and also by the message that sometimes winning isn't everything. Not to spoil the movie, but there's a moment when Lars who is running late for the final performance, interrupts the final performance of Fire Saga which Sigrid has started without him, where he says that 'sometimes the perfect song isn't the winning song, but a song that comes from the heart'- and if you've seen the movie, then you know that it's at this point where Lars's outlook on winning has changed and is flipped on its head. And it is at this point in the movie, where we realise that when winning and our love of winning outstrips everything else in our life… well then we haven't truly won have we? The message of staying true to your roots and never trying to be someone you're not, isn't explicitly stated, however I am positive that the emotion and honesty of Lars and Sigrid, as well as the emotional performance of the final song, will encourage any watcher to check out Will's and Rachel's films, and maybe even Molly's music. That's a big claim, I hear you all say, and I agree- it is, but it's a claim I have nevertheless made, and believe with all of my heart- that future fans of Eurovision, and maybe of singing competitions in general will be made from this film, as we watch at home on Netflix and maybe other streaming services if this movie is shown anywhere else. Might this film enter into the cinemas when it is safe to do so? I reckon it should!
So as for what I would say you all should do after reading this review…I'd say 'go watch the film'. Yep, go and sign up to Netflix, because The Story Of Fire Saga is well worth it! Watch with your parents, friends, neighbours, spouse, kids, enemies, pets, anyone you can think of- cause hopefully Eurovision Song Contest: The Story Of Fire Saga will be big. Bigger than the contest itself? Perhaps. So…before you leave and watch the film on Netflix, let me provide you with the trailer and a few other interviews and behind the scenes videos below, so that you can be psyched and ready for whenever you choose to watch Eurovision Song Contest: The Story Of Fire Saga!
Did you guys end up watching Eurovision Song Contest: The Story Of Fire Saga on Netflix? Are you planning on subscribing to Netflix in the future, or binging all of Will Ferrell's/Rachel McAdams' filmography? You can stay connected to all things connected with the movie on the official website, facebook, twitter and YouTube! Hope you enjoy/enjoyed the movie! And please stay safe while COVID-19 is still hanging around like a parasite!
Rating: 4.5/5
RIYL: Trolls, Pitch Perfect, The Greatest Showman, Bohemian Rhapsody, Frozen