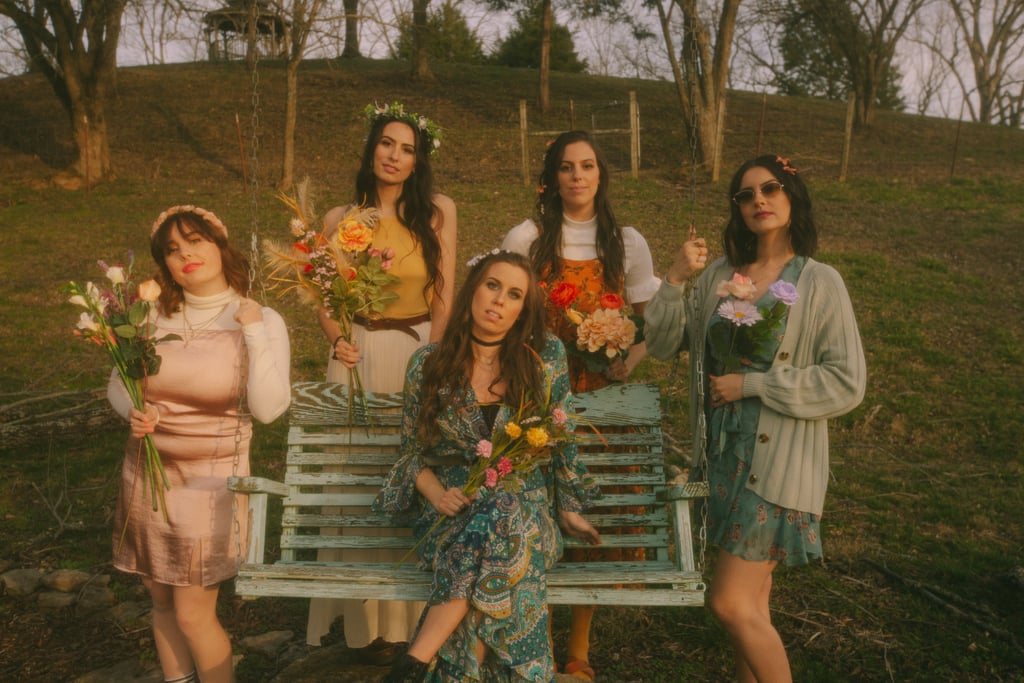 Looking through my blog series list, over the last two years, I think I delved into a myriad of musical genres, that if I didn't have this blog series to always come back to every week for the last two years, I dunno if I would've branched out into the music that I did. That's not to say that the music that I was listening to prior to this blog series wasn't good…quite the contrary. I have been listening to CCM prior to February 2019, and CCM will always hold a special place in my heart for the rest of my life. But from February 2019 onward, I was introduced to music and genres that I was sheltered from (for whatever reason, I don't know), and music genres I assumed was this, turned out to be that; and artists that I pigeonholed, turned out to be so much more. My musical tastes broadened, and my appreciation for genres other than CCM was on the rise. I got out of this mentality and assumption that mainstream music wasn't as 'good' as CCM, that mainstream was 'evil' and that CCM was 'good'- that certainly isn't the case, 2 years removed from the commencement of my blog series. What this series (which is still ongoing) has told me is this- that God being God, can speak through a myriad of media and material, for His love and grace to reach us today, and if its through mainstream music, then so be it. With all the music I have consumed this last couple of years, I must admit- that my musical tastes throughout primary and high school were a little limited…and that's ok though.
The songs and artists I grew up listening to (Carman, Delirious?) have shaped my faith to become what I am today. But now I also don't have the same apprehension and uncertainty towards mainstream music than I originally did. Quite a lot of it has had to do with the exploration of artists throughout this blog series- Lady A, Keith Urban, Martina McBride, Sugarland, Little Big Town, Rascal Flatts and Shania Twain all expanded by view of country music, from a disdain to a fond appreciation and love for primarily 1990s/2000s country, while Guy Sebastian, John Farnham, Delta Goodrem, Missy Higgins, Vanessa Amorosi, and The McClymonts all continued to remind me of why I really, really love music by Australians- there's just something about listening to a song or an artist from Down Under that is very different, yet still refreshing, compared to other countries. Pentatonix was a great revelation for me, and my love for acapella music skyrocketed because of this quintet, whilst my assumption that operatic pop wasn't for me, was completely shattered with the introduction of artists like Jackie Evancho and Josh Groban, and my love for music from musicals, and music from famous songs of the past, started to come to the fore, when hearing both these two artists. Artists like Casting Crowns, Hillsong, Chris Tomlin, DC Talk, Amy Grant, Rebecca St. James, Carman, Steven Curtis Chapman, Tenth Avenue North, for KING & COUNTRY, Michael W. Smith and Delirious?, all continued to impress throughout this blog series, and all reminded me of how crucial and important CCM was for me growing up, and how the foundation was laid early about the Christian faith through these artists, while listening to Lecrae, Carly Rae Jepsen and Adele…well, let's just say that I have a greater appreciation and respect for the genres of rap, pop and soul music respectively. All in all, the 76 blogs (and counting) that I've written about artists I may not have heard (if it wasn't for this!) have enriched my life all the more, challenging me to redefine what it means to listen to mainstream music, and what we believe God can and can't use, when it comes to the music we listen to, and what we believe God can speak to us through song. For if God can use a scrawny kid called David to slay Goliath, if He can use a stutterer called Moses to command the Pharoah to let the Israelites go out of Egypt, if God can use a fearful man in Jonah to proclaim to good news to Nineveh, then surely, He can use mainstream music to convey Biblical truths of grace, hope, love, and kindness, right?
Yes, the blog series has been a major impact on my life in terms of me branching out into music that is outside of my 'normal' bubble of CCM. But if I am to be completely honest, my musical journey started way before that, in 2016 I think (or was it early 2017?), with the introduction of myself and my brother to the musical talents of 6-sister band Cimorelli (now a 5 sister band), a group originating from California, specialising in both cover music and original music. it was through an article on JesusFreakHideout, and let's just say that the rest was history- that now here we are, writing about the band, and declaring that their music and impact of the years, garners them a spot here in this blog series. And while people in the grand scheme of things, may not have heard of Cimorelli period, herein lies the point. That popular and influential need not always to be the same, and in Cimorelli's case, their presence on the youtube digital space since 2009, has challenged me and my own assumption of how a girl group could/should sound like, and even how I can appreciate, love and respect an all-girl group, when I'm sure the target audience/niche Cimorelli are girls (of which I am not)? Cimorelli are a band of surprises. There're not your typical pop band, nor are they your typical CCM band. And that's ok.
'…it's been a really long eleven years, 'cause we started in 2007, yeah it's been eleven years now. It's crazy, there are so many moments to pick from in that time span. I think it can be summed up in our whole experience of moving to Nashville. Our time here has been such an amazing continuous moment, because for the first time in our career, in the past three years, we're really getting to live as independent artists and pursue those dreams. Whatever our vision is gets to come to life, and we get to have creative control, and it's just such an amazing and empowering experience for us…'
Except from Katherine Cimorelli's interview with Hollywood Lassie, 2018
My first all-out experience listening to Cimorelli and their music was in 2016/2017, when their second album Alive came out via Pledgemusic. Back then they were considered a country/pop girl-group, because of their independently produced and quasi-successful first full-length album Up at Night, of which had country-themed influences, but for me, it was their first foray into CCM music with Alive, that made me explore a lot more of their music for myself. I wrote a review for the album, and even interviewed Katherine Cimorelli, a member of the band, during early 2017. I was excited about listening to this group, understanding and realising that even though I may not necessarily be the target audience of which the band is gearing towards, I nevertheless was impacted as a whole by this sister-group, and the songs they have produced over the years have shown their tenacity as a group, and their influence to not only the sphere of influence of which they are in right at the moment (youtube), but in the wider community and society as well.
Cimorelli are probably one of the most unique, genre-crossing artists/bands I've come across in recent history and memory. Christina, Katherine, Lisa, Amy, Lauren and Dani Cimorelli have shown us what it means to become successful artists after obtaining their start as youtube cover artists all those years ago. With Cimorelli being, I reckon, one of the artists/bands that have excelled in the last few years because of their youtube presence (through weekly postings and cover songs, alongside devotionals, interviews and the like) and their ability to connect with fans across all platforms of social media; it has been their full-length albums Up at Night, and Alive that initially sparked my own journey into becoming a fan of their music- primarily Alive. Officially, Cimorelli are all Christians in a band, but they are not classified as a 'Christian band' per se- even though most of their second full length album Alive was about their relationship with God, and themes like hope, doubt, uncertainty, body image and acceptance in the circle of friends. Alive was a big departure for the band from Up at Night which was primarily country music (and that album and its musical style and themes were a departure again from their music previously that was primarily pop and radio friendly!), and so it's hard to place Cimorelli into a box, literally. Musically, their styles can shift between pop, country, radio friendly and even inspirational and worshipful as their discography shows; and so it comes to reason, that this band and the music that they deliver, be it covers or original material, are some of the most unique that I've heard in a long time- with such great harmonies from all the 6 sisters in the band, we have been blessed to hear what I reckon is one of mainstream music's (and Christian music as well) best kept secrets…until now, of course. The rise of these sisters with Up at Night and Alive (alongside their standout EPs previously, like Believe It, Made In America and Renegade), is certain to make even the 'hater' of mainstream music become a little less judgemental of music within that sphere, and to come and really appreciate and respect a group whose start on youtube (and then exploding from there) is just a testament to the faithfulness of God along their journey, as we're reminded that sometimes, creating content on a platform like youtube, is much more rewarding and impactful for people in the music space, than getting a record deal and making music more of the 'traditional' way. Whether Cimorelli want to sign to another label in the future (after going independent in 2015 since splitting from their label- Universal Republic, after the release of their 2014 EP Renegade) is a different story, but what I will say is this- that often it is the independent album releases that have more creative control, and become music that we as people who long for meaningful content, become more drawn to as the years continue to progress and we become more self-aware of how much 'fakeness' the actual music industry has within it.
If you were to pick one group that have made an impact on mainstream music within the last few years, it has been Cimorelli. Cimorelli? Really? Surely you don't mean all the other popular artists like Demi Lovato, Taylor Swift, Miley Cyrus, Justin Bieber, Selena Gomez and Ed Sheeran, surely what you really mean is one of them right? One of those guys have made a massive impact on mainstream right? Bigger than Cimorelli right? Sure, I mean, all the other artists I just mentioned are more popular than Cimorelli, and I guess in fact, Cimorelli probably won't be as popular as these artists in my lifetime. And maybe that's ok…but my first statement above wasn't asking which band was the most popular throughout the years, but rather, which band has made the most impact, and I reckon popularity and impact are very different things. Let me put it this way- popularity, what I reckon it is, is when you want to be the big kid, the bully in the school-yard, the one where everyone looks to in awe/reverence. You can be impactful and still be popular, but often, and this is just my opinion, it is the ones that aren't on the radar, the ones that aren't publicised in the media every day and every night, the ones without a label, it is those who are tirelessly working on creating beautiful and wonderful art, it is those artists that create much more cohesive and impactful art for people to hear and be impacted by. Cimorelli is one of those artists. They are not signed (since moving off a label in 2015, they relocated to Nashville from California and now are making music independently), they are still relatively unknown (even after around 10 years within the music business), and they are firmly grounded in their identity, what they want their music to be about, and who their target audience is. Cimorelli have been one of the biggest finds within independent mainstream music for me personally over the last 5 years, it was as soon as they released their pop/Christian/CCM/worship album Alive in late 2016 (for Pledgemusic donators and May 2017 for iTunes/Amazon/Spotify) that I realised this group of five sisters (six sister back then) had (and still have) something special!
Christina, Katherine, Lisa, Amy, Lauren and Dani have always been known to have a strong faith, and while that wasn't necessarily in the forefront on Up at Night (except for a song 'Brave Heart' which asserted their own faith on an album full of songs about relationships), Alive for me would always be something different, as songs of worship, hope, loneliness, faith, comfort, confrontation and everything else in between become the central themes of this short, albeit powerful and profound album. And while I will go back sometime in this blog post and discuss albums and songs pre-Alive, I want to start this off, by delving into an album that has reminded me that mainstream music and CCM need not to be as divided as we all thought- Alive, primarily a worship album, features songs that praise the Lord, but also delve into topical issues, like acceptance in relationships, suicide, finding a spouse, things that wouldn't necessarily be discussed in the mainstream pop circles of today. Standing at 10 tracks in length, I am impressed and encouraged of the lyrical depth, honesty and ingenuity that these young women have portrayed within these songs. While the focus moves more away from boys and relationships (in Up at Night) to their relationship with God, songs about hope, life and the rest of it; Alive still has a plethora of themes, that I reckon will impact a vast amount of people, regardless of their religious persuasion or where they are in life. "Your Name is Forever", the first track on the album, is their most worshipful, as the girls deliver an anthem that can easily be sung and fit quite well within Sunday morning worship services. The song itself sets a tone and precedence for the entire album as a whole, showcasing a bolder and more intentional Cimorelli on Alive– now that's not to say that everything pre-Alive is not as good- it is when you compare it to the wide array of mainstream music that is on offer. Yet there is something about Alive that makes me take notice of Cimorelli– maybe it's because of their stance in their Christian faith, and I can relate to that aspect more so than the themes projected within Up at Night, but whatever it is, Alive would have to be the most sentimental album by the band for me. It was when I realised that music isn't as black-and-white as even I was led to believe, that God can used whomever and whoever to show us Biblical principles- even mainstream music.
Following on from 'Your Name is Forever', both 'One More Night' and 'Alive' are part 1 and 2 if you will, both portraying similar themes and reminding us all about the fragility of life and the ability for everyone to move on from part hurts and mistakes. Written by Dani Cimorelli, "One More Night" was borne out of a conversation Dani had with a fan on Twitter who was contemplating suicide. The song then was written, with its primary focus is to remind the listener to keep on hoping and fighting, to keep on pressing through, even if it is just for 'one more night'. "Alive" then continues the theme that was presented in "One More Night", and is seen as a continuation, what someone would feel or even sing or cry out once they have decided to fight for another day amidst the pain and loneliness they could be feeling in that moment. There is a moment within the song that is pivotal and poignant, the phrase '…I feel because I'm alive…'. That what we feel, whether it be pain, hope, loneliness, fragility, comfort, happiness or sadness, is a testament that we are indeed alive, and that every moment we are alive is a chance for us to change our circumstances, changing our outlook from our perspective to His. There are other songs on the album with relatable themes that are in some ways universal, in melodies like "The Love of a Man", "Kick the Habit" and "Find Me", while songs like "My God is Here", "Hope For It", "Love Song (Over Me)" and "Never Let Me Fall" continue the worshipful slant that was presented through the first song "Your Name is Forever". 'The Love of a Man' delves into the lines that we may cross and the compromises we may settle for in order to be loved and accepted by our fellow man- in the specific case of the song, the persona (a girl) just wants to be loved by a man, and thus she makes choices, though not necessarily great ones, to make herself noticed and appreciated by a man (but not necessarily the right man that'll appreciate her for who she is rather than who she wants to be). Sometimes we can give ourselves away, thereby eroding our core values in the process, all for the sake of being accepted. Doesn't matter if it is the wrong crowd, at least we are accepted right? The theme of habits, addictions and struggles come to light in 'Kick the Habit', a song that is a reminder, that we all have habits, big or small, that need to be rid of, and that in the end, it is only God and God alone that gives us the strength to rid ourselves of such things that bring us down; while 'Find Me' is a song about trying to find that special someone, and waiting for as long as it takes for them to meet them. It is similar-in-theme to the Rebecca St. James track 'Wait For Me', where we see declarations about waiting for 'the one', being faithful in focusing on yourself before you go out and try to seek a partner out- 'Find Me' is one of the unexpected songs on Alive that really strikes a chord with myself, considering that I am still within the category of 'single'. Who would've thought it- a song from a girl-group impacting my own walk, in life, especially within the realms of single life?
'Your Name is Forever' would always hold a special place in my heart from Cimorelli– it was the first track I listened to from Alive, and a song that really challenged my own preconceived ideas of how CCM and mainstream ought not to 'blend' together, because prior to Alive, the girls primarily rode in the lane of mainstream. They were pop through and through- they did experiment with country in Up at Night, but it was when I heard 'Your Name is Forever' that I thought 'gee, artists can make music that can do both- create impact in both CCM and mainstream), and that in a sense, blew my mind. Maybe I grew up in an environment where secular and sacred were almost two separate things, when in reality, the only divide should be between us and God, not between the style of music we hear, listen to, and become impacted by. And so 'Your Name is Forever' (and all the subsequent worshipful songs on Alive) reminds me of how excited and intentionally congratulating we should be when someone from mainstream music, writes something about their faith- it takes courage and guts, bravery to discuss their beliefs in song, primarily because of how frowned upon it can seem in society right now, to even discuss things about religion and faith. The worship songs on Alive ('Your Name is Forever', 'My God is Here', 'Never Let Me Fall', 'Love Song (Over Me)' and 'Hope For It') are to me, some of my favourite worship songs within the last few years, and that is saying something about the calibre of Cimorelli, from a musical, lyrical and stylistic standpoint, as we're reminded that sometimes it is the independent artist that can impact and influence on just as much of a scale compared to the signed.
Alongside 'Your Name is Forever', 'My God is Here' is another song that can be sung on Sunday morning worship services, and to be blunt, could easily be sung by another worship artist like Chris Tomlin or Matt Maher, and you as the listener probably wouldn't even notice. Maybe that is a testament to the quality of Cimorelli's song writing, or maybe a reality check into how 'cliché' songs from Chris Tomlin are getting. Regardless, "My God is Here" is a reminder that God is with us through every circumstance, when we're happy, sad, weak, sick, triumphant, hopeful, hurting, angry, whatever emotion we're feeling, He is present. And that is something that we as Christians can often lose sight of, during this experience which is called life. "Love Song (Over Me)", an acoustical hymn-like melody that ends Alive in perfect reflective fashion, has lyrical themes similar to Third Day's track of the same name, and is a gentle and humble reminder that God sings His song over us regardless of the state that we ourselves are in- whether we are happy or sad, confused or elated, He will continue to sing His love song over us, and remind us all of His unconditional grace. With just an acoustic guitar, light percussion and the 6 girls as vocals, we are treated with his laid back approach to a theme that can only be soaked in and enjoyed in such a manner where the instruments are diminished- I mean, would the effect of the song still be the same with driving guitars and a rousing anthemic spirit? Maybe, maybe not, but where it stands, I dunno if I can even imagine "Love Song" as a rousing and declaratory guitar-driven melody.
"Hope For It" is a song about just that very topic- hope, as this radio-friendly song is one of us to savour, with listeners being reminded that '…I will still hope for it, no matter what comes, fire or flood, I will hold on, you are still good, and I will still hope for it…' As all these 6 girls deliver great harmonies and gang vocals, alongside the positive message of hope during the times when we need it the most- and while the theme of hope can seem like an over-arching quasi-universal issue, and before we jump the gun and say that this song can easily be sung by anyone in the mainstream industry, we think again- when they sing the words 'I will hold on, You are still good', who are they talking about? God, Jesus? We as Christians know that that in fact is what Cimorelli are singing about, and maybe the 'you' was intentionally placed there so to create some mainstream music appeal, but whatever the case, the song still asks questions- hopefully (no pun intended) the right ones. "Hope For It" ought to remind us to ask such questions- who do we in fact, have hope in, as we're going through this life? And then there's "Never Let Me Fall"; arguably Alive's most emotive and cohesive song, and a track that has me joyously singing along with all the sisters in what I reckon will be the song the band will be remembered for (from this album) within the upcoming years ahead. A song about a persona feeling so numb and insecure; but calling upon the Lord to come be their peace, the song is a comfort, hopefully to many, yet myself included, as we are reminded through personal lyrics, that God indeed gave it all up for us through His Son Jesus, and that God will indeed never leave us because of His Holy Spirit. "Never Let Me Fall" is a testimony song; and is a song to be sung by anyone who has gone through a darkness so great that they can testify that God has never let them go, even during those dark times (and we know that God doesn't let us go, even if during those moments, we believe He does). "Never Let Me Fall" is a song not be sung lightly, but is one full of contemplation and introspection, of realising that '…I can't believe you give it all up for me, and I will rest in your peace, cause you're never gonna leave, You lift me up, You're with me through it all, You'll never let me fall…'
Before I continue to discuss everything post-Alive, and really delve into heartfelt and poignant albums like Sad Girls Club and I Love You Or Whatever; first let us all take a trip back to whence the band began- in the mid-2000s. And ever since Cimorelli released their self-titled EP in 2008, it was going to be a wild, unique and emotional ride for these 6 young women. Maybe even more wild and interesting, unique and exciting than they themselves could even have realised, way back when they released their first EP coupled with their first cover, Miley Cyrus' 'Party in the USA' that they placed on youtube in 2009. They got noticed, and signed to Island Records, and I guess the rest is history. EPs like CimFam EP (2011), Believe It (2012), Made in America (2013) and Renegade (2014) followed along with the label signing, and songs like 'Believe It', 'Made In America', 'You're Worth It', 'Renegade', 'I Got You', 'Million Bucks', 'Wings', 'What I Do', 'Everything You Have', 'Come Over' and 'All My Friends Say' all were songs that solidified the early 2010s for the Cimorelli sisters. It was a dream for the all-sister group- they were creating songs that were appealing to the masses, and they were getting famous because of it…and with songs that actually mean something to someone, you can be at peace with living your dream, right? 'Million Bucks' was the breakout single for the band post-'Party in the USA' 2009 cover, where the band present a song that speaks about how you don't necessarily want all the material things because you know they won't make you happy, but rather, you crave the presence of your significant other, that they make you feel like a million bucks; while 'Made In America' is a celebratory and patriotic song that can have the greatest effect, being played around American Independence Day. 'Renegade' is about not fitting the mould in society, and trying to break away from labels placed upon you (and is probably the impetus song for the band to break away from their label deal in 2015), while songs like 'Everything You Have', 'Come Over' and 'All My Friends Say' highlight the more jovial, fun side of Cimorelli– 'Everything You Have' is an acoustic jam about being thankful and appreciative about what you have in life, and understanding that relationship matter more than appearance, image and status, while 'Come Over' is a party song about inviting friends over to your place to have a good time. 'All My Friends Say' is a tongue-in-cheek track about trying to get advice from friends about a failing relationship, but it is the song 'You're Worth It', from the label era, that will always be a highlight of mine from the band- a song about self-worth and assuring people that they are valuable, loveable and worthy; Cimorelli offer up an anthem of declaration as we are told this pertinent, profound and life-changing truth, that our worth ought not to come from external validations and outward appearance, that who we are as people, and our character, the fact that Jesus died for us, and rose again three days later, to reconcile us back to God, is reason enough for our intrinsic value that we have as people and as children of God.
I can tell that this blog post that I write is going to be a long one. Not because I want to blow my own horn and declare how great Cimorelli are. No, not at all. I realise that every artist ought not be elevated to a level that only God Himself occupies, and to do so of Cimorelli would be criminal, dare I say blasphemous. So what I will say is this- Cimorelli have been able to use the music and talents that the Lord have given them to affect and impact the culture that we as the human society are currently in. With a plethora of albums and EPs under their belt, we are reminded that you don't have to be noticed in a popular way to have an impact in people's lives. Just one listen of the band and their music- be it original songs or covers; you can tell that these girls have something to say. Whether it be songs about hurt, hope, love, life, God, loneliness, acceptance, crushes, unrequited love, songs about worship, a prayer to the Lord, a motivational anthem; whatever the case, these themes and types of songs have been discussed at great length in much of Cimorelli's discography. Up at Night, Cimorelli's full-length debut album, released independently in the first half of 2016, and with 14 original songs about relationships, love, life, unrequited affection, toxic friendships, and dealing with everyday things that teenagers deal with; Cimorelli showcased one of the most cohesive and enjoyable debut full-length albums I've heard from any artist, ever since Lauren Daigle's How Can It Be in 2015. Songs like 'Before October's Gone' and 'Sunsets and Heartbreak' discuss the lamenting of a relationship lost, and what comes with the aftermath of said relationship ending, and the feelings that arise; while 'Easy To Forget Me', the albums most underrated song (IMHO), speaks of the dissolution of a friendship (not necessarily a romantic relationship) and asks the question why. 'Up at Night', 'I Like It', 'I'm a Mess' and 'Hearts on Fire' all speak about the newness of relationships and the joys, butterflies and excitement that comes from something unique, different and new, while heavy topics like toxicity in relationships is brought to the fore in 'Acid Rain', and 'Fall Back' underpins this longing by a person out of a relationship, to move on with their life, but everywhere they go, they are reminded of the previous relationship. But for me the two biggest standouts from the band's first album, are the songs 'Headlights' and 'Worth the Fight', songs that speak about pressing on and keeping on going in life- something that we all need to worth towards if we want to run the race to completion and to focus on what lies ahead and not to the left or the right. 'Worth The Fight' encourages us to keep on fighting after it looks like we're down for the count- it's a motivational song, and a song that embodies everything that Cimorelli stands for, value-wise. 'Headlights' on the other hand, is littered with metaphors and motifs, and though the song itself doesn't mention anything about God (it doesn't need to for it to be used by the Lord to impact and encourage), it does present a theme about following headlights in the general direction we want to go, and we all know that headlights only show us part of the way instead of lighting up our whole path.
There's an element of faith and trust when it comes to reciting and singing the words of this song. We ought not to take these words lightly, as we're met with a hard hitting chorus, and how '…I got two headlights and a thousand miles to go, two hundred feet of light on this dark and windy road, midnight stars haunt my skies, burning scars fill my mind, waiting on a wish to come true, maybe I can find my way back to where I belong, just following my headlights, headlights, maybe I don't have to see where I'm going, just follow my headlights…' There's a sense of trust and hope within these words, of following and abandoning any sense of trying to be in the lead or in control. Because that's what plans are. An attempt to control a life, when we can learn so much more from just stopping the need to be in control and to just be in the presence of God, and to be reminded (and often on a daily basis), that God has this all covered- life, love, the plans of us, this whole existence…covered. We don't have to worry about a thing. It may take some time to not worry, but in the end, we can rest assured that plans are malleable, and what we experience in our lives, good or bad, will give glory to God in whatever way God wants them to. That what we experience won't go to waste in the eyes of the Lord. That nothing is wasted, not one tear, not one triumph or hurt, nothing will be by the wayside. And all we just have to do is just sit back and watch the Lord create something that even ourselves will be proud of!
Cimorelli released their 3rd full-length album (after Up at Night and Alive) on October 27th 2017, and as the album itself was being presented as being such where the songs were much more introspective and heartfelt compared to the country-esque Up at Night and the worshipful Alive, the band have invited us to hear what I reckon is one of their most vulnerable albums to date. With the album musically unique, and the subject matter hopeful, encouraging, and sometimes raw, emotive, dark, and moody; we are given a glimpse into a concept and notion, that it is ok to show our feelings, even the sad and scary ones, especially during a time in society when we have been taught that good feelings can be expressed and bad ones either have to be bottled up or just ignored completely. While this album is not at all about championing or even glorifying sadness and moody moments over moments of joy, elation and happiness, Sad Girls Club is nevertheless a constant reminder- to express ourselves no matter what, be it in a sad, happy, frustrating, hopeful, kind, or crying way. This is an album that takes us on a journey where we as listeners can also feel the things that these sisters have felt throughout their lives on this planet. While technically not a Christian album; Sad Girls Club has nevertheless made an impact, and continues to do so- God can still use such an album as this to remind us all about the parts of ourselves that we may want to hide, and that God wants us to show it all anyway. Even the ugly and horrifying things in our lives can still be used for our good and His glory, and Sad Girls Club the album is a great testament of this fact!
Cimorelli have always shown us constantly what it means to become successful artists after obtaining their start as youtube cover artists all those years ago, while it has been and always will be their ability to connect with fans across all platforms of social media that continues to drive much of their inspiration behind songs they have written, both now and in albums previously. Cimorelli are changing the world with their heartfelt music, as well as being a band of 5 (previously 6) that shows what it means to have real, genuine comrade, sibling bonds and friendship when it comes to presenting music that can be as much fun-filled as it is emotive and hard-hitting. The fact that Cimorelli have been able to bridge the gap so cleverly (maybe even more so than Switchfoot, needtobreathe, Superchick and Skillet) between mainstream and Christian music, makes me appreciate and admire these young women, all of which have a fast-growing and respectable career in front of them, be it as a band together or even, shudder to think, solo, if one person in the group decides to venture out on their own. All in all, the band itself, and the album Alive in particular, reminds us all that the band is here to stay, for a while yet!
And now…some analysis of Sad Girls Club; and that preamble took a little bit, didn't it? No but seriously, what was written above needed to be said to provide context. Because this band is no Chris Tomlin or Francesca Battistelli, or TobyMac for that matter, I can't just go into this blog post without some kind of background. And what the essence of these above paragraphs is this- yes, Cimorelli by definition is a mainstream band. Yes, Sad Girls Club isn't as Christian-ese as their album prior, Alive; and yes, this new album discusses a lot about boys and relationships, about letting out emotions and about feeling sad. And yes on the surface an album like this feels a little bleak. But what I believe, and I truly assert this point, is that God can use anything, and I mean anything, that He wants to bring people closer to our Maker and each other. And did I forget to say that God can use anything? Because He can. Even this album. For God is God, and we are not. The album was a little moody and, dare I say, unrelatable as I heard the album through when I reviewed it in 2017. Nevertheless, a few years removed from the album release, I can now safely be amazed about how I can relate to a fair amount of the songs on the album, even if I am a male, and the subject matter of the songs are females singing about potential male relationships.
The title track 'Sad Girls Club' released to Pledgemusic (of which my brother and I pledged to way back in 2017 when the album was being unveiled through the online pledging program- which is now defunct) two days before the album officially released on iTunes, and as far as title track go, this one is very much as anthemic and emotional, as it is fun-filled. Dictating a story in the first verse about a persona who went to a crush's house to see if they liked them, only to feel stupid and rejected, we are reminded that often, we as humans can all qualify to be in the 'sad girls club' at one point or another. Even though in a general sense, this album is directed at teen girls and young women (purely on the basis that the artists are sisters), I myself, a 30-something year old male, can relate to this message as well- that even I am reminded that it is important to let out feelings, be it peaceful or ugly. Maybe the album should be called Sad People's Club? Nah, doesn't have the same ring to it. No but seriously, the title track is a reminder to feel, and that often the process from hurt to healing shouldn't necessarily be as quick as what people say it should be- that to bypass the step of feeling the emotions that were there in the first place can drastically alter our own perception of what we reckon the world should be, and that ought not to be a path we travel upon. It is the tag that the end that really gets me the most- '…we were lost, but we're loved, beautifully flawed, dramatic, obsessive, but we always know that we're doing our best, even when life's a mess, get knocked down, get back up again, we will never ever give up on love…' What a beautiful lyrical display in the song, and a reminder to always try to pursue love. For we were made to be in community and were never made to feel alone. It is ok to fall and fail, and a song like 'Sad Girls Club' can hopefully encourage us that the pursuit and fight for love, be it love of family, friends, and more importantly, love of a potential spouse, is worth all the ugly bits that we ought to go through in order for us to feel like it was all worth it in the end!
The album continues to bring forth various other themes that all compile in this underlying message of letting out emotions and being vulnerable so that raw, real, honest people can allow other people to follow suit, so that we know and understand that it is ok not to play pretend, that it is ok not to place on a façade every moment of every day. It's too difficult, and it kills us in the end, trying to fake it all for everyone, and to live a life that seems to be duplicitous, at least to us anyways. The album was reviewed by myself here, and you can all read the album review of Sad Girls Club in its entirety, so that you all don't have to continue reading my musings and ramblings about the album in this blog. Nevertheless, Sad Girls Club the album was a joy to listen to way back when I reviewed it, and even now four years later. What I did notice about the album as a whole, is that I felt like the back half was stronger, both lyrically and thematically, compared to the front. Which is weird, in most albums, it's the other way around. Nevertheless, Cimorelli still presented to us themes that are current and relevant to society- 'Cars and Parking Lots' details a vivid story about a breakup of a relationship and how the female persona in the song drives by places where they used to hang out and is reminded of this person…especially driving by parking lots and remembering the times they used to spend together in their cars. While on the surface the song can seem a little sad, which it in fact is, it nevertheless is a reminder for us to cherish the moments we have with the people we love, because we never know what is going to happen in the future. 'If it Isn't You' is a personal song relating to Dani Cimorelli, the youngest member of the band (at the time of Sad Girls Club), and her own thoughts in dealing with a personal breakup at the beginning 2017, while 'Last Summer' is a track that uses a lot of nostalgia, as the song switches between the present day and the day 'last summer', showing how a relationship between two people has changed over the course of a year or so. It is a song that isn't necessarily about hating on the person for such a relationship change that a year can bring, but rather, to reminisce on both the good and bad things the year has shown the persona, and how a relationship and even its demise can still make a person stronger in hindsight.
The rest of the album consists of songs like 'BAD', a personal song about the experience of Amy Cimorelli, one of the band members who openly has Turner's syndrome, and is a tad shorter than the rest of her sisters, and 'Boy in a Band', a fun 3 minute track full of 80s inspired synths and a 90s rock atmosphere, with a message that is anything but- a warning of never falling for a boy who's in a band, but rather for a relationship in question to be grounded on something substantial- their kindness, sense of humour, ability to place others first, their faith, love of family and ability to care for people and thereby expecting nothing in return; while the sisters also present to us each a 'solo' song- one sung by each of the six members. Not to mention songs like 'Who Told You' and 'Pretty Pink' too. While analysis of the solo songs will be more fleshed out in my Sad Girls Club review, I do want to share a little bit about the songs 'Who Told You' and 'Pretty Pink'. The lyrics of 'Who Told You' are some of the most emotive and heartfelt I've heard in a while- "Whoever told you that you weren't enough? Who was it that made you feel small? I wish I could go back, and rewind it all. Replace it with the words that are true- you have more than enough in you. You are more than enough it's true." One of my favourite songs by Cimorelli ever, we have been blessed to hear what I reckon is a song that is going to bring so much healing and hope for many. It is a reminder that we don't have to listen to what has been spoken over us, that we can choose to say 'no' when negative thoughts, either from ourselves or the devil himself, come into our mind. We can choose to hold onto what we know is true- that we are valuable and have something to say. So valuable that the King of all Creation came to us as a man, sacrificed Himself on that tree, for you and me. That is love personified and reason enough to believe the words spoken over us by God Himself- that we are loved, we are special, we matter, we are more than enough, we don't have to prove anything, and that we are accepted, rather than perform to be accepted. And thus, 'Who Told You' is a song that is to be spoken over anyone feeling like they're worthless. Be we're not. We are loved by the King and that is reason enough to listen to this song, at least once through, right? 'Pretty Pink' carries on theme-wise from where 'Who Told You' left off, and if anyone tells us that the strongest songs on any album are nearer to the front and the weaker songs are nearer to the end (because that's just what the trend is…), well, I guess Sad Girls Club can prove us all wrong, right? 'Pretty Pink' and 'Who Told You', track #15 and track #14 respectively, are some of the strongest songs the band have ever recorded. And to think that the song title 'Pretty Pink' alluded to something pink and girly…'Pretty Pink' is a call for us as humans to break through our facades, and to be real, raw, honest, and to really express what is going on, even if it is ugly. Written solely by Lisa Cimorelli, we are reminded that it is ok for everyone to know that we're '…not ok, you've lost your way, you've got bills to pay, you've had a long hard day, you don't feel right in this pointless life, so give it up this is your life…' It is when we realise that our pretending is of no benefit to the other person, but rather puts pressure on us to have the 'perfect' life, we can let down our walls and all the pressure for us to be perfect melts away. We were made for community, to let people in. We can ask for help, and we don't have to do things on our own. And that is what 'Pretty Pink' is about. O how the name of the song fools you into thinking it's about one thing when in fact it's about something totally different…and that's how usually God works in our lives, isn't it?
After the mellowness of Sad Girls Club, you would've expected the band to release new music similar in theme and style to their 2017 standout album…but when 2018 came around, and the band unveiled their new EP I Love Your Or Whatever in August, what resulted in this EP release of 4 songs (and three spoken words), is something more positive and happy, jovial and enthusiastic, compared to Sad Girls Club. And thus, I Love You or Whatever is a reminder of how unique these sisters are, and with each album/EP release, their music style is unique and different- the girls have indeed moved from more of a country style musical undertone in Up at Night, to the worshipful Alive, the pop-reflective Sad Girls Club and the summery pop goodness in I Love You Or Whatever. And that is indeed the powerful thing about Cimorelli as a whole- the sisters have continued to remind us to stay firm in the values that we have in this crazy world that we live in, being role models to specifically young girls and teens, but more toward the wider community of just young people who are trying to figure out their place in a world like we are in today, while still constantly creating new music that is stylistically different than the last, and that in and of itself is ingenious and unique. The band are definitely influencing the world in a positive manner through their online digital youtube presence as well as their quick turnaround on albums/EPs, with their 2018 EP I Love You Or Whatever being their first since 2014's Renegade, their last on a high profile label before they split from it and moved from California to Nashville.
Just one listen of the EP as a whole, and you know that you're in for a treat. Much different from the pop-country Up at Night, the worshipful moments of Alive, and the indie-pop mellow/reflective nature of Sad Girls Club, this new EP consists of essentially 4 songs and 3 spoken words, something different and far beyond anything they've ever created in the past. The general feel of the EP is much more upbeat and positive; and is a departure from some of the emotional moments shown in Sad Girls Club. This is an EP to hear on long car trips, to put in the background during a gathering or a party. Or just personal, private hearing. Whatever the case, this EP is much more accessible, and I'm sure a myriad of people will enjoy a project like this. 'Superstar', the EP's first single, showcases a hopeful situation where the persona is in love, and declares their significant other as a 'superstar'. It's an overall positive song, and reminds us all, that as far as us being superstars, though we may not think so, our significant others (if we have them) may still believe us to be that- superstars. We impact the world each day and we may not even know it, and Cimorelli's new song is hopefully a reminder of this. The remainder of the summer EP continued to show us all the different and unique side of the band: '32 Degrees' is an ultimatum-type song, where we are presented with a message of 'figure out your life and stop toying with an idea of a relationship instead of having a relationship', while 'No Good' delves into the issues of loneliness, and for the sake of not being lonely, the persona may hold onto a relationship that could easily die instead. 'What Kind of Girl' goes out to all the haters and declares boldly to potential boyfriends, that '…if you want me, show me, love me, know me, don't just think I'll keep this going, I'm sweet like sugar but I'm cold as ice, I'll be gone like the summertime, you better think twice…', all the while standing at the shortest length of the songs on the EP, a tad under 2:30 length. And while all these three messages aren't necessarily as Biblically based as much of Alive was, what is good about I Love You Or Whatever is their honesty and heart, still present on the EP as the six sisters encourage us to say the words 'I love you', to whomever I'm sure the Lord will want us to say it to, be it a little while from now, or now, next day now. The spoken words ('Minefield', 'To Be a Human' and 'Summers in a Small Town', by Dani, Katherine and Amy Cimorelli, respectively) rounded out the EP in unique and interesting fashion- 'Minefield' was a heartfelt moment of realising that loving someone isn't enough if they don't love themselves- and thus, setting up minefields that we can step into, while 'To Be a Human' allows us to see a contrast- all the things that show us what is unfavourable about being a human, compared to things that we celebrate, as humans; and 'Summers in a Small Town' reminds us of how there's hope and wonder, often in small places where we can find it cozy and relatable to people around us.
Here's To Us: Wedding Songs unveiled to us all at the end of 2018 (same year as I Love You, Or Whatever) and is a collection of both originally written and cover material, in total 7 songs, all of whom can be and have been, I'm sure, sung or played at a wedding at any point in anyone's life. This new EP was actually inspired by the eldest member of the band, Christina Cimorelli, being engaged in 2017 and married in 2018, and thus, this collection of songs may have been what was sung at the wedding, or songs that were in circulation as background music on the day. Or the songs could've just been recorded as inspiration from the wedding, and thus, a soundtrack to anyone who has heard it (aka, myself) in whatever future wedding settings that can happen in the future. Nevertheless, Cimorelli have once again proved to us their versatile musical style. Much different from the pop-country Up at Night, the worshipful moments of Alive, the indie-pop mellow/reflective nature of Sad Girls Club, and the pop-summery goodness of I Love You, Or Whatever, this new EP consists of entirely love songs, to another human being. While I may not be that versed in the love aspect of my life, I can nevertheless still appreciate songs that are present on Here's To Us– which consists of 4 covers ('Perfect' [Ed Sheeran], 'Die a Happy Man' [Thomas Rhett], 'Wedding Medley: A Thousand Years/I Won't Give Up/Thinking Our Loud' [Christina Perri/Ed Sheeran/Jason Mraz], 'Can't Help Falling In Love' [Elvis Presley]) and three original melodies (Here's to Us, The One, Stay Together). I also reviewed the EP back in 2018, and the review can be seen here, and so I won't bore you all with all the exegesis on these songs on the EP- you can just read the review for yourselves, but what I will say is this- that while their new EP Here's To Us, featuring both originally written songs and covers, doesn't necessarily say that much about God, if at all; what I am reminded of when hearing these songs is that the love humans have for each other in a romantic sense, is only a glimpse into what God feels for His children, what He feels for the creation and the love He has for each of us. And so yes, this new EP has shed much light upon the understanding of how God's love for each of us is unwavering and unending. As we're made in God's image, how we love each other is in fact how God loves us, and then some. Here's To Us: Wedding Songs is not just for people who enjoy and love love songs, but rather, those who love music, full stop.
ADVICE TO ASPIRING YOUTUBERS: '…pay attention to what is working right now, and what sort of trends are out there, because it's really nice to be able to work with what kinds of videos are out there, because that's what people are searching for, in terms of trends and covers and stuff. But at the same time, always stay true to yourself, and whatever your own personal brand is. That's something you have to figure out for yourself, what things you like, who you are as an artist, and what your unique artistic voice sounds like, because no one can really choose that for you. That's something you have to find out all on your own. The last thing I would say is, take people's comments with a grain of salt. A lot of times the most vocal people can be the most critical people, but that's not necessarily your average audience member. Even if people have tips to share or something, just be careful, that can easily drive you crazy, and stop you from doing anything online ever, so try not to read too much into what people have to say…'
ADVICE TO SOMEONE STRUGGLING WITH INSECURITY: '…I struggled a lot with insecurity as a teenager and it was such a long process, I don't really know how I started healing from that. I just remember when I was a teenager I felt really ugly, invisible, totally overlooked and uncomfortable in my own skin. As I grew into a young adult, I allowed myself to feel a lot more comfortable with myself. True security comes from the inside out. When you start to fall in love with your own heart and your own personality, that's one of the biggest ways of healing from insecurity. I would say journaling is one of the biggest ways of getting to know yourself. A lot of times we feel insecurity when we don't really know who we are, but it's hard not to love someone when you know them well. Journaling is a huge way of getting to know yourself, and that helps to break through some of those barriers. I would also say by reaching out to good friends, and asking them to tell you what they love about you, seeing yourself through one of your friends loving eyes, you can start to see your own beauty. And I would also say from your relationship with God, because if you see yourself through God's eyes, you're always going to be beautiful, because that's how He created you…'
While the majority of Cimorelli's music has come in the form of EP's and albums, there have still been a few singles released here and there that have made an impact across their career, even some as much as their singles from their albums. Prior to their independency, singles like 'Everything You Have', 'What I Do', 'Come Over' and 'All My Friends Say' were standouts from Cimorelli, and later on, we see a slew of other singles, that showcase much more emotion and vulnerability, with a myriad of themes discussed and unveiled. 'Single on Valentine's Day', solely written by Lisa Cimorelli, released in February 2018, and paints a portrait of what life could feel like if we were single on such a 'holiday' as Valentine's. Now for me, I can definitely relate to this song. Sure I am a guy, but the fact of the matter remains, that for whatever reason, I am single, and have been for my entire life. Not really sure why, but that's just how it is. And while I enjoy my individuality and such, I do often wonder- when am I gonna settle down and have a family…oh, first I have to have a significant other first to accomplish all my hopes and dreams in the family department. And then Cimorelli release 'Single on Valentine's Day', and I'm reminded, again, of the state of life that I'm in. Not that I'm whinging, maybe I am, but what I will say is this about the song- 'Single on Valentine's Day' is perhaps the only song out there that paints a realistic picture of what single people go through on such a holiday like this. And it is a reminder that in fact, there is a time and place for things, even being single. Sure Valentine's Day is a nice day to express one's love for another, but often, and I see it everywhere even with Christmas and Easter, Valentine's is being more and more commercialised. It's about the flowers and the cards, the big grandiose moments and the exclamations on the day itself, when in fact, we should show love and affection on every day of the year, rather than just one day. Same with Easter, and Christmas. In fact, dare I say it that it seems that it takes the holidays for us to turn around and be better people to our loved ones, when in fact, that ought to be what we should strive for on a continual daily basis? 'Single on Valentine's Day' has awakened something in me that I didn't really know was there to begin with. Which is this- the holiday is fine, but if we're only living to be nice on that day, and then to revert back to our normal selves the days afterward, then we're missing the point. We shouldn't really care whether we do have Valentine's for that day or not, because, and I think I can paraphrase Proverbs 27, that states that a wife that is constantly on you back for whatever reason, that is nagging and wanting you to choose sides, is like a dripping tap. That it is better to live in solidarity, better to be single, to be single for your life, than to marry the wrong person and be stuck with them forever. And that I reckon is why I'm ok that I'm single and that it is well past Valentine's Day. And while I may not have been in the past, I am reminded now that it is ok if things don't happen right now.
'Thirst For Life', the next single following on from 'Single On Valentine's Day', released in April 2018, and is, aside from the majority of the songs on Alive, one of the most worshipful and 'spiritual' songs by the group, which is very impressive, considering that a lot of mainstream artists nowadays (and maybe mainstream artists of the past) sometimes find hesitancy in sharing faith and faith-related matters in song format. The band have always known to be unashamed about their faith, but never before have they proclaimed Jesus' name in their songs…not even in their songs from Alive– they've said 'Lord' or 'God', but not 'Jesus'. Which isn't really much of a big deal, yet then you hear a song like this, and you hear the lyrics and you think  'wow, that is just something'. Because if we want to be honest and realistic, not many people want to say what they believe…why would you? All you do get is ridicule and regret. So why bother? Yet in 'Thirst For Life' we are met with courage, boldness and heart as these sisters boldly declare from the outset that Jesus is the living water we all need. That this song is what is needed for us to realise that it is ok to speak about what we believe, without the fear of what may or may not happen. To be bold and stand for our beliefs, even if we are the only one standing. Because I'm sure there are fans of Cimorelli that don't necessarily share the same values or even beliefs and them…and that's ok. It is their own journey to undertake between them and God, and thus, Cimorelli can and should express their own thoughts on love, life, God and everything else, regardless of what people say. 'Thirst For Life' is the result, their first 'overtly' Christian song they've recorded, since a few of their songs on the 2016 album Alive.
Who doesn't love a good new year's song? Many artists in the the past have tried to attribute the themes we've all felt during January, into song. Abandon's 'New Year's Day' alludes the starting of someone in the Christian walk of life as akin to starting off the new year- a fresh slate where goals are set with a mindset of anticipation and excited outlook, as the song reminds us all that light has pierced the darkness and that we can celebrate knowing that another year that comes is one of opportunity and triumph. Steven Curtis Chapman's 'Happy New Year' comes from his Christmas album JOY, and tells us all to hold onto the promise, that the new year is another chance to '…catch a glimpse of what is coming true so happy New Year, happy New Year, the God who made everything is remaking everything, the God who made everything, He says I'm making all things new…' Cimorelli's song 'New Year, New Me' and its theme is similar to that of these two aforementioned tracks by Abandon and SCC, but Cimorelli's spoken word/song takes the theme a little further. Released digitally at the end of 2018, the sisters tackle the theme of new years resolutions, and with the humour and comedy in the song itself, we are reminded that often, we all can make lofty and even unrealistic goals and resolutions, so much so we often break them shortly after we make these declarations of resolve and determination. Nevertheless, we keep trying and trying every year, hoping that one year, we'll stick by what we say. Cimorelli remind us that yes, it's ok to make these resolutions, but often, we need to understand that we live in a place called 'real life', and often, these resolutions may need to be broken, for whatever reason. If anyone has ever made a resolution at the beginning of the year, and has in fact stuck through with it, then this song is definitely not for you. Otherwise, Cimorelli's 'New Year, New Me' is as applicable as it is and should be, to anyone who hears it. The new year is a time to start over, but rather, it is also the time to accept the things we can't control, or the things we know we're not good at from observation of the previous year. It is a year to set goals; but set realistic ones. To understand that even if we break some resolutions, it's ok. We, as humans, tend to be hard on ourselves, it's just how it is. Even if we can graciously accept the forgiveness and grace others (and even God) give to us when we falter and stumble, to forgive ourselves can seem like a different story. Yet such a song like this encourages us to take stock; and understand that the goal we set ought not to be lofty or grand as we look to the left or the right, but rather, it should be a goal where we'll know we've done better compared to years previously. Sure, there'll just be things in our lives where we're better at undertaking than other things, that's just how we're wired- we're talented and gifted at things that others aren't and vice versa. 'New Year, New Me' pits the challenge not against other people, but against ourselves- you and me! It is when we realise this fact that we can truly run our race, not looking left or right but focusing on our goals right in front of us, understanding that it is our Father in Heaven that gives us confidence and stamina to see our resolutions until completion.
'Believe In You' and 'I Am Enough' are the two remaining single releases from the band to have been unveiled us (out of every other), as the band showcases two of the most emotive and heartfelt songs I've heard in recent Cimorelli history. Released at the end of 2019 and the middle of 2020 respectively, 'Believe in You' is possibly one of the most sentimental songs for the band themselves- it is the last song recorded as a group of 6- Dani parted ways with the band in January 2020, and maybe for lack of a better term, the group haven't really been the same since. Sure, they unveil to us covers every so often (throughout 2020 and 2021), but maybe it's because Dani left and Cimorelli feels a little bit incomplete, maybe it's because we've been so accustomed to having Dani there, that without her, the band feels a little hollow…but for whatever reason, 'Believe in You', the last song to feature 6 sisters, seems very bittersweet. And it is- the corresponding music video for the song is emotional and poignant, and the song itself speaks about other people believing in you, when you can't even believe in yourself. That is what I call love unconditional- seeing positive things about the other person that they don't necessarily even see; and complimenting them on that.
'I Am Enough' is the latest single (and latest song) by Cimorelli, and the first recorded as a 5-piece. First up, let me say that as I initially heard this song, I started thinking, 'gee…no reference to God or Jesus, no indication of why we are enough…soun ds like a humanist song to me'. But then I caught myself, and then I thought. Cimorelli are Christians but then they minister to people maybe who are not, their audience isn't necessarily the Bible believing Christians that want every line within a song vetted by Scripture- those artists that cater towards that are in the industry aplenty- they're called worship artists. Cimorelli is not that- and thus, upon reflection, 'I Am Enough' is exactly what the world needs right now; and is exactly such a song that I firmly believe the Lord can speak through. 'I Am Enough' is a great reminder, a declaration that we are indeed enough, that what we do or don't do, what we say or don't, how we look or how we dress or even how we talk, our views about this and that, is not going to affect our worth and value whatsoever- because when God says we're enough, to the point where His reconciliation plan to bring us back to Himself meant for Him to come down as God incarnate through Jesus in human flesh, to die a gruesome death by way of a cross, and then rise again 3 days later to conquer sin and death- if God did all that; then our value and worth is secure and never wavering. If God did all that for me, then I don't have to worry about what people think. I already know who I am- unconditionally loved, treasured, wanted, adored, cherished beyond my own comprehension. That is who I am, and no one can take this away. And that is what I firmly believe is the message behind 'I Am Enough'- even if it's not explicitly said. And maybe it doesn't have to be, for God to use this song for His glory and our good.
'…working with your siblings is extremely rewarding, but also VERY challenging. This past year we had to work through a lot of differences of opinion in addition to us just growing up! We have six very strong, very different personalities, and as we get older, I think we're really learning to value and respect what we each bring to the table as individuals. It's hard because as sisters, people tend to lump us together and compare us a lot, and that has brought a lot of heartache and frustration. But at the end of the day, I think it motivated each of us to really strongly be our own selves and embrace that individuality!…' Cimorelli are probably one of the most unique, genre-crossing artists/bands I've come across in recent history and memory. And what I've written in this blog post has shown this. But what actually started this usurpation towards stardom was in fact a youtube cover of Miley Cyrus's 'Party in The USA' in 2009. What has resulted from that is yes, original material in the form of EP's and albums, but on top of it all, good-quality covers of songs over the years. The band continues to give their all through both their original material as well as their covers and you can see the passion and heart they place in their videos when you check out their youtube page (youtube.com/user/cimorellitheband/videos). And what has resulted upon years and years of music covers on youtube is this- the band have compiled 9 EP's/albums (of varying song track-listings), titled BEST OF ____ (2010 – 11, 2012, 2013, 2014, 2015, 2016, 2017, 2018 and 2019). These are covers albums- I guess if you're not a fan of artists covering other artists material, then I guess stick to Cimorelli's original music. But if you're just a fan of music in general, and wanna see how Cimorelli's renditions compare, then…Best Of _____ is a great way to start, to explore the new music of that particular given year, and even if you haven't heard original versions to said songs and only Cimorelli's, these Best Of ____ albums are still good to listen to, if only to see different music styles these sisters have recorded their music in. And what I will say is this, though- Cimorelli and me listening to their music throughout the last few years has increased my interest and piqued my curiosity for mainstream music- as I now know that mainstream music isn't as 'bad' or 'evil' as many, if you will, 'fundamentalist Christians' say. In fact, and this could be considered 'heretical' by some, God can even use the most 'mainstream' song, full of swearing and everything else, to bring people who are seeking closer to Himself. And I truly believe that. And so, Cimorelli are doing just that with their music.
So what can I say about Best of 2010-11, Best of 2012, Best of 2013, Best of 2014, Best of 2015, Best of 2016, Best of 2017, Best of 2018 and Best of 2019 amounting to…lots of tracks worth? Just that if you are a fan of Cimorelli's music, a fan of mainstream music over the years, a fan of the band's arrangements of popular pop songs on their youtube page, and have been a fan of Cimorelli for years, then stop whatever you are doing now and check out this music compilation on Spotify (or if you are the paying type, purchase it quickly on iTunes and listen right away). This collection of 9 cover albums are a snapshot of Cimorelli over the years, and a snapshot of pop music over the years as well.  A must have for anyone who has been wanting to hear something different compared to whatever original version we may have heard on the radio, we have a glimpse into the songs and artists that have been on the radio a lot during this last decade- Katy Perry's 'Roar', Rachel Platten's 'Fight Song', OneRepublic's 'Counting Stars', Owl City's 'Good Time', Kelly Clarkson's 'Stronger', Pharrell Williams' 'Happy', Justin Timberlake's 'Mirrors' and 'Can't Stop the Feeling', as well as Meghan Trainor's 'Lips are Movin', Clean Bandit's 'Rather Be' and Taylor Swift's 'Shake It Off' and '22' are all included on the earlier iterations of the Best Of projects, while songs like Taylor Swift's 'I Don't Wanna Live Forever', 'Ready for It' and 'End Game'; for KING AND COUNTRY's 'Priceless', Lauv's 'I Like Me Better', Logic's '1-800-273-8255', Sam Smith's 'Too Good at Goodbyes', Kesha's 'Praying', Selena Gomez's 'Bad Liar' and 'It Ain't Me', even a parody of 'Bad and Bougee', and throwback songs 'Africa' (originally by TOTO), 'Wannabe' (originally by the Spice Girls) and 'Girls Just Wanna Have Fun' (originally by Cindy Lauper) are all present on Best of 2017. Best of 2018 delivers covers songs of famous standouts, like Drake's 'God Plan', Post Malone's 'Stay', Ariana Grande's 'No Tears Left To Cry', Maren Morris's breakout hit 'The Middle', Cory Asbury's chart-topping song and all-round favourable worship hit 'Reckless Love', 'Shallow', from the movie A Star is Born starring Lady Gaga and Bradley Cooper, not to mention 'My Story' from model and breakout singer Loren Gray, as well as the parody of 'Finesse', originally recorded by R&B artist Bruno Mars; whilst Cimorelli's latest covers album Best of 2019 houses cover songs like Taylor Swift's 'ME', Jonas Brothers' comeback radio hit 'Sucker', Halsey's 'Without Me', Lauren Daigle's big crossover mainstream radio hit 'You Say', for KING AND COUNTRY's 'God Only Knows', Shawn Mendes' 'If I Can't Have You', up-and-coming artist Lewis Calpadi's chart-topping song 'Someone You Loved' and Katy Perry's long-awaited radio single 'Never Really Over', while also revealing to us, song mashups- songs consisting of whole-artist-discographies, or songs relating to another type of theme- inclusive here on Best of 2019 is a Demi Lovato medley, a Jonas Brothers medley, a medley of the song 'Happier' (by Ed Sheeran and Marshmallow + Bastille), a Shawn Mendes mashup (of his two famous songs 'Treat You Better' and 'Fallin' All in You'), alongside a Taylor Swift medley (of all her older songs from pre-RED). Cimorelli also recorded their own version of 'Never Enough' for Best of 2019, one of the standout performances and songs from 2017's The Greatest Showman, while the six sisters also placed their own spin on 'When the Party's Over', from arguably one of mainstream music's most popular new artist in years, Billie Eilish.
So that's it…Cimorelli in a nutshell. Sure, there's also Lisa Cimorelli's solo-side hustle/career, and Lauren's solo material too, but I guess that's neither here nor there when we're talking about the band. For Cimorelli and their commitment to delivering quality music, be it covers or originals, has taught me that there is a wide variety of music out there at my grasp, and 'mainstream' music isn't that 'bad' or 'inferior' to Christian music. In fact, God can indeed speak through anything, even a song that wasn't necessarily written with Jesus at the forefront. Mainstream music can encourage, and Cimorelli has shown us, myself especially, that mainstream songs, can in fact help us on our journey of life, and tell us more about ourselves and God in the whole process of this crazy period from birth to death, called an exciting adventure the Lord is calling us all out to participate in. My musical tastes have been broadened because of Cimorelli, and for that I am thankful and grateful. Music is the universal language of the soul, and as these 5 sisters continue to deliver harmonies and melodies as emotive and poignant as they have been for years, then the world will be a better place because of it. Cimorelli's music, especially albums like Alive and Sad Girls Club, and EP's like Renegade and I Love You Or Whatever (and single songs like 'I Am Enough', 'Believe In You' and 'Thirst For Life') is not just for anyone who loves current radio friendly pop music. It is for people who love music, full stop. Cimorelli are underrated, and hopefully with their discography thus far, we can see the journey of how a little youtube cover band can be transformed into a band that is influencing many young teenagers and young adults (especially teen girls) around the world to this day! Add to their music career, a plethora of award nominations at the teen choice awards (for the Web Star category) for a number of years in the 2010s, as well as a successful podcast they have committed to for five seasons (since 2017), and what else can this great band undertake? No seriously, I mean this. Christina, Katherine, Lisa, Amy, Lauren, and even Dani, ought to be commended for their band, and how Cimorelli has impacted more people than maybe they themselves realised. This band is almost certain to continue to reach new heights into the future, and if their next full-length album is anything like Sad Girls Club or I Love You Or Whatever, then count me in for the ride. It's gonna be exciting in the upcoming years ahead, that's for sure!
Does Cimorelli make the list for you all when you write your own 'Best Influential Artists of All Time' list? Is there any song, like 'I Am Enough', 'Alive', 'Never Let Me Fall', 'Pretty Pink' or 'You're Worth It', that has impacted you on your journey through life thus far? Let us know in the comments. Till next time!