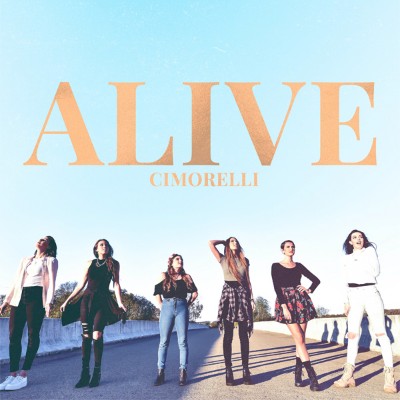 Independent
Release Date: December 23rd 2016 (Pledgemusic)/May 5th 2017 (Worldwide)
Reviewed by: Jonathan Andre
Cimorelli– Alive (pledgemusic/Amazon mp3/iTunes)
Track Listing:
Your Name Is Forever
One More Night
Alive
Never Let Me Fall
The Love Of A Man
My God Is Here
Hope For It
Kick The Habit
Find Me
Love Song (Over Me)
'…This album is different than our first album as our first album, Up At Night, had a lot more songs about relationships, whereas Alive is a life album with songs about hope, struggle, God, self-esteem, addiction and never giving up! As we've been listening to the album recently, we all feel this sense of positivity and hope. We really want the fans to feel inspired and uplifted when they hear the songs, because that's what these messages are all about…' Country/pop sister group Cimorelli caught me by surprise this year. Since hearing some of their songs throughout 2016 from their debut album Up at Night, I knew that the band had something unique and special, even though most, if not all their songs from their 14-track debut recording were about boys, relationships, heartbreak and hurt. And while Up at Night may be more in a similar vein to many of the mainstream albums that are released each year, we hear a different sound and style on their brand new 10 track album titled Alive, released December 23rd via Pledgemusic (and on iTunes and Amazon at a later undisclosed date). Comprised of sisters Christina, Katherine, Lisa, Amy, Lauren and Dani Cimorelli; Cimorelli's second album is a great divergence from the first, and maybe in a good way. The sisters have always been known to have a strong faith, and while that wasn't necessarily in the forefront on Up at Night, Alive is something different, as songs of worship, hope, loneliness, faith, comfort, confrontation and everything else in between become the central themes of this short, albeit powerful and profound album. Similarly in style within the CCM industry to that of BarlowGril, Superchick, Britt Nicole and even the newer group 1GN; Cimorelli's music, especially that in Alive, is what I reckon will be one of the surprising hits of 2017. With a first album that has placed them on the map, Alive sure makes us all believe that Cimorelli will stay there, for a while yet!
While Up at Night was presented with 14 tracks, one look at Alive and you see a shortened song track list- 10 tracks. While initially you could think that this would mean a diminishing in quality, it is in fact the opposite, as with their second album this group of 6 sisters have matured in a way that is in leaps and bounds. With any artist/band that release two albums in one year (I can't remember any other artist other than Cimorelli that has done that, except Lauren Daigle- her deluxe version of How Can It Be and her Christmas cover album), you could be forgiven to think that with a second album in quick succession of the first, songs may seem cliché and somewhat forgettable when we hear it. Yet, when I hear Alive, I am impressed and encouraged of the lyrical depth, honesty and ingenuity that these young women have portrayed within these songs. While the focus moves more away from boys and relationships to their relationship with God, songs about hope, life and the rest of it (thereby maybe alienating some of their fans that have enjoyed their first album and its themes), Alive still has a plethora of themes, that I reckon will impact a vast amount of people, regardless of their religious persuasion or where they are in life.
Glancing through the song lineup, we see a much more vertical focus on this new album compared to their previous release. "Your Name is Forever", the first track on the album, is their most worshipful, as the girls deliver an anthem that can easily be sung and fit quite well within Sunday morning worship services. And with a chorus that reminds us all that '…Lord, Your name is forever, Lord, Your name is forever, though I walk in the midst of danger, Your right hand save me, the Lord is with me 'til the end…', who can't be proud of these 6 siblings, making a standing and placing their faith on the line, thereby being bolder and much more intentional than Up at Night ever was. I'm not saying that Up at Night isn't a good album, it is when you compare it to the wide array of mainstream music that is on offer. Yet there is something about Alive that makes me take notice of Cimorelli, that with Alive the girls have gained, hopefully, more respect as their stand for Christ is more towards the fore, especially with "Your Name is Forever" being track #1.
But that's not to say that each and every song on the album has a worship slant as profound as "Your Name is Forever". Both "One More Night" and "Alive" are part 1 and 2 if you will, both portraying similar themes and reminding us all about the fragility of life and the ability for everyone to move on from part hurts and mistakes. Written by Dani Cimorelli, "One More Night" was borne out of a conversation Dani had with a fan on Twitter who was contemplating suicide. The song then was written, with its primary focus is to remind the listener to keep on hoping and fighting, to keep on pressing through, even if it is just for 'one more night'. Encouraging and confronting, the song at times is a chant or even a plea, as the phrase 'one more night' is repeated over and over, with listeners being encouraged that '…everything will be ok, everything will be alright, say a prayer and close your eyes, please just give it one more night…' The title track "Alive" then continues the theme that was presented in "One More Night", and is seen as a continuation, what someone would feel or even sing or cry out once they have decided to fight for another day amidst the pain and loneliness they could be feeling in that moment. There is a moment within the song that is pivotal and poignant, the phrase '…I feel because I'm alive…'. That what we feel, whether it be pain, hope, loneliness, fragility, comfort, happiness or sadness, is a testament that we are indeed alive, and that every moment we are alive is a chance for us to change our circumstances, changing our outlook from our perspective to His. Both "Alive" and "One More Night" are songs not for the people who just want to hear a good pop song, yes indeed both these songs are pop melodies, but they are first and foremost ballads, and good ones too. These songs appeal to both listeners of Christian and mainstream music, which is what I reckon will be a great asset of Cimorelli moving forward into next year. Well done to the girls of Cimorelli for such powerful songs, and with both "One More Night" and "Alive" being some of my favourites on Alive!
Cimorelli continue to deliver songs with relatable themes that are in some ways universal in melodies like "The Love of a Man", "Kick the Habit" and "Find Me", while songs like "My God is Here", "Hope For It", "Love Song (Over Me)" and "Never Let Me Fall" continue the worshipful slant that was presented through the first song "Your Name is Forever". Written by Lisa Cimorelli, "The Love of a Man", though not a 'Christian' song per se, is one of the most vulnerable and heartfelt, as the track delves into the lines that we may cross and the compromises we may settle for in order to be loved and accepted by our fellow man- in the specific case of the song, the persona (a girl) just wants to be loved by a man, and thus she makes choices, though not necessarily great ones, to make herself noticed and appreciated by a man (but not necessarily the right man that'll appreciate her for who she is rather than who she wants to be). Sometimes we can give ourselves away, thereby eroding our core values in the process, all for the sake of being accepted. Doesn't matter if it is the wrong crowd, at least we are accepted right? "The Love of a Man" is confronting, and hopefully a catalyst for us all to look inside ourselves and see what values, if any, we are compromising for others.
"Kick the Habit" is one of the most relatable songs on the album, as the theme of habits, addictions and struggles come to light in this just-under-3-minute track. With a lot of harmonies creating a song that is as technically sound as it is emotionally poignant; "Kick the Habit" is a reminder, that we all have habits, big or small, that need to be rid of, and that in the end, it is only God and God alone that gives us the strength to rid ourselves of such things that bring us down. "Find Me" is the last 'relationship-style' track, a song that channels BarlowGirl with the layers upon layers of vocal harmonies, something that reminds us all of what great a band BarlowGirl was and how their retirement in 2012 was sadly before their time. "Find Me" is a song about trying to find that special someone, as the persona sings about finding that special someone, and waiting for as long as it takes for them to meet them. A song that everyone who is single can relate to, these songs- "Find Me", "Kick the Habit" and "The Love of a Man" are songs that though not necessarily 'Christian', are songs that can still embody Christian values and impact people who enjoy both Christian and mainstream music, quite possibly something that I'm sure Cimorelli has decided to accomplish from the beginning.
Ending with the acoustic hymn-like "Love Song (Over Me)", this song that has lyrical themes similar to Third Day's track of the same name is a gentle and humble reminder that God sings His song over us regardless of the state that we ourselves are in- whether we are happy or sad, confused or elated, He will continue to sing His love song over us, and remind us all of His unconditional grace. With just an acoustic guitar, light percussion and the 6 girls as vocals, we are treated with his laid back approach to a theme that can only be soaked in and enjoyed in such a manner where the instruments are diminished- I mean, would the effect of the song still be the same with driving guitars and a rousing anthemic spirit? Maybe, maybe not, but where it stands, "Love Song" as an acoustic track is enough for us to end the album as profoundly and powerfully as the album started! "Hope For It" is a song about just that very topic- hope, as this 4 minute potentially a radio single song is one of us to savour, with listeners being reminded that '…I will still hope for it, no matter what comes, fire or flood, I will hold on, you are still good, and I will still hope for it…' As all these 6 girls deliver great harmonies and gang vocals, alongside the positive message of hope during the times when we need it the most- and while the theme of hope can seem like an over-arching quasi-universal issue, and before we jump the gun and say that this song can easily be sung by anyone in the mainstream industry, we think again- when they sing the words 'I will hold on, You are still good', who are they talking about? God, Jesus? We as Christians know that that in fact is what Cimorelli are singing about, and maybe, and it could be my ears playing tricks on me, but toward the end the band sing out 'I will hold on, You are still God'. But the song still asks questions- hopefully the right ones. "Hope For It" ought to remind us to ask such questions- who do in fact have hope in as we're going through this life?
"My God is Here", alongside "Your Name is Forever", is another song that can be sung on Sunday morning worship services, and to be blunt, could easily be sung by another worship artist like Chris Tomlin or Matt Maher, and you as the listener would probably wouldn't even notice. Maybe that is a testament to the quality of Cimorelli's song writing, or maybe a reality check into how 'cliché' songs from Chris Tomlin are getting. Regardless, "My God is Here" is a great worship song by the band, and is a reminder that God is with us through every circumstance, when we're happy, sad, weak, sick, triumphant, hopeful, hurting, angry, whatever emotion we're feeling, He is present. And that is something that this song can only skim the surface of. Nevertheless, this song is a start, and is a must listen for anyone who wants to be comforted by a God who never leaves despite how we feel! And then there's "Never Let Me Fall"; arguably the album's most emotive and cohesive song, and a track that has me joyously singing along with all the sisters in what I reckon will be the song the band will be remembered for (from this album) within the upcoming months ahead. A song about a persona feeling so numb and insecure, but calling upon the Lord to come be their peace, knowing that '…I can't believe you give it all up for me, and I will rest in your peace, cause you're never gonna leave, You lift me up, You're with me through it all, You'll never let me fall…', the song is a comfort, hopefully to many, yet myself included, as we are reminded through personal lyrics, that God indeed gave it all up for us through His Son Jesus, and that God will indeed never leave us because of His Holy Spirit. "Never Let Me Fall" is a testimony song, and is a song to be sung by anyone who has gone through a darkness so great that they can testify that God has never let them go, even during those dark times (and we know that God doesn't let us go, even if during those moments, we believe He does). "Never Let Me Fall" is a song not be sung lightly, but is one full of contemplation and introspection, of realising, once we've experienced such things ourselves, that '…You will not abandon me, You have not forsaken me, You won't give me anything I can't handle, You will always set me free…' A song that'll continuously be on repeat on my iTunes for months to come, Cimorelli have a radio single in the making in "Never Let Me Fall". Well done girls for such a powerful, and one of my favourites, if not the favourite, on Alive!
What can I say about the album that I haven't already? That if I wrote my Top 30 albums of 2016 right now, that this album will be in within the top 10? Because it would've. But since this album officially comes out at a later date this year on iTunes, then Alive will certainly be within my top 10 albums for sure. Cimorelli are indeed an 'overnight' success, a band that has come out of nowhere and are taking social media by storm. Reminding me similar of bands like BarlowGirl, 1GN, LoveCollide and Superchick, Cimorelli are a group that's certain to have a very bright future ahead of them. Alive is an album where I listened to it with no expectations, and it was one of the most unique, powerful and uplifting experiences I've had throughout 2016. Hopefully whenever you all hear the album it can be the same way. With standout songs like "Hope For It", "One More Night" and the album highlight for me, "Never Let Me Fall"; Cimorelli are certain to have a bigger and better 2017, and Alive is certainly a factor in that. Well done girls for the album, can't wait to see what God wants to do through you as a band in the upcoming year ahead!
3 songs to listen to: Hope For It, Never Let Me Fall, One More Night
Score: 4.5/5
RIYL: BarlowGirl, Point of Grace, Taylor Swift, LoveCollide, Britt Nicole