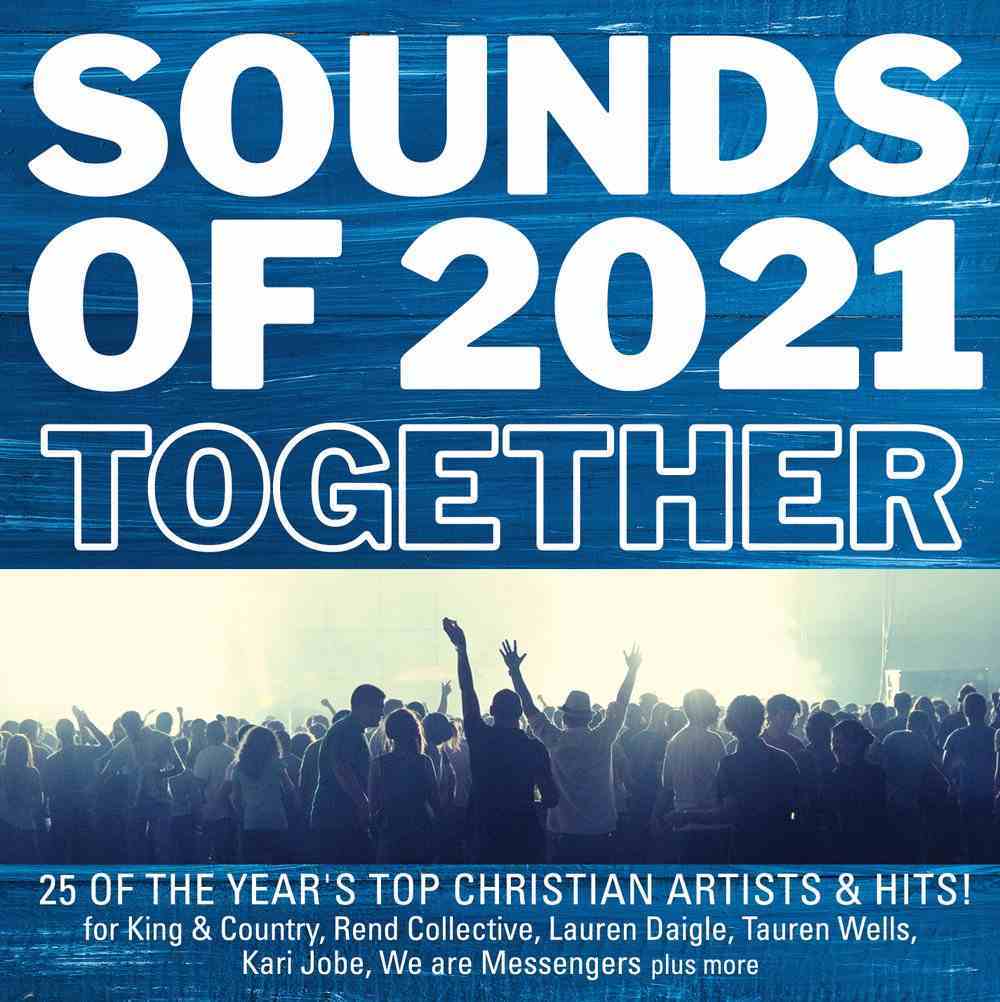 Crossroad Distributers
Release Date: September 2020
Reviewed by: Joshua Andre
Various Artists– Sounds Of Hits 2021: Together (Koorong)
Track Listing:
DISC 1
Lauren Daigle – Still Rolling Stones
Phil Wickham – Great Things
for KING & COUNTRY – Together (feat. Tori Kelly & Kirk Franklin)
Tauren Wells – Like You Love Me
Elevation Worship – Graves Into Gardens
Zach Williams – Rescue Story
The Afters – Lightning
TobyMac – See The Light
MercyMe – Almost Home
We Are Messengers – Love
Rend Collective – Revival Anthem
Francesca Battistelli – This Could Change Everything
Casting Crowns – Even When You're Running
DISC 2
Jordan Feliz – Glorify
Newsboys – Love One Another
We The Kingdom – God So Loved
Kari Jobe – The Blessing
Micah Tyler – Amen
Sanctus Real – Today, Tomorrow & Forever
Jeremy Camp – Keep Me In The Moment
Danny Gokey – Love God Love People
Tenth Avenue North – No Shame (feat. The Young Escape)
Matthew West – The God Who Stays
Matt Maher – Alive & Breathing
Unspoken – You've Always Been
Back in the day, in the mid-2000's when I started to expand my horizons in Christian music (because in the 90s and the early 2000's I was only heavily invested in Carman and Delirious?); I branched out into artists like Newsboys, Third Day, MercyMe, Casting Crowns, Rebecca St James, Chris Tomlin, Matt Redman, Tim Hughes, David Crowder*Band and others. But not before I received a CD in the mail in 2003, titled WOW Hits 2004. Since then I've loved the annual compilation double disc, which promoted 30 (and later on 33, and 39) of the year's biggest Christian hits. Sure some hits were timely and others not for various reasons, while other tracks deemed possibly more worthy were overlooked…but overall the compilation series was a pretty good one. Considering you only had 30-40 tracks to work with, this was the best that could have been offered to die-hard CCM fans and the casual CCM listener. To tell you the truth, some of my favourite artists were discovered by me first from a WOW Hits CD. Through WOW Hits, I've discovered artists like Sanctus Real, Skillet, The Afters, Hawk Nelson, Relient K, Stellar Kart, BarlowGirl, Leeland, Superchick and Mark Schultz to name a few- and hence my relationship with God deepened from me listening to a wider range of CCM artists.
But sadly last year, WOW Hits quietly disbanded. WOW Hits 2019 was the last WOW Hits album to be made. In the past, we've critiqued the many, many yearly editions of WOW Hits albums (with Jon also reviewing the compilation project SOZO Playlists: Top Christian Hits last year); yet for all its faults, WOW Hits did a whole lot of things right. So with the disappearance of one yearly compilation, does SOZO take its place? Perhaps, but just this year, another release was unveiled that was exclusive to Australia. Sounds Of Hits 2020 is only available in Koorong, Australia. With 25 songs, is this compilation (which is a step up from SOZO Playlists, as it encompasses most labels as opposed to just Capitol CMG) the next WOW Hits, at least for Australia?
With the previous two introductory paragraphs being taken verbatim from a review I wrote earlier in the year about the new Aussie CCM compilation Sounds Of Hits and the 2020 installment of this issue; one might say that I've become a bit lazy in my old age. However I could think of no other better person to introduce the new CD Sounds Of Hits 2021: Together than myself from a few months ago. With this new project being released exclusively to Koorong in September, we now have a sample size of 2 albums in this new compilation series, and now we have a question to ask. Is this series better or worse than WOW Hits? Or how about better or worse than the 'more official SOZO Playlists?
At first glance, all of these songs are pretty timely, with a wide array of artists encompassed within the 25. Songs like "Alive & Breathing" (Matt Maher), "The Blessing" (Kari Jobe & Cody Carnes), "Keep Me In The Moment" (Jeremy Camp), "Love One Another" (Newsboys & Kevin Max), "Glorify" (Jordan Feliz), "Love" (We Are Messengers), "Still Rolling Stones" (Lauren Daigle), "See The Light" (TobyMac), "Almost Home" (MercyMe), "Together" (for KING & COUNTRY, Tori Kelly & Kirk Franklin), "Love God Love People" (Danny Gokey), and "Great Things" (Phil Wickham) would have all been present on a potential WOW Hits 2021 (in my own honest opinion!), and are therefore timely songs and each inspiring and powerful in their own right; while tracks from The Afters ("Lightning"), Rend Collective ("Revival Anthem"), Tauren Wells ("Like You Love Me"), Zach Williams ("Rescue Story") and Unspoken ("You've Always Been") are all included- with each track being somewhat timely, but just indifferent to me in terms of my enjoyment.
As far as bolters go, "God So Loved" from We The Kingdom, Sanctus Real's "Today Tomorrow And Forever" and even the mega-hit "Graves Into Gardens" from Elevation Worship, are all welcome additions; yet the inclusions of songs like "Amen" (Micah Tyler), "The God Who Stays" (Matthew West) and "This Could Change Everything" (Francesca Battistelli) have me scratching my head in bewilderment- in my opinion "Truth Be Told" should have been included, while Micah and Francesca not even included as artists in this compilation! I was also quietly surprised and content with Tenth Avenue North's last single "No Shame", which is an enjoyable single, and a worthy inclusion, but with Casting Crowns offering up a song which isn't a single at all ("Even When You're Running")… I'm not sure what to think. These guys included "Starts Right Here" last time, and now that's a single, so does this mean that Sounds Of Hits let slip the upcoming single from Casting Crowns? Also, given that this track list was only 25 songs long, there was apparently no room for tracks like "Remind Me You're Here" (Jason Gray), "Who Am I" (Needtobreathe), "You Keep Hope Alive" (Mandisa), "Run To The Father" (Cody Carnes), "Hallelujah Even Here" (Lydia Laird), "Who You Are To Me" (Chris Tomlin  Lady A), "Sparrows" (Cory Asbury), "Battle Is The Lord's" (Rebecca St. James & Brandon Lake), "Canvas And Clay" (Pat Barrett), "Awake My Soul" (Hillsong Worship & Tasha Cobbs Leonard), "Face To Face" (Natalie Grant), "Wake Up Sleeper" (Austin French), "Over And Over" (Riley Clemmons & Lauren Alaina) and "Truth I'm Standing On" (Leanna Crawford).
While the fact still hurts me to the bone that this track list wasn't longer so that these songs could have been included…well this album series is even now infinitely better than SOZO Playlists: Top Christian Hits. It seems as if Australia is going to route of how WOW Hits 1 in 2008 was structured (with there now being a new instalment releasing this month!), and maybe there's another instalment of Sounds Of Hits (Sounds Of Hits 2022?) releasing in August/September 2021. And perhaps the next stage is to release this album (and all other albums in this series!) on Apple Music, Spotify and Amazon globally for the world to see and hear. But whatever the case though, instead of griping and wishing for certain selections and other certain un-selections; let us instead be grateful and thankful for hopefully a new series of Christian Hits compilations. Is this series- if there is another in the pipeline- comparable to WOW Hits? Maybe. It's definitely looking like it! Ask me again in 5 years' time!
3 songs to listen to: Great Things, Almost Home, Alive & Breathing
Score: 3.5/5
RIYL: Big Daddy Weave, Rebecca St. James, Passion, Jesus Culture, Leeland, Michael W. Smith