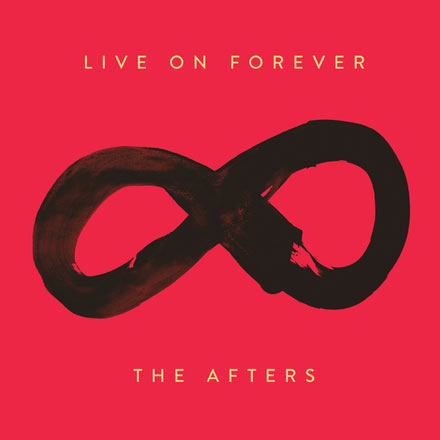 Fair Trade Services
Release Date: September 9th 2016
Reviewed by: Joshua Andre
The Afters– Live On Forever (Amazon mp3/iTunes)
Track Listing:
Shadows
Battles
Sunrise
Time Of My Life
Wake Up My Heart
Live On Forever
Eyes Of A Believer
Survivors
Legends
When You're With Me
"…when I think about the things that have challenged my faith the most—the dark nights of my life—these are also the very things that have strengthened my faith most. In the midst of tragedy, I've experienced God's presence. We worked on this record for almost two years and over those two years, it was a real season of loss. But in the end, Live on Forever is about moving us to trust God, to stand up against fear. It's an 'amp you up' record, an anthem for people's lives: 'God you are with me in all this. I'm not alone.'…" Founded by Josh Havens and Matt Fuqua, pop/rock and CCM band The Afters, originating from Dallas, Texas; have had a pretty wild ride over the past few years. On the heels of their highly successful, critically acclaimed and widely popular 2013 album Life Is Beautiful featuring smash hits like "Every Good Thing", "Broken Hallelujah", the title track and "What We're Here For"; one would say that the band more than took their time with the 3 and a half year wait until their next offering Live On Forever, which drops this upcoming week. Yet for the band, it seems like the hiatus was just what they needed- with plenty of melodies on this 10 track album designed to inspire and motivate, encouraging believers and non-believers alike to keep fighting the good fight, and keep going on, because God has our back. Reinvigorated with a renewed sense of passion and purpose, there seems to be no limit at where The Afters will skyrocket too, after what I believe is the release of their career defining album, at least lyrically and thematically. Personally, I reckon there's something about the album as a whole, maybe it's the holy Spirit's anointing, that makes the album breathtakingly captivating, as I immerse myself in plenty of eternal truths that I, and obviously the band, hold dear to my heart. So what's the verdict? Is this album a 5/5 or 4.5 or a 4? Let me break it down for you all, song by song!
Opening with inspiring electric guitar riffs and pulsating electronic remix effects, Josh's searing vocals jump through within the first few seconds of "Shadows", a powerful and engaging mid-tempo power ballad. Thoroughly grabbing my attention, the band reiterate that whenever life knocks us down, that Jesus is right beside us to help us come out of the shadows, although that conclusion is rather inferred than overtly stated. As Josh sings out '…wake up the statues, breathe out the dust, shock of the heartbeat, rush of the blood, breaking out of my skin, feel the burning again, I can't escape it, it's time to rise up from the shadows…', we are inspired to make a proactive change in our lives and place one foot in front of the other, so as to keep moving forward and not allowing fear and our situations grab a hold of us and drag us down.
The inspiration continues with lead single and radio friendly "Battles", driven by light keys and catchy guitar hooks. As Josh reminds us that '…You're going before me and oceans are parting, You're fighting my battles, when my feet are failing, and my heart is shaking, You're fighting my battles…', I can't help but be instantly motivated to get through the day, whatever life throws at me, as I know beyond a shadow of a doubt that Jesus is with us fighting our battles for us on our behalf. A brilliant melody that will be on the radio airwaves and in listeners' hearts and iTunes playlists for a while yet; the band have seriously outdone themselves here with some high quality production and hopeful lyrics.
The rest of the album picks up where the opening two tracks leave off, with encouraging and motivational lyrics about Jesus being with us colliding with refreshing and creative musical elements. Mid-tempo guitar led ballad "Sunrise", sung against a powerful and musically catchy backdrop of electric guitars and keys, is an earnest plea and prayer from Josh to God, relaying that '…You are the sunrise in my sky…nothing can his You from my eyes…the day is coming soon, when You'll make all things new…'– it's essentially a worship song where the band praise Jesus for being the light in our lives when everything around us is dark. While potential single "Wake Up My Heart", driven by light synth and a folk atmosphere, delves into the notion of God waking up our hearts for Jesus, igniting our hearts and minds to the knowledge that Jesus is here with us. Thus we cannot keep silent and no doubt will share the good news of Jesus Christ as an overflow of our love for Him, as Josh asks God to '…tear down the walls that keep running higher, come burn in me like a wild fire…'.
Rounding out the first half of an already optimistic and positive collection of musically and lyrically diverse material is the band's title track. Already unveiled as a stirring music video, "Live On Forever" encapsulates The Afters' heart for Jesus, and a vivid description of what heaven would be like (similar in theme to Carman's "The Third Heaven") as we are awakened to the certainty that with Jesus in our lives, we are indeed going to '…live on forever, forever, forever, we are not where we belong, we have a hope, we're gonna live on forever, forever, forever…'. One of the standouts on the album, there's probably nothing else I could say about this song in such a short paragraph or few sentences, so what I will say instead it this- watch the music video and be amazed at the power of Jesus at work!
Borrowing a few musical elements from Rend Collective, the folk/pop melody "Time Of My Life" is a nice surprise from left field, brimming with energy, joy and cheerfulness, as Josh and co. authoritatively declare, alongside hand claps and engaging electric guitars, that living life to the fullest isn't associated with the circumstances surrounding us currently- in fact we can have the time of our lives despite us seemingly being in the pit of despair- you know the saying that happiness is a choice rather than a feeling we can't control? Yeah, that viewpoint is on display in full force on this memorable track. While the captivating "Eyes Of A Believer", exquisitely led by the piano, is as inspirational a ballad as the band has ever recorded, imparting to us that '…anything is possible, in the eyes of a believer, so put your gloves on and pull out the fighter, and never let anyone put out your fire…', reminding us that Jesus' presence in our lives allows us to do greater works than even He did; the remix like and electronic synth laden "Survivors" packs an extreme punch, as the 3 minute electronic pop tune reiterates that we are more than conquerors and survivors with God, that the battles lost are insignificant as the war is already won. Never in a long time have I heard this many potential smash hits musically and lyrically on an album, so in that respect The Afters have definitely done something right!
The penultimate melody on Live On Forever is "Legends", a song that I could see being played as the soundtrack to a movie or TV series in the future, as Josh encourages us with the fact that in the face of adversity and the overcoming of adversity, we can become legends to those around us, as we inspire others to live a life glorifying Christ. The album ender "When You're With Me" ends the stellar and near flawless album on a more reflective and contemplative note, though nevertheless strong, as Josh and his friends reiterate across soothing violin that '…everything is how it should be, when you're with me…'. Though unclear as to whether the band could be singing about God or a loved one, the melody is still powerful, reminding us to not let little moments pass us by, but rather grab onto them as we do not know what happens tomorrow. Well done guys for compiling a well thought out and thoroughly engaging album.
"…if any theme has emerged, it would be 'inspiration and motivation'. Look at the titles we've selected: They reflect themes of 'rise up, get up, God has your back, you're not in this alone.' We thought, 'Let's encourage people and let this be a weapon for people's faith: something they can hold onto'…" After a more than 3 year wait between album's, Josh, Matt, Jordan and Dan have unveiled one of the strongest projects in 2016, with plenty of inspiring and motivational tunes to further our walk with Christ. While some would say that the band has lost their edge from many years ago (correct me if I'm wrong, but were all or most of the songs on I Wish We All Could Win in 2005 more rock than pop? I need to revisit this album ASAP!), that may indeed be the case, but the band is still going strong in their ministry, as God moves them forward in the directions He wants them to take. Kudos to The Afters for still taking risks, which more than pay off on this new album. Case in point- the extremely catchy "Battles", the inspirational "Eyes Of A Believer" and the heartfelt title track. So… is The Afters' new album worth purchasing or at least checking out? You be the judge, but I reckon this album is worth the wait!
3 songs to listen to: Battles, Wake Up My Heart, Eyes Of A Believer
Score: 4.5/5
RIYL: Building 429, Sanctus Real, Tenth Avenue North, MercyMe, Audio Adrenaline