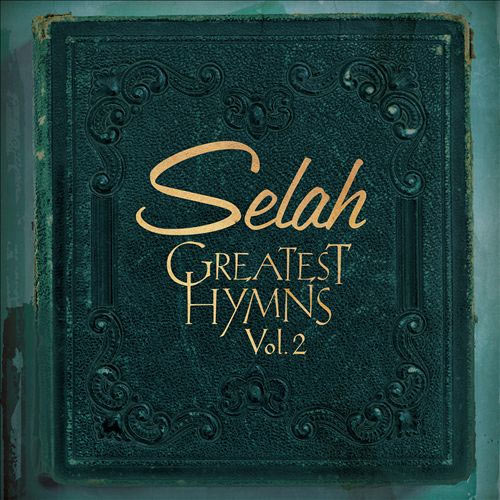 Curb Records
Release Date: August 26th 2016
Reviewed by: Joshua Andre
Selah– Greatest Hymns Vol. 2 (Amazon mp3/iTunes)
Track Listing (+ original album):
How Deep The Father's Love For Us (You Deliver Me)
Just As I Am (You Amaze Us)
Into My Heart/Fairest Lord Jesus (You Deliver Me)
The Old Rugged Cross (You Amaze Us)
I Surrender All (You Deliver Me)
Revive Us Again (Timeless: The Selah Collection)
In The Garden (You Amaze Us)
Tis So Sweet To Trust In Jesus (Hope Of The Broken World)
The Lord's Prayer (Deliver Us) (You Deliver Me)
Victory In Jesus (You Amaze Us)
My Jesus I Love Thee (You Deliver Me)
Standing On The Promises (Medley) (You Deliver Me)
God Be With You (You Deliver Me)
Holy, Holy, Holy
O The Blood (Radio Version) (O The Blood EP)
Wayfaring Stranger (Be Still My Soul)
Wonderful, Merciful Savior (Press On)
Amazing Grace (Greatest Hymns)
Having recorded a plethora of stirring and inspiring albums since 1999, vocal trio Selah have displayed to us and unveiled many heartfelt melodies and soft piano pieces with the intention of ushering us into communion with Jesus. Songs like "I Look To You", "You Raise Me Up", "All My Praise", "Bless The Broken Road", "I Turn To You", "You Deliver Me", "I Will Sing Of My Redeemer", "Wonderful, Merciful Saviour", and "Hope Of The Broken World" all captivate and inspire us, giving us reason to praise God and celebrate our freedom in Him. And the three vocalists Allan Hall, Todd Smith and Amy Perry (and previously Nicol Sponberg and Melodie Critttenden) each sing eloquently, powerfully and beautifully, praises to Jesus, as well as bringing to the fore words of encouragement and impact.
Already having released their first hymns album Greatest Hymns in 2005, the Curb Records signed trio have now dropped their second hymns project- Greatest Hymns Vol. 2, which is in essence a best-of collection of their most popular hymns recorded over the years from their previous albums (since Greatest Hymns was recorded!). Standing tall at 18 tracks, of well-known and obscure hymns, Todd, Allan, and Amy once again wow us and show us their brilliant vocal melodies and harmonies, and I am once again swept away in wonder and awe, as the Holy Spirit's presence is evident on every track of this gigantic worship experience stretching way beyond an hour. Now with an album that on the surface looks quite daunting, let's dive in to see how the band interpret these welcome favourites and lesser known melodies.
Glancing through the track list, and having a quick listen of each of the songs, it's clear that there is a wide variety of tracks I do and do not recognise, sung within the confines of a smorgasbord of genres; highlighting the prowess of the band as singers and worshippers. With four of the songs represented being from the 2014 album You Amaze Us, as well as 7 from 2009's You Deliver Me, we are once again reminded of the fact that time is no constraint when listening to flawless and near-perfect hymns. "Just As I Am", previously recorded on You Amaze Us in 2014, contains a captivating choir and an originally written chorus, brilliant sung by Amy, and is one of my favourite renditions of the timeless hymn, along with MercyMe, Nichole Nordeman, Carman and Shaun Groves. As Selah focuses on the fact that '…I come to wretched and blind, in need of healing in my mind, I come to you broken and poor, oh I am empty I have nothing more…', yet He accepts and loves us just as we are; we are moved and grateful for Jesus' sacrifice all those years ago. With "In The Garden" (a Watermark cover, led by the piano, and containing metaphors about being in the presence of God, being in 'the garden'!), "The Old Rugged Cross" (a piano-jazz infused semi-upbeat melody about thanking Jesus for the cross), and "Victory In Jesus" (one of the most enjoyable renditions of hymns on this album, as the band channel their inner country/soul/funk genres, like artists newworldson and needtobreathe, singing joyously about how we are set free in Jesus by the blood of the Lamb) rounding out 2014 offering; it's very evident that Selah's prowess as a vocal trio is very potent and impacting, and sure to excel further in the coming years ahead.
Also previously recorded (on O The Blood EP) is the powerful and inspiring radio version of "O The Blood" (the original slow paced piano only version of "O The Blood" was recorded on You Amaze Us). As Amy ardently outlines and sings about the death and resurrection of Jesus, and that '…what a sacrifice that saved my life, yes, the blood, it is my victory…'; a full band being introduced from the get-go, bringing a new depth and perspective to the song. As Amy shines vocally, Selah transport us into a place where we can worship God without any inhibition; and this melody is quite fitting to be rerecorded as we praise Jesus' name!
The album closer "Amazing Grace" is also worth a special mention, as piano is the fore on this gospel-infused rendition of one of my favourite hymns ever, with Amy showcasing her explosive and out of this world vocals (seriously, this particular rendition deserves multiple listens!); while the penultimate track is the reworked and rerecorded 2001 hit "Wonderful, Merciful Saviour", as the piano gently forms a fitting backdrop into the timeless classic that reiterates that '…You are the One that we praise, You are the One we adore, You give the healing and grace our hearts always hunger for…'. Starting the album off with the piano and strings only ballad version of "How Deep The Father's Love For Us" (from You Deliver Me), closely mirroring Joy Williams' version of the hymn; the trio eloquently remind us that God's love for us is deeper, higher, longer and wider than we all could ever imagine, with each of Todd, Amy and Allan collectively singing magically and exquisitely, on such a attention-grabbing and powerful album opener.
While the remaining 6 representations from You Deliver Me are split into the recognisable and well-known ("I Surrender All", "Into My Heart/Fairest Lord Jesus" and "My Jesus I Love Thee") and the obscure and unrecognisable ("Standing On The Promises", "God Be With You" and "The Lord's Prayer (Deliver Us)". Led by stirring keys, the Todd Smith led "I Surrender All" brings chills down my spine, as we are transported into an emotional and honest place of worship where Todd eloquently proclaims '…all to thee my blessed saviour, I surrender all…'; while the piano is also at the forefront of "My Jesus I Love Thee" and the medley of "Into My Heart" and "Fairest Lord Jesus"- two of the band's inspiring and encouraging efforts brilliantly co-led by the three vocalists. As hymns are indeed a universal language, it's deeply motivational to hear Selah praise God for all that He's done for us.
As for the few unfamiliar hymns from You Deliver Me, "Standing On The Promises" is an acoustic guitar led country/bluegrass danceable mid-tempo track, where the trio declare that they are standing on the unending promises of God, segueing into the all familiar, bouncy and joyful "Leaning On The Everlasting Arms" and the equally unfamiliar "Are You Washed In The Blood"; while "God Be With You" is a piano led ballad encouraging us to stay firm in our faith and be strong in Jesus until we meet Him face to face again in heaven, and "The Lord's Prayer" is somewhat recognisable as being one of the most important passages in the Bible, with the trio adding in some verses and a new chorus for updated relevance and relatability- a clever and nice added touch. Though these melodies are indeed not that well known to me; Selah have recorded and sung these hymns (in fact every single hymn off Greatest Hymns Vol. 2, to perfection, reminding us all that familiarity or in this case lack of familiarity of a song shouldn't really influence our decision to listen to a song or not, or whether we decide if a song impacts us or not.
"Revive Us Again", originally from Timeless: A Selah Collection, is an organ or xylophone led mid-tempo ballad, later crescendoing into a brilliant gospel infused worship melody, inviting God to revive our hearts again with His presence and love; while one of the oldest songs on the album- "Wayfaring Stranger"- paints a vivid picture ala Pilgrim's Progress, as Todd, Amy and Allan eloquently reiterate that we are all just strangers in essence, passing through this land, so we shoudlnt' really be consumed by the things of this life, and instead should be focusing our love and attention on Jesus- the maker of everything on this Earth. Yet it is "Holy, Holy, Holy", the only melody on this 18 track album to be recorded specifically for this project, that catches my attention. Although I prefer the Steven Curtis Chapman version of the song better, Selah have recorded a quality rendition here nonetheless, as we are immersed into a surreal worship moment, declaring '…Holy, Holy, Holy! Merciful and Mighty! God in Three Persons, blessed Trinity!…' Well done guys as we are blessed by a quality record, which I hope soon will be recognised for many awards and accolades!
Releasing their first album in just over 2 years (well worth the wait!), Selah seem to be more than filling part of the void left by Avalon, another vocal group who have been absent from recording for the past 5 years (who have since announced a comeback and a new album!). What Selah add to the CCM market, is soothing and beautiful harmonies and melodies, as each of the three vocalists Todd Smith, Allan Hall and Amy Perry sing to perfection, and deliver us some of the most popular and respected hymns and covers, as well as giving us originals sure to stand the test of time as well. Though the predominantly piano led and focused ballad heavy album may not be to everyone's tastes, as some may prefer rock music; Greatest Hymns Vol 2 is well worth at least a listen- you may find yourself surprised at how much you enjoy the album, as you sing along with Selah praises to God. Well done guys, I can't wait til your next album, which will be awesome!
5 songs to listen to: Just As I Am, O The Blood, The Lord's Prayer, Amazing Grace, Holy Holy Holy
Score: 4/5
RIYL: Natalie Grant, Michael W Smith, Avalon, Jason Crabb, Bebo Norman