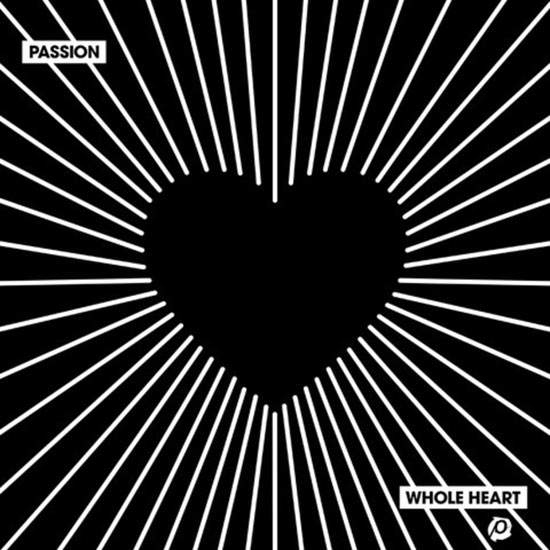 Capitol Christian Music Group
Release Date: February 23rd 2018
Reviewed by: Joshua Andre
Passion– Whole Heart (Live) (Amazon mp3/iTunes)
Track Listing:
Whole Heart (feat. Kristian Stanfill)
Almighty God (feat. Sean Curran)
God, You're So Good (feat. Kristian Stanfill & Melodie Malone)
Reckless Love (feat. Melodie Malone)
Heaven (feat. Sean Curran)
More Like Jesus (feat. Kristian Stanfill)
Hallelujah, Our God Reigns (feat. Brett Younker)
Ghost (feat. Crowder)
Ever Almighty (feat. Melodie Malone)
Great Are You Lord (feat. Matt Redman)
All My Hope (feat. Crowder & Tauren Wells)
Another year, another Passion album. I guess that's one constant in the CCM market that we can know is true, was true in the past, and will be true in the future. While the personnel may have changed throughout the years- gone are Chris Tomlin, Charlie Hall and Christy Nockels, and now the movement is led by Kristian Stanfill, Brett Younker and Melodie Malone (with special guest appearances from Sean Curran from Bellarive, Matt Redman and Crowder); their mission has always remained the same. While you can read about all things Passion here; let me give you all a quick refresher of what the group is all about.
Passion Conferences are held every year, and mostly comprise of many Sixsteps Records artists and others, inclusive of artists like Chris Tomlin, Matt Redman, Christy Nockels, Kristian Stanfill, Crowder, Melodie Malone, Brett Younker and Jimi Cravity to name a few. Every year these men and women of God come together to worship God in January and February every year at key and prominent U.S. cities, with the conferences directed at university students, and every year they invite guests as well. Over the years, Carrie Underwood, Lecrae, Tedashii, Hillsong UNITED, Rend Collective and Tenth Avenue North have all performed at what is still one of today's prestigious yearly Christian events. With the annual event launched in 1997 by Louie Giglio, now one of the key pastors of the conference each year, the band now performs in conferences in Atlanta Georgia around New Year for their recording of their annual albums released in March; and these guys tour around the world as well!
With the movement keeping their heart for students and their related ministry rooted in Isaiah 26:8; I have always loved the annual Passion albums. Last year's live album Worthy Of Your Name garnered hits such as "This We Know", "Worthy Of Your Name" and "Glorious Day", and is even now a joy to listen to, so what does Whole Heart, which released just over a month ago, bring to the table? In essence, the band can't keep recording albums every year- I mean they can, but it's sound maybe redundant and not unique at all. So what is it that makes Whole Heart engaging and as inspiring as any other Passion album in their discography? Well despite a few mishaps (which I will delve into later), this album is quite solid. Not the greatest but nonetheless still firm lyrically and hopefully able to easily impact people in their faith. Having released on the same day as albums from Michael W. Smith (Surrounded) and Audrey Assad (Evergreen); this worship album is a must for fans of Hillsong, Jesus Culture and Desperation Band!
Similar to the last album Worthy Of Your Name in terms of promotional singles (with "This We Know" and "Worthy Of Your Name", Passion unveiled 4 promotional singles before Whole Heart was even released- "God You're So Good", "Whole Heart", "Almighty God", and "More Like Jesus". Though each of these four tracks aren't as memorable as any song on Worthy Of Your Name, that's maybe because they just released, and it'll take time for these future hits to fully grow on me. Regardless, I reckon these four inspiring anthems were good choices in regards to promotional singles, in the sense that they showed the heart of Passion, and reminded us all why we love the band, no matter how many cliché tracks they release.
The title track was one of the first songs on the album to be released. Led by Kristian Stanfill, the guitar led mid-tempo worship anthem is a solid, dependable album opener, where Kristian ardently recounts the fact that it is because of Jesus that we know who we are. As we proclaim with authority that '…Your love, it comes with no conditions, You give us Your whole heart…', we are reminded of God's unending love for us, that He is all in- and this song is a challenge to us, asking us about whether we want to be all in, and give God our whole hearts as well. Confronting yet comforting as well, "Whole Heart" nonetheless is needed, as we examine our lives as to whether our hearts are in the right place or not. "God You're So Good", also led by Kristian Stanfill, as well as Melodie Malone, and another promotional single; on the other hand is tad repetitive. If "Whole Heart" was a 10, this song would be a 5 or maybe a 4- which is a shame as Kristian is such a great worship leader. But nothing much can save the 7-minute lullaby-ish melody from becoming boring. The chorus is repetitive, and though the verses are inspiring, the melody doesn't really build. Once it does, the track somehow feels a bit off. I'm not really sure what it is. And it's strange as I reckon Kristian Stanfill is more passionate in this track than "Whole Heart". Maybe it's because the concept of God being so good, has been recorded many times before. But nonetheless, in my opinion "God You're So Good" is a bit of a downer and a letdown.
"More Of Jesus" fortunately makes up for the out-of-left-field disappointment, with Kristian once again leading. Inspiring us alongside contemplative keys and a slower paced atmosphere, Kristian highlights the heartfelt notion that because of who Jesus is, we can't help to want to be more like Him in every facet; while Sean Curran aptly and fervently leads "Almighty God", a future hit in the making, where the frontman of Bellarive emotionally relays to us the ever true notion of God being almighty, even in His death. The perfect Easter themed song (alongside Phil Wickham's "Living Hope", of course!), "Almighty God" is one of my favourites as we joyously sing along that '…forever You reign, we worship You, for even the grave, You overcome, we magnify, Your people rejoice, we hands held high, forever we sing You overcome…'.
The rest of the album overall doesn't fail to impress, with quality songs present on here, regardless of the vocalist. Sean Curran wows us once again with the guitar led mid-tempo ballad (and later rock/worship song that Leeland, or even Bellarive themselves, would record!) "Heaven", which vividly asks God to invade our lives, to move certain parts of our heart and psyche around in order for us to believe the truth of the Kingdom of Heaven being alive in us because of what Jesus has done; while "Hallelujah Our God Reigns" from Brett Younker unfortunately doesn't make any lasting impression on me, given that it's long, and Delirious? do a better job of the song "Our God Reigns", which basically delivers the same theme of God reigning on high.
On the flipside Melodie Malone's offering "Ever Almighty" is captivating and beautifully sung from beginning to end, with solid lyrics and a vibrant tempo, relaying to us the fact that Jesus is faithful and trustworthy, that when He says that He will save us, He will. And while there is only one representative of Crowder, he does this track to perfection. "Ghost" is vintage Crowder, as this country/southern gospel/jazz/pop/rock/worship tune (yep, all genres infused in this track!) inspire us to be ready for the 'ghost' of Jesus (obviously the Holy Spirit!) to move in our lives, and change us all in unexpected ways, and each way for the better. Laid back and reflective, this is a different side of Crowder that we've seen and heard, and that is something that may take some time to get used to, but a fact that I absolutely love.
Usually Passion hasn't recorded many covers throughout their tenure, but in this tracklist, there are 2. Both "Reckless Love", originally recorded by Cory Asbury, and "Great Are You Lord" by One Sonic Society are quality songs in their own right, and each are expertly and exquisitely covered by Melodie Malone and Matt Redman respectively; however perhaps more originals from these two vocalists would have been better? One or two songs from Matt Redman's Glory Song would have been more than sufficient? Regardless, these songs still have power and impact, and do not detract from the overall feel and message of Whole Heart. The album ends with the sheer flawless brilliance of the closer that is "All My Hope", one of my favourite songs of last year (the version recorded with Tauren Wells!), which also features Tauren Wells on guest vocals. Actually, on this live version Tauren sings more than Crowder, and that's pretty cool, a nice refreshing take on a future modern hymn. No matter which version of "All My Hope" you like though (the studio single version from last year, or the album version from American Prodigal), it's still evident that this song is making waves and will continue to do so- kudos and bravo to Passion for including such an influential track on this track list- a song that boldly asserts that all our hope is in Jesus, that '…thank God that yesterday's gone, all my sins are forgiven, and I've been washed by the blood…'.
Even though at this point in time Whole Heart isn't as enjoyable as Worthy Of Your Name, Passion's heart is still the same- to bring glory to God in whatever setting they're in, and to spread the gospel in whatever way they can. In that sense, I am sure that I will grove to love this album just like albums previous, as I am reminded that this is a movement that does what works for them, and will continue to give God the glory for however long God continues to put the calling on Louie and Shelly Giglio (after all, Passion is Louie's brain-child and what God called and is still calling for him to do and be a part of!). Apart from "God You're So Good" and "Hallelujah Our God Reigns", the rest of the album is a joy to listen to. Even with those two tracks as well, they're not bad tracks by any means. I just didn't connect with them than I would normally connect with other tracks. So… Whole Heart is overall an album that deserves to be bought on iTunes by many people; I guarantee those who love worship music will love this record! God deserves all the praise for this spectacular album, and then some more! Well done Passion, can't wait to see and hear everything God has planned for you guys for the future!
3 songs to listen to: Almighty God, Ever Almighty, All My Hope
Score: 4.5/5
RIYL: Lincoln Brewster, Paul Baloche, Kari Jobe, Matt Maher, Cory Asbury, Jeremy Riddle, Kristine DiMarco, Amanda Cook