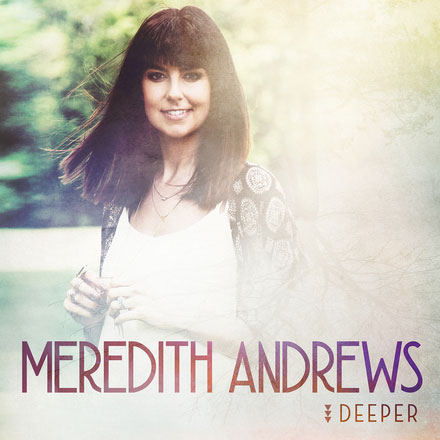 Word Worship
Release Date: February 19th 2016
Reviewed by: Jonathan Andre
Meredith Andrews– Deeper (Amazon mp3/iTunes)
Track Listing:
Sunrise
Deeper
I Look to the King
Spirit of the Living God
Soar
Extravagant
Glory
Trusted
Impossible
Hands that are Holding Me
Take Me Back
Lamb of God (Deluxe Edition)
Christ is Enough (Deluxe Edition)
Jesus Sees (Deluxe Edition)
'…I'm praying that God will use this album to bring freedom. I envision people hearing these songs for the first time and being overwhelmed by the presence of God and by the healing and hope found there…I don't want to worry about the numbers. I want to be focused on 'Am I being faithful? Am I speaking truth and offering hope to people who are listening? I want to be a mouthpiece. I want God to use my story and use my songs to meet them in the hard place they're at right now. God has told me 'Take care of the depth and I'll take care of the breadth.' So that's what I'm focused on…' One of my favourite worship artists ever, alongside others like Chris Tomlin, Tim Hughes, Paul Baloche and Christy Nockels; Meredith Andrews has continued to deliver albums that speak to the soul and impact listeners throughout her almost ten year career at Word Records, and while Meredith may not necessarily be the most popular artist, even in and amongst the worship circle, her music still has been impactful, for me at least. Full of lyrical richness and raw honesty, it has been songs like "You're Not Alone", "Can Anybody Hear Me?", "Worth it All", "Not For a Moment", "Pieces", "How Great is The Love" and "You Invite Me In" that have become instrumental in my own walk with Christ thus far, and with her forthcoming album Deeper releasing February 19th, this collection of 14 tracks may just be some of her most lyrically profound and vertically worshipful songs to date. Streaming on NRT in full a week early, Deeper has been more than a three year wait (normally artists take around 2 years between albums), and while it is a tad on the longer side between albums in a general sense, what Deeper presents is well worth the three years, with songs like "Soar", "Spirit of the Living God", "Impossible" and the title track anchoring the album musically and lyrically.
The theme of the album is a simple yet equally profound and impactful message- that we as Christians need to continuously make a conscious decision to travel deeper and deeper into God's presence, regardless of what may occur in the process- pain, hurt, redemption, love, joy, comfort, confrontation and a realisation of the amazing love given to us. All these aforementioned feelings could occur when we travel deeper in God presence. Yet as Meredith states in the above quote, this album is such where when people listen, they can experience a freedom and love that they may not have experienced before. Quite possibly my favourite worship album of the year, and even rivalling Steven Curtis Chapman's Worship and Believe (yes, I have a pre-release copy of the album) as my favourite album of the year thus far; Meredith continues to wow us with her fervent outpouring of emotion, with her heart for worship evident in each of the 14 tracks. A multiple Dove Award winner, Deeper ought to have a mention as a Worship Album of the Year nominee at this year's Dove Awards (maybe up against Steven Curtis Chapman's Worship and Believe, The City Harmonic's We Are, Jesus Culture's Let it Echo and the forthcoming Phil Wickham's Children of God?).
Released as the first single in August 2015, "Soar" brings to us a melody full of emotion and emphasis on God lifting us up in the midst of our troubles, as Meredith's first song in more than three years doesn't disappoint. With acoustics and strings to rouse up the worshipful spirit within us as the song begins, we are reminded of who God is, and how '…You said You won't relent, won't let go, won't forget every promise You have whispered to my heart…' It is in us waiting on the Lord that we can truly act out of patience, knowing that whatever Christ has in store for us is better than anything we could conjure up. "Soar" is as catchy as it is impactful, as enjoyable as it is worshipful, and with a vocalist who perhaps has one of my favourite voices of all time (and with as much passion and enthusiasm as any other), Meredith's ability to hit the high notes, not just in this song but in every song she has ever sung, has me continuing to advocate for her music. Highly underrated, extremely talented and with a heart for worship that shows in the songs brought to us on Deeper, "Soar" is the first of many songs that I expect to see in Sunday morning worship services in months to come!
Released on Vertical Church Band's most recent album Church Songs, "Spirit of the Living God", by far, is one of my favourite worship songs since Lauren Daigle's "How Can It Be". Featuring a riveting piano undertone played throughout the entire song, the message of this 5:20 long track is simple and profound- that all we want to do as children of God is lean more into Him as we long for Him to work in us, moving in us and shaping us into the godly men and women He continuously is shaping us, often on a daily basis. From a light piano track to a rousing anthem where we can't help but declare this anthem of faith and commitment, Meredith's cover of a song written by her husband Jacob Sooter and Australian singer/songwriter Mia Fieldes is as passionate as it is enthusiastic. As said by Meredith herself, '…the Spirit can be the forgotten member of the Trinity. They [Mia and Jacob] wrote this song with me in mind to sing it, which blows me away when I sing it, every time. From the moment when I sang it for the first time at a staff meeting at church, it was an atmosphere changer, and it sets the tone. When you start praying this prayer and asking the Holy Spirit to come and to move and to speak, we remove all of the distractions, and the only thing we want is to hear from God and to know Him more…' One of my favourite songs, not just from Deeper but one of my favourite songs I've heard Meredith sing ever; both this melody and "Soar" sets the tone lyrically and musically as Deeper sets out to be one of my favourite albums of 2016 so far!
"Impossible", "I Look to the King" and "Deeper" are the remaining promotional single tracks released prior to the album release on February 19th, each of them presenting to us a necessary theme and message we need to constantly remind ourselves whenever life tells us otherwise. "Impossible" is a light electronically driven melody about how it is impossible for God to forsake us, even in the moments where we often believe it to be true, as Meredith states all the instances in the Bible where God showed up in the lives of ordinary men and women; while "Deeper" (not the song of the same name on Meredith's Word Records debut album The Invitation) is an acoustic country-style worship song about how '…every valley made me lift my eyes up, every burden only made me stronger, every sorrow only made Your joy go deeper, deeper, deeper and deeper…' Probably the most CCM-esque melody apart from "Soar", "Deeper" places things in perspective, that every event in our lives, good or bad, brings us closer to the Lord.
"I Look to the King" and its message is just that- that in every moment, we look to our King and Saviour, fixing our gaze on the maker and perfector of our faith, the one that gives us courage, faith, hope and comfort, even during the times when we believe that what we have will run out. Standing at 4:47, Meredith has given us a song to declare and sing during the tough times, the moments when we're out of breath, as we realise that even during those times, '…I look to the King, eternal, immortal, invincible God, I stand on the rock of ages, my Saviour, He conquered it all…'
With "Sunrise" being the first song on Deeper, what brought my attention to this album initially was the musical backdrop of this first track, reminiscent of something Chris Tomlin or Hillsong UNITED would bring to the table in terms of musical atmosphere. And now that Meredith has brought to us a musical undertone that is unique, different, powerful and unlike anything she has ever opened an album with before, this is what I reckon will be a step in the right direction as she continues to mature in her songwriting and vocal performance as the albums continue to be released. What "Sunrise" presents lyrically is a notion of freedom, knowing that even if there are sunset times, God brings to us the 'sunrise', the moment where everything is well, and we know that the times we have experienced is for us to be shaped more into what God wants us to ultimately become. "Extravagant" stands at a formidable 5:00 and declares from the outset the God is far beyond any concept we have of Him, that He is extravagant in every way imaginable, while "Glory" strips down the music and brings to us light ethereal piano reverb against pulsating drums and acoustics, as Meredith honestly calls out to God, that '…the light and dark are wrestling in my heart, a war for my affection, a hundred voices ringing in my head, a war for my attention…I believe You will overcome all the fear and fight in me…', presenting to us honesty in a song that I've never heard since Casting Crowns' "Love You With The Truth". "Trusted" is an epic anthem full of biblical truths about how God can be trusted in all aspects of our life, using a myriad of motifs and metaphors that make this 3:29 long track be one of the most enjoyable songs within the middle section of this album, while "Hands that are Holding Me" is as vulnerable as ever, a song presented that is as intentional as it is desperate, where Meredith proclaims in the chorus that '…my hands will hold the hands that are holding me…', as we are presented with a theme of us clinging onto God, often when there is nothing else left for us to try and undertake.
"Take Me Back" finishes the standard version of the album, with Meredith delivering a story-song in that each verse depicts a moment in Meredith's life where she has a revelation of the love Christ has for us. A song for us to also declare as we long for God to take us back to the times when we have felt His love the strongest as we are reminded of what it really means for us to love God no matter what; we are brought into bonus tracks in the form of "Lamb of God", originally recorded by Jason Ingram on Vertical Church Band's studio EP White, and a song about Jesus's life and resurrection and a song certain to be respected loved and enjoyed especially during this Easter season; "Christ is Enough", the Hillsong cover originally from the 2012 live album Cornerstone, and "Jesus Sees", a song similar in theme to Jeremy Camp's "He Knows", with Meredith reminding us that God is not passive neither not involved but rather all knowing, and all seeing, encouraging us along the way during our journey to seek more of Him, and often meeting us during our painful moments we are walk through these times with Jesus alongside us, refining us to be more resilient and reliant on Him and Him only!
With the album releasing three years and a month after Worth it All, Deeper, by all accounts, may even top Meredith's previous album recording, in both lyrical and musical content. Full of life, hope, encouragement and fervent passion, Meredith continues to deliver songs that'll be household names in months to come. While not necessarily your most popular Christian worship artist (that mantle continues to belong to that of Chris Tomlin), Meredith nevertheless brings to the table of worship music a collection of songs that is as radio friendly as it is accessible by the church and for the church. Produced by Jason Ingram and her husband Jacob Sooter; Deeper is not only a standout in February but throughout all of 2016 so far. My first 5/5 score for the year, this is a must for anyone who loves worship music in general. A mixture of quiet and reflective, and powerful and rousing all within the confines of 14 tracks, Meredith's voice, and vocal quality, passion, power and enthusiasm makes not only Deeper but the rest of her catalogue some of the most intriguing and refreshing I've heard in a while. Well done Meredith for such an impacting album, one that reminds us all to delve deeper in the Word of God, and deeper into His presence no matter what circumstance we're in! After such a rewarding album experience, I can't wait to continually have this album on repeat in my iTunes playlist in the upcoming months ahead!
4 songs to listen to: I Look to the King, Soar, Deeper, Spirit of the Living God
Score: 5/5
RIYL: Chris Tomlin, Jesus Culture, Hillsong Worship, Phil Wickham