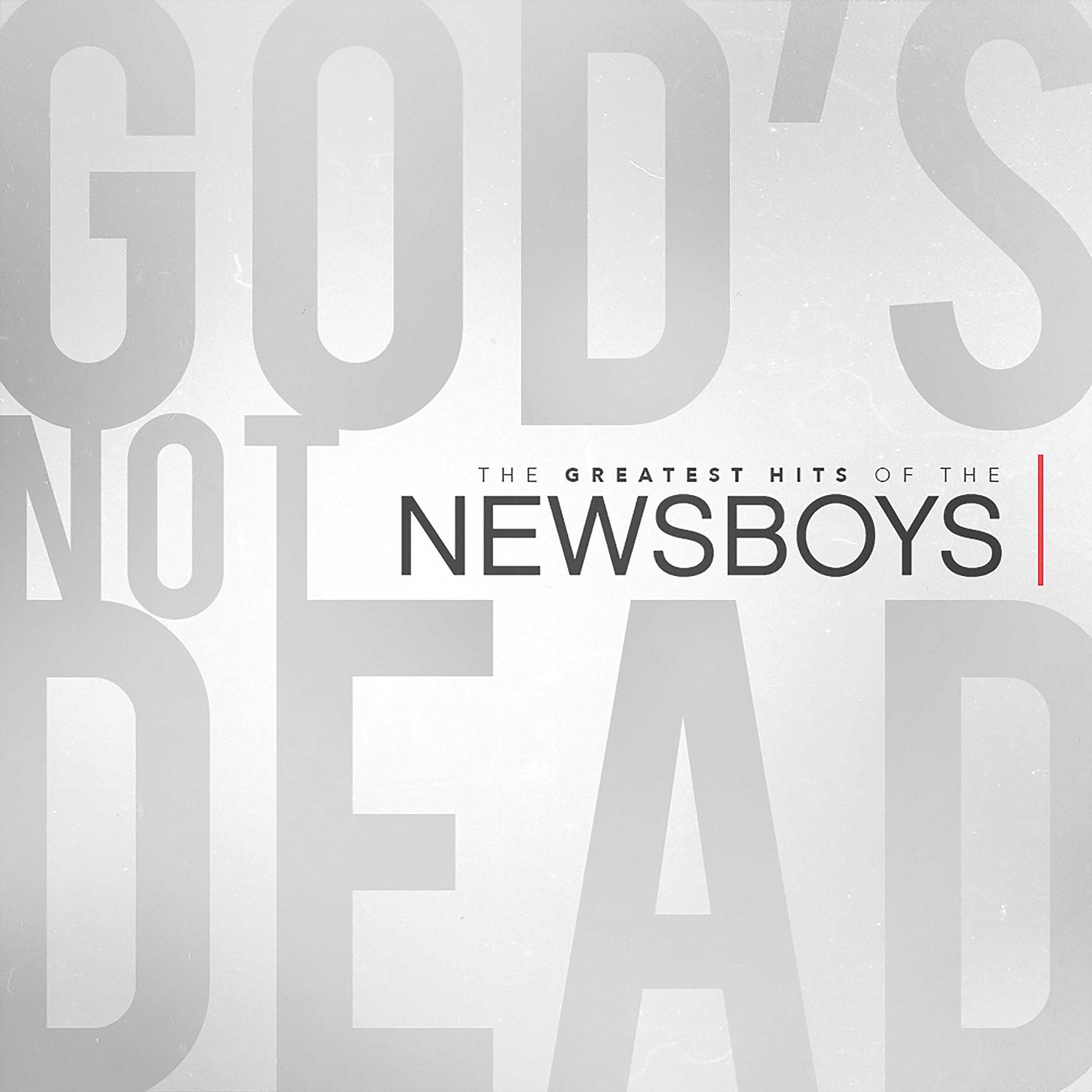 Inpop Records
Release Date: February 12th 2016
Reviewed by: Jonathan Andre
Newsboys– God's Not Dead: The Greatest Hits of the Newsboys (Amazon mp3/iTunes)
Track Listing:
God's Not Dead (Like a Lion)
Born Again
Your Love Never Fails
Something Beautiful
Mighty to Save
I Am Free
In the Hands of God
Save Your Life
Revelation Song
The King is Coming
Wherever You Go
In Wonder
The Newsboys. Quite possibly the most talked about band in CCM history (aside from DC Talk of course). Fronted by Peter Furler for a long time until a lead singer (and genre) change in the form of Michael Tait way back in 2009, this band that originated from the land down under have given listeners hit after hit after hit. From songs like "Shine", "Breakfast", "Reality", "He Reigns" and "It is You", to "Something Beautiful", "Born Again", "I Am Free", "In the Hands of God", "God's Not Dead" and "Live with Abandon"; there's a sentimental feeling that has occurred with Peter Furler as the frontman… and with Michael delivering a unique and different musical atmosphere compared to the true-blue Aussie Peter Furler accent that has flooded songs of the 1990s and the 2000s, we come to this point in history- that before they release their first album on Fair Trade Services, Love Riot in March 2016, Inpop Records decided to release a 12 song compilation, of hits throughout Newsboys's run on Inpop Records (2006-2012). While this compilation is by no means a complete set of what has charted and what has impacted throughout their whole career, what this 12 song set aims to accomplish is to provide a snapshot of the later years of the band, contrasting both the styles of Michael and Peter's style of performance, and remind us all that there is merit in both Peter and Michael at the helm of one of the most popular Christian bands in history. Who knows…maybe a guest appearance by Peter in one of the Newsboys's live concerts in the future? That'll be a good and welcomed surprise!
There's not really much to discuss here, except for the fact that albums prior to GO and after God's Not Dead are not represented on this 12 song set (which is a sad shame, in my opinion). So this compilation, from the get go, is a no-no for anyone who wants to branch out and listen to the band for the first time. This album is for die-hards and die-hards only. Songs like "God's Not Dead", "Born Again" start off the track list, and have been and continue to be hits from albums of the same name, in 2011 and 2010 respectively. Yet to call this 12 song album a 'greatest hits' selection, and to have 4 songs out of 12 being covers, seems to be a little strange, maybe even a little redundant and just plain lazy. While I still admire the Newsboys and their passion in every song on not only this album but in albums past, what often happens with 'greatest hits' albums, from any artist, is that they pick the popularised tracks and leave off songs that are seemingly less popular, yet still impacting.
Immediately when looking through this list I see songs that are missing that should've been included- "Glorious", "Dance", "Way Beyond Myself", "Your Love is Better Than Life", "The Mission", "I'll Be", "On Your Knees", "Miracles" and even "Jesus Freak" could've been included, even on this greatest hits 'Inpop' collection, but sadly it wasn't to be. So is this collection the best of, by any means? No way. Songs that are popular? Yes. Songs that have been on radio countless times before? Most definitely. It may have been worth it if Michael Tait re-recorded all of the Peter Furler led songs in this 12 song compilation, but as it stands, the fact that both Peter and Michael lead different tracks on this album (with different styles as well) may create an album flow that could seem to be a little disjointed at best, and disconcerting and disheartening at the worst.
This is not a Newsboys bashing session, by the way. The band has been successful in years gone by and will continue to be successful in whatever shape or form it takes. Yet this album seems unnecessarily. With the advent of Spotify, iTunes, Pandora and the like; greatest hits albums seem to be unnecessary, especially this album that claims that these songs are the best of the band's career (maybe they should've said, their 'inpop' career?). Regardless, these songs in and of themselves are great. But as a package? Maybe you all should stick with your Newsboys Spotify Playlists and play them on repeat until Love Riot releases. Nevertheless, with 4 albums, 1 EP and a live project under his belt, Michael's role as lead singer of the Newsboys is certainly cemented. Regardless of people's views of Michael being in the band, and Peter leaving; the fact remains- Newsboys will still be one of my favourite Christian artists, and, alongside Steven Curtis Chapman, Tim Hughes, Delirious?, Rebecca St. James, Steve Grace and Carman; have influenced my spiritual life throughout my teenage years the most.
My thoughts on the tracklist? It needs massive work if the title The Greatest Hits of the Newsboys were to remain. Maybe a 3 or 4 disc version of all their hits would be a nice compromise, if they want to draw in newer listeners? What do you guys reckon of the track list? Which songs would you omit and which songs would you keep in your 'alternate' version? Are you all excited for Love Riot as much as I am? If Restart and God's Not Dead are any factor in me liking the album or not, then I'm certain that I'll enjoy this upcoming album as much as their previous few. Here's to the band for creating a different and unique identity under the helm of Michael compared to Peter, and here's to the band giving us more powerful and impacting songs both now and in years to come!
3 songs to listen to: Born Again, God's Not Dead, Something Beautiful
Score: 2.5/5
RIYL: Audio Adrenaline, Kevin Max, TobyMac, Peter Furler, Zealand Worship