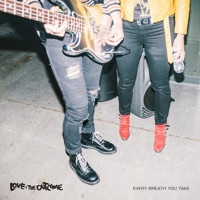 Word Records
Release Date: August 18th 2017
Reviewed by: Jonathan Andre
Love & the Outcome– Every Breath You Take (Single) (iTunes/Amazon mp3)
Track Listing:
Every Breath You Take
Love & The Outcome are probably one of the most sought after Canadian acts in recent memory. Since signing to Word Records in 2012 (home to many other artists like Zealand Worship, We are Messengers, Group 1 Crew, Big Daddy Weave, Chris August, Francesca Battistelli and Meredith Andrews to name a few) and delivering arguably one of 2013's most played and recognisable songs on Christian radio, 'He is With Us', the husband-wife duo of Jodi King and Chris Rademaker went on to compose and collate together their debut album, which I reckon by far is one of the most impacting and encouraging debut albums I've heard, ever since For KING AND COUNTRY's Crave back in 2012. Since then we saw a follow-up in These are the Days in 2016, where the duo brought with them a lot of influence from the 1980s to create a pop/quasi-worship album that could've easily fit right into the 1980s era if it wanted to, and no one would be none the wiser (a compliment, that the band bring us a lot of nostalgia of the 1980s…a little too much!). The duo continues to weave together Jodi's melodically pop sound with the prominence of Chris's bass guitar, as These Are the Days brings with it a strong message of hope and looking forward, of taking stock and treasuring the memories that come away, all because '…these are the days, these are the days, the days we'll never get back…and these days are all we have…' ("These Are The Days"). Fast forward to 2017, and Jodi and Chris are at it again. Earlier on during the year, we saw them deliver quite possibly one of my favourite songs of late, Alessia Cara's 'Scars to Your Beautiful', while just this last month we saw them deliver a radio version of 'If I Don't Have You' (a song which I thought wasn't going to radio at all!), a track that gives us comfort yet equal moments of confrontation in the compelling lyrics that '…I don't want the world if I don't have You, I don't want it all if it means I lose You, I've tasted and I've seen enough to know it's You I need…' Now just this last week, Chris and Jodi unveiled another song… 'Every Step You Take', a cover from The Police on their 1983 album Synchronicity.
Now I don't claim to know much about The Police. In fact, I don't know anything about the band. Call me uncultured, or just a hermit, even I know that the music I generally listen to is within a certain bubble. But then again…I have heard of 'Every Step You Take'. A lot. Be it on Hope 103.2 (our local Christian Radio station…which plays approximately 50% mainstream music to broaden the scope of the station), or just on Spotify whenever my parents have it on, I have heard of the song. So when I saw that Love & The Outcome had a cover of it, I thought, 'I wonder how this will go'. So I listened to it. The verdict? Just as good as the original. The music, the passion in Jodi's voice, the combination of the bass guitar alongside the synth keyboards, everything about it brings the listener back to the 1980s as if they were listening to the original song…with just a female singer instead of Sting. So that is the music covered…what about the lyrics?
To be honest, since this song is a mainstream track, it can be read in a variety of different ways. Reading upon the history of the song, we are glimpsed into the fact that Sting had a very public breakup with his then wife, and then went on to have an affair with the wife's best friend. This song was in response to his dealings with the whole escapade…perhaps even the song is about the first wife. But then again, there's been many people that have interpreted the track as a romantic song, about someone watching someone else and declaring their love and affection over them. So what do I see the song as? Looking at it and hearing the song over the last few days, I've come to this conclusion- that the song itself is a sad one. Indeed I can see the song as how the original singer, Sting, intended. But I can also see the love-song aspect. And then there's a third one. The one where God is singing over us. Where He's the prodigal father and we are the prodigal son. Where He's singing to us, watching us, never condemning us, but rather His heart aching for our return back to Him and His presence.
So there's that…three ways of how you can see this song, a song that will touch people and impact lives for different reasons. A song that, to this day, is arguably one of the world's most impactful songs, period. And I reckon it's good, that Love & The Outcome are covering songs like this one and 'Scars to Your Beautiful', tracks that aren't necessarily 'Christian' in nature, but they can still be as impactful and emotive. So does that mean that both 'Every Step You Take' and 'Scars to Your Beautiful' are on their next album? Maybe, maybe not. But what I will say is this- throughout their career of late, the duo have relied on 1980s synths for much of their songs which isn't a bad thing, except someone who is a fan of current CCM isn't going to necessarily be satisfied with their music of late (I mean music, not lyrics), and that's ok. The band are taking much more risks with their music now, and it shows. Maybe, just maybe, more CCM artists will follow suit and cover more mainstream music, just to show us that the impact of music and what God wants to show us goes far beyond CCM.
Score: 4.5/5
RIYL: U2, Lifehouse, David Bowie, Mikeschair, City Harbor, Michael W. Smith