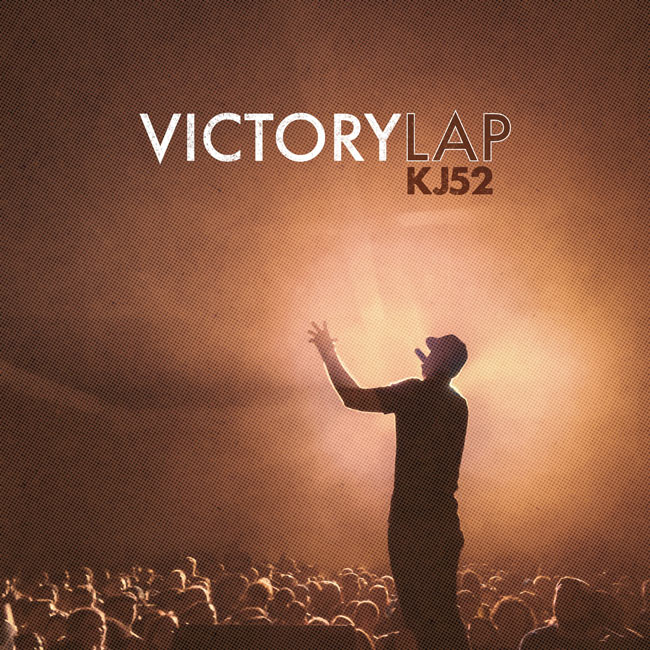 Independent
Release Date: January 10th 2020
Reviewed by: Joshua Andre
KJ 52– Victory Lap (Amazon mp3/iTunes)
Track Listing:
Day I Was Born (feat. Levi Mitchell)
Keep On Running
God Is Good
Summertime
Come Alive (feat. Madeline Gibbs)
Just Gets Better (feat. Montell Jordan)
Pay Attention
I Got This
Victory Lap
My Very Last Song (feat. Alcott)
First of all thank you for 20+ years of incredible support..
I know for many of you I was a part of your childhood and/or first introduction to Christian Hip Hop, and for that I want to say thank you and I appreciate you.  
I feel like this time of my life is my "Victory Lap", I have crossed the finish line on many goals and aspirations that I've had as far as music and my ministry goes and now I'm in an incredible phase of my life.  The "Victory Lap' is what a runner does as he celebrates for one more go around… he reminisces on all the things that got him there and enjoys that moment.
He's exhausted, he's excited, he's relieved and he's thankful.
That's where I'm @ right now… my "victory lap".  I've started working on my last kj52 album/book under this title, its a collection of stories as I look back on my life and career coupled with an album of songs inspired by those chapters (literally) of my life.
I've never asked this before but if my life, music, career, friendship or words have touched your life could you please repay that by supporting my final kj52 album/book @ www.kj52book.com? 
I'll have more updates over the next couple of weeks (and a more in depth explanation behind this move) but any help right now would be massive..  I have 30 days to complete this crowd fund and every bit helps.  
ps (this doesn't mean I'm quitting music..)
For maybe about 80 or 90 percent of my 30 years on earth and counting; I haven't had even the slightest inkling to listen to rap, for various reasons. I don't really know what the reason was, but I do know that there was one indeed- maybe it was an unfounded reason. However, of late, my music tastebuds have changed, and hence arise my appreciation for other genres besides pop and CCM. For me, country gets a good go of it as a genre played on iTunes; yet I reckon ever since I was wowed by artists like Lecrae and NF a few years ago, rap no longer is stigmatised by myself, now earning a well-deserved spot on my iTunes and Spotify playlists for the foreseeable future. One such rap artist that has shown me that music that isn't sung but talked really fast, has its merits; is KJ-52– real name Jonah Sorrentino.
If you want to read more about KJ, I wrote a review of Jonah Part 1 in 2017, Jonah Part 2 in 2018, KJ's Christmas album in 2018 as well, as well as KJ's album What Happened Was… in 2019, so before you check out my thoughts of KJ's final album (a studio project of 10 songs titled Victory Lap), you can take a read of those reviews aforementioned. Or you can check out KJ's Wikipedia page. But if you are a bit tired (like myself all the time, lol!) and would love the cliff-notes version of what KJ is all about, let me make it brief for you. KJ has recorded plenty of albums, guested in various compilation projects, won plenty of awards, and also received his fair share of online criticism, particularly from Eminem fans- who claimed that KJ's songs "Dear Slim" and "Dear Slim Part 2" were direct attacks on Eminem's character. However after 20 + years, KJ made the shocking announcement that he's quitting using his stage name after 2020, and though he still will continue to create music in probably a different format and genre; rap may or may not be on the cards for KJ in the coming weeks and months and years. Thus here we are. At a bittersweet moment. 10 songs separating the almost-ending and the absolute ending of KJ's career. Yet there is no need to worry or panic or feel anxious or even sad. This album is a celebration of what has occurred throughout KJ's time in the spotlight- and if we think of this final album as a 'see you later' father than a final 'goodbye' then I am positive that we will enjoy these songs all the more.
For me it took a while to fully understand the album. In some ways it still does. I've found that KJ speaks in riddles sometimes, and there have been instances where he raps too quickly for me to catch what he's saying. However with great determination and perseverance, I endured what I think is a great interpretation, and hence a solid album. "Day I Was Born" features Levi Mitchell on guest vocals and though short at just over 2 and a half minutes, we are graced to a slower tempo autobiographical track that basically recounts the reasons why KJ has become a Christian and why he chooses to lift up Jesus' name in his songs; while "Keep On Running" directs us to keep on running for Jesus and to run towards that Holder and Perfector of our faith, rather than away from Him, when things in our life aren't working out the way it should. "God Is Good" again is another laid back track music-wise, with KJ earnestly relaying to us that God is good all the time (personally I reckon it's at this song where it's the low point, as the song is extremely repetitive!); while "Summertime" is basically a song about nothing, but is extremely catchy and for that reason alone is a head banger and a BOP! "Come Alive" rounds out the first half of the project, as KJ together with Madeline Gibbs, fervently speak out KJ's testimony, and is probably one of the most personal and emotional songs he's ever done!
Kicking off the second half of Victory Lap is "Just Gets Better" with Montell Jordan. A relationship style song where KJ sings earnestly about the good qualities he sees in his wife, the track lyrically reminds me of "Jim And Pam" which KJ recorded on his previous album, and speaks about KJ unending love for his wife. "Pay Attention" and "I Got This" both bring the album back to high energetic levels, as we once again hear KJ singing about various times in his life and how trusting and believing in God through the tough times has made him grow into a stronger person overall. While the emotional title track brings a tear to my eye, as KJ delivers the most powerful song he's ever recorded, confidently letting us all know that it's time for him to close the chapter on KJ 52, and it's time to move onto something new. It's a bittersweet track, and one that hits me hard, and has persuaded me to check out KJ's discography in the coming weeks and months- because in truth I have not heard his earlier material- shame on me! Ending Victory Lap and the last KJ song ever is "My Very Last Song"- with KJ relaying to us that this is his very last song, but also that he used the philosophy of treating every song he wrote and sing as his last song- s0 as to create a memorable moment that people can be impacted by for a lifetime!
With Victory Lap unfortunately being somewhat bland and not that musically cohesive, it is the lyrics that make this album memorable in my own opinion, as we are inspired and encouraged by KJ-52's latest and last offering, to live life to the fullest, according to God's will and purpose. Even if you do not like rap, this project is a must listen for 2020. In fact, if you love music in general (how could anyone not!), then you will definitely find a song or two that you will love on Victory Lap. There's nothing really more I can say to you that could make you want to listen to the album. So I will say this- take a listen, and if you like it, that's great. If not, that's fine too. Personally, I reckon the album is great- although I will always love Dangerous as a KJ-52 album above all else. The many guest vocalists add a different dynamic (in a good way!) and I cannot wait to see what KJ does next- considering he's not doing music, at least not under his stage name, anymore! Well done KJ, can't wait for your future endeavours! Time for me to watch The Jonah Movie, don't you think?
3 songs to listen to: Come Alive, Keep On Running, Victory Lap
Score: 4/5
RIYL: Group 1 Crew, Hollyn, TobyMac, Lecrae, KB, Andy Mineo, NF