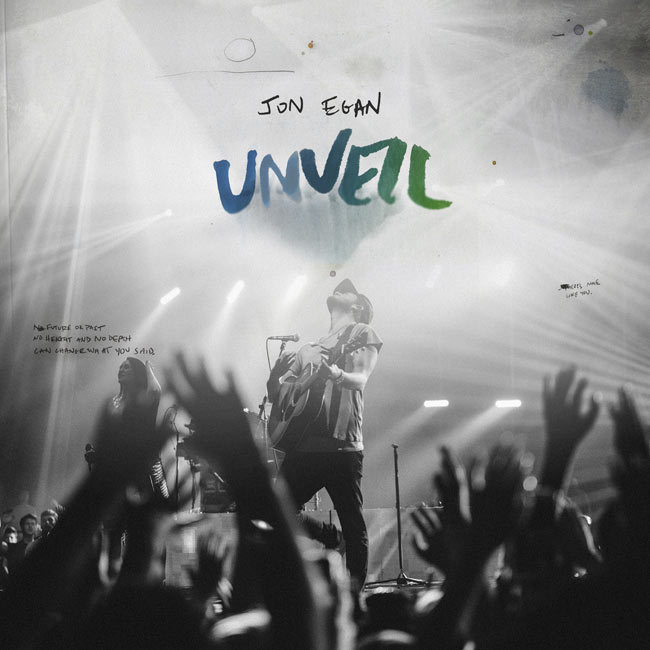 Integrity Music
Release Date: March 29th 2019
Reviewed by Joshua Andre
Jon Egan– Unveil (Amazon mp3/iTunes)
Track Listing:
The Name We're Running To
This Changes Everything"
Pure Exaltation
Unveil
Unveil (Spontaneous Prayer)
What You Said
Be Strong
Glorify (Musical Prelude/Prayer)
Glorify
Everlasting Joy
Open The Gates
Nehemiah (Stand Strong)
The Table
"…sometimes, I write what I most need to sing. Worship is often a defiant act. It becomes a weapon to declare what you know will be, even if it isn't yet… standing face-to-face with the fear and darkness but instead of describing what you see, you declare what you know, choosing faith over fear. It's the singing and declaring of that truth that lifts you out of despair…we made it live, we kept it live… much of the vocals are completely raw. It is as it happened and it's filled with ministry moments for worshipers and worship leaders alike. You're hearing real people playing and singing, real people who are in their journey of the in-between, between death and resurrection, people who are in the waiting, in the groaning. People who can help others know they are not alone and that Jesus is there…" Desperation Band, one of yesteryear's most popular and respected worship bands/movements, have recorded albums since 2001- one of the many bands that have won acclaim through their vertical worship songs. There were singles and acclaimed hits that have been covered by many CCM and worship artists, such as "I Am Free", "Here In Your Presence", "Strong God", "Magnified", and "Overcome"; though the band still remained humble and true to themselves, and grounded in their church, New Life in Colorado. Yet suddenly after the release of Banner in 2014, Desperation Band went underground. No word about anything. Now here we are, 4 and a half years later. Lead singer Jon Egan has now emerged as a solo artist; and Unveil dropped last month.
Lyrically, musically and every other way, Jon's debut album sounds every bit the same as any other Desperation Band live album (in the best way possible! – and in the same way that Crowder sounds like David Crowder*Band), however because we don't know exactly what went down during those 4 years that we had radio silence, we can't speculate the reasoning behind the split and Jon's longing to be a solo artist. Thus judgement cannot and shouldn't occur. Unveil may remind us all of what Jon could have recorded as part of Desperation Band, but all we can do is lament. In my opinion, hating on Unveil just isn't possible! Jon's passion for Jesus and heart for the gospel is unparalleled even in today's worship market; and as far as worship albums go, this album is by far the most emotional, personal, honest and impacting- yes even more so than The Work Vol. 1 and the Wait by Elias Dummer and David Leonard respectively. Standing at 13 tracks and 70 minutes; the project on the surface seems to drag, yet never once did I feel bored; and I guess if one views this album as Jon Egan's rebirth and not as a rival to what Desperation Band once was, you'd probably enjoy these songs a whole lot more. Unveil turns into more and more of a treasure every time I listen, and with an earnest melody like "The Table" closing the album, that's exactly what Unveil is- it's hopeful, inspiring, honest, and full of unbridled emotion towards the One who has made us and who holds us. Enough of me rambling, let's dive in and become reacquainted with one of today's most inspiring worship leaders!
Album opener "The Name We're Running To" kicks things off in grandiose fashion. With big booming guitars and an anthemic Passion-like atmosphere, we are invited to jump into the deep end, declaring Jesus to be the only name we're running to. As Jon cries out '…Jesus, Jesus, our strong tower, our strong tower, Jesus, Jesus, there's no one higher, there's no one higher…'; we are delivered a song that is one of the most rousing worship openers I've heard since "Open Up the Heavens" from Vertical Worship all those years ago. "This Changes Everything" follows, and is equally as explosive and inspiring. Jon majestically reiterates that Jesus is alive, hence the reason why 'this changes everything'; and I personally enjoy this track heaps more than the opener. The tempo suddenly dissipates with the keys led "Pure Exaltation", co-written with Andi Rozier and Jason Ingram, a simple yet effective worship songs that praise him for who He is, and has Jon at the top of his game vocally- a personal highlight for myself; while the title track is split into two (normal track and spontaneous free worship) and in its entirety at over 10 minutes long, is worship at its finest, rawest and most emotional. Head and shoulders above every other song on Unveil, Jon reminds us all what we all have missed from him the past few years- and though there's not much more I can say about this track without spoiling the other-worldly effect we all can receive, all I can say is that Jon's a lyrical genius and a genius worship leader, for this track at least!
"What You Said" is a piano driven pop/worship melody akin to something that could be reformatted to a radio version for K-Love, which basically has Jon highlighting to us that no matter the circumstances in our lives, nothing that happens can change what Jesus said about the promises that He has spoken over us- the truth of our existence, our purpose and meaning in life, and our calling (which should and often does bring us comfort!); while "Be Strong" is a soft guitar led ballad that epically builds to an anthemic conclusion, where we fervently relay to those who need the encouragement, that we all can be strong in our lives despite circumstances, because Jesus is with us and will be moving in our lives at all times. Time and time again in these songs from Unveil, I am reminded of Desperation Band, however Jon's exuberance and energy keeps me from wondering why he left the band and started anew; and the rest of the album cements my assertion that Jon's album is the start of a new fruitful beginning for him and for us as well!
If Jon Egan were to record a pop/CCM song with a worship slant, then "Glorify" would be the closest he'd come- with this song sure to be a hit in churches everywhere and with potential radio listeners- while Jon cleverly includes a spontaneous part both before and after the main song, adding extra depth to the track (and channelling his inner Sean Curran of Bellarive!); while Jon mixes in the influences of Rend Collective and Passion in "Everlasting Joy" to create the most CCM track of probably his entire career and a song that'd be right at home on a Passion album with Kristian Stanfill covering the track. "Open The Gates" is another upbeat poppish anthem, as Jon covers Vertical Worship to create a worthy rendition that eloquently relays to us that '…our praise awaits You with the dawn, our souls awake to You and lift a song, we've seen the things that You have done, and still, we know the best is yet to come…'; while the penultimate track "Nehemiah (Stand Strong)" channels Chris Quilala vocally, and is a soft acoustic ballad that is inspired by the story of Nehemiah in the bible, essentially outwardly proclaiming that whatever comes at us, we will never back down from the calling Jesus has give us, and we won't relent from whatever is in our hearts placed by God. Unveil ends with the Mitch Wong co-write "The Table (Love's Invitation)"- a more vivid account of the parable of the king and the wedding feast, Psalm 23, and Sidewalk Prophets' "Come To The Table"; that is if we mix the themes of all of the three bodies of work, out will pop Jon Egan's brain child that is the album closer. It's an earnest, honest and personal melody that sums up the album perfectly, that '…I have a seat at the table of the Lord, in the presence of my enemies still I rejoice, no longer an orphan, my heart belongs to Christ…'. Hallelujah indeed!
"…I hope this album helps my generation and those above me remember and helps a new generation to discover that worship can't exist outside the cries of desperate people. It's about the priesthood of all the believers raising up a song. And as worship leaders, it's our responsibility to help give people their song back…" Almost just as impacting and inspiring as Banner; Jon Egan is back to his brilliant best, with Unveil being a contender for a Dove Award this year, or next year; the vision and mission for Jon has not wavered. He still longs to win souls for the Kingdom, and with Jon's immense heart to see the Gospel being spread to every nation on earth, I'd imagine Jon's intention is to record many more albums to come. With worship ballads and pop radio tunes alike, Unveil is a smorgasbord of a worship leader's dream of diversity, with any of the 11 songs (not including the 2 spontaneous tracks) being able to be played within the church. With such emotion evoked from Jon, and relevant messages and themes being imparted to the listener, Unveil does just that- tries to peel back the veil of God, allowing us to meet in a more vulnerable and honest place with the God on the universe. One of the most musically and lyrically diverse live worship albums of this year so far; you would not go wrong with buying this album! I have certainly been touched by Jon, and you will be too!
3 songs to listen to: Unveil, Open The Gates, The Table
Score: 4.5/5
RIYL: Chris Tomlin, Hillsong United, Jesus Culture, Matt Maher, Kari Jobe, Cory Asbury, Bethel Music