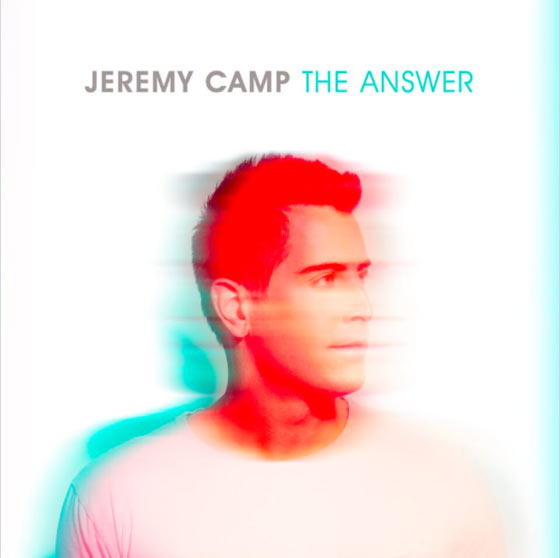 Capitol Christian Music Group
Release Date: October 6th 2017
Reviewed by: Joshua Andre
Jeremy Camp– The Answer (Amazon mp3/iTunes)
Track Listing:
Word Of Life
My Defender
The Answer
Storm
My Father's Arms
Never Stop Loving
Tell The Whole World
Heaven's Shore (Forevermore)
Carriers
Love So Great
Awake O Sleeper
"…I can't wait for everyone to hear these songs. After all these years, it's amazing how the well to draw from never runs dry, when we rely on Him. The Lord continues to give deeper and deeper songs that speak to different seasons of life. With this new album, we're doing some things we've never done before. I'm releasing five songs with five different music videos for each song, before the album even comes out. And I'm definitely ready to play these songs live. On 'The Answer Tour' we'll be playing new songs of course but also bringing back some very early ones. It's a very exciting season…" Currently I would have to say that Jeremy Camp is one of today's most popular, respected and prolific CCM male vocalists and solo artists, alongside Matthew West, Steven Curtis Chapman, Danny Gokey, TobyMac, and Brandon Heath, in my humble opinion. Having lost his first wife in 2001 to ovarian cancer, and later on the death of his child through a miscarriage with his second wife  Adie Camp; Jeremy hasn't had the easiest road to stardom. But like Jesus being faithful to those who trust in His promises, He continues to shine His face on Jeremy. And just this week, probably one of the most anticipated albums to release this back half of 2017, Jeremy's The Answer has finally dropped. While we have reviewed singles "Word Of Life" and "My Defender", let me just say this before we get stuck into examining and analysing these heartfelt and inspiring 11 tracks.
And that is that Jeremy, for all intents and purposes, is a musician that has changed genres, so subtly across the many years that we as listeners probably would not have noticed it until we listen to Stay– his debut 2002 album; and then The Answer recorded 15 years later. Throughout those 15 years, Jeremy has grown in leaps and bounds in his faith in God, and I guess it's very unrealistic to expect him to stay the same musically. Previously within the genre of rock (on Stay and Restored) then transitioning to pop/rock and worship, and CCM (although there were moments in Speaking Louder Than Before, Reckless and I Will Follow that harkened back to his rock roots); there are many, including my brother who were disappointed by the lack of originality in the latest single "Word Of Life". Yet surprisingly the remaining of the ten songs on The Answer more than make up for the lacklustre first single, so let us see what Jeremy has in store for us.
If you haven't read Jon's review of "Word Of Life", let me break it down for you a bit, because I concur with everything Jon is saying. Despite a catchy beat, with the song driven by driving bass and inspiring guitars, reminding us all that Jesus is the word of life, and that '…the old has gone away, only Your love remains, I am alive today, 'cause You called me out…', the song didn't grab me like previous first singles from Jeremy, such as "I Still Believe" (Stay), "Take You Back" (Restored), "Tonight" (Beyond Measure), and "There Will Be A Day" (Speaking Louder Than Before), and lacked a certain punch, even though single-wise, it ticked all of the right boxes musically and lyrically. On the flipside though, I enjoyed "My Defender" far better, and you can read the extensive review of the single here. But for those who are lazy (maybe that's most of us!), I can give a quick summary- "My Defender", unlike "Word Of Life", does have a trademark Jeremy Camp sound throughout, in my opinion, a sound that makes this track head and shoulder above "Word Of Life" in terms of my enjoyment of it. Though it may not be the trademark sound die-hard Jeremy Camp enthusiasts are longing for, as "My Defender" is heavily rooted in vertical worship. And although that may throw off some die-hard Jeremy Camp rock fans, let me reassure you all, that "My Defender" is a solid track that has me singing along long after the track has finished playing. It's a bit cliché musically and somewhat repetitive lyrically, but I know that this song could not be sung by any other person except for Jeremy Camp (particularly in the chorus, where Jeremy emphatically belts out '…You're my defender, You fight for me, I will remember, You're all I need, You are my healer, my remedy against the power of the unknown, and I will not stand alone 'cause You're my defender…', eloquently reminding us of God's eternal and faithful qualities).
Probably the only other 'weak' point of the album, apart from the album's lead single, is the title track, led by piano, which is also near the front end of the album. Lyrically, Jeremy doesn't put a foot wrong here, as he inspires and encourages us by declaring that He knows who the answer is, and that the answer to all of life's questions is Jesus, however the execution of such a mind-boggling concept leaves much to be desired. CCM to the max (yes, probably the most CCM Jeremy has ever recorded in his entire career!), the title track is indeed catchy, but after the 3 minutes, it's easily forgettable, and reminds me of a great 3 minutes to escape our problems, but with no lasting impression as well. It's sad, because Jeremy has put his heart and soul into this song, evidenced by Ed Cash co-writing with him, and also as Jeremy belts out '… for every heart that's breaking, for every soul that's shaking, for every sickness, there's healing in Your hands, let every heart awaken, to see it's You who saves us, You are my help and the rock on which I stand…'. However some songs just don't click (but for others, this track may!), and it so happens to be "The Answer".
Yet in my opinion, the album only goes up and up from here. The eclectic, vibrant and enthusiastic worshipful "Storm" employs water imagery, as Jeremy uses simple lyrics, and crafts a near flawless masterpiece, conveying to us that the ways Jesus can invade our lives, and better them, can be as dramatic as a storm and a tidal wave. As Jeremy cries out '…wave after wave, grace after grace, come have Your way…', I can't help but fervently sing together in unison with Jeremy also. While the mid tempo guitar led 3 minute ballad "My Father's Arms", co-written with Ed and Scott Cash, is also a winner, as Jeremy honestly and emotionally brings for the notion of Jesus holding us at all times, that '….my Father's arms are wider than the sea, and I'm standing on the shores of majesty, no matter how far I run, I can never outrun His love, my Father's arms are holding me…'; and the piano led mysterious and haunting reflective, yet nonetheless catchy melody "Never Stopped Loving" thematically has influences from Jesus Culture's "One Thing Remains", as Jeremy flawlessly relays to us that '…when I have gone astray, how You would chase me, how You would chase me, when I was so afraid, You would embrace me, You would embrace me, You never stopped loving, You never stopped loving me…'; the ever present truth that Jesus loves us now and forever, no matter our circumstances and our opinion towards Him.
Acoustic guitar prominent happy go-lucky joyful and bouncy "Tell The Whole World" is something Sanctus Real, Tenth Avenue North or Rend Collective would record, and that's in a good way, as we are treated to a celebratory tune that encourages us to actively go out into the world to share our faith and the reason why we are alive and still breathing; with the pinnacle of the album "Heaven's Shore (Forevermore)", co-written with Adam Cappa, is probably my favourite song from Jeremy Camp, since "My God" from Reckless and "Healing Hand Of God" from Speaking Louder Than Before. Vividly describing heaven and what it may look like, so that we can be eagerly anticipating Jesus' arrival and our ascension into where we will be with Jesus forevermore, Jeremy's attempt at writing a hymn-like melody with an anthemic atmosphere, and hopefully lasting value of 10+ or maybe 20+ years, in my opinion is very successful.
After 8 tracks of 'pop and ballad' Jeremy Camp, sprinkled with a bit of 'worship' for good measure, the last few tracks features Jeremy doing something new once again, musically and stylistically. "Carriers" is permeated with electronics and a dance filled atmosphere, as Jeremy passionately places the mantle onto us of being carriers of the love of Jesus, and showing it overtly or covertly to the world in the things we say and actions we undertake (it's unusual for us to hear what I think is the hammered dulcimer here, but it works!); while "Love So Great" is the closest rock song we would ever get from Jeremy nowadays. Co-written with Seth Mosley, this head banging explosive, toe tapping anthem of celebration, reiterating that we cannot as Christians contain the love of Jesus He has for us, and us for Him, so much so that we would as an outpouring overflow that love onto everyone we meet; segues into the final song on the album, "Awake O Sleeper", the most musically daring song of Jeremy's career I think, at this point. I would not even think in my right mind that Jeremy would sing a southern gospel/rock tune, but the album ender proves me wrong, with a Crowder ("Chains") mixed with Unspoken ("Bury The Workmen") type of feel. Though it's a strange way to end the album (I would have ended the album with "Heaven's Shore" but that's just my opinion), but on the whole, save for a few missteps ("Word Of Life" and the title track), The Answer is a solid outing from Jeremy, and a release that should have us all eagerly waiting the day when he releases a full on rock album…because I reckon it is coming sooner than we all think!
Jeremy Camp has come a long way since recording Stay 15 years ago. But for those of you who are not fans of his music anymore because of the gradual but nevertheless evident move away from his original genre, let me remind you all that The Answer should at least whet your appetite for something more rockier in the future. Yet what if Jeremy decides that 'full on rock songs' aren't for him anymore? What then? My point is (and I'm guilty of this as well!) that we crucify artists as much as we praise them, when they seem to make a mistake, when they do not reach the standards we make for them, when it's really something else entirely, when the 'mistake' is in fact intentional. So before I sign and let you all debate about Jeremy's musical direction, and lament about other artists whom you feel are 'selling out' like The Afters, Hawk Nelson, Sanctus Real and Kutless; let me ask you this? If Jeremy does decide to do worship or CCM full time and never go back to rock, are you going to demand that he must return to his roots, even if he feels God moving him elsewhere musically? Maybe we should all listen to (and maybe re-listen to) The Answer before we make a quick judgement!
3 songs to listen to: My Defender, Never Stopped Loving, Heaven's Shore
Score: 4/5
RIYL: Tenth Avenue North, Building 429, Sanctus Real, Hawk Nelson, Newsboys, Kutless