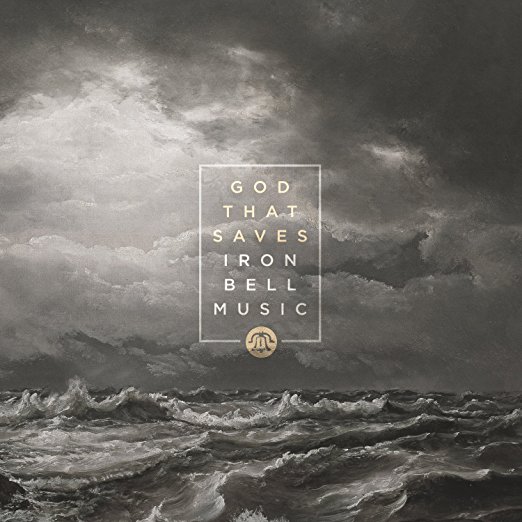 Essential Worship
Release Date: May 19th 2017
Reviewed by: Joshua Andre
Iron Bell Music– God That Saves (Amazon mp3/iTunes)
Track Listing:
God That Saves
Your Love Is A Fortress
Belong To You
My Confidence
Fall Away
Faithfulness
Burn For You
On And On
Sons And Daughters
Free In You
Your Face Is Beautiful
Releasing their debut album God that Saves a couple of weeks ago, Iron Bell Music is an inspiring worship group based out of Louisville Kentucky. Really, I hear you say, another worship group, don't we have enough of those already? And yeah, that's definitely true, I hear your frustrations. We have all of the incarnations of Hillsong, along with Jesus Culture, Bethel Music, Planetshakers, Desperation Band, All Sons And Daughters, Elevation Worship, Vertical Church Band, Mosaic MSC, Worship Central, Soul Survivor…you get my picture, the list goes on and on. I've only just listed the bands! Not the solo artists- I won't though… The main point here is that while some listeners and critics may not even give Iron Bell Music a chance, in the sense that they could easily be classified as  another worship band adding not much variety and uniqueness to the whole worship experience; what these guys have done in their debut is commendable at least, given the tough niche market. Though no doubt, lead singer Stephen McWhirter and his bandmates aren't necessarily concerned or fussed with accolades, sales, and how many listeners appreciate their simple yet highly effective music. So the result of this debut album is 11 songs of raw unbridled passion and earnest praise to our Lord and Saviour. Is it original and groundbreaking in the worship genre? No it isn't! But is God That Saves at least enjoyable and worth many listens before the year ends? Of course it is! So let's dive in a see what makes this album so special.
For one thing, there's no fancy instruments and plenty of repetition and spontaneous worship, in almost all the songs. If you listen to Iron Bell Music expecting to hear Rend Collective style music, then you would be disappointed- you'd probably be happier if you expect music similar Chris Tomlin or Matt Redman. Well now that we've got that out of the way… the album opener and title track kicks off proceedings with an honest declaration that '…You are that God that saves, You are the One that rescues me, and You rescue me, ohh-oh, You are the God that saves, and You called me from the grave…'. As Stephen and co. ardently cry out and proclaim across vibrant electric guitars and captivating synth that Jesus is the Lord of all and is worthy to be praised, I am immediately amazed at the ease at which the band sing this song- for a debut single it sounds very professional, sounding like they're veterans. Kudos to the band for a thoroughly enjoyable first single, and one that should be sung in churches everywhere on Sunday mornings in the near future.
The rest of the heartfelt and personal melodies are solid, yet also unassuming. They don't really stand out like how I expected, yet I guess that's not the main point of each song, as Stephen and the band point their songs to Jesus. "Your Love Is A Fortress" is an honest, emphatic reiteration that Jesus Christ is the fortress, our rock that we are standing on, that we are relying on, so that we can live life knowing that He has it all together in the palm of our hands. Encouraging us that '…You can hold this ground before me in the face of a thousand armies…', this second strong melody segues into probably the most CCM-esque melody of the album. Driven by exquisite synth and keys, Stephen ardently reiterates that we belong to Jesus, and nothing we can say or do can separate us from Jesus' love, nor change the fact that we're sons and daughters of the Lord Most High. It's a simple song lyrically, but it's here that the passion of Stephen shines through- it's obvious on this track how much he loves Jesus and wants to make His name famous.
Equally captivating, enthralling and inspiring is the reflective and contemplative ballad "My Confidence", where Stephen sings across vibrant keys, asking God to be his confidence, his strength and his everything; and also the prayerful piano led ballad "Fall Away", where Stephen asks God to '…come and fill this room, anything apart from You, let it fall away, let it fall away, if it's not what You want to do, anything apart from You, let it fall away, let it fall away…'. Both songs aren't highlights per se- they're not big and grandiose, nor do they have crescendos worthy of soundtracks or orchestras; yet both melodies fulfil their purpose in personal and corporate worship, as Stephen invites us all to experience the love of Jesus a bit more and commune in deeper relationship with Him!
"Faithfulness", a beautiful, haunting and mysterious update and modern version of the timeless hymn "Great Is Thy Faithfulness", has Stephen eloquently highlighting the fact that '…from age to age the same, Your mercy never changes, Your joy it is my strength, Your goodness never changes…', while the acoustic guitar and strings led mid-tempo ballad "Burn For You" is slightly repetitive in the chorus, yet is nonetheless catchy, as Stephen mentions that he wants to glorify the name of Jesus and burn for Jesus, pointing to Jesus through every aspect of his life. Yet another hymn like anthem is also featured on God That Saves, with "On And On" being an album highlight, as Stephen fervently reiterates unashamedly that Jesus' love goes on and on forever, that it never ends, and '…Your love is light when all is dark, it lifts the shadows from my heart, Your love is strong but never boasts, yet bore all sin upon the cross…'. Though there's nothing much here that should make this song stand out amongst the rest, I find "On And On" to be very superior, maybe it is due to the simplicity and the focus being on Jesus rather than anything else.
With guitar led mid-tempo ballad "Sons And Daughters" being sung from God's perspective, with Stephen sounding eerily like Dan Haseltine from Jars Of Clay, ardently reiterating and declaring that '…you are My child and I am your Father, spend time with Me, My sons and daughters, I whisper "I love you" and it rings forever, drink of my love, 'cause nothing is better…', that there is no length God wouldn't go for us, because He loves each of us an infinite amount (which is baffling and unfathomable, yet nevertheless true!); and "Free In You" being a celebratory, joyous hand clapping, feet stomping, cheerful, bouncy guitar led pop/folk melody with the band reminding us that we are indeed free in Jesus, that nothing we do can change that freedom; God That Saves ends with the part spontaneous free worship "Your Face Is Beautiful",, which recounts God's face as being…you guessed it- beautiful '…like a thousand oceans, like a thousand sunsets…'. Though not lyrically creative, this melody is indeed fitting as the album closer, given that it is ardent praise to God with no reservations, as we lift our hands in total adoration to our Lord and King.
God That Saves from Iron Bell Music, though not that flash and engaging (in the sense of CCM/pop!) is nonetheless needed in the worship genre, as their focus is on Jesus. With most of the tracks being ballads, it's a far cry from the grandiose and bigness of other worship movements such as Passion, however I reckon this overall change of pace is rather refreshing. Though it remains to be seen whether their second album follows the trend of this one or not. Worthy of plenty more listens before the year finishes, God That Saves is definitely one of the top worship releases of 2017 so far. You should listen to this one…even though the front half is weaker than the near flawless back half of the album!
3 songs to listen to: Belong To You, Faithfulness, On and On
Score: 4/5
RIYL: The Neverclaim, Planetshakers, Hillsong UNITED, Phil Wickham, Matt Maher, Jesus Culture