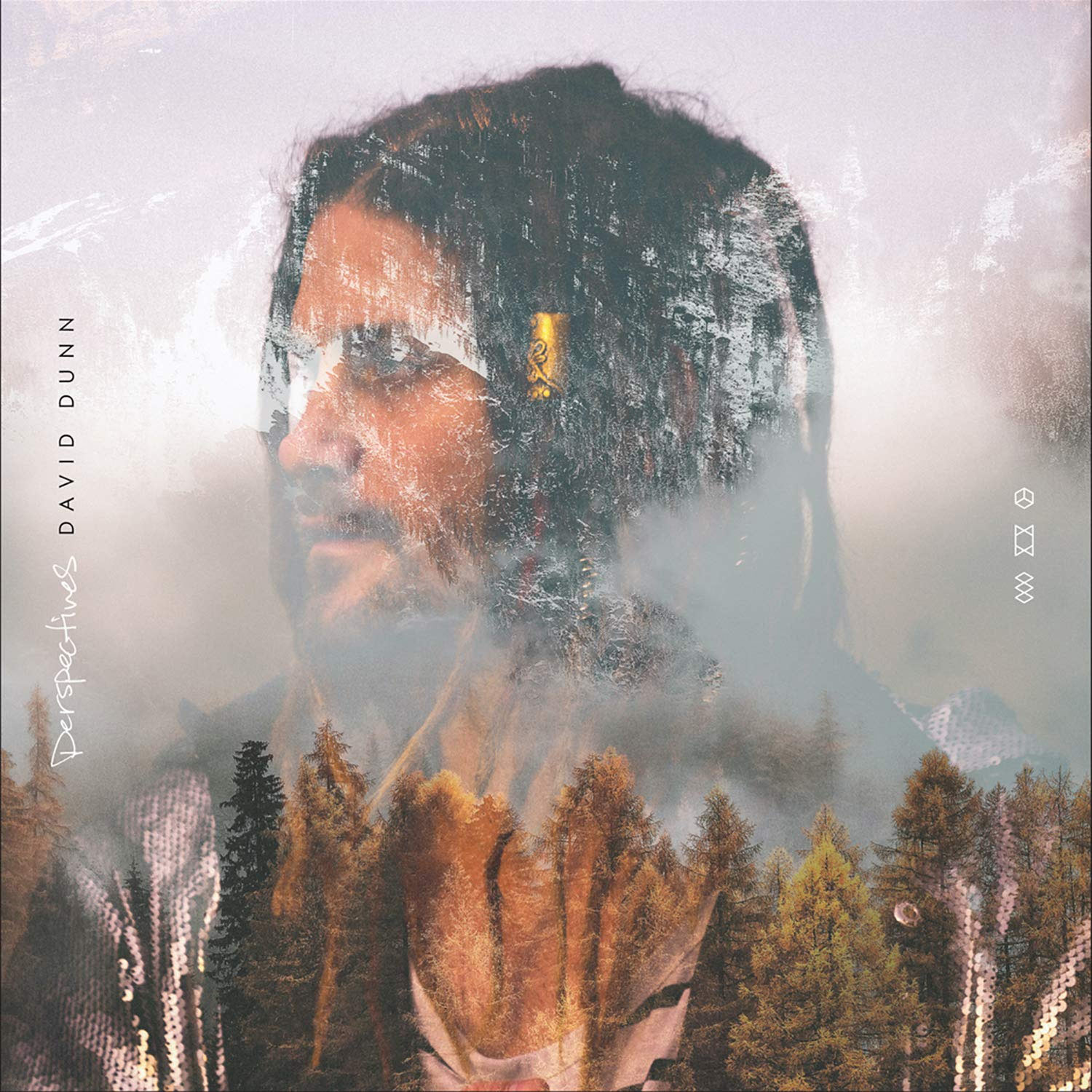 BEC Recordings
Release Date: March 27th 2020
Reviewed by: Joshua Andre
David Dunn– Perspectives (Amazon mp3/iTunes)
Track Listing:
Starting Now
Spend a Life
The Human Condition
Arrow
Church
Interruption
Perspectives
Anxiety (feat. Aaron Cole)
Yes & No
Feel Again
2nd Grade
Signed to BEC Recordings in 2014 and releasing both his first label EP in July 2014 and his full-length album Crystal Clear in July 2015; David Dunn, with vocal similarities to artists such as Kevin Max, Marc Martel, Abandon and Matthew West, unveiled a debut project certain to be enjoyed and cherished by many of his previous fans. With BEC Recordings home to artists like Kutless, All Things New, London Gatch, Disciple, River Valley Worship, The Royal Royal, Tasha Layton, 7eventh Time Down and Matty Mullins to name a few; David's introduction firmed up a line-up that is probably one of the most underrated Christian labels in recent times. With David previously releasing the smash hit single "I Wanna Go Back" in 2016, followed by the sophomore album Yellow Balloons; we were met with 10 songs of vulnerability and true surrender to our Almighty Father and our Saviour. Fast forward to now, and it's time again for David to drop something new. Enter in his 3rd album Perspectives, in my opinion his most vulnerable and honest yet, as David examines humanity's flaws as well as God's unending faithfulness. If you've never heard of David Dunn before, well Perspectives is the best place to start!
A look down the track list reveals a few familiar tunes. David's lead single from this album is "Spend A Life", and on the surface is a pop ditty, but on deeper examination is a heartfelt, earnest, and confronting melody certain to start a conversation on the quality of life we are each living. And the heart of the song can basically be summed up by some valuable insight from David himself: "…I wrote "Spend A Life" because I had a kid. For the first time in my life, a timer started, and it was counting down the seconds I had left to raise my kid. An 18 year (or less) timer where my moment by moment decisions would affect my tiny human's existence dramatically. And that got me thinking about the macro perspective of life. Everyone has a ticking clock from the moment they're born, and some day that timer is going to go off…and then that's it. That's all you get. No resets or 5-minute snoozes – it's done. And that will have been all the chance you got make a difference in the world around you. That was it. The sudden flash in the pan, that mist of vapor in the air we call "being alive". So the point of the song is this: Time is our most valuable resource, so let's not spend it like it's cheap…"  How is the quality of life we are living compared to the time we have left on this earth, and also compared with the things we are doing from day to day versus the things we find to be the most important in this world? Wow…that's a mouthful, and a lot to digest, but essentially, "Spend A Life" is us wrapping our heads around all of those questions, and trying to make sense of the notion that we do actually only have one life (before we either meet Jesus or we don't!). So as David reiterates in the chorus, let us remember that our life is actually not our own, but what God gives us. So our time is precious…and let us not waste our life, but live it with the people who really matter. Let us in fact remember that '…all I have is what You gave, watching seconds turn to days, I was made for more than just to watch it fly, a few more turns around the sun, could be hundreds, could be one, show me how to spend the treasure of my time, show me how to spend a life…'.
"The Human Condition" is the next single from David, and seems like an electronic remix-y bag of chaos; yet a look deeper reveals a lyrically deep melody, and a heartfelt, earnest, and confronting song about how we react as humans in the decisions we all face every day and why we do what we do. And as David has earnestly outlined, he was mad when a woman was driving recklessly, and then he displayed some anger that was regrettable in hindsight: "…This song was born because I got flipped off by a woman in traffic. Made me furious because she was breaking the law. I laid on the horn and inwardly fumed…all that day I couldn't stop thinking about it… here's what I came to: that lady has her own story. A reason, or years of reasons, WHY she does what she does. And i'll probably never know that story, but i need to remember it EXISTS. Because when i remember that there IS a story, it's much easier to give grace, love freely, and be kind to people like the lady with the finger…and if I can choose kindness, there's a chance I can become a positive part of that story…" Now before you all gasp in shock and wonder how David displayed some humanity when he's supposed to be a singer, an entertainer, and in the public eye, let me tell you something that will flip everything you know upside down. And that is that even famous people are susceptible to emotions every once in a while. That's the undeniable truth. Every one of us goes through days like what David has described, where we let our emotions get the better of us, and it just proves that we're human. But it's in these moments where we need to turn to God and ask Him to keep ourselves in check and accountable. In the moments when we want to scream and shout and hurl insults at the other person, let us call on Jesus to change the narrative of the human condition. It doesn't have to be the norm when we tear people down, because Jesus goes above every preconceived notion of what society deems to be normal. And that's freeing and refreshing…so kudos to David for creating a track that's needed in an emotions-driven world!
"Yes And No" is another 'promotional single' that was released prior to Perspectives by David, and while not as hard hitting as "Spend A Life" or "The Human Condition", is nonetheless compelling, as this laid back pop tune relays to us that as much as we want God to say 'yes' to all of our questions and demands (as in turn Him into a personal slave or a genie!), the fact of the matter is that He says 'yes' and 'no' depending on the bigger picture of His plan that He is painting, which we can't see yet. Similar in theme to "God Is God" from Steven Curtis Chapman, "Yes and No" peels back the layers of our longings, wants and needs from God, as we examine whether we can and should trust our Father, Healer and Protector, even when things do become pear-shaped in our own opinion. In a situation like COVID-19 where we all have absolutely no control, "Yes And No" is a reminder that we can trust the One who is. "Starting Now" is the last familiar track on this album, and is David's first official single promoting Perspectives. Radio friendly and CCM/pop in nature, thematically we are met with the spiritual sequel to "Yes And No", as David wrestles with questions and doubt and confusion, highlighting to us that even in the midst of trials and tribulation, he chooses to place his trust and faith in Jesus, that '…starting now, I'm gonna trust when I have doubts, don't have to have it figured out, Father, Father, Father, Father, maybe that's what faith's about…'. One of my favourite tracks from David Dunn ever (since "I Wanna Go Back"); "Starting Now" is a melody which I'm sure well inspire many and bring hope to the hopeless that there is someone that we can trust, and that someone is Jesus!
The rest of the album is just as powerful, inspiring and encouraging as the previous 4 tracks that were released before the album release. Potential radio single "Arrow" is a 3 minute danceable pop melody; but more than that- it's an encouraging compelling tune about letting Jesus take the wheel of our lives, and letting Jesus take control, so that the 'arrow' in the 'compass' of our hearts points directly to Him as the answer to everything. "Church" is as confronting as they come- an electronic musically experimental track that lyrically calls out all of the churches that have their theology all wrong. Jesus has said numerous times in the Bible that the church is believers meeting together having fellowship. Church isn't the building, like how sometimes these days it's portrayed to be, and David confronts this paradigm head on in this song- probably not the most popular track but definitely one of the most needed songs today. "Interruption" then dives deep into our love of being comfortable, and our need to make our life as easy as possible, with David arguing that we all need to let Jesus 'interrupt' our daily grind and the things that are on the surface good for us but not (similar in theme to "Kingdom Of Comfort" by Delirious?); while the emphatic title track once again circles back to the theme of trust, as David wonders whether we should place our trust in the Almighty simply because He has a greater perspective than us, as '…You see it all like it's in slow motion, I see a drop and think I've seen the ocean, You hold the world but I can't hold my own emotions, maybe I should trust You, You hold it all…'.
David Dunn then delivers to us probably the most powerful song on the album with "Anxiety", a stirring collaboration with rapper Aaron Cole. As David narrows in on his greatest fear of anxiety gripping a hold of him and making him to be less of what he could be and what God wants him to be, that raw emotion and honesty translates extremely well here, as Aaron once again shows off his rapping skills and delivers a knockout performance- he is truly one of today's greatest rappers at the moment, in both Christian and mainstream markets!
"Feel Again", the penultimate track, is probably where David is at his most vulnerable, as he highlights to us the scary notion of not being able to feel and experience human emotions properly, and the events leading up to that realisation, as well as the now active decision of David wanting to feel again and what that looks like; while Perspectives ends with the reflective and introspective "2nd Grade", where David recounts his journey of falling in love- giving us three instances (with the same girl? Or maybe different…) where he poured his heart out on his sleeve, reminding us all that we need to go after they things we want, we need to take a step of faith or else they probably aren't going to happen.
And as David Dunn has presented us with a stellar debut album and an exquisite sophomore album, both containing inspiring and powerful melodies such as the powerful hit singles "Today is Beautiful", "Have Everything", "Ready to be Myself", "I Wanna Go Back", "Grace Will Lead Me Home" and "Masterpiece"; David has once again poured out his heart and soul into his 3rd studio album Perspectives. With David's singles "Spend A Life", "The Human Condition" and "Starting Now" surely set to be on rotation on radio for a sustained period of time; David's emotion and unequivocal passion for Jesus is sure to be infectious and contagious. In my opinion, BEC Recordings have definitely signed a fine artist that'll only enhance their artist roster even more, and I'm sure whatever David comes up with next will be more than worth the wait; so well done David for such an inspiring and hopeful collection of new songs; "Starting Now" right now is one of my favourite songs of the year thus far!
3 songs to listen to: Starting Now, Church, Anxiety
Score: 4/5
RIYL: Sanctus Real, Tenth Avenue North, The Afters, Building 429, Matthew West, MercyMe