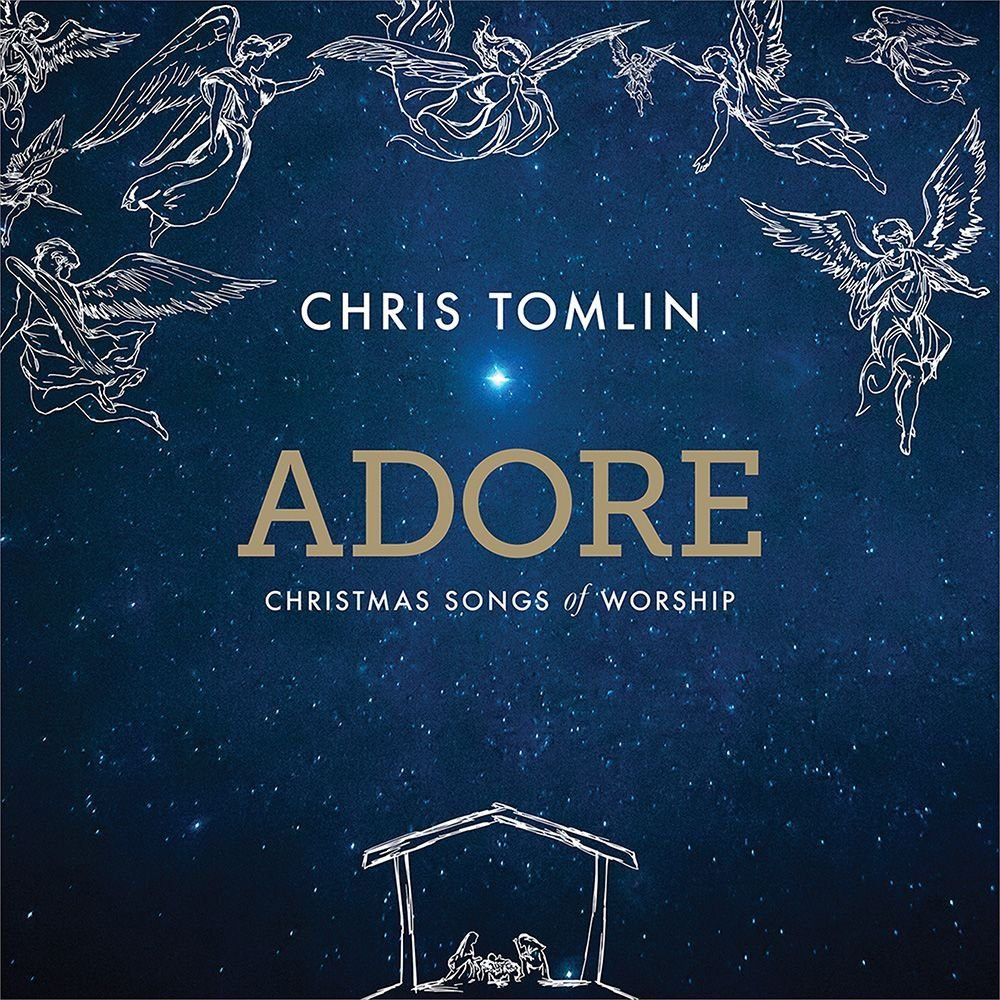 Sparrow Records
Release Date: October 23rd 2015
Reviewed by: Joshua Andre
Chris Tomlin– Adore (Amazon mp3/iTunes)
Track Listing:
He Shall Reign Forevermore
Adore
Midnight Clear (Love Song)
Noel (feat. Lauren Daigle)
Hymn of Joy
Silent Night (feat. Kristyn Getty)
What Child Is This? (feat. All Sons and Daughters)
It's Christmas (medley)
A King Like This
Bethlehem
A Christmas Alleluia (feat. Lauren Daigle and Leslie Jordan)
Known amongst critics and listeners as possibly the pioneer of modern worship music, Chris Tomlin has penned probably some of the most meaningful and sought after (by the church) worship melodies. Songs like "Forever", "We Fall Down", "The Wonderful Cross", "How Great Is Our God", "Our God", "Amazing Grace My Chains Are Gone", "Indescribable", "Holy Is The Lord", "Famous One", "Enough", "Jesus Messiah", "I Will Rise", "I Lift My Hands", "God's Great Dance Floor", "Whom Shall I Fear?", "Jesus Loves Me" and "Waterfall" are just a snapshot of some of his most famous and popular hits around the world. When one hears a Chris Tomlin song, guaranteed sound and biblical lyrics are front and centre, as well as an inspiring message and a Holy Spirit infused melody. So when I heard that Chris was releasing a follow-up Christmas album this year titled Adore, a sequel of sorts to the 2009 project Glory In The Highest; I immediately became excited and eagerly anticipated release day. See I love Chris Tomlin's music- to tell you the truth I can't get enough of it. But other listeners may have their other personal preferences, and may like other genres. And that's ok. But  while we are indeed on the topic of Christmas albums (you can read reviews of Christmas albums from Danny Gokey, Laura Story, MercyMe, Paul Baloche, Copperlily and Brad + Rebekah all here!), let's just delve into this live worship experience, and immerse ourselves in Chris' unique brand of Christmas worship, as he (as well as some friends!) offers up old favourites, newer soon-to-be favourites as well as all original tunes that will leave us praising Jesus for everything He's done for us!
A look and listen through the track list reveals quite a number of all original material, or carols with added choruses or reworked lyrics. Is that a hindrance or an enhancement? "Silent Night" and "What Child Is This" are the lone representations of more structured and less altered Christmas carols, and each of these renditions are beautifully recorded and sung, partly due to the harmonies Chris has with each of his guest vocals Kristyn Getty and All Sons And Daughters respectively. Starting off with soft piano and a reflective, contemplative worshipful atmosphere, Chris and Kristyn trade vocals seamlessly in "Silent Night" as we are eloquently reminded that Jesus is the '…son of God, love's pure light, radiant beams from thy holy face, with the dawn of redeeming grace…'; while the acoustic guitar led sombre yet hopeful "What Child Is This" preserves the originality of the melody, as Chris and All Sons And Daughters add their own worshipful flavour to the song. Declaring that we can '…raise, raise a song on high, the virgin sings her lullaby, joy, joy for Christ is born, the Babe, the son of Mary…', we are transported into the presence of God as we passionately worship and sing out His goodness for all eternity!
Though I would have liked to see Chris sing well known carols such as "O Holy Night", "We Three Kings", "Little Drummer Boy" and "Do You Hear What I Hear?", the remainder 9 original melodies or reworked carols as still a sight to behold and marvel. The album opener, the piano and guitar led mid tempo ballad "He Shall Reign Forevermore", has Chris singing from the points of view of various people changed first hand from the birth of Jesus (the wise men, the shepherds), while coming to the conclusion that '…He shall reign forevermore, forevermore, unto us a child is born, the King of kings and Lord of lords…', a proclamation that is something we all can assert with confidence and authority, as this song is sure to go global in the coming years. While the ever true soft acoustic guitar ballad that is the title track is another melody that could be sung all year round, as Chris fervently gives God the praise, reiterating that he adores Jesus, that we should worship God with our everything and '…let all that is within us, adore, angels sing, praises ring to the newborn King, peace on earth, here with us, joy awakening, at your feet we fall…'.
A more lesser known carol is "It Came Upon A Midnight Clear", and prior to listening to Chris' rendition, the only version I had heard was from Kutless. Yet this vivid depiction of Jesus' birth, replaying that He was born just after midnight, is a sublime offering here, as Chris majestically turns a simple song into an epic orchestral piece, complete with a new chorus highlighting that there is '…good news, great joy for all, melody breaks through the silence, Christ, the Savior is born!…'. While yet another original, "Noel", is entirely sung by Dove Award winner and new artist Lauren Daigle. Brilliantly led by stirring keys and a powerful assertion that Jesus is Noel, that He is '…the story of amazing love, the light of the world, given for us…', Lauren ardently reminds us that we ought to praise God in every moment that we can, because of everything He's done for us; and vocally delivers one of her most vibrant and multifaceted performances yet. Chris then comes back to provide hope in the reworked hymn "Hymn For Joy", a newly written chorus combined with the song "Joyful, Joyful We Adore Thee". Led by the keys, Chris's rendition does the hymn justice, while still updating it for a modern audience.
Stepping out of his comfort zone musically, Chris suddenly in the middle of the album employs jazz and gospel in a medley of sorts "It's Christmas", of "Away In A Manger" and "Go Tell It On The Mountain". Reminding us that it's Christmas, and that's reason enough to praise God, because He was born; this unique and different song is sure to get all the fans of Chris, as well as non-fans, talking. Surely that's predominately a good thing, right? While Chris goes deep theologically and lyrically in the piano led ballad "A King Like This", reminding us that while Jesus is indeed King, everything He did on this earth, and everything He did in making Himself lowly (laying in a manger, dying on a cross, and everything in between as a teacher), is all for us, all because He loves each one of us immensely.
It's a fact that is pretty hard to grapple with, and something that is explored further in the acoustic guitar led radio friendly melody "Bethlehem". A simple yet thematically complex song, we are reminded of the fact that Jesus is sovereign, even in the first hours after birth, that even in the manger, His love for us stretched far beyond anything we could even comprehend. The added refrain of "O Little Town Of Bethlehem" is a nice addition to the song too! Yet it is the spontaneous worshipful synth led album closer "A Christmas Alleluia", featuring Lauren Daigle and Leslie Jordan from All Sons And Daughters, that capture my attention the most. Lyrically it's maybe a tad simplistic, however there's something about the song that demands to be heard. God breathed and Holy Spirit inspired, the final melody of this eclectic and musically diverse album, that praises Jesus, and imparts to us the real reason for the season; is one that I'm sure will be sung for many more years in the future.
Over the course of his ten plus years as a singer and a worship leader, Chris Tomlin has given us great and powerful songs that many churches are singing right now all around the world. And now, we are given the chance to hear Chris sing some holiday tunes, although to be fair most of these tracks are all new original tracks. With many songs from Love Ran Red, including "Jesus Loves Me", "Greater" and "At The Cross", already performing well on the radio charts, the new Christmas project Adore should be a great addition for any avid Chris Tomlin fan, and for others as well- it doesn't matter if Chris isn't exactly your favourite artists, there is enough on Adore for me to personally say that this album can appeal to a variety of listeners who enjoy worshipping Jesus, and singing about Christmas! An album to savour as well as tie us over until his next studio album, I cannot wait to hear what Chris has in store next! Well done Chris and co. for such a great worship experience. Bring on the new Passion album in 2016!
3 songs to listen to: Noel, He Shall Reign Forevermore, A Christmas Alleluia
Score: 4/5
RIYL: Crowder, Kristian Stanfill, Christy Nockels, Jesus Culture, Meredith Andrews