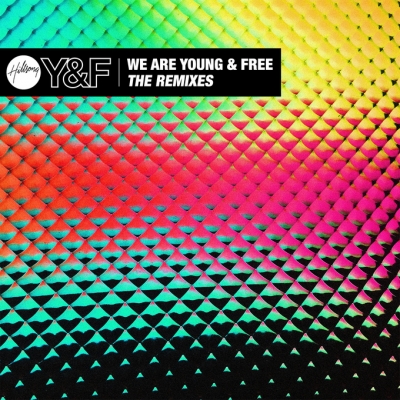 Hillsong Music Australia
Release Date: December 4th 2015
Reviewed by: Jonathan Andre
Hillsong Young and Free– We are Young and Free (Remixes) (Amazon mp3/iTunes)
Track Listing:
Alive (Remix)
Brighter (Remix)
Wake (Remix)
Back to Life (Remix)
I Surrender (Bonus Song)
This is Living (Remix) (Bonus Song)
Hillsong, in all its facets, have been a prominent force within the worship music industry, carving and shaping the landscape of how worship music has sounded like throughout the last 20 years or so. Since their introduction into church and music during the 1990s, we have been alongside them in their journey, from Hillsong Worship (formerly Hillsong Live) to Hillsong UNITED and now Hillsong Young and Free. Throughout Hillsong LIVE and UNITED, hits have sprung into life, from songs like "Salvation is Here", "Oceans", "Forever Reign", "Mighty to Save" and "From the Inside Out", to "Hosanna, "Greatness of Our God" and "Cornerstone". Now with the newest incarnation of Hillsong Young and Free showcasing us hits like "Wake", "Alive" and "Back to Life" from their debut album We are Young and Free, and "This is Living" from their new 2015 EP, Y&F have remixed their most beloved hits to showcase a 6 track setlist encompassing a greatest hits collection if you will, songs that have stood out for the listener since their inception in 2013. With their new single "Where You Are" releasing off their forthcoming sophomore album Youth Revival in February 2016, We are Young and Free: The Remixes is a must for any lover of Hillsong, remix tracks, or both.
Remix albums are tricky. As a listener, and even as a reviewer, you can either love them or hate them. Sometimes the effects may drown out the lyrics and the poignancy of the track, and other times it could enhance it maybe even 10-fold, and show us a side of the song we may never have envisaged before. And with every remix collection, there are good tracks and not so good ones- We are Young and Free: The Remixes is no different. While I thoroughly enjoyed the original studio (and live) recording of their first radio hit "Alive", and how we are reminded that we are alive in Christ, believing that nothing in this world takes the place in our hearts of our Saviour, King and Friend; this remix pales in comparison. Quickened to a pace that's almost unrecognisable, pulsating drums and vocal distortion make this song almost ear-deafening. Though I know it's not the remixers intention to make the song less palatable than what was probably intended, sad to say "Alive" is not the remix to start off the 6 song tracklist. Nevertheless, the track is interesting to say the least, and maybe, just maybe, they'll be someone else out there that may appreciate this song more than me.
"Brighter", "Wake", "This is Living" and "Back to Life", when compared to the remix of "Alive", are all on another level, in quality, production and the ability to grasp the listener and capture their attention for the duration of the tracks themselves. Each of these melodies in their original capacity speak about themes central to that of the Christian walk. "Brighter" speaks about us shining bright whenever and wherever we are as we illuminate Christ's love in whatever situation we find ourselves in, while "Wake" invites us into a space and time where we allow Christ to waken within us things that need our attention to either change or strengthen and build upon, and "Back to Life" is a realisation that God brings us back to life, sometimes even on a daily basis as we muddle through this life full of temptation and struggles, knowing full well that '…Your love it wipes every tear away You calm the storms that surround me…Your light breaks through in my darkest hour, Your love is strong in my weakness…'
"This is Living", a powerful hit from this year's EP titled This Life, gives us impetus and resolve to live fully for Christ, and while this remixed version omits the most enjoyable section of the original track, Lecrae's rap, the song nevertheless is as poignant as ever, delivering what I reckon is quite possibly my favourite song from Hillsong Young and Free so far. "Back to Life" emphasises on 80s dance nostalgia to enhance the track, while the remix of "Wake" slows down the track against a looping percussion track as we see what was a guitar driven track become something where keyboards are more prominent. The chorus and bridge of "This is Living" are swapped around in the remix, and we receive a unique studio recording of "Brighter"- previous to the remixed version, the only version of this buzzy dance number is track one on Y&F's first live album. Rounding out the 6 track EP is a studio recording of "I Surrender", a Hillsong Worship melody first recorded on the 2012 album Cornerstone. While I much prefer the live setting that was first presented through this melody instead this studio remix-y environment, the song nevertheless has become one of my favourites from Hillsong ever, not just because we used to sing it heaps at our church, but because of the theme shown in the song- the message is simple, that we surrender everything we have to Christ, as an act of worship and a reflection of who we believe God is to us, both now and into the future.
While Hillsong (in all its facets) may not necessarily be a favourite worship band of mine (I prefer Bethel or Passion more), Y&F's We are Young and Free: The Remixes is still a great EP, and one deserving to be listened to at least once before you pass judgement. A must for anyone who loves EDM and worship, or a bit of both, Hillsong's sound has been current with the years that pass, which will hopefully be a factor in bringing in a new generation of believers and unbelievers alike as they listen to music that'll hopefully change their perspective on life as we learn that '…this is living, the life I've been given is a gift, if imma live it, imma live it to death…' ("This is Living")- a lyric from the original version of "This is Living", that sadly wasn't on the remixed version. Regardless of my nick-pickings and shortcomings of the EP as a whole, Hillsong Young and Free have delivered a solid project, and fans of Hillsong, worship, and EDM will thoroughly enjoy these 6 songs. Expect Y&F to deliver enjoyable, poignant and heartfelt songs for a while yet. Kudos to the band for a successful 2015, and here's to the best yet in 2016!
3 songs to listen to: I Surrender, This is Living (Remix), Back to Life (Remix)
Score: 4/5
RIYL: Hillsong UNITED, Passion, Desperation Band, Jesus Culture, Lecrae, Press Play