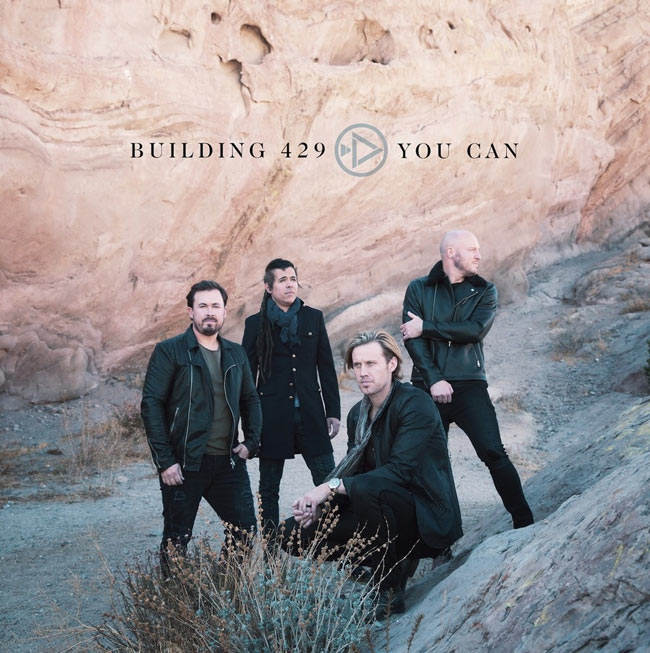 Provident Label Group
Release Date: May 18th 2018
Reviewed by: Jonathan Andre
Building 429– You Can (iTunes/Amazon mp3)
Track Listing:
You Can
'…'You Can' is a really meaningful song to us and we feel like the new video reflects that perfectly. We all have experienced moments in our lives where we need God to 'conquer the giants' in our lives but with Him, all things are possible. Often times, the thing that we see as our greatest weakness is what God uses to show his perfect strength. Our deficits are just opportunities for the world to see God do the impossible in the most unlikely of circumstances. Our prayer is that this song empowers everyone who hears it to keep the faith and know that God is for them…' Building 429, the rock quartet that have had much success in years gone by with songs like 'Listen to the Sound', 'Press On', 'Impossible', 'Unashamed', 'Glory Defined', 'No One Else Knows' and 'You Carried Me' to name a few; are back with yet another song that has been touted as one of the band's best. A radio single that will be incorporated into the track list of their forthcoming album Live The Journey slated to release in September 2018 (I'm not sure if 'This Place' is part of the album or not!), Building 429 as a whole are quite possibly one of the most innovative and reinvigorating Christian bands of the 2000s alongside Casting Crowns, MercyMe and Tenth Avenue North, developing a fanbase and a following that has transpired them to create and deliver a plethora of chart-topping songs. And now with this new song 'You Can', alongside 'This Place' that was released in early 2018, these four men from Fayetteville, NC have become one of the bands that I myself have become very excited for whenever they do release any new material. And to be honest, Building 429 have been such a band that have produced solid albums, without much fuss, and not even much recognition, when compared to other more publicised- Tenth Avenue North, Casting Crowns, Newsboys, MercyMe, Third Day, UNITED, to name a few. Releasing their albums on labels like Word Records and Fair Trade Services, it is their trio of album releases on Provident Label Group (Listen to the Sound, We Won't Be Shaken and Unashamed) that have proved the most lyrically mature from lead singer Jason Roy and the rest of the band. And so if these two new songs from Jason Roy and co. are anything what this new album Live the Journey could be, then this new album I'm sure will be one of the band's biggest hit albums of their career, maybe even as powerful and heartfelt as my all-time favourite Building 429 album ever, Listen to the Sound!
The above quote that was shown in the introduction to this review is, in effect, what 'You Can' is about. It is a reminder that we as humans can't do much, if at all. We can't, but He can. And that, in and of itself is something we ought to and should celebrate, that even if we can't undertake a certain task, for whatever reason; we know and ought to trust that He can do it for us! As 'You Can' becomes an anthem for many who declare this song over their situations, we are reminded through Jason's distinct vocals that '…I can't walk on the water, I can't stand in the fire, unless I look into Your eyes, unless I have You by my side, I can't conquer a giant or shut the mouth of a lion, I know that I am just a man but I am in Your hands and You can…' And that is ok if we can't. That all we can do is just surrender because He can. Because we were never made to do everything. Sure we can do everything but that doesn't mean we'll do everything well. It's ok to admit our own limitations, and this song, as much as it is us declaring to God that He can, it is also a song of admitting that we can't…and that is perfectly fine to say so. That in our own strength, we have no chance, but with God, we have every chance in the world.
The song itself was released a week prior to the compelling music video that was released not too long ago. While the video itself was emotional and told a story (although not necessarily one that had a happy ending), the video nevertheless tugged at our heart strings and reminded us that in dire circumstances, what we think will lack and will be a hinderance may in fact be the very thing that will spur us on to hope and endurance, even in the difficult moments of weariness and tired moments in life. Military veteran Redmond Ramos (founder of Successthroughstruggle.com and was part of the navy before stepping on an IED, allowing his leg to be amputated) was cast in this video, and though it may not have a great ending, the song and video ought to be catalysts for hope and change as we understand that often our things that hold us back can be the very things that allow us to change in the first place. As Redmond discussed, '..,working with Building 429 was simply an amazing experience that I will never forget. I felt that the story we were able to tell is something that people from all different walks of life could relate to and truly speaks to anyone on a deep level. I was able to connect with my character in a way I've never connected with a character before. From start to finish, everyone involved was on a true mission to make something special…' 'You Can' is as powerful as it is needed to be heard in society, and maybe, just maybe, this song and accompanying music video can give to us some solace and comfort that God can bright to light things within us that may not have been realised if we had not called out to Him and declared that we can't, and that's ok, because He can. Well done Jason and co. for such a compelling song, one that will certainly be a highlight on Live the Journey when it releases in September 2018!
Since debuting their label album in 2004 (and moving between three labels), the presence of Building 429 and their heartfelt songs are only going to continue with 'You Can'. And while this song can be overshadowed by the new one from for KING AND COUNTRY (joy.); the track nevertheless is as poignant as it is emotive and necessary in such a time like this. With comforting yet confronting lyrics and edgy musicianship, 'You Can' shows us a message of how God can use us as we are to further whatever purposes, and that it is ok for us to admit that we don't have the strength, because He does- He has more than enough if we know we're lacking. One of Christian music's most enthusiastic vocalists, Jason Roy and Building 429 continue to encourage us, and if their new album is as emotive and heartfelt as 'You Can', then hopefully, this new forthcoming album will be as emotive and poignant, and maybe even more so, than their 2015 album Unashamed. Well done guys for such an encouraging song, can't wait to Live the Journey, come September 2018!
Score: 4.5/5
RIYL: Crowder, Newsboys, Stellar Kart, TobyMac