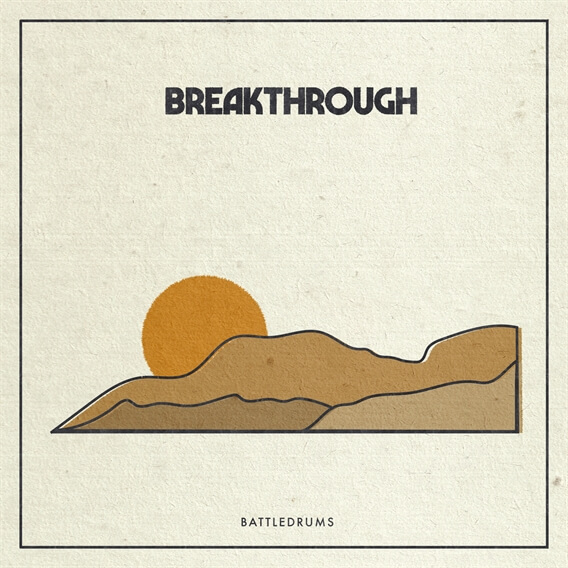 BEC Recordings
Release Date: May 3rd 2019
Reviewed by Joshua Andre
Battledrums– Breakthrough (Amazon mp3/iTunes)
Track Listing:
Breakthrough
What Are We Afraid Of?
Fall In Your Arms
Grace After Grace
Never Sleeps
Rejoice
Emmanuel
Edge Of Heaven
Satisfies
Just A Glimpse
BEC Recordings (who have gone on a signing spree over the past few years- no seriously, take a look at their site, and see which artists are new! Maybe more than half?) are back with a new artist just signed. Now one may think that adding more and more artists to the label- one of the most underrated labels in the CCM market currently- may be overkill, however Battledrums, the new worship band with a similar sound to For All Seasons- are anything but cliché and ordinary. Described as '…the worship community of Calvary Church Albuquerque, Santa Fe, and Nob Hill…', Battledrums' mission can be defined as being '…united in the wholehearted pursuit of Jesus Christ and devoted to igniting and facilitating our church's expression of worship through music. Our goal is to go before the global church and inspire the local church as we march into battle, singing the anthems that will help us to live the victorious life…'. While this definition of what the heart of the band is quite wordy (and taken verbatim from their website)- it actually is quite simple. Battledrums exists to create anthems for the church for us to declare whenever we are at war with the enemy (which is all the time!). And the group's debut album Breakthrough succeed in this vision and mission quite well, as we are provided to us 10 anthems for us to sing out whenever we feel like Jesus has deserted us and the devil has won.
Lead single and album opener "Breakthrough" released in February, and is your typical CCM pop/worship anthem on the surface- that contains easy to sing lyrics, a Passion-like atmosphere, and your signature edgy electric guitars present within the track to create depth and an extra added dimension. To some though, this track could sound weak and uninteresting. Yet my viewpoint is further from what others could think- as I reckon this worship song is one of the most inspiring worship songs of the year. With the band emphatically relaying to us the notion that as Christians, we can run to our Father who makes all things new, because '…You are the reason I am free, in every season I believe…with just one touch, You're strong enough to make new, and so I run, I come running to the breakthrough, where every fear is shattered by the one truth…'; "Breakthrough" opens our eyes to the reality that we do not have to live in fear and chains anymore- God has provided us a breakthrough in Jesus, and all we need to do is to step into that.
The band also released a second single a month later. And while "Just A Glimpse", which isn't a Rend Collective cover at all (which is a shame as that would've been an impressive rendition!), but a heartfelt and emotional original melody, doesn't pack quite the anthemic punch as "Breakthrough"; we are nonetheless presented with an impressive piano led ballad, which highlights the truth that all we actually need to truly believe that Jesus is who He says He is- is just a glimpse of His presence and His holiness, as '…You're greater, You're stronger, You bring me to my knees, You're steady, never-ending, just a glimpse is enough for me…'. The rest of the 8 tracks are all kinds of hopeful, impacting, powerful, resounding and resonating; as this new worship collective invade our hearts and bring for to us biblical truths that many of us wouldn't have delved deep into; in what is a stellar worship debut as compelling as Wildfires from Stephen Christian. Speaking of Stephen, Battledrums employs the worship leader on 4 tracks here, and while these songs in my opinion are my favourite- the other yet-to-be-named vocalists still shine under is worship and songwriter tutelage.
Is 3 and a half minutes enough to show us an 80's rock/worship infused Kevin Max/Marc Martel inspired track? Stephen certainly thinks so, as the former Amberlin frontman delivers a haunting and emotional melody in "Fall In Your Arms". Relaying to us across stirring electric guitar that he will surrender his everything to our Father because of all He's done for us, Stephen passionately invites us to worship alongside him as well, as he fervently cries out that '…when I'm hurt I will call on the healer who binds up the broken heart, when I'm weak I will hold to the promise, when I fall, let me fall in Your arms…'. While the hymn-like piano led radio friendly potential single "Grace After Grace" is also another standout- and no doubt will be given the cover treatment many times over by year's end. A prayerful declaration that Jesus' grace covers all of our mistakes, shame and everything we've done and yet to do, Stephen's affirmation of God's goodness is sure to give us all comfort in everything that we do. "Emmanuel", previously recorded by Brian Ortize, is given the cover treatment here by Stephen, and I actually like this version more than the original- with Stephen's distinctive voice winning over Brian's worshipful zeal and passion (as Brian's voice is in my opinion slightly weaker!); and "Satisfies" is where Stephen dabbles into EDM, and mostly pulls it off, relaying to us a synth driven tune about how '…nothing satisfies like Jesus…there's nothing in this life like Jesus…'.
Unfortunately, not every song here is solid gold (I guess that's to be expected in a debut project!), and "What Are We Afraid Of?", a radio friendly pop/rock song if ever there was one, is one of these tracks; which is sad as the verses are quite engaging. Yet the chorus is repetitive and uninspired, and this is where the track loses points. Thankfully, "Rejoice" makes up for this mishap, as the same anonymous singer belts out a celebratory joyous anthem, depicting how we can rejoice because of Jesus and His victory over the grave. "Never Sleeps" and "Edge Of Heaven" round out the debut project, as the former is a keys led radio friendly worship anthem describing how Jesus never sleeps and instead is invested in each of our individual lives; and the latter is a Jesus Culture/Bethel Music like track that is the pinnacle of the album (if there's only one song you listen to, this would be it!), a prayerful hope that we can stand on the edge of heaven and receive God's presence and be more like Him. Also a track that can be covered by Passion or Hillsong or Jesus Culture; Battledrums have recorded a stellar melody that is sure to draw people closer to Jesus.
I originally became interested in Battledrums because of the presence of Stephen Christian in the band. But he isn't singing every song, and for the remaining six, we are treated to another male singer and a female singer, both of whom right now are anonymous. While this may displease fans of Stephen's singing who were wishing for another band like Anberlin; I reckon anonymity right now serves Battledrums quite well- as they can focus on the songs rather than people's perception of them as singers. No doubt we'll know the identity of the rest of the individual members of the band very soon (or maybe not!)- but I reckon until that time we can sit back and enjoy everything that Battledrums has to offer. So what are you waiting for everyone? Check out Breakthrough. There's nothing much more I can say…except this needs to happen, and fast!
3 songs to listen to: Grace After Grace, Emmanuel, Edge Of Heaven
Score: 4.5/5
RIYL: Citizens & Saints, Crowder, For All Seasons, Kutless, Hillsong UNITED, Desperation Band