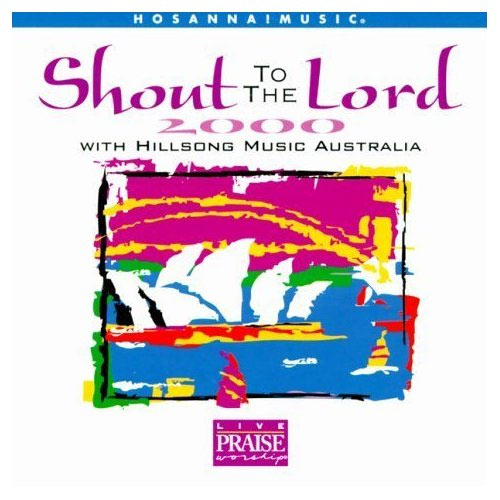 With the release of a new Hillsong Worship album, No Other Name, I thought it would be a good time to look back to an early Hillsong Worship song – "Hear Our Praises." This song comes from Hillsong's album Shout to the Lord 2000 (Hosanna Music), and was penned by worship songwriter Reuben Morgan. It's an amazing song, and I believe it's one of the first songs written that hinted at the current direction of Hillsong's songwriting.
In the 90's, Hillsong's music had the distinct ballad-y, R&B/Gospel-influenced shimmer of most of the Contemporary Christian Music (CCM) of the time. Hillsong took it a step further – they made it an even bigger sound. It was rich with massive choirs, horn sections, a gaggle of keyboard players, guitars and a megachurch full of cranked-up worshippers to build a sonic framework around the Gospel message, as they pursued the world at full speed. Well, it worked, because that amazing sound made its way to the U.S. and caught fire in contemporary worship services everywhere. The title song "Shout to the Lord" might have even made its way into a few traditional service anthem slots, with its declarative, pursuing message to the masses.
The more I listened to Shout to the Lord 2000, I found myself fast-tracking to a song at the very end of the album – "Hear Our Praises." It starts out with a lone acoustic guitar with a coaxing rhythm, made obvious as you can hear the worshippers in the background almost immediately clapping in the background, followed by the band, and they didn't miss a beat.
"May our homes be filled with dancing,
May our streets be filled with joy,
May injustice bow to Jesus,
As the people turn to pray.
From the mountains to the valleys,
Hear our praises rise to you,
From the heavens to the nations,
Hear our singing fill the air.
These are really powerful words. At a first read, you might think that painting a pretty picture is the goal, a great song to put a pretty bow on the end of a worship service, sending the people forth unto the world with a smile with thoughts of dancing, singing, and joy. The music underneath the words is driving and upbeat, and the sound seems to suggest that this message was intended for a new generation. All of that is definitely true, but I believe that there is a deeper message to "Hear Our Praises."
While it's a song of worship, it's also a prayer that the Great Commission would happen, that Christ's love would fill our homes, our communities, areas of injustice and suffering, the nations, and the whole earth. The words are very specific, and they are powerful when sung and prayed individually and in great numbers.
One of the struggles we face as followers of Christ is with divisiveness, not just in the world, but within the Church. It's literally a struggle for the Body of Christ as a whole to go into the world with a message that is agreed on. Of course the truth is… when our humanness combines with a message as pure as God's, it's bound to be wrought with imperfection. Is there a better reason to worship and pray in mass numbers that the love, joy, and unity of Christ would fill the mountains, valleys and every corner of the earth?
As I was writing that, I felt the potential of opening a can of worms, but whenever I feel like that, I go to the Word, and when it's confirmed in the Word, I know I can leave the <Backspace> button alone.  I decided to go into Corinthians 1:10-17 – you should, too! When I read that passage, was reminded that we are called to agree with one another "perfectly united in mind" with Christ's message and to not be divided. That's a tall order – but as we pray and give praises – we know that God answers prayer, and that even with toil and struggle, He will equip us with unity in the Body of Christ.
I wonder if this is one of the scriptures that spoke to Reuben Morgan as he wrote Hillsong's "Hear Our Praises."
As I wrap up this post, I feel called to ask anyone who is reading this to pray for unity in the Body of Christ as a whole – that Christ-followers all over the world would pause, and reset their direction to be intentional in their own words and actions to let go and let God. It's something we will have to pray for over and over again, but that's ok. The more we pray, the closer we grow to Him, and the closer we grow to one another in His name.
Check out this live lyrics video of "Hear Our Praises", and share your comments and thoughts below!