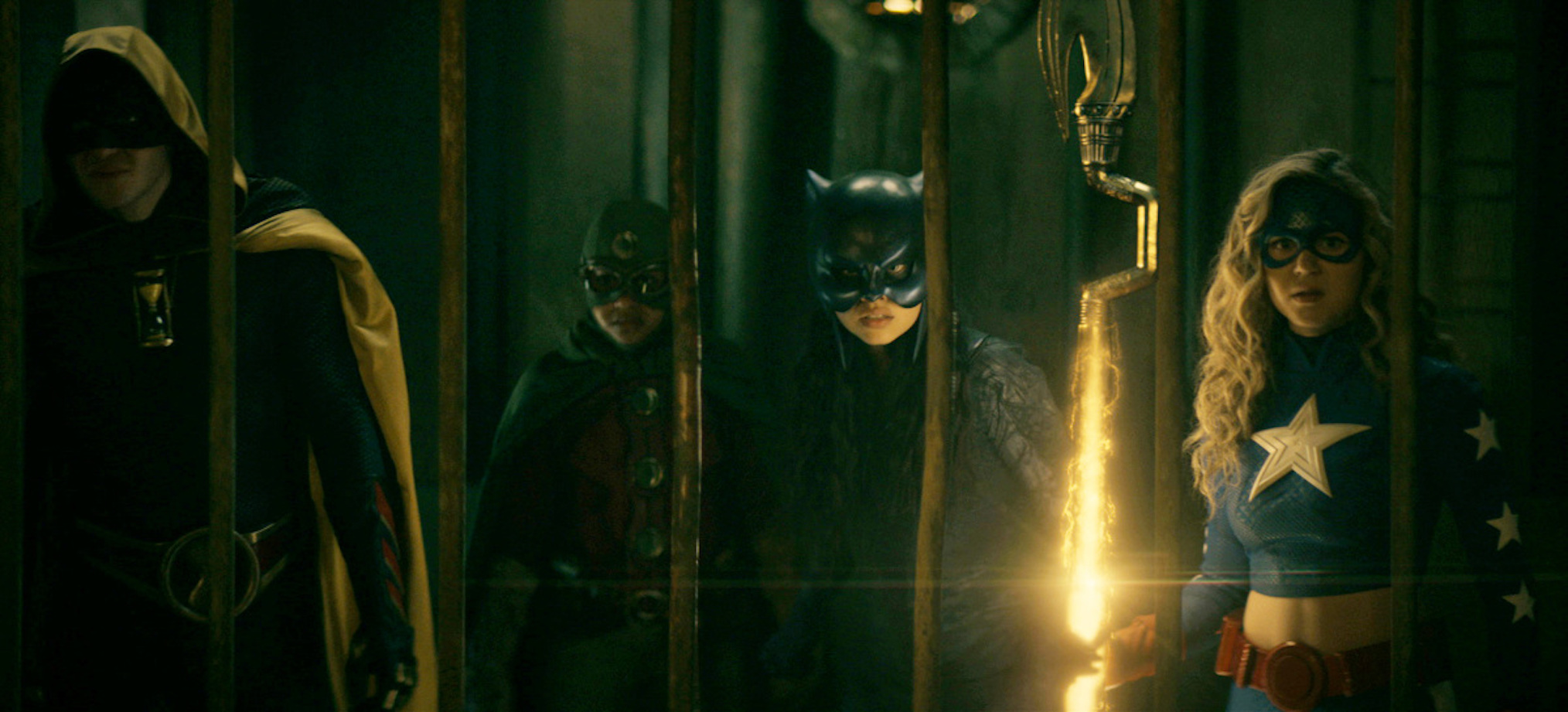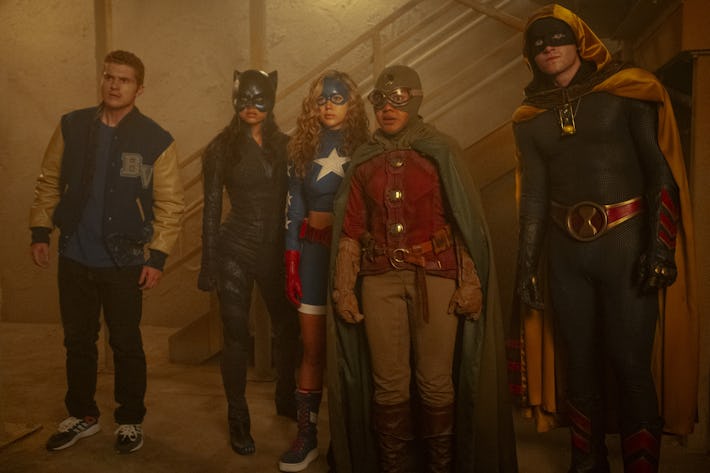 Season Air Date:
Season 1: May 18th – August 10th 2020
Reviewed by: Joshua Andre
Stargirl (Season 1)
Starring: Brec Bassinger, Yvette Monreal, Anjelika Washington, Cameron Gellman, Trae Romano, Jake Austin Walker, Meg DeLacy, Neil Jackson, Christopher James Baker, Amy Smart, Luke Wilson, Hunter Sansone, Henry Thomas, Eric Goins, Neil Hopkins, Joy Osmanski, Hina Khan, Mark Ashworth, Nelson Lee, Joel McHale, Geoff Stults
How would you define being a hero? Is it a calling, or is it part of your DNA? Are you a hero because of your parents, or do you carve out your own destiny for yourself? Are you an everyday her, keeping your head down and continuing to make the world a better place in an unassuming way; or do you crave attention and seek the limelight, wanting to be a hero that everyone sees and appreciates? Last year we all wanted a hero. Because of COVID-19 and the riots originating from the death of George Floyd and Black Lives Matter; we all craved for and longed for a hero to deliver us from the mess we all found ourselves in. We all longed for a saviour and a deliverer. While as a Christian I believe that Jesus is our Saviour and will always be; in 2020 a different kind of saviour arose. It's not the same as Jesus… but if you want to be encouraged, inspired and reassured that everything in this world will eventually be ok (key word is eventually!), then look no further than CD Universe's and CW's joint series Stargirl.
Starring newcomer Brec Bassinger as Courtney Whitmore, the shy, awkward and naïve teenager who moves with her family to Blue Valley, Nebraska after her stepfather Pat Dugan (Luke Wilson) suggests a fresh start; Stargirl debuted in May last year until August, with 13 high octane, tense and impactful episodes- each standing tall at about 45 minutes each. With me knowing literally next to nothing about the Justice Society of America from the comics, watching Stargirl with no preconceptions and no ideas about potential storylines etc; meant that I was going in with a fresh perspective. The result was me considerably enjoying one of the most well-produced and greatly thought out series of the past few years.
Do you really want to spoil yourself and read about what the series is about? You don't? Good, because this is a series that doesn't need a long review; and hence I won't be spending much time on what the show is about. Simply put though- Stargirl is cinema quality, and this show is something that you must check out. I don't know how you all will be able to do that- with DC Universe shutting down (maybe via the CW app!), but if there's one show that you all must watch- it's this one.
Early on in the pilot episode, the sentient Cosmic Staff chooses Courtney to be Stargirl, which she presumes is because of her absent father, whom she believes to be the now deceased Starman. Throughout the series Courtney gathers a team together of misfits and potential heroes- Yolanda Montez (Yvette Monreal) is the new Wildcat, Rick Tyler (Cameron Gellman) is the new Hourman and Beth Chapel (Anjelika Washington) is the new Dr Midnite. Together they form the new JSA, and throughout the season with the help of Pat Dugan, battle many foes and help save the town from the rule of the Injustice Society of America.
Yes… this show is very cheesy. Yes, you do have to suspend your belief for the entire duration of the season. But Stargirl will have you hooked, from beginning to end. I know it did for me, and as these episodes have unearthed future stars (Brec, Yvette and Anjelka in particular!), we are met with a high-quality show that will keep you on the edge of your seat. As we ponder issues of self-worth, identity, destiny, meaning and purpose; Stargirl also attempts to relay to us that in order to be a hero, we must accept that the great weight and responsibility placed upon us, and we must understand the sacrifices we need to make for the greater good and for those we love. Granted, hopefully we everyday heroes will never be in a situation where we do play the hero and it is a life and death decision; but this show encourages us to look inside ourselves and value what's important- to spend time with our friends and loved ones while we still can. And as Courtney goes on a inner journey and finally accepts her role as Stargirl even when she realises that Starman isn't her father; we are also encouraged to discover our purpose in life as well- and what we were put on this earth to do. While it's to make Jesus famous… let us figure out what else; before it's too late and we're just meandering along through life.
Did all 13 episodes of Stargirl leave a lasting impression on you? Did any themes in the episodes speak to you, and which was it? What elements of the show are you enjoying- Courtney's gradual change into the hero she's always meant to be, Beth and Chuck's friendship, the redemption and sacrifice of Henry King Jr, or Courtney finally accepting Pat as her dad? Will you be tuning in for Season 2 now that Stargirl will now air exclusively on the CW? Let us know in the comments.
RIYL: Titans, Doom Patrol, Legends Of Tomorrow, Batwoman, The Umbrella Academy, Warrior Nun, Black Lightning, Agents Of Shield, Roswell: New Mexico
Rating: 4.5/5 (based on 1 season aka 13 episodes)
Stargirl aired every Monday at 9am EST on DC Universe, and at 9/8c on CW on Tuesday. You can now buy the DVD/Blu Ray of the first season at digital and physical retailers everywhere!