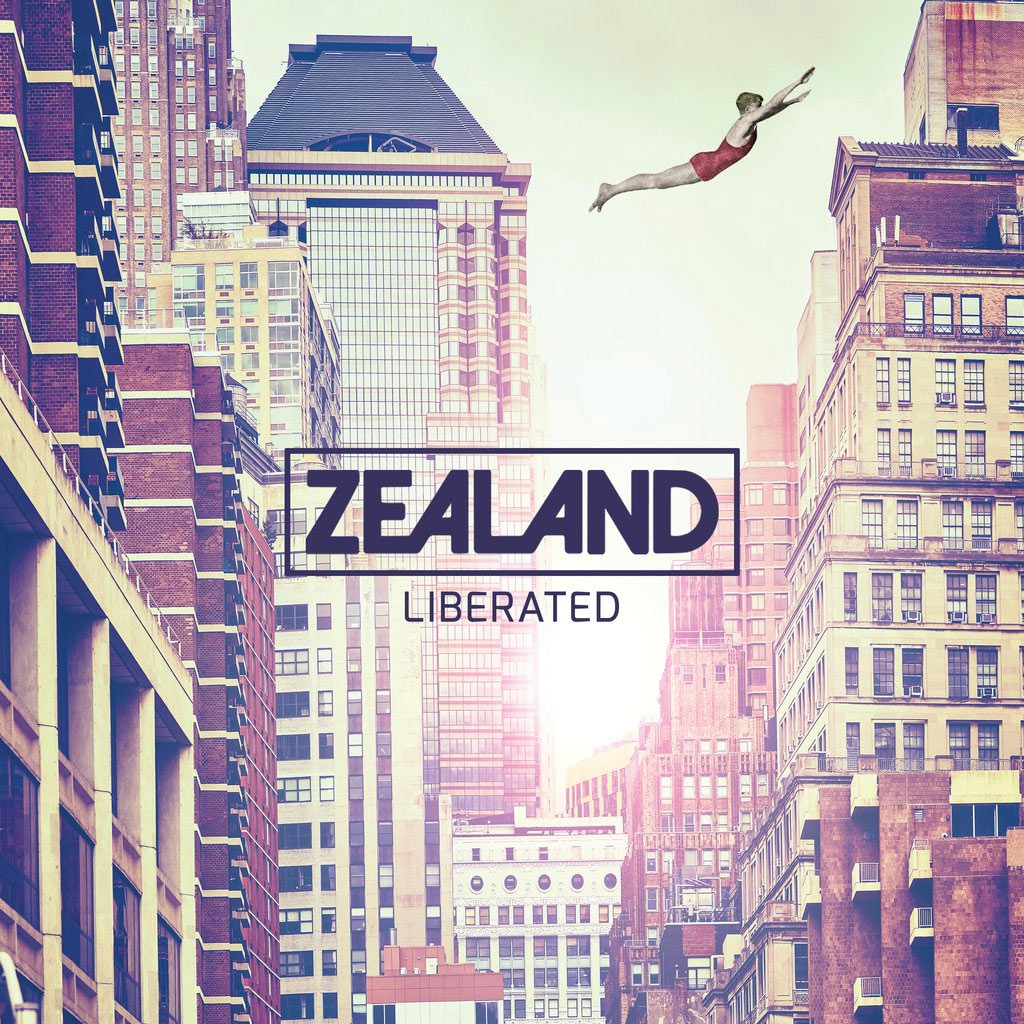 Word Label Group
Release Date: February 9th 2018
Reviewed by: Joshua Andre
ZEALAND– LIBERATED (Amazon mp3/iTunes)
Track Listing:
Spirit Sing
Liberated
Center of It All
Deeper Water
Beloved
Still
Land Of The Living
End of The World
Sanctuary
Garden's On Fire
"…I think that's the struggle [serving] that most Christian musicians have. They want to create and be true to what they need to create, but they're also called to serve. We're called to bring our gifts to the table and they're meant to be just that: gifts. They're meant to be brought to others. So we have to struggle with being authentic but also being of service. It's a good struggle, I think. When we give up one way or the other, I think that's when we sell out and things don't feel right within our souls…it's always been at the center, I think. At a certain point a few years back, I thought the best route for what we were doing was to try to write a collection of corporate worship songs. That was noble in its inception, but really once we got down that track, we started to realize that we're a worship band. We want to worship and see people remember and come to have great encounters with God through these songs. But also, for us to be true to who we are, we should not be striving to write songs for the church. If that happens, it comes out organically and naturally. I feel like it has. There are songs on this record that, whenever I get to lead worship in churches, these are the songs that I'm using right now and it's very helpful…" Previously a longstanding member of the Aussie band and one of the most popular and respected bands in CCM history (aka the Newsboys!), bass player Phil Joel (who's also a Kiwi!), in 2015 re-entered the fold to Christian music, fronting his new band Zealand Worship. An EP followed, with the smash hit single "Good, Good Father", and now this year Zealand (who dropped the Worship part of their name, as a way of telling listeners and fans that they are more than just 'worship music'!) are back with their first full length album LIBERATED, which released earlier this month. While Phil has been busy as of late with his solo work, I reckon this full length debut on Word Label Group contains songs that are just as heartfelt, honest and impactful, or even more so, as songs Phil leads in Newsboys, such as "Entertaining Angels", "Good Stuff", and "WooHoo". But don't take my word for it- take a listen to the album, and read on, and you can form your own opinion!
Opening with a guitar driven anthemic epic mid-tempo worship ballad that is equally parts catchy, creative and at times repetitive, we are introduced to "Spirit Sing", a track we can easily translate with great effect to a Sunday morning worship service. As Phil eloquently reiterates across soothing synth, vibrant guitars and pulsating drums that '…You make my spirit sing, You make my spirit sing out, You're the fire burning in my bones, You're the melody rising in me, You make my spirit sing…', we are met with a moment of vulnerability and intense devotion to Jesus, as the band fervently highlight the fact that it is only Jesus that makes our spirit sing, and makes our spirit come alive, and feel excited about everything occurring in our day, week and life. The title track is next, and is a hopeful, inspirational in-your-face pop anthem, with little song structure, with the sense that there are no verses or choruses. Sometimes though, that's a good thing, which is the case here, as Phil ardently reiterates that even if we have faith as small as a mustard seed, Jesus still whispers to us, like the man whom he healed when the guy's friends lowered him down the roof of the house (Luke 5:17-26); '…friend, your sins are forgiven…pick yourself up, you can walk a free man, liberated, we've been liberated…'– a concept that we sometimes don't even understand, but something we need to, if we are to walk in the freedom and in the promises that Jesus has given to us.
The rest of the album is just one enjoyable melody after the other. "Center Of It All", driven by electronic synth and a explosive acoustic guitar, is radio friendly and CCM in nature, but don't let that turn you off. The passion here from Phil as a singer is overflowing, as he sings from the heart, with the bold assertion that '…I'm never gonna turn the light out, I'm keeping it on, I'm never gonna turn the light out, it's burning strong…' with reference to being on fire for Jesus for the rest of his life, and that '….for the rest of my life, for the rest of my life, I want You to be in the center of it all…', a declaration that we can all cry out, as we aim to put Jesus in the centre of our lives, no matter if that means rearranging our schedules or our entire life.
While soothing laid back acoustic guitar driven "Deeper Water" speaks about God taking us on a journey deeper and deeper with Him, even if it takes us out of our comfort zone- and the feelings that come associated with Jesus taking us beyond what we could ever imagine, that '…we're ok with it…' because Jesus is complete trustworthy; and personal highlight "Still", a piano led slow tempo ballad and worship anthem, is co-written with We Are Messengers front man Darren Mulligan, as Phil passionately reiterates that being still in the presence of God can lead us into a deeper, more fulfilled relationship with Him where '…my soul longs for You, and all my heart, beats for You…'. The pop and CCM are never truly forsaken though (if you thought "Center Of It All" was the lone pop song!) as "Beloved" and "Land Of The Living" follow suit. "Beloved" is a happy-go-lucky acoustic guitar driven 3-minute pop tune, containing the simple lyrics of us being Jesus' and Him being ours, forever; and "Land Of The Living" (which could've easily fit on Adoration or Devotion, both from Newsboys!) is a breath of fresh air- a heartfelt passionate worship anthem that has us singing along with Phil long after the 4 minute duration has elapsed, as we authoritatively proclaim that '…holy are You Lord, You are great, You are glorious, beautiful in all Your ways, You are infinite in power, You are strong, You're victorious, all creation sings Your name…'.
The longest song of the album is "End Of The World", clocking in at 5 and a half minutes, and while that could seem deterring, is actually a good thing, or bad if you look at it from another way- I reckon the track is a tad too short! Co-written with Jason Ingram, Phil delvers probably the best song on the album, or dare I say it, his whole career, as this simple worship anthem (which can be covered by literally any other CCM/worship artist- which says a lot about this song not being about the artist at all, but just as a brilliant Holy Spirit anointed melody!) points out the fact that we need Jesus to move in whatever way He wants to, now more than ever in this generation. "Sanctuary" is a relaxed, contemplative and reflective piano led personal-in-nature worship ballad, co-written with Seth Mosley, which has Phil honestly conveying the fact that Jesus is his sanctuary and refuge now and always; and album closer "Garden's On Fire" is the most Newsboys-y track you could ever get without Peter Furler at the helm. Quirky lyrics. Check. Not a CCM track. Check. Still the Zealand signature sound. Check. But this song is a bit short, if you want to hear my nitpick- yet it's nonetheless a great track to end on, as it implies that you never really know what you're going to get with Zealand. Their next album could be rock or acoustic ballads, and that's be ok, as we know that Phil Joel can pull it off vocally and lyrically!
"…[so] the EP came out in 2015. Now, it's 2018 and our first full-length is coming out. We set about to write zealous declarations and proclamations. If they became corporate worship songs, then that's great. That was a goal to make sure the songs could be sung and declared corporately. But that's also easier said than done. Some people are called to write straightforward songs for the church. Part of me wishes that's what I was called to do, because in some ways, that puts it in a box. It gives you parameters to stay in with regards to writing. However, I've found it very, very hard to do that—not just because it's not something I'm built for, but I also feel the Lord saying, "Yes. You guys are a worship band in everything you do, but I don't necessarily want you to stay in those parameters to write corporate church worship." I hit a bump in the road or a time when I felt the Lord saying that, so I caused a few kerfuffles because we had a whole bunch of songs written and recorded for this record that we ended up shelving. They were right theologically and melodically but they just weren't right for us. Maybe someone else can use them…" Even though Zealand dropped the Worship portion of their name, they're still essentially a worship band, and LIBERATED is proof of that. With these emotional, personal and inspiring 10 tracks all having a vertical worship type of feel, Phil Joel as a singer and a worship leader, though maybe unfathomable a few years ago, fits. It's like that this is what he was meant to do, and Newsboys is just practice for the real thing (not to diminish Phil's role in the Newsboys for 13 years, but also at the same time, Phil is perfectly at home in his element here, more so than ever before!). With almost every song being a highlight (perhaps the only downside is that a couple of tracks sound more CCM than they need to be- "Beloved", "Center Of It All" or "Land Of The Living" maybe?), these nitpicks are just that- nitpicks. It's something we can look over, mostly because of Phil's high-quality songwriting and overall passion that is missing from quite a few CCM and worship releases of late. Well, that's enough me rambling. Check out the album and let me know what you think. LIBERATED, in my opinion, will make it on my list, I reckon! Will this release be a favourite of yours perhaps by the end of the year?
3 songs to listen to: Center Of It All, Land Of The Living, End Of The World
Score: 4.5/5
RIYL: Chris Tomlin, Audio Adrenaline, Newsboys, Peter Furler