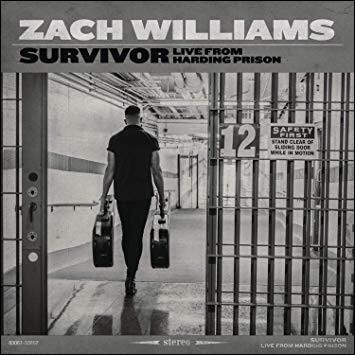 Provident Label Group
Release Date: September 14th 2018
Reviewed by: Jonathan Andre
Zach Williams– Survivor: Live From Harding Prison (iTunes/Amazon mp3)
Track Listing:
Survivor
Old Church Choir
To the Table
No Longer Slaves
Fear is a Liar
Chain Breaker
Everyone knows Zach Williams. Or at least they should, with his hit song 'Chain Breaker', being what I reckon, one of CCM's most charted songs on radio in the last few years. Zach's rise in popularity has been surreal, more like from a movie or TV show than anything else. With the release of Chain Breakerboth as an EP in September 2016 and as a full length 10 track album in January 2017; this now-once-in-a-rock-band-now-reformed pastor and Provident Label Group signee has captured our hearts with his southern rock/gospel music atmosphere, in a similar vein to that of Crowder or Third Day. Even if we may not enjoy the southern gospel genre that much, we all have heard of the song "Chain Breaker", along with his other radio hits like 'Old Church Choir' and 'Fear is a Liar'. Zach's move from being in a mainstream rock band, to pursuing a solo Christian music career after an encounter with God not too long ago, has resulted in music that is honest, hopeful, raw and emotive. His first full length album received plenty of acclaim- so much so that in 2017, he released a deluxe edition of the album, complete with a few new tracks.
Now fast-forward to 2018, and Zach is still riding the Chain Breaker album wave, this time unveiling an EP titled Survivor: Live From Harding Prison, full of songs and stories that have been recorded, you guessed it, in Harding Prison. While this EP I'm sure seems to be redundant (because much of the EP is known to people who have followed Zach's music career over the last few years), this collection of 6 songs are nevertheless earnest and honest, hopeful and encouraging, as he relates to and encourages prison inmates through these songs that make up these 6 songs present on what I reckon are some of the most emotive and soul-stirring renditions of these songs I've heard (yes, these recordings here are in some ways, better than the studio ones!).
Looking through the EP, we see the songs present on here that have brought Zach to where he is today- songs like 'Chain Breaker', 'Old Church Choir' and 'Fear is a Liar', all whom have charted radio for quite some time over the last two years or so. Then there's some of the lesser known ones, like 'Survivor' and 'To the Table'. But if you're reading this review, then I guess you're an avid fan of Zach's music, like me, and you probably would've heard 'Survivor' and 'To the Table'. Then there's famous worship song, 'No Longer Slaves', which I'm sure is very applicable and relatable to the inmates who were there on that day the live album recording was. As the lyrics remind us fervently, we are no longer slaves to sin and what we've done before, but rather, we are children of God, that God chooses to call us loved and beloved, from the beginning of time, till the end. Many prisoners may not know of such unconditional love, and for a song like 'No Longer Slaves' to come and blow away any preconceived ideas of love and hope, it is truly remarkable for the inmates who hear such a life-affirming message. Though Zach himself never wrote that song (it was Bethel, in particular, Jonathan and Melissa Helser), this rendition is by far one of my favourites on this EP, as the song itself carries a spirit of hope and comfort for anyone who hears it. Pity the song itself wasn't present on WOW Hits 2017 (it should've been!).
A must have for anyone who his a fan of Zach and his songs before, or even fans of similar artists like needtobreathe, Rhett Walker Band or the now disbanded Third Day; Survivor: Live From Harding Prison may not have meant that much to us music consumers (I myself can be included in such a group, sad to say). With no new songs, and many of this EP being on radio and played to death in today's modern CCM era, this EP sadly doesn't mean much if you have spotify at your fingertips- but it sure meant heaps to those inmates in the room when the recordings took place. To come and play in prisons can be a big deal, and Zach himself has stepped out of his comfort zone to try and reach people that may not have been reached, if people didn't step out of their bubbles and into the unknown where God is leading. Well done Zach for such a powerful EP (even though I have heard each song here before), here's hoping someone's life here is changed for the better, when hearing these arrangements of fan favourites. Can't wait for the full-length album and follow-up to Chain Breaker, whenever it arises!
3 songs to listen to: Chain Breaker, Fear is a Liar, No Longer Slaves
Score: 4.5/5
RIYL: needtobreathe, Rhett Walker Band, Third Day, Skillet, Switchfoot