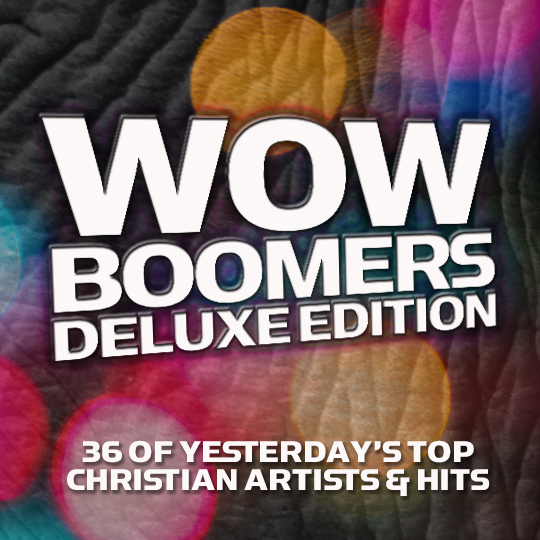 Capitol Christian Music Group
Release Date: April 3rd 2020
Reviewed by: Joshua Andre
Various Artists– WOW BOOMERS (Deluxe Edition) (Spotify)
Track Listing:
Disc 1:
Because He Lives (Gaither Vocal Band)
Sing Your Praise To The Lord (Rich Mullins)
The Coloring Song (Petra)
Love Song For A Savior (Jars Of Clay)
We Are The Reason (David Meece)
I Thirst For You (Randy Stonehill)
In The Light (Charlie Peacock)
Friend Of A Wounded Heart (Wayne Watson)
If I Know You (Out Of The Grey)
Your Love Broke Through (Keith Green)
Love Crucified Arose (Michael Card)
Where There Is Faith (4HIM)
People Like Me (Audio Adrenaline)
Deep Calling Deep (Margaret Becker)
The River Will Flow (Whiteheart)
In Christ Alone (Michael English) DELUXE EDITION
Holding On To You (Servant) DELUXE EDITION
I Wish We'd All Been Ready (Larry Norman) DELUXE EDITON
Disc 2:
I Will Be Here For You (Michael W. Smith)
I'm Not Ashamed (Newsboys)
Lazarus Come Forth (Carman)
Just Between You And Me (dcTalk)
More Faithful (Skillet)
Give It Up (Avalon)
Thy Word (Amy Grant)
The Great Adventure (Steven Curtis Chapman)
Here I Am (Rebecca St. James)
Only Hope (Switchfoot)
Turn Up The Radio (Phillips Craig & Dean)
If You'll Let Me Love You (Smalltown Poets)
If This World (Jaci Velasquez)
Keep The Candle Burning (Point Of Grace)
Arise My Love (NewSong)
Cartoons (Chris Rice) DELUXE EDITION
He's My Son (Mark Schultz) DELUXE EDITION
God Of Wonders (Mac Powell [with Cliff & Danielle Young]) DELUXE EDITION
In 2018, when WOW HITS 2019 (Deluxe Edition) released, there were quite a few surprises (the presence of "Reckless Love" from Cory Asbury being a highlight!) as well as a few let downs (no space for Phil Wickham's "Living Hope", Sanctus Real's "Confidence", Hawk Nelson's "He Still Does", Plumb's "Beautifully Broken", Lauren Daigle's "You Say" and Ryan Stevenson's "No Matter What"). We all grumbled and wondered when WOW Hits would get their act together and release a timely release and something worthy of me rating 4.5 or 5 out of 5. And then in 2019 we waited. Last year we all hoped and eagerly anticipated that WOW Hits 2020 would be different in a good way. Boy were we all in for a shock. Because WOW Hits 2020 was indeed something different…it wasn't even made. And not just 'delayed' until 2020- I mean literally not made at all. No statement, no press release, no reason why the publication was cancelled, nothing at all. I guess in this day and age with Apple Music, Spotify playlists as well as Youtube Music, compilation CD's aren't relevant anymore (except for artist compilation CD's with rare exclusive tracks such as demos and re-recorded fan favourites, sorta something like Chronology Vo. 1 and Vol. 2 from Third Day in 2007!), and the WOW brand was just moving on with the times. Understandable, I guess. Yet even for all of its faults and nitpicks, I still missed the compilation around October last year. Half the fun was predicting what TPTB (the powers that be) would place on the album and what they would deem worthy and acceptable- and the other half of the fun would be writing the review, where we'd most probably rip into the franchise once again, and tell them what they're doing wrong, and which songs they completely missed which are just plain better, or ranked higher on the radio charts, in favour of others, maybe double ups from previous years.
The WOW series divided us but also united us too. Last year the SOZO Playlist album released (which is in my opinion inferior in every day to any WOW Hits album- yes even the mediocre ones!), while Australia this year unveiled an alternative to SOZO Playlists- the Sounds Of Hits 2020 (although that's only available in Australia!). Both these new compilations have their faults, making WOW Hits look like the best compilation series ever, and I was semi-resigned and semi-accepting of the fact that these new albums wouldn't be as engaging. While I still am slowly accepting the fact that WOW Hits is gone, news of a new WOW Hits album surfaced a couple of days ago on April 1st– which had me feeling nostalgic of the brand, as well as realising that I'm not as 'over' this album series as I once thought!
Every year on April 1st, the internet is flooded with jokes and semi-realistic news that's actually fake- all in the name of a laugh for April Fools. There are thousands of 'news' of years gone by archived on the internet (which I'm not going to list, because there are so, so many, however my favourite gags are of Switchfoot's 11th metal studio project, and the formation of the supergroup CCM Avengers!), with many sites such as TVLine, SpoilerTV, Jesus Freak Hideout and New Release Today all joining in on the yearly festivities; and usually I'd be able to pick the jokes from the real stuff, because all of the jokes would be so outlandish and larger than life. Yet for this year's jokes (which were in fact few and far between!), due to the health and economic crisis that the entire world is facing right now due to COVID-19, they seem…unfunny if you know what I mean. Insensitive and cruel if you want me to find more intense words. Anyway, one site pressed on with their allotted fictitious news (one site that I know of at the moment!), and lo and behold New Release Today (NRT) posted news about a brand new WOW HITS album titled WOW Boomers.
With the website debuting the 'album cover' and the 'back cover' with 'official' track listing and a 'release date' in October- this all felt pretty legit, until we saw the spelling mistake on the back cover. As well as reading the 'quotes' in the press release from Steven Curtis Chapman, Michael W. Smith and TobyMac, which were pretty funny but again were something that sounded clearly written for kicks and for a laugh. Yet for all of our knowledge that this was an elaborate and somewhat realistic hoax, the comments came in on Facebook and Twitter, about the hope of a real release like this someday. And thus…the hoax became really real. Well, not like real as in the album appears on Amazon and Apple Music, but New Release Today used their own account (rather than the WOW Hits Spotify account) to create a playlist of songs for WOW Boomers. I mean, it's official (but it's not, if you know what I mean!) and right now with WOW not producing albums anymore (to my knowledge!), this WOW Boomers is as good as you are going to get right now. While we are all cooped up in our homes trying to survive COVID-19, let us spin this new 'release' and be reminded of some God breathed and Holy Spirit anointed hits, from the 80's, 90's and even from before that.
As far as song choices go, most of the second disc (dubbed as artists who are still active in recording music) is pretty much spot on (in terms of artists, not necessarily in terms of song choice!) while the first disc includes songs from artists who are inactive at the moment. Thus almost half these songs I haven't heard before, although I do have appreciation for some of the artists such as Audio Adrenaline, Jars Of Clay, Petra, Keith Green, Rich Mullins, 4HIM, Michael English and the Gaither Vocal Band (yes, I do respect these guys, even if I'm not their target audience!). While favourites of mine like Michael W. Smith, Newsboys, Steven Curtis Chapman, Avalon, Amy Grant, Point Of Grace, Jaci Velasquez, Mark Schultz, Skillet, Switchfoot and dc Talk (they're definitely still active even though still on hiatus- as they've been doing shows on the Jesus Freak Cruise the past few years!) populate disc 2; and for sure if that was a real physical disc, I'd probably listen to that for a long, long time! Songs like "Another Time Another Place" (Sandi Patti), "God Is In Control" (Twilla Paris), "People Get Ready" (Crystal Lewis), "We Will Stand" (Russ Taff), "Kiss Me" (Sixpence None The Richer), "Days Of Elijah" (Robin Mark), "I Could Sing Of Your Love Forever" (Delirious?), "Shout To The Lord" (Hillsong Worship), "I Am Not Alone" (Natalie Grant), "To Know You" (Nichole Nordeman), "Butterfly Kisses" (Bob Carslile), and "My Hope Is You" (Third Day) are all absent (as are the aforementioned artists as well)- but rather than nitpick like I do with WOW Hits albums, I'm not going to do that here. For all of the faults that this album has, there are so many pluses. The fact that this is on Spotify is reason enough to celebrate.
Granted that NRT probably decided on a whim to do this 'joke', then scrambled to put something on Spotify when fans demanded on social media for an album; well that fact makes this album all the more remarkable- it probably wasn't even in the planning stage nor discussion even a week ago! While the WOW Hits team would've probably put more planning into this and may have botched this up even further… I'm pleasantly surprised and happy by NRT's effort. Sure, it's not perfect, but it resurrects my love for WOW CD's, and that, my friends, is definitely a good thing! While we may not have any more WOW Hits albums in the future (in stores, and on digital platforms), who's to say that NRT (or even Jesus Freak Hideout for that matter!) wouldn't be able to create a Spotify list for WOW Hits 2020, or even a WOW Hits worship album, Christmas album or 'mainstream' album (album full of worshipful hits sung by mainstream artists!)? In this age of us staying inside due to social distancing, I reckon the one constant thing (because there's no new movies or TV shows or concerts happening any time soon!) is music, which can happen due to artists recording via home studios, things like that. So is WOW dead in this time? Maybe, but I wouldn't bet against them making a comeback in any shape or form, sometime in the future!
5 songs to listen to: We Are The Reason, In The Light, Lazarus Come Forth, The Great Adventure, Only Hope
Score: 4/5
RIYL: Rachael Lampa, Nicole C. Mullen, FFH, Chris Tomlin, Matt Redman, Crowder