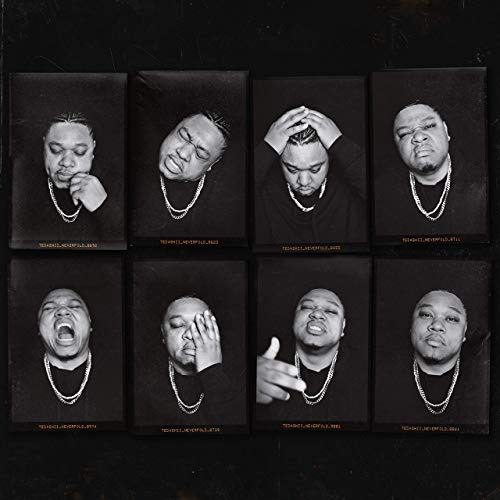 Reach Records
Release Date: March 8th 2019
Reviewed by: Joshua Andre
Tedashii– Never Fold (Amazon mp3/iTunes)
Track Listing:
There's a Heaven
God Flex (feat. Trip Lee)
Get Out My Way (feat. Lecrae)
Son of Sam
Home (feat. Crowder)
Splash II (feat. 1K Phew, Jarry Manna & Parris Chariz)
Water
Diamonds
Step into Love (feat. Sarah Reeves)
My Lifestyle
Gotta Live (feat. Jordan Feliz)
Hold Me Down
Smile
All In Love (feat. Kam Parker)
Full Effect
Won't Bring Me Down
It is Well
To tell you the truth, I haven't been really a fan of rap music. Aside from Lecrae (who's on a whole other level lyrically and creatively), there haven't been a whole other of rap artists who have stuck out in my mind, that record music that's uplifting and good for the soul. No…that's not true. you have Andy Mineo, KB, NF, Social Club Misfits, Derek Minor, Steven Malcolm, PEABOD, even HillaryJane and Hollyn rap a little bit. And…it's not that I don't appreciate their artistry- objectively I reckon rap and hip-hop artists are one of the most creative and ingenious songwriters ever, generally speaking. It's just that I haven't been captivated by a rap song in a while. Well that all changed last year, when I heard "Gotta Live" from Tedashii and Jordan Feliz. And so began the softening of my heart, to the point where today I can listen to Tedashii's latest album Never Fold, voice my thoughts and opinions on the album, and never once stop and skip songs- like I thought that I would do. Isn't that a great feat in and of itself? For those of you who are unfamiliar with Tedashii, here's a quick rundown. A veteran rapper on Reach Records (home of artists like KB, Trip Lee, Andy Mineo, GAWVI, and Lecrae), Tedashii has recorded a mountain of hip hop and rap hits that I have never heard about, but songs that I gladly would check out in a heartbeat now. Perhaps I might start with Below Paradise which he released in 2014, after I've reviewed this album, but for now, let's dive into Never Fold shall we?
Let me be the most recent guy to make this authoritative statement- "Gotta Live" is one of the catchiest songs I've ever heard over the past few years, and the combination of rap and pop is quite remarkable. I never thought that rap and pop could mix that well, but Tedashii has recorded something special here, as he digs deep and confronts his feelings over many loved ones' dying (including his mother and his son), concluding that because of the hope and security we have in Jesus, we just have to rely on and lean into Him, and have to want to live, and live well. We all only have one life, and we owe it to everyone around us and those who have gone before us to live the best life we can and live a life that pleases God. Sure, we can miss our loved ones like crazy, but not wanting to live is a feeling that comes from the devil. So I guess you could say that this guitar led 3 minute melody is a direct response to the devil's lies, as both Jordan and Tedashii speak Jesus' truth into our lives, that '…even when my light burns low, I can never lose my hope, I've been down this road before, now I know which way to go, you can try to drag me down, but I'll be living in the clouds, everybody has their doubts but you can't stop now…'.
"Gotta Live' is a song about perseverance, and the idea that there is so much life to be lived that we shouldn't let trials and hardships blind us to that fact, no matter how bad they seem. It's a song to encourage people to live, escape, have fun, and find freedom knowing that they have life another day and that's proof that it's worth the living. Hard times will come—even times that make you want to give up. But life is meant to be lived as the gift from God that it is, and we should see that as a reason to keep going and never fold." A song that will certainly blow up on Christian radio (maybe all formats!), Jordan and Tedashii are to be extremely proud of themselves with this infectious and cheerful collaboration. Because of this song, I now have a bit more of an appreciation for rap (Tedashii is exemplary here!) and a bit of an interest- thanks guys for igniting the spark inside of me of my appreciation of a genre that isn't that familiar! And as for the rest of the album, the hits keep on coming, and so do the collaborations.
After the poignant, emotional and super short "There's A Heaven", which has Tedashii actually singing about the promise of heaven and us looking forward to the day that we will be with Jesus (why not a 'normal' song length instead of just under 2 minutes?); Tedashii teams up with producer Daramola and good friend Trip Lee, as the trio expertly, skilfully and emotionally trade beats and riffs, relaying to us that we can depend on and rely on God's strength to see us through the day, especially through any adversity. An intense song like this musically takes a bit to wrap my head around, but while I'm still grappling with how the song was delivered, which is crazily good just not what I'm used to; it's evident to see that Tedashii's passion and zeal for Jesus is full on display for the world to see. "Get Out Of My Way" is next, and features Tedashii with Lecrae and is a head banger on the next level, with both rappers highlighting to us the fact that haters can stand out of the way of us because Jesus is for us and is on our side.
"Home" with Crowder is as compelling as it is personal and honest, as Tedashii takes down the tempo and delivers a stirring ballad about unpacking the notion of home and longing to be there, wherever it is. Tedashii further unpacks in the song that home is where Jesus is, thus his need and desire to be wherever Jesus is. Crowder's ethereal voice in the chorus makes this song all the more enjoyable as well, not to mention one of the standouts in my opinion. "Splash 2" with 1K Phew, Jerry Manna and Paris Chariz is an exquisite work of art that is just as jarring (if you're not that into rap!) as it is enthralling…in an out-of-this-world awesome kind of way (even though I may understand the song better if I listened to "Splash 1" from 1K Phew!); while piano pop is the name of the game in "Step Into Love", a gripping duet with Sarah Reeves where Tedashii earnestly highlights that we all need to have a little bit of faith and to step into love, into God's plans and what He is calling us to do. Sometimes trusting in Jesus is hard, but Tedashii and Sarah both impart to us that believing in Jesus and His will for our lives will give us more satisfaction than ever before. The final collaboration track is "All In Love" with Cam Parker, which is a relationship style song sung to his wife- and though on the surface it's probably unlikely that Jesus could and would speak through something like this, I tend not to jump to conclusions, as I know that through listening to artists from my brother's recent blog series, that God can use anything (even a romance song!) to grab our attention and draw us closer to Him.
Apart from the hard hitting and profound collaborations, we are left with a few more tracks on Never Fold, namely the tracks featuring Tedashii alone, that are equally as impressive. "Son Of Sam" is inspired by a song from Andy Mineo called "Clarity", and the premise of the track is that Tedashii is listing out key events in his life, and asking the question of whether he is like a son of man (like Jesus) or a son of Sam (the nickname of one of the most notorious and infamous serial killers in history!)- basically Tedashii lives in a dichotomy wanting to know if the bad things he does makes him a bad person. There are no answers in this song, and that's what I like about it. It's real, and tackles an issue we all are faced with (identity), and hopefully Tedashii can spur on some healthy conversations. Both "Water" and "Diamonds" are cleverly titled and both dive deep into the allegories of needing Jesus as He is the living water ("Water") and us being resilient under pressure because that's how diamonds are made ("Diamonds"). Both tracks are solid without being spectacular, and both reassure us that Tedashii is still at the top of his game lyrically. "My Lifestyle" takes the lyrics to another level in my own opinion, as Tedashii fervently sings about his lifestyle right now and the fact that God has been faithful and has given everything to him to steward and life a life pointing to Him; while the encouraging and uplifting danceable pop tune "Hold Me Down" has Tedashii cutting out all of the negative people in his life who keep him down, and also championing the people in his life who he can count on, who keep him accountable.
"Smile" actually does bring a smile to your face and delves into the concept of living life happily and with satisfaction and contentment, as Tedashii relays to us: "…after going through some of the worst times of my life, I happened to read in the Bible where it says 'a cheerful look brings joy to the heart, and good news makes for good health'. This changed everything for me. I wrote 'Smile' for every person who needs a little encouragement doing just that. Some days life can steal your joy, so I wrote a song to help us fight to hold on and never fold…", while three 2-minute songs end the musically diverse and ingenious 17-track album. "Full Effect" is an intense two and a half minute tune about living life all in for God to the fullest effect, while "Won't Bring Me Down" features an unknown female vocalist, and brings forth the promise that things of this earth won't bring us down because of Jesus who is with us always. Never Fold ends with a refrain of the hymn "It Is Well", sung in Samoan and also sung by an unknown female vocalist (perhaps the same vocalist as before?)…and with that, it's time for me to press repeat, shall we?
To tell you the truth, I will never fully be content and satisfied with listening to rap only. There are other genres that have resonated with me so much more. But Tedashii's Never Fold has me interested in exploring the rap genre a little bit more, so for that reason, this album has done it's job in my opinion. My only nitpicks were that the first and last songs weren't extended and recorded in full- but all in all, Tedashii has recorded a gem and one of my favourite albums of the year! Seriously, go check out this release even if you're not a fan of rap. I guarantee you will be pleasantly surprised!
3 songs to listen to: Home, Gotta Live, Smile
Score: 4.5/5
RIYL:  Lecrae, TobyMac, Social Club Misfits, Andy Mineo, KB, NF