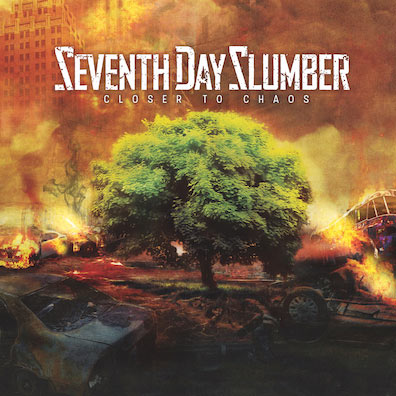 Rockfest Records
Release Date: May 31st 2019
Reviewed by: Joshua Andre
Seventh Day Slumber– Closer To Chaos (Amazon mp3/iTunes)
Track Listing:
Alive Again
Cold Kiss Embrace
Burning An Empire
Drama
Light It Up
Man Down
The Letter
Still Breathing
Sober
Your Eyes
Is there anything more musically chaotic than Seventh Day Slumber's Closer To Chaos? Yes, of course, Joseph Rojas and co.'s latest offering, their first on their own recently launched Rockfest Records, is meant to be a rock album. From reading teasers about the album over the past few years, I reckon Joseph intentionally made it clear that there weren't going to be any ballads, and they weren't going to hold back musically on guitar. Ominous signs, so I suppose if you're a really big fan of the band, you'll probably love Closer to Chaos! But for me, the casual fan who loves CCM and worship, and isn't that into heavier material musically; then how does Closer To Chaos live up to previous SDS albums? If I'm one of those guys who can't really listen to heavy material for a long time, then would my experience from listening to Closer To Chaos be tainted?
First of all, let me preface this 'rant' by saying that I've got nothing against SDS. I'm sure they are all wonderful human beings, and it's clear that Joseph and his friends have a real heart for Jesus and drawing lives into the Kingdom. I for one have loved their previous albums Take Everything (2009), The Anthem Of Angels (2011), Love & Worship (2013) and We Are The Broken (2014) to name a few. Even Found from 2017 contained a few radio friendly ballads; while there's no denying that the most personal and emotional song these guys have ever recorded is "Caroline" way back in 2005 from Once Upon A Shattered Life. However there's something about this latest effort that doesn't really gel? Do you guys feel it? Is it just me? Maybe I'm not just that hard of a rock fan?
Lyrically, these guys do everything right and deliver probably the most poignant and emotional songs of their entire career. "Cold Kiss Embrace" deals with a toxic relationship and the determination needed to leave what could break us; while "Burning An Empire" calls out…well, everyone, as Joseph asks us whether we need to throw God out of the picture in many key areas, or do we still let Him have His place. "Man Down" and "The Letter" both deal with heavy stuff thematically, with the former exploring PTSD and the latter suicide; while "Still Breathing" is worshipful in nature yet is real also, with Joseph asking God to keep working in him, and to keep moulding him as long as he's still breathing. "Sober" skilfully tackles Joseph's previous drug addiction, and "Your Eyes" tackles the ever-present issue of self-worth and identity. But for all of these admirable lyrics, the music I believe is the biggest detractor. It's a strength for those who love rock, but a weakness for everyone else.
Maybe musically the album is supposed to have 10 headbangers. 10 songs to rock out to, and 10 songs to get your heart pumping and racing. Perhaps reviewing this album in the middle of the day isn't the best way to go, and maybe in time I'll enjoy these tracks a whole lot more. But right now, as it stands, Seventh Day Slumber's Closer To Chaos is good lyrically, but I really can't get past the intense rock music. not really much variety in my opinion, but hey, that's just my own opinion. You all can disagree all you want. Now maybe I should have expected mostly rock songs going in, and I guess that's kinda true. at the back of my mind, subconsciously I knew there'd be no ballads- however I guess listening to this project made me realise how much I didn't resonate that much with harder rock music. Sure, some is great in moderation, but a whole entire album? I don't know what it is but Closer To Chaos is forgettable at the moment. Anyone else agreeing with me, guys? Now- onto rocking out to Skillet's new singles before Anchor drops…that's my kind of rock!
3 songs to listen to: Burning An Empire, Still Breathing, Your Eyes
Score: 2.5/5
RIYL:  Skillet, RED, Fireflight, Flyleaf, 7eventh Time Down, Disciple, House Of Heroes