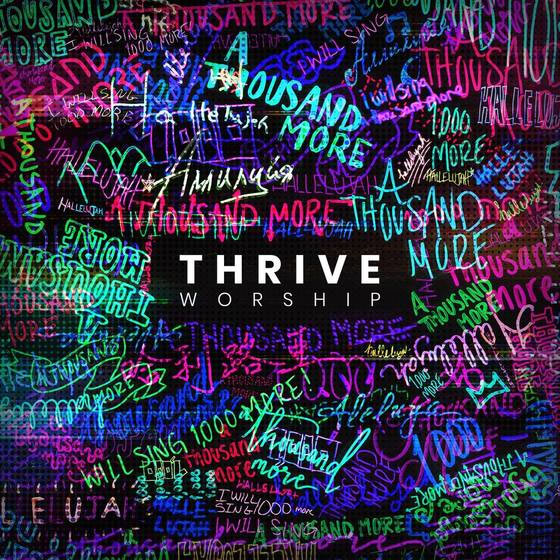 Integrity Music
Release Date: May 3rd 2019
Reviewed by: Joshua Andre
Thrive Worship– A Thousand More (Amazon mp3/iTunes)
Track Listing:
Breakthrough Is Coming
Ruins (Rebuild My Soul
A Thousand More
Praise The Name (Ancient Doors)
I Still Believe (Faithful Always)
Like No Other
Greater Things
Nothing Like Your Love
The Reason
What's Left To Be Afraid Of
All The Days
One could say that the introduction of a new worship band is unnecessary and probably flogging a dead horse so to speak. I mean you have Planetshakers, every iteration of Hillsong, Jesus Culture, Gateway, Vertical Worship, Bethel Music, Passion…and that's just the worship bands. Throw in solo artists (like Chris Tomlin, Phil Wickham, Kari Jobe, Meredith Andrews etc) and other worship bands (Crowder, Leeland, Rend Collective etc) and it's clear that the worship market is pretty saturated as it is. So I guess despite the good intentions of up and coming worship band Thrive Worship (oh so originally named!) who started off as the worship team for Bayside Church based in Sacramento California; their debut album A Thousand More is probably going to fall flat, right? I guess that was my expectation going into it, but would you believe me if I said that A Thousand More is my favourite worship album by a band since Vertical Worship's Church Songs way back in 2015? Yep, it's that good, and earns our first 5/5 of the year. So…what is it about this release that has me singing praises for a thousand more (get the pun?)? Well it's simple, really. Solid biblical lyrics fused together with passionate hearts and real worship. Not to say everything else I've heard over the past few years wasn't real enough; but I guess that once you hear that song that is the most vulnerable you've heard in that genre for a while…then everything else will be compared to that!
"Breakthrough is Coming" opens up proceedings, and we are met with a short but punchy guitar led pop tune that basically declares that breakthrough is coming in our lives, even if it hasn't happened yet. Declaring future things in our lives may sound counterproductive for our wellbeing, however because we know that God is outside time, we know that He has won, and that eventually breakthrough will come. Declaring events to have happened now like how God sees them, is a revolutionary concept and one sure to still be controversial as time progresses, yet Thrive Worship make this track work. Following on from the poppy opener is the mid-tempo guitar led ballad "Ruins (Rebuild My Soul)"- pretty self-explanatory given that we are presented with the fact that '…You won't leave me in ruins, You won't leave me alone, You rebuild my soul, You rebuild my soul, there's no damaged pieces, that Your love can't make whole…'; and while the concept of Jesus remaking us into a new person has been recorded to death (see "Broken Things" by Matthew West and "Broken" by Steven Curtis Chapman!), these guys have delivered a used concept and twisted it into their own fresh, reinvigorating way!
The title track treads gently into Rend Collective territory musically, as this potential modern hymn is the most likely out of this tracklist to be played in churches everywhere- to me this track is one of my favourites on the album. And as we go deeper and deeper into the tracklist, we discover plenty more gems and treasures from one of this year's best kept secrets until now. "Praise The Name (Ancient Doors)", co-written with Leslie Jordan, and presumably led by Charmaine (yep, that same Charmaine with a little hit called "Tokyo"!), is the group at their most vulnerable and honest, as we are glimpsed to unbridled worship with no restraint. Another song that is essentially praising Jesus, it's a song that should become old quickly, but doesn't, and is instead yet another standout from the album. While "I Still Believe (Faithful Always)" at first is a standard mid tempo worship song that potentially has no lasting value beyond the 4 minute duration; yet again it's a song still stuck in my head even now and a song that essentially cries out to God that we still believe that Jesus is who He says He is- and that's another testament to Thrive Worship, as they create gems out of the simplest of concepts!
Poppy and radio friendly in nature, "Like No Other" is destined to be on K-Love or Air1, but don't let that detract from you enjoying this song. In fact, you make just dance and move a bit more, as we sing along that Jesus' love is like no other, that His love is reliable, dependable and faithful. While "Greater Things", though thematically the same as the song of the same name from Mack Brock, is another biblically sound and enjoyable track, and one that comforts us, speaking out that even when we're in the valley, we can know that the best is yet to come, because Jesus has promised this, that '…what You started in me, You said You would complete, if You're not done yet then I'm not done yet, all the things that You've done, tell the story of love, and You're not done yet so I'm not done yet…'. "Nothing Like Your Love" and "The Reason" follow, the pair of these poppy numbers drawing their inspiration from Hillsong Young & Free's III album musically- both of these easy on the ear to listen to, and both of these having great replay value. Simple lyrically, one would say that it's in these songs that Thrive Worship falter, but I am of the viewpoint that it's songs like these that actually enhance the reputation of the already semi-popular band!
Thrive Worship have released a debut like no other, and the poppy "What's Left To Be Afraid Of" further cements my sentiment that they'll be a force to be reckoned with in the near future, as we're delivered and shown a Holy Spirit anointed moment that cannot be orchestrated anywhere else or by anyone else. A Thousand More then ends with the exquisite and brilliant "All The Days", which is literally out of this world. I'm not sure who's singing this song (is it Brooke Fraser?) but whoever it is, has done an excellent job here. Never mind my statement of the title track being the only track having the potential to be sung in churches in the future- this song leaps to the front of the pack now! Ending the album with such a strong finish is a masterstroke from the band, and no doubt has me eagerly anticipating album number 2!
"…every song on this album is telling a piece of a story from our church. When you have a lot of people from different backgrounds, you get a lot of different influences in the music from Gospel to pop to congregational. It gives us a lot of space within the boundary lines to create outside of the typical church worship band. We want to spread a message of hope, we want people to feel like they can come and be comfortable, no matter what state of life they're in. Our hope is that these songs would be able to reach someone who's really far from Christ or someone who's been walking with Him for a long time…" Sky's the limit for Thrive Worship. There's no guessing where this album takes them. It may be a one-off project or the band could tour. But whatever the future holds, let us sit back and marvel at what an excellent debut project this is! Hats off to all involved, you all need to be proud of yourselves! I don't think I've heard a debut any better than this for a while! Well done guys!
3 songs to listen to: Praise The Name (Ancient Doors), I Still Believe (Faithful Always), All The Days
Score: 5/5
RIYL:  Planetshakers, Bethel Music, Hillsong Worship, Meredith Andrews, Matt Redman, Chris Tomlin