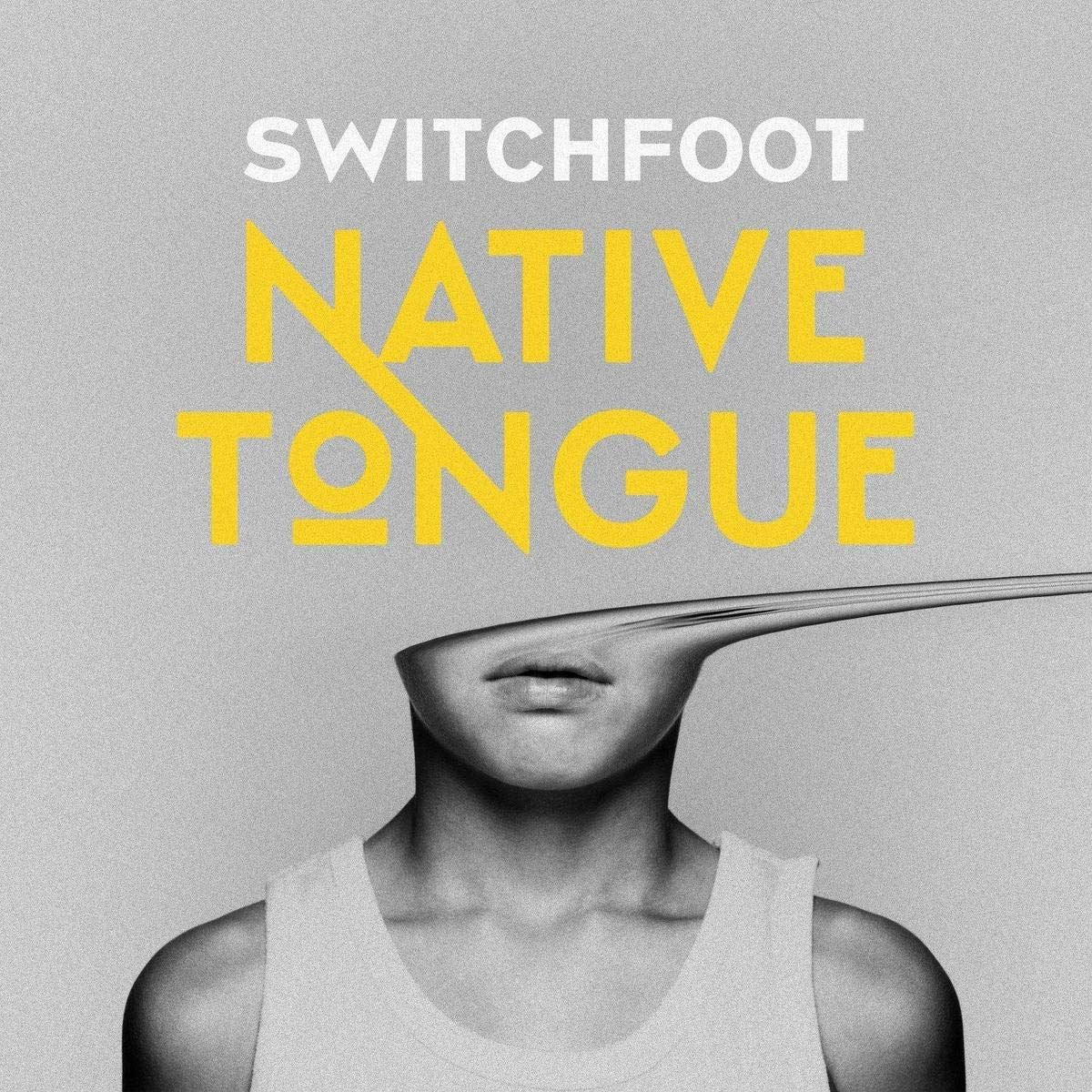 Fantasy Records/Concord Music Group
Release Date: January 18th 2019
Reviewed by: Joshua Andre
Switchfoot– Native Tongue (Amazon mp3/iTunes)
Track Listing:
LET IT HAPPEN
NATIVE TONGUE
ALL I NEED
VOICES
DIG NEW STREAMS
JOY INVINCIBLE
PRODIGAL SOUL
THE HARDEST ART (feat. Kaela Sinclair)
WONDERFUL FEELING
TAKE MY FIRE
THE STRENGTH TO LET GO
OXYGEN
WE'RE GONNA BE ALRIGHT
YOU'RE THE ONE I WANT
In late December last year, CCM/pop/rock band Switchfoot announced via a lengthy post that they were officially going on an extended touring hiatus. The news came from left field for most of us, with some wishing the band well (because obviously they did deserve it- they had been making music and touring non-stop since they started back in 1996) and others fearing that they'd be another dc Talk- forever on hiatus while the individual members pursued other interests and solo endeavours. However, throughout this year Jon Foreman and the rest of the band members Tim, Chad, Drew and Jerome, were all active on each of their social media accounts; and it was clear that these guys still had something inside of them yearning to be released- in what form we didn't know yet.
It was obvious that with that amount of activity, something was brewing, and it was just a matter of time. Well now that time has arrived everyone! After teasing us with a new song "You Found Me", written for the motion picture Unbroken: Path To Redemption way back in September; it's time for a brand new album. NATIVE TONGUE drops to stores in January 2019 (with a whopping 14 tracks!) but before that, let us be marvelled at the genius of Jon's song-writing in the title track, which released as a pre-order track single and as a music video last week.
Taken verbatim from my review of Switchfoot's "NATIVE TONGUE" single way back in October (because I realised I wrote my intro with much more cohesiveness than I ever could write now!), the time has come everyone. Yep, Switchfoot at back this week with their new studio album NATIVE TONGUE which drops this Friday- and considering this is their first album to be released post-hiatus (which ironically is only a 2 ½ year wait, shorter than other artists like The Afters or Skillet, who didn't have an hiatus!); there's bound to be some chatter and intrigue as to how this album sounds like. Well, now that sites like Jesus Freak Hideout and Hysteria Magazine have unveiled their thoughts, the gauntlet has now been set, and I will now attempt to relay my thoughts and opinions, which may be different to yours, and that's ok.
One thing you may have to understand to set the context though, is that I started listening to Switchfoot rather late. Hello Hurricane, Vice Verses, Fading West, and Where The Light Shines Through were all albums I listened to at the time they were released- and during the mid 2000's I knew of Switchfoot but never actively listened to an album of theirs. Songs like "Your Love Is A Song", "Always", "Restless", "Where I Belong", "Love Alone Is Worth The Fight", "I Won't Let You Go" and "Live It Well" have all resonated with me in one way or another, but this means that the sound present on NATIVE TONGUE is rather new to me…and in a good way. Other listeners may think that this sound is very similar to albums like Nothing Is Sound and Oh! Gravity and I would agree, simply because I don't have much to go on besides their word (and after this review, it's time for me to listen to Switchfoot's early material!). However because I'm hearing this 'new' sound for the first time unlike other die-hard Switchfoot fans, I'm more partial to rate NATIVE TONGUE higher (which I have) then maybe I would've if I has listened to their whole discography. And now that I have confused you all to the nth degree, let me un-confuse you all, by saying that no matter which way you slice it, NATIVE TONGUE is still a poignant and compelling album.
Jon Foreman is probably the best, and maybe the most underrated, songwriter there ever is. Is that me ignorant of other musical genres like pop, country and others? Maybe, maybe not, but the fact is that Jon and the band should have received multiple Grammys by now (and they haven't, which is a shame!), and one listen from the title track should have each one of you agreeing with me 100%. Musically back to their rock roots, we are met with a vibrant, explosive power anthem exquisitely led by stirring and pulsating electric guitar, where Jon eloquently and ardently relays to us the need for all of us to speak in our native tongue, the need for all of us to be kind to each other and to build each other up. Outrightly proclaiming that our native tongue ought to be love, and also subtly reminding us all that it is through God's love that we can speak words of life and affirmation to each other; it is in the chorus that the quintet really hammer the point home, relaying to us that '…my heart is a beating drum, my head in oblivion, my soul, such a long way from, my lips, my lungs, my native tongue, my friend, where did we go wrong, my Lord, we forgot our sound, my soul such a long way from, my lips, my lungs, my native tongue…'– as we have the sense that, we as a people have lost the way that we should talk to each other, but Switchfoot have decided to actively impart to us that we need to let our native tongue come back, and we need to start acting more like Christ if we say we are truly Christians. Spreading hate and divisiveness isn't how life should be, and if we start acting more like Jesus, then the world would be a much better place to live in.
The rest of the album is kind of like an 'ode' and 'tribute' to the fans, with quite a lot of styles meshed together (which surprisingly works!) that feels like a final album- but let us hope and pray that it's not. Album opener "Let It Happen" is a strong guitar rocker that kicks things into gear, and basically relays to us that whatever happens in the future isn't in our control, so we just have to surrender our lives to Jesus, admitting that '…I don't hold what the future holds, but I know You're my future…'. Writing this song while the band was in a state of flux must have been frustrating for the band, but the message of not worrying about tomorrow and instead letting things play out, is a message we all need to be reminded of sometimes. "All I Need", a radio friendly acoustic guitar CCM-esque melody, is another highlight of mine, as Jon passionately reminds us that love, and specifically the love of our family, friends, and of God; is the only thing we actually require in this life, comparing love to the air we breathe and the ground beneath our feet; while "Voices" harkens back to "Oh! Gravity" musically, and brilliantly compares the distractions in this world to voices in our heads (most likely our own!), as Jon fervently outlines the fact that even on the days where we feel overwhelmed by everything around us, we can ask God to '…speak to me and drown out the voices…'.
"Dig New Streams" is probably the most 'out-there' and the weirdest song I've ever heard from Jon and the band (and is similar in style to The Beatles!) as there's no verses nor chorus, and I'm struggling to even decipher the meaning of the song even after 3 or 4 times listening. Kudos to the band for diving deep and creating something new though- even if I don't resonate with the song right now. On the flipside, "Prodigal Soul" and "Joy Invincible" are right up my alley. The former is an emotional acoustic guitar ballad sung in the perspective of the lost son in the parable of the lost son, with Jon admitting that he's a prodigal soul, asking God to bring him back home, and is the other side of the dialogue of "I Won't Let You Go". While the latter is a heartbreaking yet hopeful CCM radio friendly jam, where we are encouraged to keep singing 'hallelujah' and being joyful, even in the midst of suffering- something that I reckon keyboardist Jerome held onto during his cancer operation.
EDM is where Switchfoot dabbles into in the next track "The Hardest Art", with guest vocalist Kaela Sinclair, as we are met with a heartfelt admission that to truly love someone is in fact the hardest art of all, as Jon also subtly reiterates that it's also the most rewarding and satisfying art of all. The piano ballad "Wonderful Feeling" follows and essentially is a worship song to Jesus, as Jon lets us know about the wonderful feeling in his life, which is the love of our Heavenly Father, while out-and-out rocker "Take My Fire" has Jon rapping in the verses as well!. Addressed to the doubters and the haters, and possibly even Satan; Jon passionately declares that no one is going to take his fire, that no one is going to break him down. Bold in the sense that it is Jon letting the world know that his identity isn't in what people say about him, the answer of who his identity is in is left ambiguous, and is a launching pad for discussions about faith, hope, meaning and purpose with our friends and family.
"The Strength To Let Go" can be viewed as "Prodigal Soul Pt 2", as this song I believe is the moment when the prodigal son realises that he need the Father more than anything. It is in that moment when we realise that nothing else matters except for our Father's love, as we ardently ask Him to '…give me the strength to let go and show me the way to come home…'; however "Oxygen" despite it's musical creativity, is downright depressing lyrically. Vividly depicting a failing marriage that crumbles for whatever reason, the track, though uncomfortable, serves as a reminder for all of us to put our relationships with others first before the next promotion at work. The only time we realise that our relationships are like oxygen is when they are gone- but we desperately need to change this trend, something that I commend Switchfoot in bringing to the surface.
"We're Gonna Be Alright" brings back the hopefulness and the levity, as Switchfoot sing out across pulsating bass lines that no matter our situation right now, everything will be ok as long as we keep pressing on with determination. There is light at the end of the tunnel, even if we can't see now. NATIVE TONGUE ends in very anticlimactic fashion though, as "You're The One I Want" is a slow piano led 2 minute ballad that feels like a Jon Foreman song rather than a Switchfoot song. Other than that, NATIVE TONGUE represents a coming home of sorts, as Switchfoot show us that there's still life inside of them, and that they still have something to say.
"…We're living in a difficult time where so much emphasis is put on our differences as people, living in our current society and culture. "Native Tongue" and the concept for the album is a reminder to all of us that hatred is not our first language, love is. We're born into this world and someone embraced us and cared for us and loved us. It's easy to forget and give in to this overwhelming notion of fear and conflict. This song resonated with me the first time I heard it. While talking to my bandmates about the concept for this song, it became such a strong conversation, when we watched the news. We saw an overwhelming amount of fear, conflict, hatred and hate-speech. So, it felt like a timely message, wrapping this whole record around the concept that love is the language of our native tongue…" Thought provoking and challenging, I can't wait to hear more of Switchfoot's new music (no doubt I reckon another album will follow suit soon- the band I'm sure will write songs based on Jerome's cancer ordeal!), but as it stands, NATIVE TONGUE is one of my favourite Switchfoot albums behind Vice Verses, Fading West and The Beautiful Letdown (yep, I did place The Beautiful Letdown up there, even though I haven't fully listened to that album, simply because…well "Dare You To Move"!). A very solid and impacting comeback album; comeback may seem a bit much, as their 'hiatus' was only for a year, however I reckon you can't really switch off music if you've been doing it for a long time, because it's in your blood. Though one could say that the band weren't really on hiatus because they must've been writing material in their down time- doesn't every music artist do that? Anyway, I digress- hands up who is excited to check out NATIVE TONGUE officially this Friday? Yep, me too!
3 songs to listen to: Voices, Prodigal Soul, The Strength To Let Go
Score: 4.5/5
RIYL:  Skillet, RED, Daughtry, Fireflight, Anberlin, House Of Heroes, needtobreathe