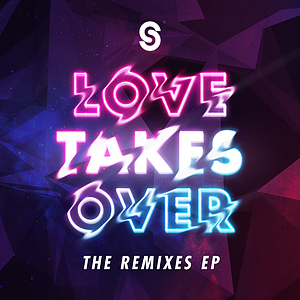 Survivor Records
Release Date: July 22nd 2016
Reviewed by: Jonathan Andre
Soul Survivor– Love Takes Over (The Remixes) – EP (iTunes/Amazon mp3)
Track Listing:
Dynamite (Willie Weeks Remix)
The Way (Eikon Remix)
Burn Bright (This Remix)
Take My Heart (Goldtop Remix)
Love Takes Over (Eikon Remix)
Remix albums are sometimes a mixed bag. And rarely can you review a remix album right. And more often than not, remixes can alter the music of the original recording drastically, creating, if you will, an entirely new track altogether- even if it is the same vocals layered on top of a different musical undertone. Sometimes remixes work, and other times it doesn't. Not to say that the remix DJ's don't try their hardest when mixing alternate versions of tracks, I'm sure they do, it's just sometimes, the original is often the best recording. Songs are sometimes sped up, others are slowed down, sometimes verses are omitted and other times there's an additional tag there somewhere…you get the picture. Remixes, all in all, are very fun to listen to, and are great for entertainment sake, but when everything is stripped away, what can I say about a remix album? Or rather to the point, what can I say about Soul Survivor: Love Takes Over (The Remixes)? Soul Survivor have been ministering to the youth of the U.K. for many years, releasing albums sometimes as often as annually, over the last 10 years or so. So for Soul Survivor to release another remix EP, it's third in its series of remix EP's, is a feat in and of itself- I reckon there's only been a few groups that have released more than 2 remix projects within their whole career, and Soul Survivor are one of them. So what does this collection of 5 songs have, and how has their sound changed (or maybe stay the same) compared to remix EP's of the past?
Standing at 5 songs, Soul Survivor- Love Takes Over (The Remixes) delivers in terms of song popularity and familiarity. Irrespective of how the remix of these songs sound, the choices of these songs ought to make the listener, myself included, at least a little interested in how these songs are delivered, played and remixed. "Love Takes Over", the title track of Soul Survivor's latest live album released in 2015, is a timely reminder of how when love takes us over, all we can do (and hopefully ought to do) is just respond in awe, reverence, and honour. Beth's powerful vocals carry such emotion and hope as we hear the theme of surrender sung with celebration in the powerful words of how '…when love takes over, I can feel You here with me, as love takes over, there's no place I'd rather be…' While the original song had eclectic acoustics, synths and a steady guitar strum, the remix version is treated with a steady flow of electronic drumbeats, and a complete overhaul of the musical structures to create a far more electronic sound. Which isn't necessarily a bad thing- hearing the remix isn't really that different from the original…which is good. "Love Takes Over", in its remix format, is indeed a highlight, as the theme of the song is highlighted, that it is when we feel God's love in us and through us that we can show good works out of the love given to us.
Throughout the rest of the EP, we're given tracks that are familiar and some that aren't as so, as this EP hopefully will bring in lovers of traditional CCM/worship, and lovers of EDM/remix songs with a little alternative edge. "The Way", originally written by Ben Cantelon and Tim Hughes, and recorded by Tim on his album Pocketful of Faith, is as energetic and invigorating as they come, no matter who sings the melody. Beth makes the song her own by delivering some stanzas of free worship as she brings the congregation into a moment of collectively declaring that '…You are the way, You are the way, lost and dead but Your love came to find me, Jesus You are the way, Jesus the only way…' Yet while I thoroughly enjoyed her take of the song on the latest Soul Survivor album, the remix makes the song almost unlistenable. Sped up to unspeakable quickness, this over-four minute track is shorted to just over 3:30- and then with some instrumental intro and ending as well. With a lot of autotune, sadly I preferred the original recording of the song much better, yet someone may enjoy "The Way (Eikon Remix)" (and that's good for them)…but it won't be me. The remaining three remixes on this EP are that from artist Tom Smith, with all his original recordings included on his debut EP Sound of Heaven. Each of these songs however, make the song much more remix-y than what it needs to be. Tom and his music already has a remix EDM style, so to remix an already remix style track can seem a little redundant. Nevertheless, these three tracks are great if you enjoy Christian EDM, a fusion between Jonathan Thulin, Tim Hughes and Rend Collective.
So how do these five tracks rate as a whole? Overall I did enjoy the EP, yet sometimes remixes can overall hinder an experience, and sadly, Love Takes Over (The Remixes) wasn't necessarily a great one. Don't get me wrong- I love each of these songs in their originally recorded format. Yet remixed? Some are better than others- with "Love Takes Over" being the most enjoyable to listen to and "The Way" the least. Check it out first on Spotify before you part with the money to buy the songs…if you aren't really fussed about remixes then I suggest just sticking to listening to the original recordings. Nevertheless, make up your own mind, and maybe, by listening to the remix EP, you can have a better picture at how songs are mixed…they can be good or terrible, depending on who remixes it and how it is done. Regardless, to release 3 remix EP's period is a great feat. Here's to the next one, and hopefully that EP collection is much more cohesive and enjoyable!
3 songs to listen to: Dynamite (Willie Weeks Remix), Take My Heart (Goldtop Remix), Love Takes Over (Eikon Remix)
Score: 3/5
RIYL: Beth Croft, Tom Smith, Rend Collective, Tim Hughes