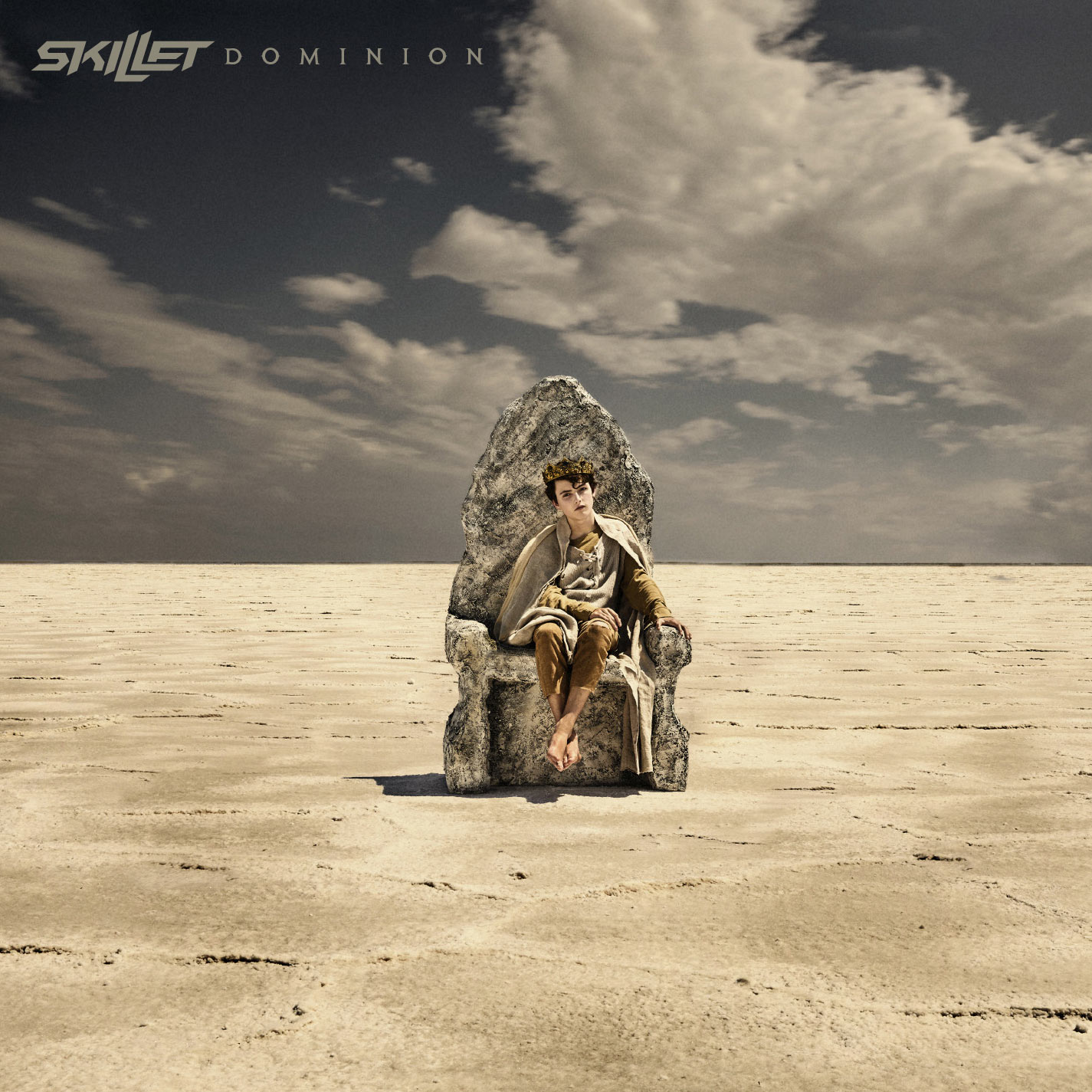 Atlantic Records / Hear It Loud / Fair Trade Services
Release Date: January 14th 2022
Reviewed by: Joshua Andre
Skillet– Dominion (Amazon mp3/iTunes)
Track Listing:
Surviving The Game
Standing In The Storm
Dominion
Valley of Death
Beyond Incredible
Destiny
Refuge
Shout Your Freedom
Destroyer
Forever or the End
Ignite
White Horse
You know how sometimes in your life, there can be a catalyst for you to notice something about someone that is actually very cool, and maybe after that fact, you may gain more and more respect for that person? confused? Well, let me explain a bit. See, in 2019 around about August (while we are in the midst of our blog series about influential artists of all time!), a couple of famous celebrity Christians announced that they were leaving Christianity for various reasons. And one of the first responses from the Christian community came from one of the most unexpected and unlikely places. Mainstream rockers Skillet have always had one foot in the CCM and one foot in the mainstream market. But on this day, lead singer John Cooper firmly affirmed himself in the Christian faith, as he unashamedly addressed the 'falling away' of believers, and encouraged us all to know Jesus from the Word of God and to read the Word of God so that our faith cannot be shaken and our faith can be rooted in the words of Jesus which do not ever, ever change. Since that day, I've become more of a Panhead (Skillet fan) than ever before! To this day I am still a Skillet fan.
Probably one of the most influential crossover Christian bands ever (who have had a massive following and impact in the mainstream industry right now, after having had long time success in Christian radio back in the day); rock band Skillet, comprising of lead singer John Cooper, bassist and keyboardist Korey Cooper (wife of John), guitarist Seth Morrison and drummer Jen Ledger; seem to be right now putting their feet in the right places, stepping into what God has called them to do, which is minister to both Christian and mainstream markets. Alongside other bands such as Switchfoot, Needtobreathe and Relient K, Skillet have this uncanny knack for creating hard hitting and poignant melodies thematically and lyrically relevant today, but doing so covertly, and not even mentioning the name of Jesus sometimes in a few tracks, so as not to scare off listeners and fans of different world views. Regardless of each of your opinions of a Christian band in the mainstream, and not fully praising God overtly in every single melody; you can't deny the passion of these four men and women of God, as they go out into the world and deliver the gospel to everyone they meet.
As a site we've reviewed plenty of Skillet albums (inclusive of their most recent project Victorious, and you can read about all things Skillet here!), while Jon has posted a Momentous Mondays blog about them also. Yet as we've grown as fans of John, Korey, Jen and Seth; we've seen a more active shift to more of an overt stance on kingdom and eternal issues. That's such a welcome and inspiring thing that the band are doing- and for their latest album Dominion, Skillet remind us about eternal issues and about Jesus in almost every song, while still having that special Skillet sound that has made us all love their music for years and years and years. For me personally, I found Rise and Victorious to be most enjoyable from the band's discography of late- with a few songs from Unleashed inspiring me also. So how does Dominion rank amongst the many albums Skillet has released since the 90's?
Opening with the lead single "Surviving The Game", we are presented with a high-octane, energetic head-banging rocker, whereby John emphatically and confidently declares that he is 'surviving the game' aka thriving in life, because of a stance of never backing down from his beliefs. A subtle reference to always standing firm for Jesus, John and co. remind us to never do what the world does, and in this sense, this melody is thematically similar to Switchfoot's "Dare You To Move". With John himself outlining what the song is about; we are presented with a hard-hitting single, and a track that sets the tone for the rest of the album- in intensity, forwardness and an unashamed sense to speak the truth of Jesus Christ.
 '…[the song is about] the celebration of freedom, a liberation from fear — to be who we want to be, say what we want to say, believe what we want to believe. In some ways, it's [the album] a reminder of the God-given rights that we were born with. It's time to regain some sort of control over our lives and not be a slave to fear. I hope this record is going to make people feel empowered, inspired, uplifted and want to rock their faces off. [Surviving The Game's] a defiant song about not giving in to the fear that the world is and has been experiencing. This song brings a feeling of survival; you have to do what you need to do in order to get your life back; a defiance against fear and the things that want to hold you down. For so many, that's depression, isolation, lonelieness, suicidal thoughts, etc. This song is about becoming the person you are meant be and coming out on the other side of all the madness…'
The rest of Dominion fervently reminds us that we need not be stuck in our lives, and that we can step forward in passion, faith and resolve into what God has in store for us in our lives. "Standing In The Storm", a vibrant, explosive rocker, features John ardently relaying to us all that even in the hardest times, even in the adversity and struggle, we can all thrive in the storm because Jesus is with us. A song that encourages us that '…I'm standing in the storm like never before, the pressure builds around me, let the winds surround me, whatever comes, I'm not givin' up, fearless as lion, not afraid of dying, I still got some life in me, you can try to shake me, I still got some fight in me, but you can never break me…'; this melody is presumably addressed to the devil, telling him that he can never win because Jesus helps us stand in the storm unscathed. The title track is next, and is a no-nonsense call to action, calling all believers to take back the 'dictatorship' of the world, and claim the eternal dominion of Jesus here on Earth. Although the song sounds super intense- when do we equate spreading the gospel to people as going to 'war'?- Skillet nonetheless inspires us to make a stand for Jesus and be active and firm in our faith; while "Valley Of Death" is by far my favourite track on the album, and my favourite ballad from these guys since "Stars". A strings led piano prominent track, John passionately sings about God always being with him at all times, especially during the 'valley of death'. As John ardently relays '…now that I walk through the valley of death, You're the light to guide me, when I'm lost and can't see, I'm holding on with all the strength I can, say You won't forget me, 'cause sometimes I don't believe that I am not alone in the valley of death…', we are presented with an honest, earnest and vulnerable depiction of what we all can feel at our lowest moments; and Skillet reminds us in this song especially, that we are not alone and God is with us.
"Beyond Incredible", a typical Skillet rock song, speaks about us humans longing to be in the presence of Jesus and longing for our heavenly home, with John praying to God and asking Him to '…take me away into a higher place, where the blind men can see, I'm finally free, I need a miracle, beyond incredible, rising above, where we can live for love, 'cause it's never enough, You're lifting me up to a miracle, beyond incredible…'; while "Destiny" is probably one of the most musically creative songs I've heard from this band. Blending together hard rock and pure pop together, "Destiny" speaks about not settling for chance or luck, but rather carving our own way and moving forward into our own destiny- the path God has chosen for us; while the ballad "Refuge" is one of the most vulnerable and honest songs from the band I've heard in recent memory. With John and Jen trading vocals effortlessly, and speaking about how we can trust God because He is our safety and shelter, and that '…every day and darkest night, I trust you at all times, I'm not afraid for You are my refuge, and when I've got nothing left, You're the place I find my rest, You are the only One that I run to, yes, You are my refuge…'; John also reminds us that the song 'Refuge' is a song that's admitting yes things are really bad and yes I am going through a really hard time. There's nothing wrong with admitting that you're going through a really hard time. It's about admitting that but also saying I know pain is going to be here, I know I can't get rid of the pain but there is a way to deal with it by casting your cares & burdens upon a God who is listening and cares for you.
"Shout Your Freedom", a rock song with a pop twist, speaks about standing up for your freedom and never backing down from what you belief in favour of peer pressure and what the world says is cool; while I find that personally "Destroyer" is the weakest point on the album, with John nonetheless singing with passion and tenacity and courage, about being the destroyer of lies and the achilles heel for Satan and his demons. "Forever Or The End", a song that's thematically from left field, is a ballad and a duet between John and Jen, and a definite standout on the album. It's a song about the breakdown of a marriage between two people, and the lengths they would both go to in order for their marriage to be whole again. It's not a 'Christian' song per se, however it still packs a punch, and reminds us that any relationship that deteriorates can be redeemed through Jesus Christ.
The rocky and musically safe (for Skillet at least!) melody "Ignite" is the penultimate track and is unfortunately forgettable. It's a song that seems to be more at home on Awake than any other album. However, the final track on Dominion is a sight to hear, as John sings (and speaks and raps) from Jesus's perspective, with Skillet depicting the second coming of Christ in this song. Containing references to Revelation 19:11-21, "White Horse" may be controversial (like something out of Left Behind!)… but hey, this is Skillet we're talking about- since when do they ever play it safe? At least this melody and the album as a whole will get people talking, that's for sure!
Skillet's music lends itself to sports, video games, WWE because it really is heavy and aggressive, but it has this spirit of overcoming — you hear that in all of our lyrics. I sometimes laugh, because the irony is it's that uber positivity that used to hinder Skillet because rock music was just not synonymous with positivity. Rock music was synonymous with darkness, negativity, anger and angst and we were singing all these songs about overcoming. Some rock radio stations couldn't wrap their head around that. Now it's actually quite popular in rock music to be positive. It's kind of a funny twist.
["Valley Of Death"]… that was the easiest and fastest song maybe I've ever written. It's just an honest song about the fact that when you are going through the valley, you can't see what's around you because there's hills and mountains and you can't see the way to go… What's really hard about the time we're in now is that none of us know if there's light at the end of the tunnel. When is this pandemic going to end? Are we ever going to live a life without masks again? All of those things are really depressing, and it causes you to take inventory of your life. Have you lived the way you wanted to live? What are people going to remember about you? None of us are promised tomorrow. But in the end, I know that I'm not alone. That is the hope and the light at the end of the tunnel.
It [Dominion] really is a feel-good album even though it's heavy and it has some dark elements, but I just think people can feel the positive emotion in the songs. It really is an encouragement to not give up and I hope that's really what people hear. I hope it brings some hope and inspiration, especially to young people, to help them keep fighting the fight.
For many of you who have read this glowing and positive review, you might say that I'm letting my love for Skillet cloud my judgement- that I should hate on the band now that John Cooper's podcast Cooper Stuff is becoming more and more political and he seems to be promoting a brand of Christianity (Christian nationalism?) that is further and further to the right. And… in one sense, you might be right. Within 5-10 years we may no longer separate the art from the artist, that politics and other issues might be so overt in songs, that we could end up inconceivably stop listening to our favourite artists altogether. However, that time for Skillet isn't now. For as much as I watched Cooper Stuff and found myself becoming less and less of a fan of the podcast- my love for Skillet has never wavered. Their music still holds up today, and it is for everyone.
With Skillet having delivered in every way throughout their career thus far, inclusive of the most recent Victorious, as well as covering a smorgasbord of relatable topics and issues; their stardom is only on the rise. And thus, let us all bask in the knowledge and the assertion that these guys are the real deal, and these guys are on a mission to make Jesus famous through their music! With Dominion being a fun-filled and introspective musical experience that personally gets more lyrically and thematically deeper with each and every time I listen; there's probably not much more I could say to you to convince you to pick up a copy of this latest project. So, what are you waiting for? I guarantee you won't be disappointed!
3 songs to listen to: Valley of Death, Refuge, Forever or the End
Score: 4.5/5
RIYL: Linkin Park, Evanescene, Switchfoot, RED, Thousand Foot Krutch