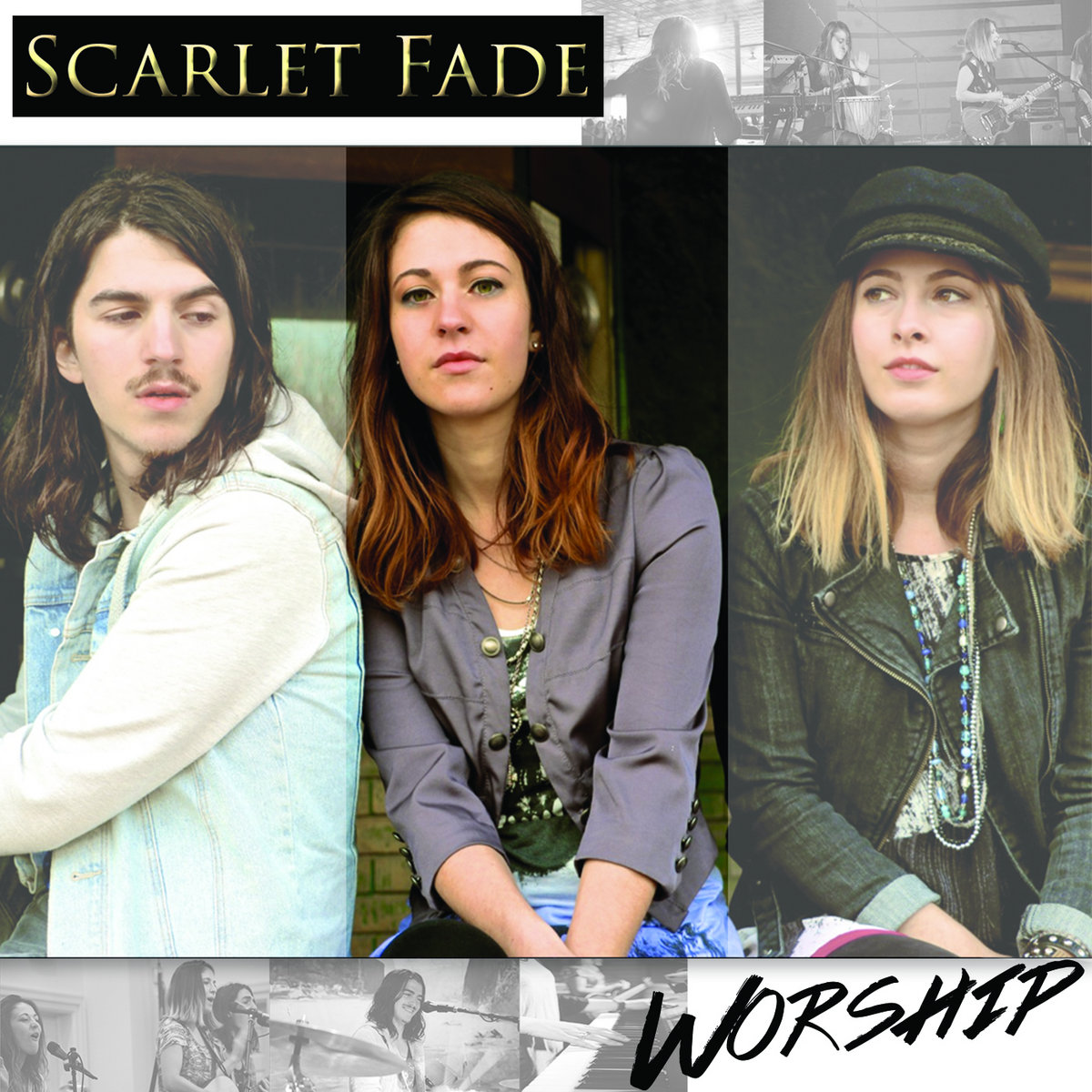 Independent
Release Date: May 27th 2016
Reviewed by: Jonathan Andre
Scarlet Fade– Scarlet Fade Worship EP (iTunes/Amazon mp3)
Track Listing:
Can't Get Enough
Faithful
Fortress
Til I See
You Remain
Take Me To the Cross
Wilderness
'…millions of good bands are out there and it takes a unique passion, honesty and humility to make a band stand out among the rest. There is something in the combination of members in Scarlet Fade that pulls your heart into the song. As artists, we want more than just to entertain, we want to inspire- and this band is making that kind of art…' This is a quote by ex-Flyleaf frontwoman Lacey Sturm; about indie pop/rock/worship band Scarlet Fade way back in the late 2000s. And she's right- there are a million or so bands out there, and to stand out, you do need something unique. And hearing Scarlet Fade and their worship album that released a few weeks ago, I can safely say that this trio from Connecticut have made my worship experience all the more enjoyable and inspiring, as this indie band continue to bring to us songs that have the basement/90s feel while still delivering quality songs and a heart full of hope. Scarlet Fade, and these songs especially, have reminded us that worship is a lifestyle, that a band whose initial influences were Paramore, Switchfoot and Flyleaf can make beautiful tracks in a worshipful vein, like these seven that are present on their self-titled EP. Released on the same day as Seth and Nirva's Not Alone and Cana Voice's This Changes Everything; Scarlet Fade have delivered an EP full of richness and lyrical poignancy, full of some of the most honest and emotive worshipful tracks that I've heard in 2016 thus far.
"Can't Get Enough" starts the album in good electronic keyboard fashion as we hear a song that could fit quite well in the 1980s, with synths, keyboards and electronic sounds anchoring the song musically. In a thematic sense, we are brought with the fact that we can't get enough of who God is and what He has done, that the enormity of His sacrifice ought to wow us to the point where we are never satisfied until we have more and more of Him. It is the second verse that underpins the song and the album as a whole- '…radiant one, You are my light, Your word guides me through the night, every day I just need more of You, need more of You, beautiful Lord You are my joy, I wake when I hear your voice, not alone cause You are here with me…I come alive in sweet surrender, renew my soul in Your living water, swept away in Your mighty river, rush over me, wash over me…' It is only then when we realise these truths depicted in these lyrics that we can truly live free of anything that holds us down, often unintentional, yet equally gripping and debilitating. A great song to start off the EP, this 1980s themed rock/worship song complete with gang vocals is a standout on Worship EP. Well done Jordan, Jaimee and Jake for such a powerful and encouraging song!
"Faithful" brings with it some LoveCollide vibes musically as Jake leads a song that once again would feel at home in the 1980s. Synth-keyboard heavy, the song brings a certain life to it that many songs within the CCM circle sadly don't. That's not to say that songs from artists like Chris Tomlin, Matthew West or Natalie Grant don't have the place, but rather, a song like "Faithful" which harkens back to 30 odd years ago presents to us a song that could've easily thrived back then as it does now. It is different, unique and ingenious, and quite possibly one of the most unique worship songs I've heard all of 2016 thus far. "Faithful" is an encouragement that God has been and will be faithful no matter the circumstance- and with Jake's voice reminding me that of Nate Sallie meets Shawn McDonald, fans of these artists will enjoy this song in particular.
With powerful gang vocals by Jordan and Jaimee starting off "Fortress", Scarlet Fade bring to us a song that could've been sung and recorded by Hillsong Young and Free- it's that energetic, 'young' and 'hip', as electronic keyboards once again take the helm of the song musically. "Fortress" acknowledges that God is our rock, our foundation, whom we steady everything else upon; as the young girls declare that God is our fortress, reigning in all His power as we look and wonder in awe at what He continues to accomplish in our individual lives, as mundane as they may look on the surface. "Til I See" (no not the UNITED hit "Til I See You") brings worship more to the fore, as this keyboard and acoustic guitar Sonflowerz-esque melody brings the vocals of Jaimee and Jordan to life. "Til I See" is a song about expectation, longing, yearning, and being reminded that until such a day when we see Christ face to face, we ought to always search more after Him, wanting and longing to be more like Christ than each day before. "Wilderness", the end song on the EP, embodies a light whimsical joyous sound as all three siblings take the lead at various moments in the song. Still as pop as ever, gone are the acoustic and electronic keyboard 1980s sounds of the beginning on the EP, and added are the light electric guitar hooks and the catchy melody sounds that can only be attributed to great CCM, even if it is a bit formulaic. The song is a call for us, to see whether we truly believe God is in the wilderness with us, and whether we truly believe that '…I'm not alone, even in the wilderness, You've never left me, You never let me go…' Well done Jordan, Jaimee and Jake for such a challenging song, and one to fit nicely at the end of this thought-provoking EP!
Both "You Remain" and "Take Me To the Cross" are my favourite songs on the album, and both are choreographed in a subdued acoustic atmosphere. Not that there's anything wrong with songs that are upbeat, but sometimes I find that the song that speaks to me the most tends to be the one that brings more of a reflective mood compared to a song that is faster-paced. "You Remain", having a similar theme to MercyMe's "Only You Remain" on their 2010 album The Generous Mr. Lovewell; allows the band to present the theme of God reigning on high, remaining when everything else has failed. As the sisters bring about a powerful and beautiful harmony, it is the keyboard led chorus that declares out '…no power above is high enough, when kingdoms fade, amazing grace, You still remain, no death below, no shadow so cold, could take away, amazing grace, You still remain, You will remain…' and gives us more reasons to believe and sing out the truth, that God is whom we ought to rely upon in whatever circumstance we find ourselves in. "Take Me To the Cross" is a worshipful prayer of surrender, and is the song to listen to if you listen to any song on the EP. A song about coming close to God as we long for Him to '…take me to the cross, where I first saw love, it's there I first believed, Lord take me to the stone, where death can't budge, You're alive and reminding me that I am free…', Jaimee, Jordan and Jake present to us a track that could be at home in a Sunday morning worship service.
A little bit of The Sonflowerz, Superchick, BarlowGirl and LoveCollide all together is what Scarlet Fade sound like, not only in this song especially but throughout the whole EP. "Take Me To the Cross" is an anthem, and the more times I listen to it, the more I declare that "Take Me To the Cross" is one of my favourite worship songs of 2016 thus far. Scarlet Fade Worship EP has introduced me to a group that has been under the radar for many years. As indie as they are, their passion and enthusiasm in this collection of songs is nothing less than infectious and joyous, as these three siblings focus foremost on giving us songs that can be used in church settings. Why they are not signed, I don't know. But then again, maybe they don't want to be. Artists like LoveCollide and The Sonflowerz have thrived in releasing albums independently, so why can't Scarlet Fade? This is a great worship EP if you enjoy worship music, artists like LoveCollide and The Sonflowerz, independent music, or all of the above. A standout EP in 2016, this is an EP that I'm going to listen to again and again, in the weeks and months ahead. Well done Jordan, Jaimee and Jake for such a powerful and enjoyable EP!
3 songs to listen to: Faithful, You Remain, Take Me To The Cross
Score: 4.5/5
RIYL: LoveCollide, BarlowGirl, The Sonflowerz, Chris Tomlin