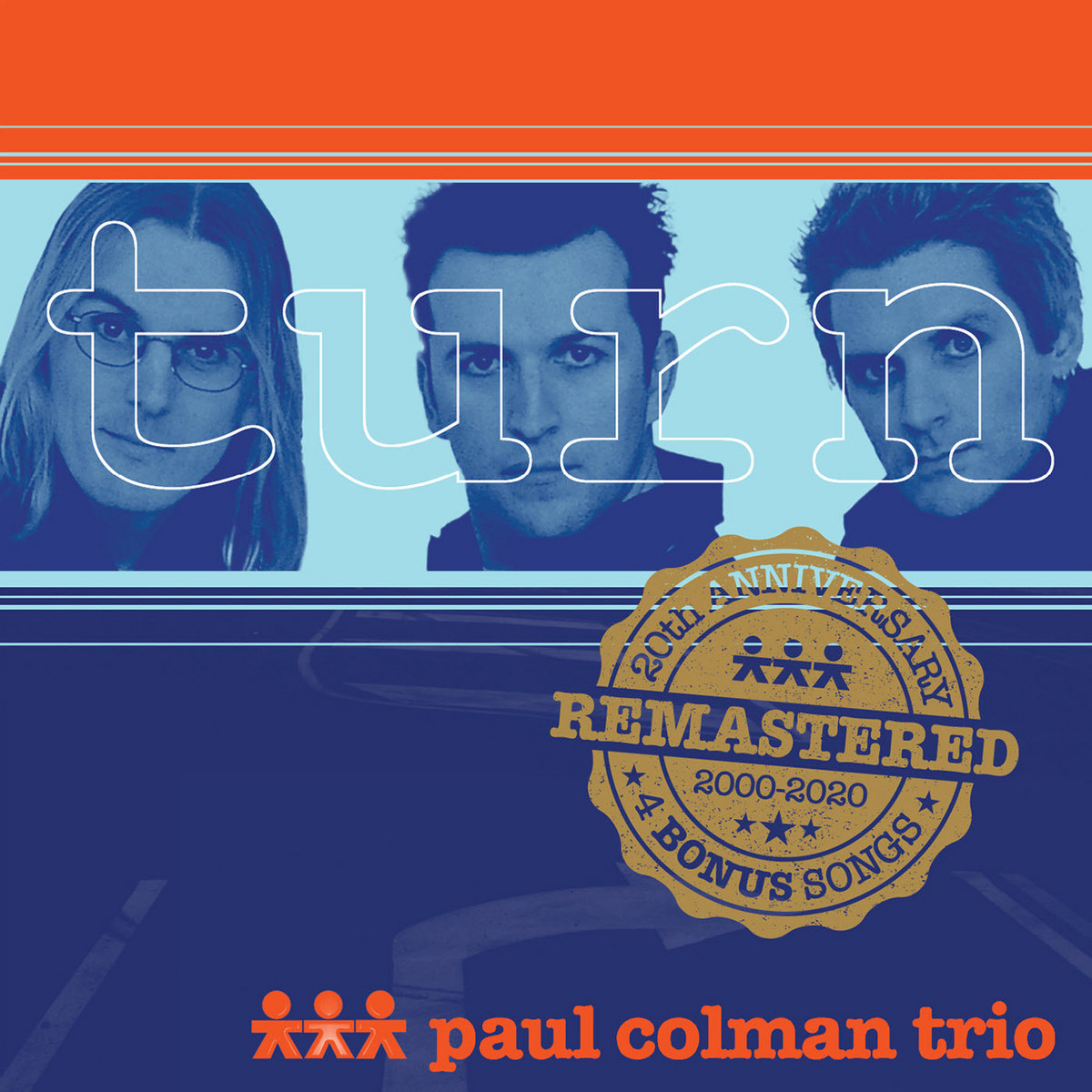 Independent
Release Date: December 19th 2020
Reviewed by: Jonathan Andre
Paul Colman Trio – Turn (Remastered 2020) (Bandcamp)
Track Listing:
Turn [Remastered]
In the Middle [Remastered]
The Sun, The Stars & The Moon [Remastered]
Live It [Remastered]
Satisfied [Remastered]
Here For Life (Crimson Clover) [Remastered]
Same Mistakes [Remastered]
Sundown [Remastered]
I Dream [Remastered]
The One [Remastered]
Save Me [Remastered]
Save the Best for Me [Remastered]
Pray [Remastered]
Turn (2020)
It's All About
Dear God (Live)
Pray (Acoustic Mix)
Paul Colman Trio (PC3) was big…back in the day. During their heyday in the late 1990s/early 2000s, they dominated CCM radio, and unveiled to us the standout indie albums Serious Fun and Turn, while also unveiling to us label-backed albums New Map of the World and One. They briefly reunited to unveil a 2011 album return but ever since then, the bandmates (or shall I say ex-bandmates) Paul Colman, Grant Norsworthy and Phil Gaudion have all undertaken different things and tasks. Paul has continued on with his solo career that he started in the mid-2000s that he started in conjuncture with PC3, and the other two…not really sure. So for me to see on bandcamp (totally by accident), a re-release of their successful album Turn, with a few added tracks (inclusive of a 2020 re-recording of 'Turn'); I was intrigued to say the least.
This 'review' isn't to write a whole history lesson on PC3. That's what google is for. Nor is it a 'review' on Turn and all of its songs. After all, I'm sure there's a review somewhere on the internet about the 20-year album Turn. What I will say is this- this 17 track album is a great nostalgia-fest and a way to travel down memory lane and be reminded of how emotive and poignant songs back then really were, and how even in a span of 20 years, these songs can still hav meaning, heart and purpose even now. Songs like 'Turn', 'I Dream', 'Sun Stars & Moon' and 'Pray' are definite standouts of mine, and revisiting these songs now makes me smile, because of the joy and happiness a lot of these songs bring, and the enthusiasm that these songs produce, that a lot of CCM in today's market seems to be lacking. Though not as musically layered as a lot of other songs from a lot of other artists (PC3 usually stick to the acoustic format all the way through), it is nice to see this trio deliver tracks that can be easy to follow, enjoyable to listen to, but all the while compelling and challenging to hear. 'Turn' encourages us all to turn our lives around, personally and collectively as a nation, to live our lives for the other and not ourselves, while 'Sun, Moon and Stars' is a soulful prayer, as we long to shine for the world to see the change inside of us- shining in our lives and living life with a difference, reflecting God's glory everywhere we meet, just like how the stars and the moon shine and reflect the glory of the sun. 'Live It' challenges us all to live out the change in our lives, and to not just pay lip service to a God that longs for us to inwardly (and outwardly) change when they are radically changed and saved by the loving grace of God, whilst 'I Dream' is a hopeful look at humanity, something to aspire to and long for, as we understand that sometimes our dreams are what God places in our hearts to hopefully challenge reality with- we see these things that we want to come to pass, and we hopefully can have the tools to move our dreams to become the reality that we want to happen. 'Pray', also re-recorded on 2003's One, is present here on Turn, and is a reminder of what to pray and how to pray, and to just generally pray, full stop. 'Pray' is a great encouragement, to know that even if we don't know what to say to God at a certain moment, when we come to the Lord with a posture of the heart to learn and want to be in a humble state of being, God will honour that, and praying doesn't have to be coming with a fear-based mentality, but rather, praying is when we have a conversation with God, allowing our Spirit to be aligned with His.
Turn (Remastered 2020) may include subtle differences in tone and volume, of crispness or even just altering the backing instruments entirely. Whatever the case, the release of this album is very timely, as the band may, just may, be up for reuniting once more to create something new…who knows? Just last year, the band unveiled Serious Fun (Remastered 2019) so who knows what can happen? So until a reunion of sorts happens (I mean it technically did- they did record 'Turn' again in 2020), I'll listen to both Turn and Serious Fun again- and be reminded that PC3, on a whole, has influenced the CCM genre, way more than even PC3, or even the genre itself, has realised.
3 songs to listen to: Turn, I Dream, Sun Stars & Moon
Score: 5/5
RIYL: Newsboys, Matthew West, Nathan Tasker, Guy Sebastian, Delta Goodrem