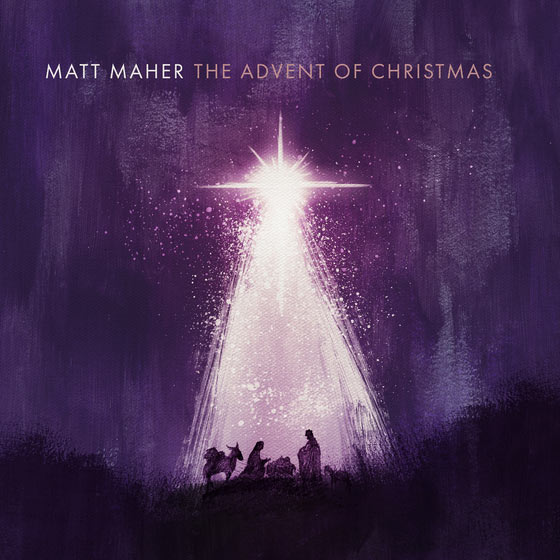 Provident Label Group
Release Date: October 19th 2018
Reviewed by: Joshua Andre
Matt Maher– The Advent Of Christmas (Amazon mp3/iTunes)
Track Listing:
Gabriel's Message
He Shall Reign Forevermore
Born On That Day
Jingle Bells
The First Noel
Hope For Everyone
Glory (Let There Be Peace)
O Come Emmanuel
Always Carry You (feat. Amy Grant)
Love Came Down To Bethlehem
Hark The Herald
Merry Little Christmas
When I Think Of Christmas
As I sit down to write this review, I check my phone to look at the time. And lo and behold, I am right. Yep it's still October. 2 months out from Christmas. So why am I sitting here writing this review of a Christmas album? I guess it's because record labels and radio and stores want to get ready for Christmas earlier, so that sales can go through the roof in promotion of a holiday that some people only celebrate just for the novelty, and just to gain presents. If you're not a practicing Christian, then I guess Christmas holds no value for you, aside from the fact that it's a 'meaningless' holiday and a day off work. However, here's the flipside. Reviewing a Christmas album this far out from Christmas, makes me realise that on some level, people want to believe in the power of Christmas, else why would they promote the holiday 2 months or earlier? Maybe it's the optimist in me, however I digress. Matt Maher this year kicks off the Christmas season with the first Christmas release of the year thus far. The Advent Of Christmas drops to all retailers this week, and the result is nothing short of remarkable. I thought about reviewing this album in December (not because it's not good, and not because I've been 'stuck' with listening to this project for 2 months already!), but then I decided to take the plunge. Because if people want to celebrate Christmas early, then they get to hear the message of Jesus earlier. That's pretty cool, right? So I guess there's some benefit for people being all hyped up for Christmas- it's opportunities like this one. To voice my opinion on a blatant Christian album that may be listened to by non-believers because of it's Christmas genre. So here goes…
"…from the very beginning and through the history of Christianity, the season of Advent has been a way of remembering (more fully) the mystery of God becoming human. Long before the Macy's Day Parade, red Starbucks cups and The Elf on a Shelf, Christians marked the passage of time in the four weeks before Christmas by remembering and embracing the sense of anticipation around the arrival of the promised Messiah; to prepare for the coming of Jesus. When you have relatives and friends coming for the holidays, you try to take time to get ready. The whole point is to prepare. I wanted to have a collection of songs – some that are familiar and many that are new – that prepare us for the four weeks of Advent and how each week is devoted to the concepts of hope, peace, joy and love…" As we read in the above statement the purpose of Matt releasing his Christmas album in October, we remember how great a songwriter he actually is- and if you don't have a clue as to who Matt is, then by all means, read my brother's review from last year of Echoes: Deluxe Edition, where he goes into detail about what Matt's all about. Now that you all have caught up though, what do we make of Matt's foray into the holiday theme tracks?
One glance down the tracklist and we meet classic carols, obscure holiday tracks as well as originally penned worship melodies. "Gabriel's Message" opens proceedings, and one could be forgiven for thinking that it was an original recording. Yet this haunting and mysterious 3 minute strings led melody is actually a Basque folk carol written in the 13th or 14th century about the angel Gabriel appearing to Mary and delivering his message of Jesus being born and being the saviour of mankind. Musically very different to anything we've ever heard before, I guess this track is fitting considering Matt's background as a Catholic. As I haven't heard any other versions of this impacting and powerful melody before (no I haven't even heard Jars Of Clay's rendition!), I have no basis of comparing this track to anything else. But as it stands on its own, "Gabriel's Message" is a solid opener, that sets the tone of the album, with Matt choosing to be more traditional in his song choices than modern and experimental.
The rest of the album is somewhat familiar in terms of carols chosen. Apart from the album opener, there are 4 remaining traditional carols and the rest (8!) are original recordings. It's not unheard of, but nonetheless uncommon for an artist to feature more than half their album with original Christmas music in a holiday album, however on this project it works. "Jingle Bells", "The First Noel", "Hark The Herald" and "O Come Emmanuel" are the inclusions and each brings life to the holidays as Matt attempts and succeeds at presenting to us joyous melodies that even the Scroog-iest person will be able to appreciate. "Jingle Bells", a fun tune about Santa and his sleigh, has the unmistakable jazz undertone, complete with Matt's signature stellar piano playing, as well as a vibrant accordion and explosive gang vocals thrown in for good measure; while "The First Noel", lyrically more biblical and about the shepherds declaring that Jesus is Noel and the King of Israel, is led by keys and includes a worshipful chorus that can be accessible for church and worship leading should this version find itself into Christmas Eve/Day services around the world this year. While "O Come Emmanuel" has previously been recorded on a WOW Christmas compilation in 2013- but in a nice addition anyway and a fitting reminder that we can proclaim in the brand new chorus '…rejoice, again I say rejoice, for unto us is born the Saviour of the world, take heart, oh weary soul take heart, for help is on its way, and Holy is His name…'; while "Hark The Herald" is a celebratory Rend Collective meets Crowder like joyous melody, led by stirring acoustic guitar, and can be seen musically as a pub song- it'd fit quite well in pubs and bars this Christmas, especially with Matt's 'la, la, la's', as well as Irish or Scottish instruments present as well like flutes and woodwind instruments.
Of the original material, the most familiar is the already-recorded-by-Chris Tomlin "He Shall Reign Forevermore", with the melody originally a piano and guitar led mid tempo ballad on Chris's Christmas album in 2015. On this version, there is more of an orchestral/soundtrack sound which gives the song more depth in my opinion, as Matt passionately cries out from the points of view of various people changed first hand from the birth of Jesus (the wise men, the shepherds), while coming to the conclusion that '…He shall reign forevermore, forevermore, unto us a child is born, the King of kings and Lord of lords…'. Only 3 minutes long, "He Shall Reign" makes up for the shortness with quality instruments and singing. "Born On That Day" is next, and is a vivid account of Jesus being born and that He is Emmanuel. Standard in that it's typical radio CCM material, there's nothing special here, although the melody is solid and catchy, as Matt cries out that '…Christmas was born on that day, on that day…'; while "Hope For Everyone" is somewhat repetitive to the point of being irritating in the verses, although the song does get better with the introduction of a gospel choir later on, as Matt ardently lets us know that there is hope for everyone because of Jesus being born and saving us from our sin.
"Glory (Let There Be Peace)", originally recorded on WOW Christmas 2017, is also present here, this time recorded as a gospel melody with a big booming bass line, creating a more groovy danceable melody, while the message of praying to God asking Him to '…let there be peace, let is start with you and me…' is still intact. A personal highlight on this project, Matt's ability to engage with his audience is never more on display than here, as he effortlessly brings us all into communion with the Lord Most High; while Amy Grant features as a guest vocalist on the piano led "Always Carry You" (which Matt doesn't lead at all!), however isn't really a Christmas song at all (but it's definitely a good thing!), as we are presented with song sung to Christ about how we are to spread the gospel, that '…I won't be afraid, for Your Word is true, every moment I believe, I'll always carry You to a world in need, of a Love that's true…'.
"Love Came Down", not to be confused with the Bethel Music song of the same name, is another original song here, as Matt relays to us majestically across serene and reflective keys, that we ought to praise our Father and our Saviour because of His unending love that came down for us in a manger 2000+ years ago; while the lone 'fast song' is the electric guitar led throwback 80's and 90's fun filled track "Merry Little Christmas", similar in theme to Francesca Battistelli's "Christmas Is" and NewSong's "The Best Christmas Ever", and lyrically quite fun as well, as Matt has a blast and tries to place almost every cliché Christmas reference (Christian and not!) into 3 and a half minutes. Some people would say that this song is probably the lowest he could go, however I for one enjoy this melody, as we remember the reason for the season, and that is Jesus! The 13 track musically diverse holiday project ends with the 3-minute piano prominent "When I Think Of Christmas", as Matt looks outward, thinking about the people going through life who don't have fond memories of the holidays for whatever reason. This song is for them, and Matt Maher makes it clear for us that whatever our past, we can make a new start on Christmas because of everything Jesus has done- all we have to do is accept it!
Matt Maher is a household name in terms of worship music, and now that He has recorded a well thought out and brilliantly sung Christmas album, I reckon that this project is one of the best holiday records over the past few years. Though there are only 5 traditionally recorded carols and 8 original future favourites, the way the songs are structured make the project work, as Matt encourages us all that this Christmas doesn't have to be the same as any other Christmas- in fact we can have new life this Christmas if we cling onto Jesus and the fact that He saved us while we were still sinners. A concept that still boggles the mind- this album is for those who want to feel closer to God this holiday season, and a must listen if you want to find some original Christmas tunes that you can sing year after year! Well done Matt, can't wait for your next studio project and whatever else you have up your sleeve!
4 songs to listen to: He Shall Reign Forevermore, Glory (Let There Be Peace), Always Carry You, Merry Little Christmas
Score: 4/5
RIYL: Matthew West, Jeremy Camp, Matt Redman, Chris Tomlin, Crowder, Tenth Avenue North