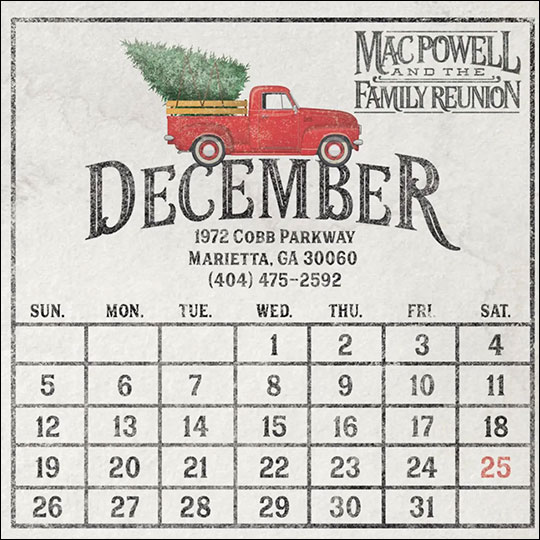 Independent
Release Date: November 30th 2018
Reviewed by: Joshua Andre
Mac Powell And The Family Reunion– December (Amazon mp3/iTunes)
Track Listing:
December
Away In A Manger / Joy To The World (feat. Brandon Heath)
Happiest New Year
Rudolph The Red Nosed Reindeer
Everything You Want For Christmas
Blue Christmas
If We Make It Through December
Silent Night
Christmas In Dixie
Merry Christmas Baby
One More Silent Night
"…I think we've realized there's not necessarily a certain audience we're going for. A few years ago I told myself I want to reach people in the country market, but then I realized I just want to reach people that like quality music. I want to make great music that draws people in whether they're country listeners, or gospel listeners, or rock listeners, or whatever. So, we're not making country music, gospel music, rock music, Christian music—we're making Mac Powell music. There's a little bit of all that stuff wrapped up in it. I love this idea of the Family Reunion cause not only musically is it a little diverse, a little more diverse than what I've done in the past, but I think we want to bring that diversity to our audience as well…" One of the saddest days ever last year was when Third Day announced their retirement/splitting up/whatever you want to call it. Billboard broke the news way back in March- and then we posted a Flashback Fridays blog about a few of Third Day's most impacting and influential albums to us. Fast forward until now, and we see Mac Powell, former frontman of the band, dipping his toe back into music, and providing us with something new; something musically very Third Day-ish but with other music influences (country, southern gospel, rock) thrown in as well to keep us interested. Third Day may be gone for the time being (never say never to a reunion, because…well if dc Talk can sing at concerts and still sound good while technically still being on a 'hiatus', well, anything is possible!), but now we are blessed to hear… Mac Powell and The Family Reunion.
A few years ago, Mac released a couple of solo albums under his own name- Mac Powell in 2012 and Southpaw in 2014. I never really got around to listening to them- to me it felt that if I did, I'd be wishing that Third Day would quit and split up. Which is…illogical and nonsense, but hey, those were my thoughts at the time. Now, as I am wiser and older, I have come to realise that band material and solo projects can coexist together, and one not harm the success of the other. In fact these two can in fact enhance the quality of each other, and knowing that information was kind of like a revelation as I was listening to Mac's new band album December– if he had recorded this while Third Day was still together, one thing is for certain- that if Third Day would've still broken up, it wouldn't have been because of Mac's solo/band career with The Family Reunion. And though isn't really known who the members of The Family Reunion are, aside from Mac and Jason Hoard, I reckon it hardly matters. Mac is having fun here, and as he eloquently sings about Jesus' birth ahead of the debut full length studio album from Mac Powell and The Family Reunion sometime in 2019, as well as providing us with good memories of Third Day; let us sit back this Christmas, listen, ponder and dwell upon one of the most musically unique Christmas albums of the year.
The album opens with the melancholy yet also rousing and joyous "December", a song that has Mac earnestly wishing that the month of December would stick around and that the new year would not pass…simply because he loves Christmas too much! Driven by stirring acoustic guitar and a laid back musical atmosphere that is almost lullabyish, the original Christmas melody that champions the holidays and gets us in the holiday spirit, is the perfect way to start an eclectic and vibrant album. Also led by the acoustic guitar, the 2 minute medley of "Away In A Manger" and "Joy To The World" is next- and while these 'mini-melodies' are sung to perfection, the brevity of the track is a nit-pick for me (although the meshing together the two songs creating a seamless medley considering that we are dealing with two different tempos is quite skilful), yet the inclusion of Brandon Heath as guest vocalist is a big plus.
"Happiest New Year", one of the more celebratory tracks as well as a song of gratitude and thanks has Mac reminiscing and looking back on the year with fondness and then looking forward to the unknown but exciting future, wishing everyone a Merry Christmas and a Happy New Year- similar in theme to "Auld Lang Syne" and "Happy Xmas (War Is Over)"; while Mac delivers a couple of 'fun' and 'silly' tracks with "Rudolph The Red Nose Reindeer" (an electric guitar led gospel infused melody about Rudolph being bullied, then promoted by Santa) and "Blue Christmas" (made famous by Elvis Presley, as Mac fervently reminds us that he'll feel lonely on the road touring during Christmas as his family isn't there with him), dispelling the notion that Christians can only sing Christ-centred carols, and proving the fact that God can use anything, even 'holiday songs' to grab people's attention.
"Everything You Want For Christmas" is a compelling, jazz infused original melody, where Mac lets us know that '…I hope you get everything you want for Christmas, I hope you get everything you want this year, Lord knows you've been working hard, I'll put a good word with Santa Claus…', while Mac turns sombre, reflective and completive for probably the most emotional and personal melody on the album- "If We Make It Through December". Originally by iconic country superstar Merle Haggard, Mac earnestly relays to us the fact that some families are struggling during the holiday season, so for us who are well-to-do and are better off, I guess it is our duty and responsibility to help those in need, just to look around us and see if friends, family, acquaintances need anything, either tangible or intangible support.
"Christmas In Dixie" is another slow-tempoed lullaby-ish melody where Mac wishes everyone Merry Christmas, from various cities and states in the U.S., while "Merry Christmas Baby" says almost exactly the same thing (but in a vastly different way!), as the originally penned rocker is impacting and explosive, with Mac passionately pleading to us to stay safe during these holidays. While the epitome of the album, THE song to listen to this holiday season, is the album closer "One More Silent Night", the nearly 6 minute mid-tempo guitar led ballad that has Mac highlighting the fact that all over the world on Christmas Eve, everyone but children especially, are counting down the hours before Christmas Day, declaring that there's only one more silent night until Christmas. Yet as Mac continues to pose question after question, we are met with the confrontation of whether we truly know the meaning of Christmas. If we don't, we shouldn't be excited about it, and that's the essence of the song. It has great meaning when we know that Jesus was born and our souls are saved- so as we dwell upon my favourite original Christmas song this year, let us ask the question of do we truly know what Christmas means to us?
"…When you go into the studio, it takes quite a bit of money to record. When you're in, you go, "Well, we're gonna record one song, we may as well have two or three others because we have the time. We're spending that money on a day, let's use the whole day." So, we recorded about 3 or 4 songs. We went, "Well, let's come together one more day and see what happens." Then we got another 3 or 4 songs. By the time we were done with those two days, we thought, "We're really close to having a full record, let's see what comes out of it." We came up with the song "December" last minute, which ended up being the main track on the record and the title of the record…" It's strange for a Christmas album to be an artist's debut album, but it is the case here- and December couldn't even be more near-flawless than it already is. Mac Powell And The Family Reunion have heaps to be proud about, and as we eagerly wait for their 'proper' debut album, let us sing our hearts out. December would have been great with an extra track (one for every month of the year), but that's just a nit-pick. Well done Mac, for this new lease on life- and I will be eagerly anticipating your next album, whenever that will arise! The question is for all of you, will you be jumping on the Mac Powell bandwagon? I sure hope you do, otherwise you'll be missing out!
3 songs to listen to: Happiest New Year, Everything You Want For Christmas, One More Silent Night
Score: 4.5/5
RIYL:  Rhett Walker Band, Needtobreathe, Daughtry, MercyMe, Casting Crowns