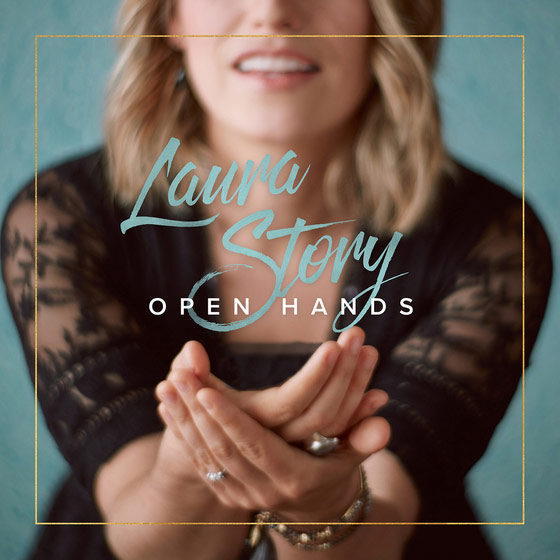 Fair Trade Services
Release Date: March 3rd 2017
Reviewed by: Joshua Andre
Laura Story– Open Hands (Amazon mp3/iTunes)
Track Listing:
Death Was Arrested
Open Hands (feat. Mac Powell)
You Came Running
Give You Faith
For the Love of My King
Awake My Soul (A 1,000 Tongues)
Whisper
Every Word You Breathe
Majesty
Extraordinary
Grace Abounds
Laura Story, the writer and singer of the hit song and Chris Tomlin covered "Indescribable", is probably one of the most underrated female vocalists currently in CCM. Releasing her debut Christmas project God With Us in 2015, on the heels of her most successful album God Of Every Story in 2013 (featuring smash hits such as "I Can Just Be Me", the title track, "Who Is Like Our God" and "Keeper Of The Stars" to name a few), and her previous impacting and honest albums Blessings (2011) and Great God Who Saves (2008); Laura has wowed us time and time again with her stellar and relatable songwriting, while also staying relevant to the current CCM sound as well. With parallels lyrically and musically to Bethany Dillon, Sara Groves, Christy Nockels, Natalie Grant and Nichole Nordeman, Laura already has huge shoes to fill, left by herself and the successes of her relatable and poignant albums. Blessings charted in 2011 at number one on the Billboard Christian Charts, while God Of Every Story was the 7th highest Christian album and 6th highest folk album in 2013. So what's Laura to do to top that effort? Well, what she has done, is to unveil her next studio album. Nearly 4 years later, Open Hands is now available to listen, download or to purchase as a physical album at the end of this week, and I would highly encourage that you do all three and check out Open Hands come March 3rd 2017!
With the title track releasing as a single in 2016, Laura passionately sings a vulnerable duet with Third Day front man Mac Powell, delving into the notion and concept of surrendering our everything to God, until all we have to give is our open hands, so that we may know what it truly means to live with God in the driver's seat. It's hard to give up control, even if it is to the Author and Perfector of our faith, however Laura and Mac ardently relay across stirring guitars, vibrant synth and big booming drums in this inspiring ballad, that '…I'm not afraid of what I lose; my greatest joy is finding You…' (implying that they have full confidence and faith in Jesus' promises of always being with us!), and further on declaring '…Jesus, I surrender all, every victory and loss, take it all, take it all 'till all I have is open hands…'. It takes a certain type of courage and security in our faith to fully surrender everything to God and mean it 100%, so this song is sure to provide discussion amongst all who listen, as we grapple with whether we ourselves are fully surrendering to God, or are holding on a bit of control for ourselves.
The perfect title track in that this theme of surrendering is one that needs to be explored further and further for us all to completely understand; Laura carries on from "Open Hands" with "Death Was Arrested" and "You Came Running", two other strong melodies that together with the title track, make up a lyrically formidable top three songs that I haven't seen in a while. "Death Was Arrested", a hymn like melody and previously recorded by NorthPoint InsideOut, and also present on Aaron Shust's upcoming live album, probably will be the song to receive the most airplay at radio during 2017, partly because it has already been covered so much. But also because of its simple yet emotional and honest message of Jesus delivering us from sin, and arresting death, so that we can have new life in Him. With Laura proclaiming across anthemic guitars and keys that '…Your grace, so free washes over me, You have made me new, now life begins with You, it's Your endless love, pouring down on us, You have made us new, now life begins with You…', we are glimpsed into the love and devotion Laura has for the One who died for her personally, and died for each one of us personally as well. "You Came Running" lyrically is like the parable of the lost son in song, as Laura fervently relays to us in a three minute CCM/pop ballad that Jesus freely pursues us, even when we think we don't need Him. Potentially a single, we remember that God loves each one of us more than anything on this Earth, so for Him to run after each of us, is pretty huge and mind boggling! A song that I can't get enough of, lyrically and thematically as I attempt to reconcile the God who loves all of us, to the God who loves each of us the same- with a big heart; Laura is to be commended and applauded for some of the strongest songs of her career to date!
After the lyrically genius of the first three songs, we are treated to the rest of the album, which doesn't let up in terms of inspiration and a heart for worship, as Laura dives deep into a myriad of relatable issues to give us a strong and engaging album lyrically. "Give You Faith" is a song written for her children, relaying to them that she and her husband will do their best to raise them in the Christian faith, reminding them that they will share them the good news of Jesus at every chance they get- ensuring that Laura's children are active Christians is, according to her '…more than wisdom or wealth, more than happiness and health…'; while we are next treated to a reworking of the hymn "My Jesus I Love Thee" in "For The Love Of My King", sung to aplomb and professionalism (although the traditional verses and brand new chorus together seems to be a bit disjointed!), as well as the made-for-Sunday-morning-church-service CCM/worship melody "Awake My Soul (1000 Tongues)", co-written with Matt Maher and Matt Redman.
Though these two worshipful melodies are quite solid, both tracks #5 and #6 are probably the lowest point on the album, as these themes have been sung before and sadly the execution of the tracks leave much to be desired. Not to say that "Awake My Soul" and "For The Love Of My King" are bad, but they just aren't as engaging as previous Laura Story originals. Thankfully there are only two 'low points' here and the back half of the album is just as strong as the opening tracks. "Whisper" is a thoroughly engaging and inspiring guitar led melody reiterating that we can and will find God anywhere, even in the whisper; and the piano led CCM ballad "Every Word You Breathe" is instantly catchy, and delves into the notion of hanging onto and believing every word that Jesus declares to us, that everything He says to us is 100% truth.
The instruments are dialled back a bit in the acoustic guitar led worshipful ballad "Majesty", which extensively declares the majesty of God, and proclaims that he alone is worthy to be praised, as Laura honestly asks God to '…still my heart, fix my gaze, on Your presence reigning in this place, that all these lips that humbly dare to speak, is 'More of You and less of me'…', while the epic, grandiose and anthemic potential single "Extraordinary", led by stirring guitars and vibrant keys simply declares that Jesus is extraordinary, that He is enough for us, that '…I know my words will never be enough, so let my life declare Your extraordinary love…'. Open Hands ends with the piano only emotional and honest ballad "Grace Abounds", similar musically and thematically to "Blessings" and "Grace" in the sense that the album closer is sure to worm it way into our hearts, and leave us with plenty to complete and ponder over (just like the other two aforementioned tracks on previous albums!) after Laura earnestly reminds us of the power of God's love and grace that extends to even the lowest of low. What a chilling and emotional ending to a very strong album that has me agreeing with the sentiment that this 11 track project was well worth the wait!
For Laura Story, to record a heartfelt and inspiring album that is the worshipful Open Hands, after the emotional and personal God Of Every Story, is probably as healing and as therapeutic for her to record, as it most likely will be for others to listen to it. Reminding us all that Jesus Christ is never far away from us, that all we have to do is open our hands and He will come running to us, no matter what; Laura has recorded one of her strongest albums to date. With plenty of soon to be original hits, worshipful melodies, as well as heartfelt personal ballads, you cannot go wrong with taking a look at Laura's new album. For fans of singer songwriters such as Jason Gray, Nichole Nordeman, and Jonny Diaz, as well as pop/worship artists Christy Nockels and Natalie Grant; Open Hands should be on everyone's list, for an album to listen to this 2017! Well done Laura for 11 songs that have touched my soul and changed me for the better, as I marvel at possibly one of the most underrated female vocalists and artists of recent times!
4 songs to listen to: Death Was Arrested, You Came Running, Every Word You Breathe, Grace Abounds
Score: 4/5
RIYL: Third Day, Big Daddy Weave, Natalie Grant, Steven Curtis Chapman, Nichole Nordeman