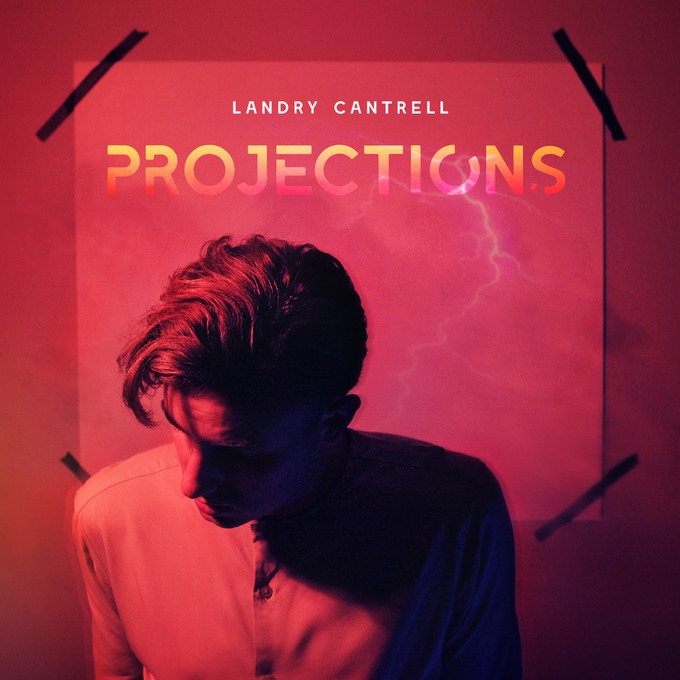 Dream Label Group
Release Date: June 16th 2017
Reviewed by: Joshua Andre
Landry Cantrell– Projections (Amazon mp3/iTunes)
Track Listing:
Before You
Gravity
Fly
Louder
Feedback
Indian Summer (feat. Kelsey Hicks)
Separate
Dreamin'
Deeper Love
Fade Out
Underneath
Move Me (feat. Lawrence Trump)
"…the song "Before You" is a special one for me because it's a direct reflection of the way I felt when I wrote it. I began the process discouraged and depleted, fully expecting to find another dead end. By the time I had finished the song my attitude and perspective had completely changed. The song itself, in a way, had catapulted me out of the little pity party I had thrown for myself. My hope is that when people hear the song that it can do the same for their situation as it did for mine…" Recently signed to Dream Label Group, CCM/pop artist Landry Cantrell is set to unveil his debut album Projections to stores this coming week. With a musical and vocal sound similar to Colton Dixon, FFH, Anthem Lights, Mark Schultz and Sanctus Real, the 12 track inspirational, personal and honest batch of songs is one of the highlights in June, and also in 2017. In a sea of hundreds of albums that release every year, and plenty of new artists releasing albums in any given year as well, Landry stands out in 2017 by a mile- not since Zach Williams and Grayson Reed (both in January) have I been excited about a new artist releasing a debut project. So why has Projections resonated with me so much? Well let's dive in and see why this release will be in my top ten albums of this year (or maybe top fifteen!)
Opening with the vibrant, eclectic, synth and keys led mid-tempo ballad "Before You", which is in fact the first single, Landry earnestly reiterates the fact that our lives are forever changed after we meet Jesus, that '…that was all before You, I guess it only takes one time to change Your mind, I guess it only takes one time to get it right, had almost given up on everything this time…I thought that my last chance had passed me by, but I guess I was too blind to recognise, that You were what was missing in my life…'. We are forever changed from the inside out as soon as God enters our lives, and Landry fervently highlights this ever true notion. Essentially a pop song at heart, "Before You" is super catchy as the opener, and segues into "Gravity", an electronic pop number where Landry describes the immensity of God's love like '…gravity holding me down…', the fact that it is His love that we need to survive and make it through each day. As Landry eloquently cries out that '…when the world is spinning out of control, Your love is like my gravity, when I am overboard and going under, Your love will come and rescue me…', we are glimpsed into an ardent and unbridled love of Jesus that we all should possess now and into the future.
The rest of the album showcases Landry effectively and skilfully translating different genres and styles and a variety of relevant topics explored into a cohesive journey of diving deep into God's love and the human condition. The electric guitar only 'acoustic' mid-tempo ballad "Fly" has Landry channelling his inner Jeromy Diebler as he encourages us to take a chance on our dreams and take a leap of faith into the unknown, as well as staying true to ourselves, pleading with us to '…open your eyes, here is my hand, we'll do this together, just take a chance…'; while the 90's throwback electric guitar pop number "Louder" sounds like something Plus One would record, as we are treated to an engaging and powerful gospel choir declaring that Jesus' love echoes louder throughout that world than we think, a notion that should bring a smile to our faces and a spring in our step as we dance to this awesome news of the unending love of Jesus available for everyone regardless of our circumstances. Acoustic guitar driven r&b/jazz 3-minute melody "Feedback" skilfully describes God's love to the feedback where our lives are a song. (it's an ingenious metaphor and clever imagery!), and pop seems to be the recurring theme also in the chilling and captivating piano led melody "Separate", inspired Romans 8:38-39 and also Psalm 139, where we are eloquently reminded of God's intense, immense and unending love for us, that '…not even death or life, things past or things to come, could ever separate me from the love of God…'.
Though a strange title, "Indian Summer" is probably the most powerful melody on the album. Sung as a duet with Kelsey Hicks, the ambiguous mainstream/Christian melody could be sung to God or to a loved one, as Landry reiterates honestly that the only true love that he has is '…my unexpected lover, my Indian Summer…', and that '…seasons change around me but I got this feeling that You're forever…'. It's great that Landry is utilising the fact that the song could be sung and interpreted in two ways, as I'm sure listeners of mainstream music can appreciate this song also, and hopefully can be drawn closer to God. While a genre shift to pop/rap in "Dreamin'" signifies a bold move from Landry, as he reassures us that we can follow our dreams with God on our side ("Dreamin'" is a track we all need to hear if we're feeling down and discouraged) and electronic mid-tempo pop number "Deeper Lover" is an earnest plea and prayer as Landry asks God to take him deeper in relationship with Him (with plenty of remix effects and EDM added in for depth!).
If there's anything worthy nit-picking, it's the low point "Fade Out", which on the surface is catchy, but is also rather repetitive, as Landry sings that he doesn't want to fade into oblivion, into people not noticing him, into him not making a difference, a legacy. The lyrics are admirable, yet there's something about this acoustic guitar led slower paced ballad that unfortunately doesn't really resonate with me. While the penultimate introspective and reflective tune "Underneath" slightly drags, yet also inspires and provides us hope, as the persona cries out to God, asking Him to pull him out from underneath the guilt and shame he's been feeling; Projections ends on "Move Me", an 80's throwback themed gospel/pop 3-minute potential single, featuring Lawrence Trump on guest vocals. Encouraging, inspiring and overall an enchanting melody to sing along and worship to, both Lawrence and Landry sing beautifully in harmony together, as we remember that '…I know You calmed the sea, pushed back the ocean, I know You can hide the moon or steal the sun, I know You can break down walls and move the mountains, I know that You can move me, move me, move me…'. A fitting way to end an album that is essentially about God's love and how He unequivocally loves each of us infinitely, Landry's album is one that needs to be listened to by all of us, so that we can fully grasp the love of God that stretches longer, higher, wider and deeper than anything we could ever think of!
"…there's a line in a song I wrote that says, 'I've been chasing stars, following my heart, but I can't find You,'. Sometimes, it's really hard to not allow your own desires to cloud your judgment, and drown out God's voice in your life. It's easy to get caught up in wanting to be successful, or our skewed version of what we view success to be. To God, success is something completely different. Once you get a glimpse of that perspective, you're reminded why you're doing what you're doing. When people relate to the songs I've written, well, first of all, it blows my mind, because I write these songs from my heart and life. But when I see others finding comfort in what I've written, it's really special for me. That's a humbling and incredible thing to experience. I like to write with metaphors. In the same way Jesus taught in Parables, instead of outright saying something, I like to paint a picture. I want my music to provide a little beacon of hope for this world…" Landry Cantrell's debut project is one that is sure to garner popularity and buzz in the coming months- well done to Dream Label Group for signing the young up and coming artist. A release that you definitely do not want to miss out on, let me just say that there is no reason not to listen to Projections if you're a fan of CCM and pop. So, what are you waiting for? Landry may not be a household name now, but I can guarantee you- he will be. So dive in deep and start with the first track "Before You" when the album releases on June 16th!
3 songs to listen to: Before You, Separate, Move Me
Score: 4/5
RIYL: Colton Dixon, FFH, Anthem Lights, Mark Schultz, Matt Hammitt, Chris August, Curt Anderson