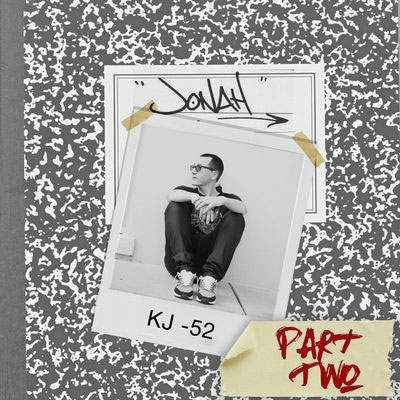 52 Records
Release Date: February 15th 2018
Reviewed by: Joshua Andre
KJ-52– Jonah Part Two (Amazon mp3/iTunes)
Track Listing:
Intro
Time Alone
You Know It
Be Like That
Worldwide 2 (feat. Goldinchild)
Saw The Light (Love God Love People) (feat. Sean C Johnson)
He Won't Fail Me (feat. Zauntee)
All I Had (feat. Datin)
Birthday
Savage (feat. Canon)
For most of my life, I haven't had even the slightest inkling to listen to rap, for various reasons. However, of late, my music tastebuds have changed, and hence out come other genres besides pop and CCM. For me, country gets a good go of it as a genre played on iTunes, yet I reckon ever since I was wowed by artists like Lecrae and NF, rap no longer is stigmatised by myself, now earning a well-deserved spot on my iTunes and Spotify playlists for the foreseeable future. One such rap artist that has shown me that music that isn't sung but talked really fast, has its merits; is KJ-52– real name Jonah Sorrentino.
If you want to read more about KJ, I wrote a review of Jonah Part 1 last year, so before you check out my thoughts of Jonah Part 2, you can take a read of that. Or you can check out his Wikipedia page. But if you are a bit tired (like myself all the time, lol!) and would love the cliff-notes version of what KJ is all about, let me make it brief for you. AS KJ has had quite a journey in the Christian rap and hip hop markets; he has released 8 full length studio albums and also guest sung/rapped on various compilation projects and other side projects. He has also been nominated for and won as well several GMA Dove Awards. Fast forward til now and we have KJ embarking on a new journey. With both Jonah and Jonah Part 2 being funded through Pledgemusic, the result is a strong collection of heartfelt, poignant, personal and impacting tracks that are sure to have repeat listening value as time progresses.
One aspect that sticks out to me, throughout both projects (Jonah and Jonah Part 2), is that throughout this short but impacting track list, even though KJ is predominately rap- he dabbles more in other genres, which surprisingly works, while many relevant topics are extensively covered! The 1 minute piano led intro piece titled…you guessed it- "Intro", is a spoken word melody about how KJ became a Christian, as he captivates us by speaking about himself in third person, against a backdrop of pulsating electronic effects; while "Time Alone" is as personal as you can get, as KJ fervently reiterates that at times he feels burnt out and needing some time away from music, away from the spotlight, away from the constant scrutiny and attention, and some time alone. While KJ delivers one of the best raps I've heard in recent memory in "You Know It"; with the song being perfect head banging material for when we're all at a party- while he reflects upon his time in the music industry, and relays to us that he's not done yet even though other critics may be counting him out.
"Saw The Light (Love God Love People)" is as worshipful and as gospel as any song in 2018 (and it is indeed a left-field track from KJ, but definitely in a good way!), as the duo of KJ and Sean C Johnson sing in perfect harmony, relaying to us that as one of God's commandments is to love God and to also love people, we can simply love others, and through that love God by sharing out testimony and being open about everything He has done in our lives. While songs like "He Won't Fail Me" with Zauntee and "Birthday" are stellar production-wise, as well as in terms of musical catchiness; we are met with a pair of impacting KJ melodies that are sure to have us tapping our toes and moving to the rhythm more times than just the one.
"Be Like That" is probably one of the most intense raps I've heard, and along with "You Know It", form the heartbeat of the album as KJ tells the world about almost everything that is in his head, as he channels NF in some parts (though less angry on observation), while "Worldwide 2" is a track that you'd only fully understand if you're a fan of KJ's earlier work with Goldinchild way back in the day, as this track is a re-done-re-recorded version of one of his collaborations. That's not to say that if you haven't been a fan of KJ, you won't appreciate the track- I'm not that much of a fan, and I love this ingenious and unique tune- but you certainly will appreciate the hidden throwbacks and the little treasure gems a bit more. While "All I Had" features Datin and is basically a testimony-like song in which KJ speaks greatly in depth about times in his life where he can see God moving, thus the conclusion that he comes to in the song that '…all I had was Jesus and the family, I ain't got a plan b…'; the real let down was the forgettable "Savage", in which KJ teams up with Canon, but sadly misses the mark here as the chorus makes no sense (who is savage?) and Canon isn't featured that much except for the repetitive chorus. KJ tries his best here, however the lyrics are somewhat what we've heard before in the far superior "Be Like That", "All I Had" and "You Know It".
With Jonah Part 2 being somewhat less cohesive than Jonah Part 1 (which was in my opinion KJ 52's most cohesive work to date), we are nonetheless inspired and encouraged by KJ-52's latest offering. Despite a couple of hiccups; this project is a must listen for 2017, no matter if you love rap or not. In fact, if you love music in general (how could anyone not!), then you will definitely find a song or two that you will love on Jonah Part 2. There's nothing really more I can say to you that could make you want to listen to the album. So I will say this- take a listen, and if you like it, that's great. If not, that's fine too. Personally, I reckon the album is great. The many guest vocalists add a different dynamic (in a good way!) and I cannot wait to see what KJ does next (apart from his Christmas album releasing at the end of this week!), considering how this Pledgemusic campaign was so successful! Well done KJ, can't wait for your future endeavours! Time for me to watch The Jonah Movie, don't you think?
3 songs to listen to: You Know It, Be Like That, All I Had
Score: 4/5
RIYL: Group 1 Crew, Hollyn, TobyMac, Lecrae, KB, Andy Mineo, NF