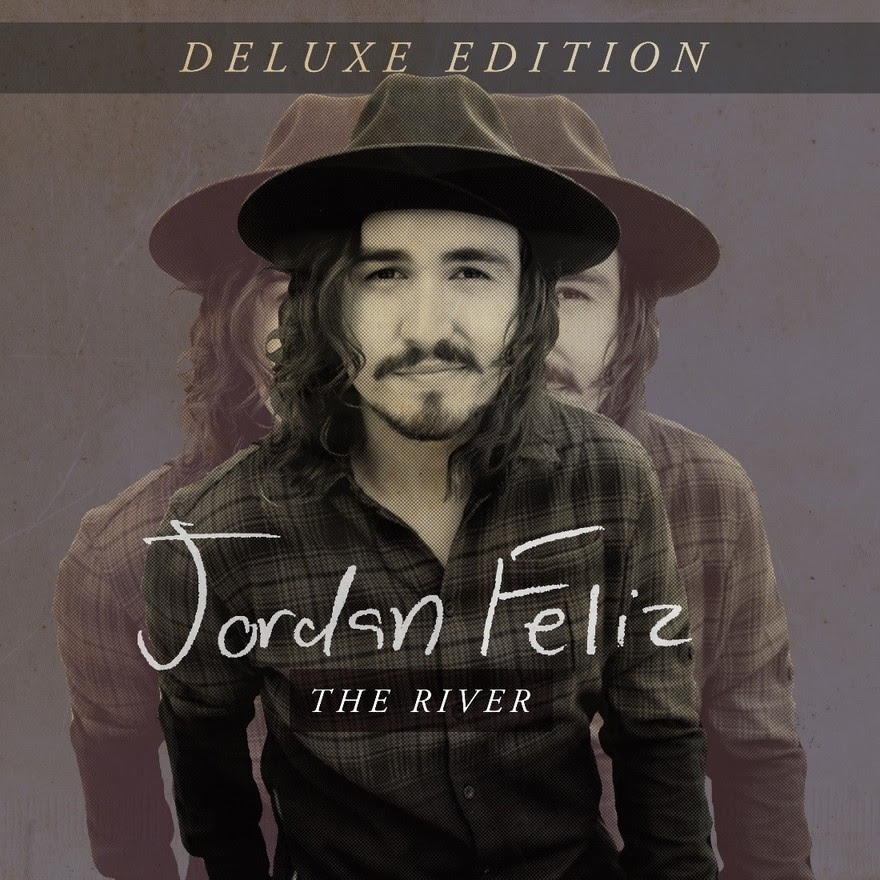 Centricity Music
Release Date: June 9th 2017
Reviewed by: Jonathan Andre
Jordan Feliz– The River (Deluxe Edition) (iTunes/Amazon mp3)
Track Listing:
Carry Your Troubles (Intro)
The River
Never Too Far Gone
Best of Me
Beloved
Simple
Cheer You On
Your Great Hands
Live it Out
How Long
Satisfied
The River (Neon Feather Remix)
Beloved (NEVA Remix)
Never Too Far Gone (Isaiah Tejada Remix)
Satisfied (goodnewsbadnews Remix)
Best of Me (Live from the Roadshow)
We all know Jordan Feliz. Even if we don't really know the artist, we all have heard his song 'The River', that has been blowing up the charts this last year and a bit. Signed to Centricity Music, home to artists like Jason Gray, Unspoken, For All Seasons, Aaron Shust, Lauren Daigle, Andrew Peterson, Carrolton, Jonny Diaz and Grayson Reed to name a few, Jordan's infectious personality and heartfelt songwriting has propelled him into stardom along with winning the New Artist of the Year at last year's DOVE Awards. With the success of his debut album last year (that spawned singles like 'Beloved', 'Best of Me' and 'Never Too Far Gone'), Jordan's introduction into CCM/acoustic music after spending more of his musical beginnings in the metal music scene as well as being in a band; is something more out of a book than real life…nevertheless, Jordan's music continues to encourage and impact many, and it was the success of The River that has prompted the label to release a deluxe edition of the album, a year and a bit later, featuring the original 11 tracks, alongside 5 remixes of some of his chart-topping and impacting songs. So what does this new deluxe edition include, and what should've it included? Should you purchase the album, just for the new songs, and maybe even gift the original edition (if you have it) to a friend? Read on and find out my thoughts about this album, one that though it has much to be celebrated, also has much to be desired too!
Glancing through the tracklisting, we can't help but see the similarities between this and his debut album last year. In fact, The River: Deluxe Edition has the same tracks as The River, all with the exception of 4 remixes…and that can either be a good thing or a bad thing, or both. Songs like 'The River', 'Best of Me', 'Beloved' and 'Never Too Far Gone' are included on this deluxe edition, yet looking a little deeper, this deluxe edition is really a very excellent marketing ploy by the label to continue to sell more Jordan Feliz albums. Really, it is. Not to discount Jordan and his music, but I felt like this deluxe edition was more of a money grab than anything else. What would've been much more ingenious and interesting by Centricity Music would've been to release The River: Deluxe Edition, still have it stand at 16 tracks, have the remixes, and omit some of the songs originally on his debut album, and therefore include some of his lesser popular songs, like 'Rejoice', 'Dancing Through the Fire', 'Drag Me Down' (a One Direction cover featuring BEC Recordings artist David Dunn), 'Hollow' (a Tori Kelly cover), maybe even 'Photograph' or 'Brother' that was included on Jordan's previous EP/acoustic album Beloved would've been great additions here. What nevertheless has resulted from this deluxe edition is in fact 11 songs that we've already heard, 4 remix songs and a live track ('Best of Me'). And honestly, to wait a year for a deluxe edition and for it to release like this, it's really unfortunate that Centricity didn't capitalise on such a release and create something unique, different and interesting. Still, here's hoping songs like 'Hollow', 'Drag Me Down', 'Brother', 'Photograph' and others can be released at a later date on a B-Sides album. Maybe, just maybe, Centricity Music can create something much more engaging and interesting in the future, if ever they decide to release a deluxe edition version of an album again!
It's been basically 2 years since Jordan's first radio single on Centricity Music, 'The River', released to radio. A few years later, and Jordan's impact has reached far and wide. So with the deluxe edition of his album, what can we see? That Jordan's music is as enjoyable and inspiring now as it was back then. Songs like 'The River', 'Best of Me' and 'Never Too Far Gone' are some of the songs that have been instrumental in people's lives over the last year or so, and I'm sure anything from Jordan in the future will have a similar effect. His winning of New Artist of the Year at the 2016 Dove Awards was much deserved, and hearing these 15 songs is evidence and proof enough. While this deluxe edition didn't have much new material (aside from the remixes), this collection of Jordan's nevertheless is a reminder that songs that stand the test of time can be tested- listen to the album a few years later than when it was initially released, and see if it has a similar impact to yourself compared to when you first heard it. So what is my verdict? The River is such an album. Jordan's imprint on CCM is sure to create ripples throughout the music industry as a whole. Only in his mid-20s, Jordan and his music are sure to go far as the years roll on.
And while Jordan has made the transition from being in the rock/metal genre, to acoustic/pop/CCM; it is his lyrics of honest transparency and his passion to create music that'll impact those around him, that will make his album be much loved both now and into the future. Fans of Shawn McDonald, Chris August, Jimmy Needham, and bands newworldson and Unspoken are sure to love Jordan and his music. From "The River" to "Never Too Far Gone" and "Best of Me", Jordan's message is central and unwavering, that we are always and constantly loved by the King, and that is why and where our confidence comes from. Well done Jordan for such and inspiring album (even if this album is basically a re-hash of last year's debut…), can't wait to full-length album #2 (the real one) whenever it comes.
3 songs to listen to: The River, Beloved, Best of Me
Score: 4/5 (rating based on songs as they are), 3.5/5 (for a deluxe edition to not include acoustic tracks, rare songs and other tracks that didn't make the cut in albums previously, half a mark is shaved off!)
RIYL: Unspoken, Jimmy Needham, newworldson, Chris August, Shawn McDonald