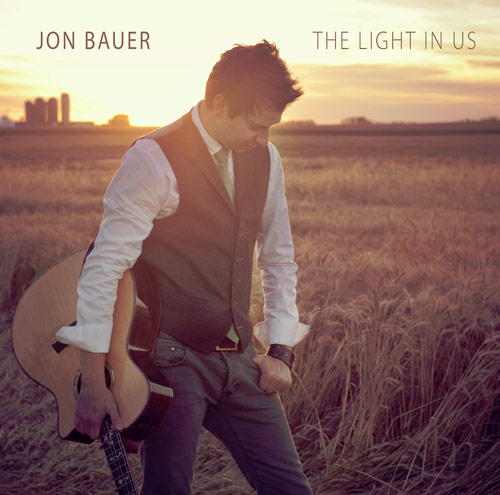 Independent
Release Date: June 10th 2016
Reviewed by: Joshua Andre
Jon Bauer– The Light In Us (iTunes)
Track Listing:
Your Love is Beautiful
Light In Us
You Just Want My Heart
Where the Sidewalk Ends
Say Something
Come Alive
Even If (No One Can Separate)
Great Is Your Faithfulness
You Are My Everything
Starts With Us
Reminding me vocally and thematically of CCM artists such as Reuben Morgan of Hillsong, Jadon Lavik, Brenton Brown and Chris Tomlin; independent worship artist Jon Bauer has unveiled his brand new album The Light In Us, on the heels of his respected and popular 2012 album Our God and the acoustic worship album Roots Of Worship in 2013. Canadian worship artist Jon Bauer is no stranger to the Christian worship industry, with his previous studio albums each garnering praise and various forms of nominations in the GMA (Gospel Music Association) Canada Covenant Awards. Also lending his vocals in children's CD's, something Aussie Colin Buchanan is well known for; It is clear throughout these ten new honest, personal and worshipful melodies, that Jon's song-writing abilities is beyond remarkable; with a similar likening to Mark Hall of Casting Crowns. In fact, Jon has single-handedly woven together 10 worship moments, and from listening to this album, I would class Jon as one of Canada's finest worship leaders, maybe even songwriters, just behind Marc Martel and Jason Germain of Downhere. If you haven't had the pleasure of listening to Jon's music, then The Light In Us is an album you do not want to miss out on!
First impressions are always key, and Jon's opener "Your Love Is Beautiful" packs a mighty good one. As Jon eloquently reiterates across soft electric guitar is this mid-tempo ballad that Jesus' love is beautiful, that nothing else can compare to the immensity of His love for us; we are presented with a moving, inspiring melody reminding us of the Maker of everything beautiful in this world. He who made every beautiful aspect of creation is definitely worthy of our praise, so we should in fact acknowledge the fact, and trust Him in every circumstance. A moving and encouraging uplifter, this opener segues into the more upbeat pop melody "Light In Us", as Jon places on his Starfield hat, and creates a country/bluegrass anthem fit for the Sunday morning set list. Reminding us that '…. joy is in our hearts, it's in our eyes, hope is in our blood, it's running wild, this fire can't be hidden, it's burning deep inside, oh God, you are the Light, the Light in us…', we are presented with a cheerful, joyful, infectiously bubbly and optimistic toe tapping dance number, and Jon brings us enthusiasm I haven't heard in a while, so much so that I have to dance along to this timeless truth of Jesus being the Light in us. Well done Jon for these two direct yet comforting anthems, sure to inspire and reveal more of our Maker and Saviour to us.
The hits do not stop there, with Jon delving deep into slower reflective anthems as well as rockers, all with the aim of lifting Jesus high. The acoustic guitar driven soft and contemplative "You Just Want My Heart" delivers to us a story and the truth that Jesus just wants our hearts, whole and in full, and He longs for us to trust Him with everything, because of the fact that He is faithful. As Jon cries out to God '…I give You everything I am, I give You everything I'm not, You just want my heart, You just want my heart, I give you all that's left of me, I lay it down cause I believe…', we are glimpsed into a vulnerable prayer that we all should aim to easily declare in the near future.
Following on, "Where The Sidewalk Ends" presents to us a story song like what Matthew West would write about (for his later albums!), and is a hopeful, challenging and engaging melody about standing up for those who do not have a voice, about being Jesus to the least of these, and about being the change that is so desperately needed in this broken and fractured world. We all need to do our bit to ensure that the Kingdom of Heaven starts here on Earth, and Jon's placement of this no-nonsense in-your-face directive may be uncomfortable for some, but I reckon it's necessary, so that many of us can be involved in active change rather than passive change. While the first half of the album ends with electric guitar led mid-tempo first single "Say Something". It's a prayer we ought to sing to God, asking Him to say something of importance to us, so that we are in the know about our next steps He wants us to take, regardless of how grim our circumstances may seem. As Jon cries out '…Lord say something, Lord say something, I need to know that You are here with me…I want to hear you so I'm listening…', we are presented with a honest and real worship melody full of raw emotion and a desire to fall deeper and deeper in love with our Lord Jesus Christ!
Deciding to place the acoustic guitar at the forefront of "Come Alive", Jon reiterates the eternal truth that Jesus' presence in our lives makes our soul come alive. While this somewhat cliché song is present in other incarnations and iterations of CCM songs, it's Jon's honesty and relatability that ensures that this song is a winner for me, despite it being lyrically the lowest point. Thankfully, "Even If (No One Can Separate)" is littered with so much lyrical genius and so much heart that I can almost forgive Jon's lyrical lapse of non-creativity in track #6- track #7 is sure to encourage and inspire, as Jon sings out with gusto and determination that '…even if the stars fell down from the sky, even if the tears would never run dry, even if the ocean seeps far too wide, You're holding on and never letting go, cause no one can separate us from Your love…', highlighting how wide, long, deep and high the love of Christ is for us.
Jon is as versatile on this album as anyone in the Christian worship genre. This is what makes the album so resonating with me. All the songs make great to listen to at home, and at church also. With Jon also recording a modern retelling and new rendition of the famous hymn "Great Is Your Faithfulness", singing out that '…Your love is gentle, Your love is strong, let Your passion lead, let Your passion lead me on…'– with added verses to capture in the teen or young adult audiences; it is the last two songs on the album, which Jon has saved for last, that proves to be the highlight of the entire album! The penultimate song "You Are My Everything" is driven by strong acoustic guitar, and contains a stirring electric guitar led instrumental bridge, and basically explains that Jesus is our everything, as Jon fervently outlines that Jesus is our refuge and strong tower; while the ten track worship project ends with the 2-and-a-half-minute acoustic guitar led ballad "Starts With Us", another confronting melody about the presence, or lack thereof, of love in our lives. As Jon encourages us, singing out '…let's come together, light is up tonight, cause if the world needs love, it's gotta start with us, tear down the walls and break them open wide…', we are encouraged to actively show the world love, and specifically the love of Jesus- to be the one to start the change rather than waiting for the person who may never show up. A thought provoking melody to end a hard hitting album full of eternal truths that need repeating again and again!
To sum up, Jon Bauer's warm, emotive, powerful vocals and memorable melodies are just what every worshipper wants to aspire to. Do you want to listen to quality worship, in the vein of Passion Worship Band, Desperation Band, or Hillsong UNITED? Look no further than Jon Bauer, a master at evoking emotions that one would have buried deep inside. Well done Jon- every track has told a story, and all 10 have a clear overarching message. That Jesus Christ is the light living in us, and only He can make our lives worthwhile and satisfying. All 10 tracks, in my opinion, should be in the 2016 collection for any worship leader that is as accessible on a Sunday morning as it is on Monday's iPhone. Well done Jon, may you have a blessed year ahead, you have most certainly earned it.
3 songs to listen to: Light Is Us, Where The Sidewalk Ends, Even If
Score: 4/5
RIYL: Brenton Brown, Starfield, Jadon Lavik, Hillsong UNITED