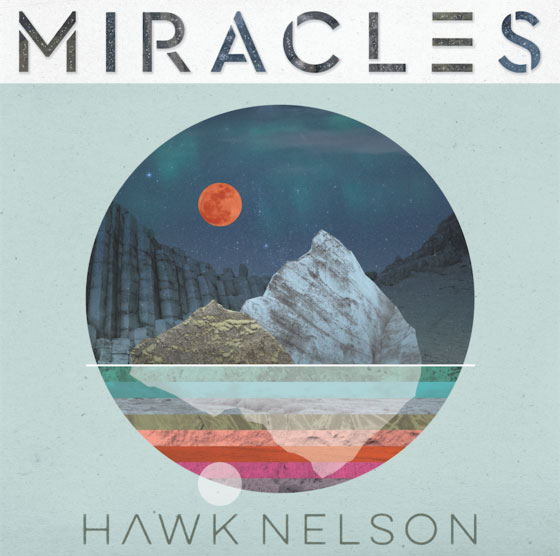 Fair Trade Services
Release Date: April 6th 2018
Reviewed by: Joshua Andre
Hawk Nelson– Miracles (Amazon mp3/iTunes)
Track Listing:
No Such Thing
He Still Does (Miracles)
Parachute
Weightless
Never Let You Down (feat. Hunter And Tara)
Right Here With You (feat. MDSN)
Never Runs Dry
Crooked Lines
Close
I'd Never Know
When faced with a band with a lead singer change, and especially a veteran, seasoned band, with tons of popularity and respect, how should one as a listener treat them? Like a new band? Or by keep comparing them to the 'old' band with the 'better lead singer'? If that band so happens to change genres, old fans could drop off, and new ones could jump right in, yet I guess if the mission and vision of the band is the same, as well as the band's core message, then I reckon you could say that the band is the same, and deserves at least two or three chances before you toss them aside or hold them closer to your heart. Bands like Newsboys and Audio Adrenaline have had a revolving door of lead singers (and in each instance, fans have accepted these new lead singers with grace and poise, albeit some are accepted with more professionalism and with more love than others!); yet the band in question that I am talking about is Hawk Nelson, who released 2 albums previously (Made in 2013 and Diamonds in 2015) with their new lead singer Jon Steingard. Having been a successful pop/punk band with Jason Dunn at the helm, musically the style shifted when Jason left in 2011. There were benefits of the new lead singer Jon having already been in the band as a longtime guitarist, such as not having to re-learn previous Hawk Nelson hits on concert nights and tours, however with a new frontman came a new genre style, which many fans immediately accepted and loved, yet with some fans hated.
For me, as I am a lover of all things CCM, Made and Diamonds were of exceptional quality, and I enjoyed these two way, way more than anything Hawk Nelson ever recorded with Jason, not to say that any of those songs were bad, it's just that I resonated more with songs from the 'Jon Steingard as lead singer' era. And while others may disagree with me, and feel more at home with Jason's material with the band, there's one fact that is constant, that doesn't waver- and that is that the 'new' Hawk Nelson's faith is just as strong, and their passion for Jesus is very infectious and contagious. This week, the 4 friends, young men of God and spiritual brothers are back with Miracles (which releases this Friday)- and though you may not like dance/pop/pop-rock/CCM/worship/EDM/remix (all of these genres are present throughout these 10 new songs!), I'd have to say that you need to suspend your feelings of animosity for a moment because Miracles will make you a fan of Hawk Nelson post Jason Dunn.
Having already released in December last year, lead single "He Still Does (Miracles)" is kind of a testament, a declaration of the fact that God has been good to these guys for so long, with Jon relaying to us the truth that God still does miracles every day, and we just need to open our eyes to see them. An electronic pop song led by vibrant keys, Jon and friends ardently highlight to us the notion that '…like the fire in the night, like the ocean parted wide, like the grave empty inside, you will see He still does miracles…', and proclaim this testimony with such resolve and passion. Even though this song musically is cliché, and with one listen we can roll our eyes and say 'oh, not again!', a deeper listen will have us jumping for joy and crying out with Jon '…a broken heart can be restored, a broken soul can be reborn, and greater things are still in store for us…', that the Lord of all creation is moving in each one of our lives, even if we cannot see the effects right at this present moment. With this single being more than a year in the making, though it's not as punchy as lead singles "Words" and "Drops In The Ocean" from their previous two albums, "He Still Does" is solid enough, and is nevertheless a standout track on the album, and as a song in both 2017 and 2018!
Even though the album releases in a few days officially, Hawk Nelson are super generous. Aside from "He Still Does", three more tracks are available as 'promotional singles'- and now we can say that we have listened to almost half the album! Boy it doesn't disappoint. "Parachute", a 3 minute guitar led contemplative ballad and mid-tempo worship anthem has Jon admitting his need for God, and He reliance for the Father, that '…I know I need You to save me, 'cause no one beside You could save me now…'– and though this song is as CCM as they come, there's just something about it that begs me to repeat the song again and again, as I am reminded daily that Jesus indeed is our rescue and our parachute.
While Jon, David, Daniel and Micah jump head first into the 'genre' of pure pop mixed with EDM mixed with experimental remix-y music, "Never Let You Down", in my opinion is THE track to listen to off the album, as we are treated with an exciting ride from start to finish, with the band eloquently reiterating that Jesus never lets us down. Sung from God's perspective, the ambient, laid back, acoustic and worshipful melody has impressed me greatly over the many times I have listen to this near-flawless gem, and the guest vocalists of newcomers Hunter And Tara, are a welcome surprise as well. With the music video being captivating and on another level; I would not be surprised if this song goes to radio officially very, very soon (radio single # 2 or 3?). With the last promotional single "Right Here With You" being a straight up worship song featuring MDSN on backing vocals (and a song that could have fit at home on Integrity Music, or even with MDSN recording her own version, which may yet happen!); it's clear that the guys are not content to stay in just one genre (which was kind of the case on their previous 2 albums!)- it's time to expand their musical genres once more, and with these 4 already released tracks, we are glimpsed into a band that yearn to be stretched musically and lyrically, and so far punch far above what critics may expect of them.
The remainder of these 6 tracks haven't been heard by anyone else besides reviewers, so you, as the public would just have to take my word for it (if you're reading this today or tomorrow). But in my professional opinion, some of these tracks remind me of the Hawk Nelson of old. And that's a good thing I reckon. "No Such Thing" is probably the closest we may get to anything resembling Hawk Nelson on Tooth And Nail Records, as this pop/dance opener gets the toes warmed up by inviting us to dance to the infectious drum rhythm and vibrant keys. As we cry out along with Jon that there is no such thing as helpless- that God can heal and restore anyone, no matter how broken or out of reach of His love you feel; we are immersed in a brilliant track that reaffirms our belief that Jesus the Almighty is someone we can rely on, because of the fact that He loves us so much and therefore doesn't want any of us to suffer. While songs like "Weightless" (a pure pop number encouraging us to not carry our burdens ourselves and instead lay them at Jesus' feet) and "Never Runs Dry" (a pop/country/bluegrass melody that reassures us that no matter what occurs in our lives, '…Your goodness is following me, Your mercy is my covering, Your love is holding my life, it never runs dry…') further prove that Hawk Nelson are a force to be reckoned with in the CCM world, always creating enjoyable tracks to listen to, while also pushing the boundaries of what Christian music should sound like, and not sacrificing the integrity of their message of making Jesus' name famous.
Led by the piano and electronic effects, the mid-tempo EDM ballad (is that a thing?) "Crooked Lines" testifies to the fact that Jesus is with us every step of the way, even in our trials and suffering, that '…I've walked a winding road that led me back to You, I took a twisted path that led me straight to You, and when I look behind, I see Your grace in every crooked line…'; while potential single "Close" hits all the right notes, quickly becoming one of my favourite songs of 2018, as Jon fervently relays to us that unlike how we feel, Jesus is close to us all the time. Vividly describing to us all the ways God is close, Jon sing out that '…He is close, closer than the beat of your heart…I promise you that He is right where you are…closer than the fears you fight, closer than the hurt you hide, closer than the tears you're holding inside…closer than the air that you breathe, closer than the secrets you keep, closer than you ever thought anyone could be…', and it is this imagery combined with the passion that makes this track a winner. The album ends with the piano led slower paced reflective and contemplative ballad "I'd Never Know", where Jon ardently and somewhat controversially reiterates that it is the darkest places and, in the valleys, when he discovers something new of God that ultimately, he is in awe of. Essentially saying that the hard times is when we need God the most, and when He shows up, and when we truly know who God is like; this album ender is on the whole refreshing, as it gives us new meaning and perspective- when we are going through a trial, we can know that God is here with us because that is who He is. If we do not have hardships, how could we ever fully know or fathom God's unending love for us or any other quality on display? Something to definitely ponder over as we are immersed in this lullaby-ish melody.
While a stylistic shift may have alienated old Hawk Nelson fans, I reckon Miracles may bring some longtime fans back. With Jon's songwriting and singing being as good as ever, Hawk Nelson in my opinion have recorded their most complete album to date (although not their strongest- that goes to 2015's Diamonds!), although that opinion may be biased, as I am easy to please, and I do love CCM! Nonetheless, Miracles is an album to definitely check out when it releases in a couple of days, as we marvel in the way that God moves and performs daily miracles in our lives. Are you all convinced by my review, that Hawk Nelson has released a stellar album? No? Then check out these 4 songs from Miracles below and let us know what you think!
3 songs to listen to: He Still Does, Never Let You Down, Close
Score: 4.5/5
RIYL: Newsboys, Audio Adrenaline, Relient K, MercyMe, Tenth Avenue North, Sanctus Real, The Afters