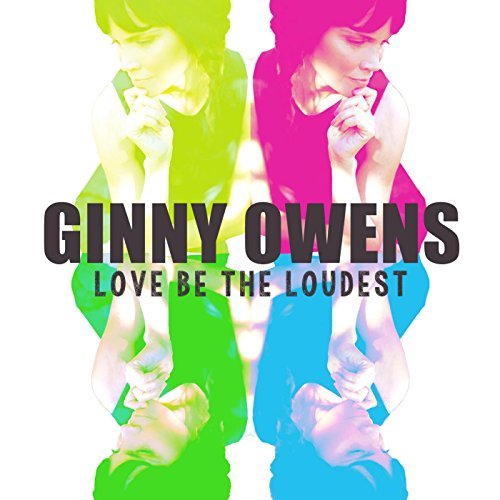 Chick Power Music
Release Date: November 18th 2016
Reviewed by: Joshua Andre
Ginny Owens– Love Be The Loudest (Amazon mp3/iTunes)
Track Listing:
God Is Love (Intro) (0:29)
Coming Alive (3:27)
The Loudest Voice (3:03)
Love Looks Beautiful (3:38)
The Way God Sees (feat. Mike Weaver) (4:44)
Fearless (3:49)
The Fire (4:17)
Go Be Light (4:10)
Made for Loving You (feat. Andrew Bergthold)
How Much More (feat. Meredith Andrews) (3:57)
If You Want Me To (3:26)
Wonderful Wonder (feat. Andrew Greer) (4:10)
God Is Love (feat. All Sons & Daughters) (2:26)
"…Most people think my greatest life challenge is blindness; I've been blind since age three. But that simply isn't true. My greatest challenge is doing battle with the critical voices in my head that distract me from what's most important. It's the whispers of those who feel sorry for me because of my physical challenge and don't think I hear their comments. It's the shouts of my own doubts and insecurities, asking, 'Do you have anything valuable to contribute to society?' It's the mindless chatter of our culture, inviting me to believe that any voice, as long as it's loud, is fine. Every song on this album is an invitation to my heart, and the heart of the listener, to allow God's perfect voice of love and truth to be irresistible to our hearts, drowning out all other voices, and moving us to action…". If any of you do not have an idea of who Ginny Owens is and how her story can be such an inspiration to each one of us, then I am certain that her life and her music will leave you all forever changed. See, Ginny is blind, has been since age 3. Yet that hasn't stopped her from creating inspiring and thought provoking songs for us to be blessed by- doing what God has called her to do. Losing her sight at a very young age is probably a very scary thing to go through. I wouldn't know, I haven't has anything traumatic happen like that to me personally, but if you could close your eyes and imagine that's your life every day, every year; then that's probably what Ginny Owens goes through.
Yet you couldn't and wouldn't know the hardships she faces just from listening to her heartfelt and personal songs. That's because Ginny makes lemonades out of the most sour lemon possible. Ginny has decided every time she releases a stellar and poignant album, not to let the devil win, and she has proved that God can turn adversity around for His glory, in her new studio album Love Be The Loudest, releasing to stores this week. With this brand new album- the 9th in her illustrious 20 year career, leaning to more musical pop and CCM than the standard introspective and reflective material we're used to seeing and hearing; Ginny has shown us that there are no musical barriers, and when the Lord is in something, He's in something, no matter what it looks like on the surface.
Having already released many Dove Award nominated and critically acclaimed albums, Ginny has composed and beautifully crafted 12 melodies of heart, honesty and vulnerability as we are introduced to one of the most emotional and personal albums off 2016! One of the most pop and radio friendly albums over the past few months, also with a tinge of r&b, soul, pop, ccm and jazz all infused together, as well as plenty of guest vocalists on many songs (Mike Weaver, Meredith Andrews, Andrew Greer, All Sons And Daughters, Ellie Holcomb), as well as 2 re-recorded hits from earlier in her career; this album is sure to be impacting on any and all who listen. Rusty Varenkamp, Chad Copelin and Josh Bronleewe have all produced this record to perfection!
Opening the album with the 30 second intro "God Is Love" (which is in essence a prelude to the last song "God Is Love" with All Sons And Daughters; the track list then dives straight into the deep end with the thought provoking and equally musically impressive "Coming Alive", where Ginny ardently reiterates across vibrant and colourful synth and keys that '…You've opened my eyes to something inside, and I can't believe what's happening, your breath in my lungs, through all of Your love, a wave that is crashing over me, now I'm coming alive, now I'm coming alive…'– a testimony-like story of how God changes us all from the inside out when we decide to step into His will for our lives, that it is only in Him and through Him that we become fully changed and fully alive. A simple concept, and a concept that is much needed, as Ginny explores this and more throughout the lyrically diverse track-list.
Pseudo-title track and first single "The Loudest Voice" is next, where Ginny passionately exclaims across extremely catchy synth pop hooks and a contagious and infectious danceable tempo, that Jesus love is the only thing that should ring out louder than any other distraction in this world, encouraging listeners to drown out everything else around them and just focus on God's voice and His direction for our lives; while Ellie Holcomb joins Ginny on guest vocals in the mid-tempo ballad "Love Looks Beautiful", where both vocalists earnest encourage us to feel love for ourselves, and not feel pitiful or worthless for whatever reasons. Coming to the ever true realisation that our self-worth is in what Jesus sees rather than the worlds' opinions; we can live free once we accept this fact, that '…those who look to Him, they are radiant, love looks beautiful on you, there's no hiding it, no denying that love looks beautiful on you…'. Carrying on with the theme of our self-worth being with Jesus' opinions rather than the world's; "The Way God Sees" is probably one of my favourite songs from Ginny ever, as the piano driven radio friendly ballad, sung with Mike from Big Daddy Weave, reiterates the ever true theme that '…God doesn't see things the way we do, His perfect love defines what is true, so who are we to disagree, when God says He loves You and me? …'. His plans are higher and much wider than our own, so how could we ever understand what He is orchestrating in our lives? Though that doesn't mean that we do not trust His plan, it's just that God sees the picture and different way we do. Once we understand that His ways are higher than our own, then it will be easier to let go and surrender control to the Almighty and the Maker of the world.
"Fearless" "Go Be Light", have such cliché titles, that one could think that these middle tracks could meander the track list along without not much musical or lyrical standout moments or progress. Not so at all! "Fearless" is inspiring, captivating and somewhat reflective, as the light electric guitar led mid-tempo ballad highlights the viewpoint that we as Christians can be fearless with Jesus Christ on our side, that it is His love than is everything we could ever need; while the proactive, inspiring and encouraging pop melody "Go Be Light", led by captivating electric guitars, is a radio friendly ballad where Ginny directs us all to go out into the world and makes disciples out of everyone we meet, similar to Matthew 28:18-20 aka The Great Commission.
Yet is in the piano prominent emotional and honest ballad "The Fire", where Ginny places on her 'Plumb' hat vocally, where she creates a soothing and somewhat confronting and also comforting musical masterpiece, inspired by Ginny's own personal 'fire', recent vocal struggles and a benign tumour resulting in ongoing health issues. As Ginny ardently thanks God for the effects of trials and tribulation, for without trials and pain, we would never grow nor deepen our relationship with Jesus Christ, nor learn more about ourselves as Christians or people; we are reminded that in the midst of trouble and adversity, God stands with us and carries us, therefore Ginny can unequivocally proclaim '…thank You for the fire, thank You for the night, thank you the trial that I don't know how to fight, thank You that you lead me to the end of my own strength, this is where You meet me and carry me again…', as we are reassured that whatever comes our way, God is with us, similar in theme to Casting Crowns' "Praise You In This Storm".
Originally recorded in 1999 on her debut album Without Condition, "If You Want Me To" is one of two re-recordings on Love Be The Loudest, with the second being "Wonderful Wonder" from the 2006 album Long Way Home. Both renditions here are quite stunning, with the former being a plea and earnest prayer to God, asking Him to lead us where He want to, even during the times where we are uncertain how life is going to pan out; and the latter being a duet with Andrew Greer, a pure, unbridled and passionate worship song, where Ginny reiterates how her blindness is limiting in this life, but is not in fact a hindrance, as '…the very thought of things I've never seen, is all it takes to bring me to my knees, oh what a wonderful wonder, a display of great beauty and power, oh what a wonderful wonder, You are to me…'. When we come to the knowledge that what we face on this earth is infinitesimal in comparison to the endless glory, beauty, fulfilment and satisfaction we will experience with Jesus in heaven, then life on earth doesn't seem too bad. In fact, we can live with joy in spite of our circumstances, knowing that God is indeed in control, and is a wonderful wonder.
The remainder of the tracks are more collaborations with Ginny and other renowned artists. Acoustic guitar driven jazz/r&b infused track "Made For Loving You" features Andrew Bergthold, which reiterates the ever true fact that we as Christians are made for loving Jesus Christ, and made for leading others to the unending love of our Maker; while out of the box musically different acoustic guitar driven pop/r&b/CCM melody "How Much More" (with hand claps and saxophones abound, but hey- it works!), featuring Meredith Andrews on guest vocals, is as inspiring as any song I've heard recently, reminding us in timely fashion a notion similar to the hymn "His Eye Is On The Sparrow", Jason Gray's hit "Sparrows", and Tenth Avenue North's new song "Sparrow", that '…If He can hold the world, if He can clothe the flowers, how much more, how much more does He hold you, if He can calm the storm, if He can see the sparrow, how much more, how much more does He see you, how much more, how much more does He love you?…'. While the album ends with the 2 minute short but to the point duet with All Sons And Daughters, sung as a beautiful acapella piece in perfect harmony. Reinforcing the theme that God's love is certain to clear away any distracting noise around us, that God alone is the perfect embodiment of what love looks like, the album ender perfectly encapsulates what the album is all about, that everything we need is God's love. Everything else is superfluous in a way. Well done Ginny for beautifully creating the best album to date, in my opinion, and a standout album of 2016!
"…I'm a pop music junkie, so it's fun getting to embrace those sounds. I can't believe I haven't jumped into that space before now." Although experimenting with drum samples and different sound palettes was exciting, she admits lyrics presented much more of a challenge. "The more up-tempo and the tighter a rhythm pattern is, the harder it is to fit words in," she shares. "Trying to say something real and true and deep in the space of a pop song is hard, but definitely worth the effort. Each of the songs feels loaded with thoughts and heart I want to express…" Ginny Owens' latest record Love Be The Loudest explores the overall theme of God's love showing us that He is all we ever need, that He can guide us through the storms of life, and we can live truly free in Him; and Ginny has definitely stretched many lyrical and musical boundaries as she releases her new album on Chick Power Music. Reminding me vocally of artists like Nicole C Mullen, Dara Maclean and Plumb; this is an album for upbeat dancing, corporate or personal worship, quiet contemplation, and reflection (or all at once?), as we continue to grasp and understand the love and affections that God lavishes over us. Well done Ginny for such a personal, emotional, and refreshing album that has reaffirmed my love for the pop/CCM genre, as well the soul/jazz genre that Ginny excels at so brilliantly!
5 songs to listen to: Coming Alive, The Way God Sees, The Fire, How Much More, Wonderful Wonder
Score: 5/5
RIYL: Plumb, Moriah Peters, Kerrie Roberts, Rebecca St. James, Dara Maclean, Nicole C. Mullen