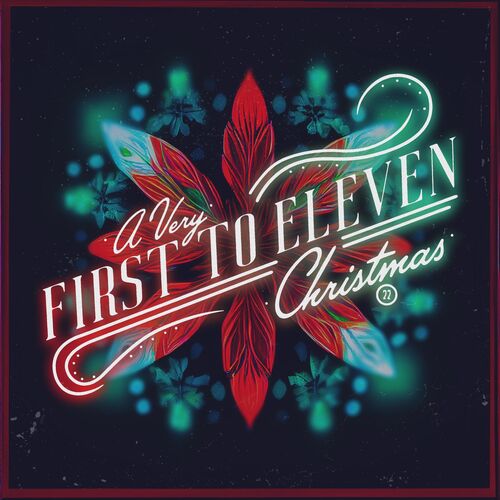 Studio 71
Release Date: November 29th 2022
Reviewed by: Jonathan Andre
First To Eleven – A Very First to Eleven Christmas 22 (Amazon mp3/iTunes)
Track Listing:
Where Are You Christmas
O Holy Night
Happy Xmas (War is Over)
Snowman
I Saw Mommy Kissing Santa Claus
Quite possibly one of the reigning cover bands out there on Youtube (alongside other 'cover artists' like Halocene, Peter Hollens, Cimorelli, Lucy Thomas, Pentatonix and even Jackie Evancho, to a certain extent), First to Eleven have been a band since the mid-2010s, and it was through their numerous cover songs that I heard throughout the years that I have known them. I think the first cover I heard them create was a powerful rendition of Avril Lavigne's 'Head Above Water', and I guess everything flowed out from there- in 2021, they've amassed plenty of cover songs and videos over the years- enough to fill 13 albums of around 20 songs each (about 200+ covers) in the span of 5 years or so. It was through this journey of First to Eleven covers that I discovered my appreciation and respect for mainstream rock music in general. Prior to 2020/21, I was listening to a lot of Christian rock (and still do)- Skillet, Switchfoot, Newsboys, Third Day, Kutless, Audio Adrenaline, DC Talk…not that there's anything wrong with the music that I listened to before, but I find it unique, intriguing and exciting, that I was exploring new avenues of music, and recognising and understanding that God the Almighty can and may use mainstream music (even mainstream rock music) to encourage us towards something, or even use the songs to illuminate something about ourselves and highlight things about other people as well. I've been listening on and off to First to Eleven for a few years, and their specialty is this- create rock covers of popular pop songs. Or just create rock covers of rock songs. Just whatever the cover, it is rock-influenced, and the original…well, let's just say that most of the band's covers are so professionally done, that I prefer them to the original. Lead singer Audra Miller's vocals are always on point, and the band's professionalism and ability to take a well-known track and cover it with such precision, poignancy, and uniqueness, is something that has always made this band to be one of the most talented cover bands (who specialise in rock music) on Youtube.
The band has covered a range of songs from a range of musical styles and time periods throughout their tenure on Youtube so far- from songs like 'Sucker', 'Sweet But Psycho', 'Cool Kids', 'I Don't Care', 'Somebody You Loved' and 'Circles'; to others inclusive of 'Sk8er Boi', 'Lose You To Love Me', 'Beautiful People', 'Numb', 'Boulevard of Broken Dreams', 'Since U Been Gone', 'Blinding Lights', 'Take On Me', 'Complicated' and 'The Reason', to name a few. Just last year, First To Eleven created a moniker of Concrete Castles to create their original music under. They have since continued to release cover music under First to Eleven, but their original material would now be released as songs by Concrete Castles instead- same band members across the two, it's just that now, I affiliate First to Eleven with cover music, and Concrete Castles with originals. But in effect, they are the same band. They do have the same sound (which is rock, and heavy rock at times!). In September 2021, First to Eleven unveiled Wish I Missed U under the name Concrete Castles (of which we as a site reviewed here), while earlier on during 2022, Wish I Missed U (Reimagined) was unveiled too. First To Eleven have since continued to unveil cover songs, culminating in various Covers, Vol. _ throughout 2022. Now in December, Audra and co. have released an EP full of Christmas/holiday songs, perfect in time for us to crank it up and listen to rock renditions of songs that are…fan favourite Christmas tunes for just about everyone? From standout Christmas carol 'O Holy Night' to the John Lennon track 'Merry X-Mas (War is Over)' and Faith Hill's 'Where Are You Christmas?'; this is a must-listen (and maybe even a must-purchase) if you've enjoyed First To Eleven's material before, or if you love rock renditions of Christmas songs, full-stop.
There's not much to say about this EP, aside from the fact that these 5 tracks are songs that almost every person would know during Christmastime. 'O Holy Night', I reckon, is perhaps one of the most well-known Christmas carols ever, while 'Happy Christmas (War is Over)', is…well, it's most definitely John Lennon's song #2 behind 'Imagine', right? 'Where Are You Christmas?', a song originally written and sung by Faith Hill for the movie The Grinch starring Jim Carrey from the early 2000s, is now synonymous with the Christmas holiday season, while 'Snowman' from Sia, and 'I Saw Mommy Kissing Santa Claus' are also both synonymous with Christmas, from the late 2010s, and the 1970s, respectively. These songs are all given the 'First to Eleven' treatment, and in my opinion, are all delivered with such poignancy, precision, and passion, that these versions of classic Christmas melodies are just as emotive as their original counterparts. Granted, any version of 'O Holy Night' sounds great in my book, so I guess I am a little biased. But, who am I kidding? Just listen to these 5 tracks, if you love First to Eleven material, Christmas songs, or both. Sure, First To Eleven are a cover band, but they are one of the best in the business of cover music. This is Christmas music at its finest, and hearing these renditions makes me still be impressed as to why (and how) this group isn't as big past the realms of Youtube yet. First to Eleven are sure to make you fall in love with songs of yesteryear all over again, and this Christmas EP is no different. Well done Audra and co. for these 5 songs. Looking forward to the next First to Eleven album coming next year, whenever that may be.
2 songs to listen to: O Holy Night, Where Are You Christmas?
Score: 4.5/5
RIYL: Concrete Castles, Imagine Dragons, OneRepublic, Ava Max, Dido, Switchfoot